Posted on January 6th, 2016

Welcome to the second installment of Things I Bought Week, showcasing stuff that I recently purchased and what I think of what I got for my hard earned money!
What did I buy this time? The Ring WiFi Doorbell
Call me anti-social, but there's two things I really don't like... 1) Talking to people on the phone, and 2) Having uninvited visitors drop by my home. And when the person calling or dropping by is a salesman or political organization or somebody wanting me to convert religions? That's even more annoying.
When it comes to the phone, I just don't answer it when the caller ID is somebody I don't want to talk to or the identity is blocked. But what can you do when it's somebody ringing your doorbell? My door has a glass panel on it... it's not like I can sneak up and see who's disturbing my peace.
Enter Ring.
Ring is a "smart" doorbell with a camera, a microphone/speaker, and a motion sensor... all wrapped up in a package that's connected to the internet.
This means that you can get an alert on your phone when somebody approaches your door... see who it is... then talk to them to find out what in the hell they want. And you can do that whether you're in your living room... or around the world. Couple Ring with a connected door lock, and you can also let them in your home if you want...
The main reason I got Ring was because of UPS deliveries. They say your package is out for delivery and will be delivered by 5:30 so you wait until 6:00 just to be safe... then leave because you've got better things to do than wait for a package that never showed up... only to have it ultimately be delivered at 6:45 when you're not there. And then you've got a package sitting on your doorstep that could get stolen before you even realize it's been dropped off. With Ring I can be alerted when UPS approaches the door, see that they've rand my doorbell and run off, and know that I've got to run home and get it before somebody steals it. Neat, huh?
And, for that purpose, Ring works exactly as advertised.
Where you run into problems is when you want to interact with somebody. I called a neighbor and asked them to go ring my doorbell so I could see what happens when somebody presses it. Since I had motion detection enabled, I knew they were approaching before they even pressed the doorbell, then received another alert once they did. Problem was that the alerts were not instantaneous like it is with my INSTEON and Nest devices. The first time I was playing around with Ring, the delay was so long that I wondered if I had set it up wrong. My worry is that somebody will ring your doorbell then leave before you are alerted they were there. Subsequent tests were a mixed bag. Many times it was pretty quick... other times it was a bit slower. I don't know if it's the doorbell, my internet, or Ring's messaging service that's the problem, but it could be problematic if you have an impatient caller. Not a deal-breaker for me, but something to be aware of.
And now for a run-down...
Camera: When it comes to optics, Ring isn't bad at all. The 180° wide-angle lens gives you a clear view of everything happening around it in 720p resolution (1280 x 720). Even better, it has night vision so you can see in the dark. For $30 a year, any video your Ring captures is stored in the cloud. This way if somebody steals your UPS delivery off your doorstep, you can retrieve a video for the police. Ironically, this also allows you to have footage of somebody stealing your Ring, in which case they mail you a replacement for free. One pitfall that surprised me is that you can't access the camera whenever you want just to take a look outside your door. In order to see what's going on, Ring has to detect motion or sense a press of the doorbell button before the camera activates. I guess this is to save battery, but it seems a no-brainer of a feature to have, and should be up to the purchaser what's a good use of battery power.
Microphone/Speaker: Works pretty much as you'd expect for a Voice Over Internet application. I was able to hear them. They were able to hear me. They advertise "active noise cancellation," but I didn't have any noise going on to test that.
Motion Detector: Surprisingly sensitive. My doorbell is off to the side (not facing the street), yet it was still alerting me to cars driving by. Fortunately, you can reign in the sensitivity and choose which areas to monitor, so this isn't a problem at all. As mentioned above, the only issue I've run across is that there can be a bit of a delay between when motion is detected and I get an alert.
Cloud: As mentinoed, Ring records video every time it detects motion or somebody presses the doorbell button. This video is then uploaded to the cloud as it's shot so you can retrieve it from your phone whenever you want. I believe I read somewhere that they store 6 months of footage. You get a 30 day free trial with purchase, then have to pay $3 a month or $30 a year to keep using it. A small price to pay given how handy it can be to have access to your video events.
Power: Ring has batteries inside of it that can be charged over USB. This means you can stick your Ring wherever you want. Unfortunately, you have to remove the unit from your house and let it charge overnight every time it runs out. According to Ring (the company) the battery can last up to a year. Reviewers were saying it was a lot less, depending on how much activity your doorbell experiences. This wasn't an issue for me, however, as I used the power from the wiring of my old doorbell to power my Ring.
Installation: Attaching it to my home wasn't a big deal (drill bit, screws*, and screwdriver included!), and setting up the device with my iPhone was fairly painless. If you get stuck, there are step-by-step videos available for everything.
Doorbell: As expected, Ring passes a signal to your doorbell chime when somebody presses it. If you don't have a chime, you can purchase a WiFi chime that plugs into an outlet and connects with Ring to give you one.

And that's pretty much it. Except to say that it comes with a 1-year warranty.
Ring has solved a problem I knew I had... solved other problems I didn't know I had ... and increased the security of my home. If I could rely on the notification delivery speed and had the ability to view a live feed from the camera whenever I wanted, this would be a solid "A" product.
RATING: B+ • DAVE APPROVED • Currently selling for $199 at Amazon.

* Helpful hint... the screws they give you are shit. Very soft metal that broke on three of the four screws when I attempted to drive them into the siding of my home... AFTER I HAD DRILLED PILOT HOLES! Do yourself a favor and pick up some good-quality wood screws when you pick up your Ring so you don't have to make another trip to Home Depot like I did.
Posted on December 26th, 2015

If you take away one thing from Home Automation Week (now in Part Nine of Seven Parts!) it should be to avoid Apple's HomeKit home automation platform like the plague. It's no secret that I think it's utter crap in its current form, and the fact that automation companies aren't really flocking to the platform is a sure sign of "too little too late."
Yes, I love the idea of controlling my home with Siri, but Amazon Echo is probably more convenient for that anyway. Yes I love Apple's dedication to privacy and security, but what does it matter if you don't have all the automation options available that you might want? Yes, I love the idea of having absolutely everything tied to a single system instead of being in pieces but, again, it's only nirvana if you actually have all the pieces you need for that one system.
But the biggest reason to completely avoid HomeKit is not what's missing... it's about how what's there doesn't fucking work.
My Schlage Sense door locks are HomeKit compatible. But I never use any of the HomeKit features. Siri is just too fucking slow at unlocking doors to have her do it. I'd rather use a key or punch a code. But even worse than that? HomeKit's remote access features DO. NOT. WORK. My locks are supposed to use my 4th Generation Apple TV to communicate with the outside world, but they don't.
If I'm at work and want to know if I remembered to lock my front door? I'm supposed to be able to ask Siri. Siri asks my AppleTV back home. AppleTV then asks my lock. But unless I'm within Bluetooth range, this is all I see...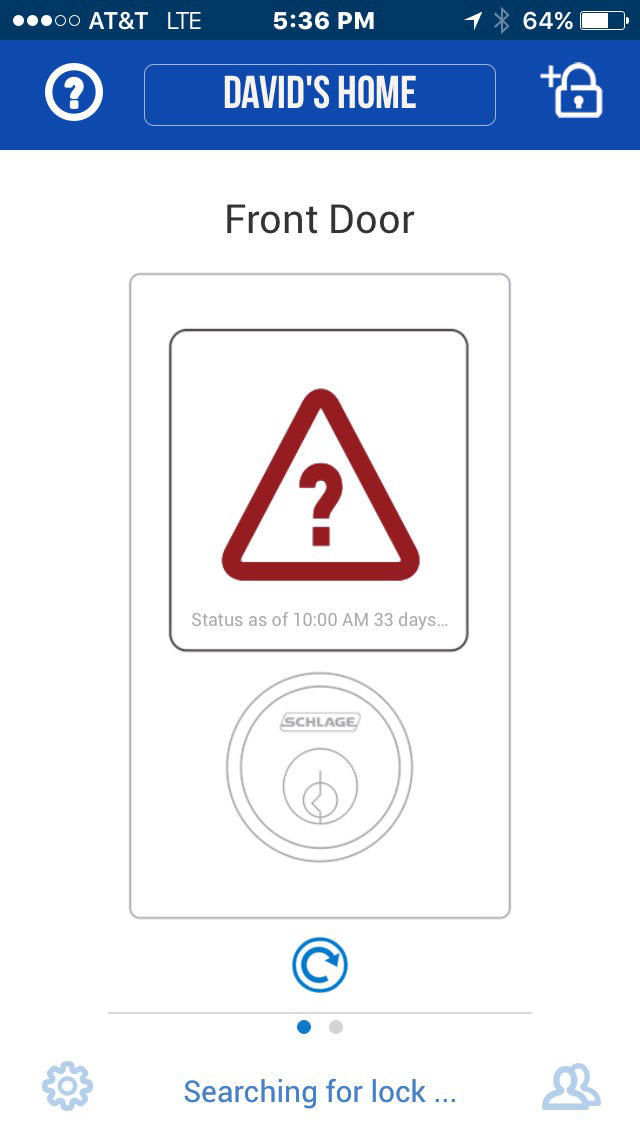 Maybe my front door isn't close enough to my AppleTV and doesn't have the range to report what's going on? Possibly. So I check my back door, which is two feet away from my AppleTV...
Nope! And it doesn't matter how many times I reset my AppleTV or login and logout of my iCloud account. NOTHING I have tried has gotten remote access to HomeKit to work for my locks.
My Ecobee3 thermostat? Also HomeKit compatible. Surprisingly, it can be accessed remotely via Siri voice control. Probably because it isn't having to go through my AppleTV and has full WiFi-enabled control via its app. Funny thing is? I'd rather use the app. Again, Siri is a little slow to act... and often gets my Ecobee3 requests wrong for some reason.
So... lesson learned.
If you're going to get something that's HomeKit compatible, be sure that it has its own remote access app that doesn't attempt to route crap through your AppleTV... because, for me at least, it ain't happening.
Which means as much as I love my Schlage locks, if I had known then what I know now, I would have picked a different non-HomeKit solution that actually works remotely as intended. As it is now, the status of my door locks is always unknown unless me and my phone is standing next to them. Pretty useless.
Maybe one day Apple will fix the AppleTV hub remote-access problem. Maybe one day Siri won't be so damn slow to do anything. Maybe one day HomeKit won't be a pile of shit. Maybe. One day.
In the meanwhile, I reiterate... do not be blinded by the Apple Reality Distortion Field when it comes to making decision about home automation. At every turn I've found that the non-HomeKit solutions which can be paired with reliable in-app remote access and a link to Amazon Echo are far, far superior to stuff that's tied to Apple's home automation platform. Yes, having to go through multiple apps and having no unifying system can take a little extra effort at times, but it's not at all a deal-breaker. If you're organized, it's not even that big of a deal. If you have Amazon Echo, I'd argue you're actually better off than using Siri.
I guess not even Apple can hit a home run every time.
But HomeKit isn't even a base hit.
Posted on December 25th, 2015

Merry Christmas to those who celebrate it!
Welcome to an extension of Home Automation Week at Blogography! I say "extension" because a week has seven days and this is part eight. I guess I should have put a bit more thought into this.
But anyway...
I loathe smoke detectors. I loathe CO2 detectors even more. They're all bug-ridden, noisy, and prone to errors. Then you've got the damn batteries running out all the time which results in running around the house trying to figure out which alarm is "chirping" at you for attention. And God help you if you burn the toast.
Don't get me wrong though... if there's an actual fire in the house... or a CO2 leak... then I frickin' love detectors. But, for the most part? Not so much.
When I was looking into "smart" detectors last year, I was intrigued by Nest Protect. It seemed sensible, secure, feature-rich, and very cool. Ultimately I took a pass on it for two good reasons: 1) Nest Protect wasn't compatible with Apple's HomeKit, and 2) A lot of people were complaining about false alarms and features being turned off and never turned back on, despite promises from Nest.
But then two things happened: 1) Apple's HomeKit turned out to be a STEAMING PILE OF SHIT*, and 2) Nest came out with a "Protect Version 2" that supposedly addressed the many problems people were having. Oh, and the reviews were great...

This is probably Nest Protect v1. I think v2 is not so squared? Very close though.
And so... I went ahead and bought Nest Protect. Actually, I bought five of them, because that's how many smoke/CO2 detectors I had in the house. Since all the Nest protects talk to each other, you kinda have to use them for ALL your detector needs in order to get the most benefit. Not a happy prospect considering they cost $100 a pop. But, when I thought about it, protecting my life and property (even when I'm away) is worth $500, so I handed over the cash.
Setting up Nest Protect couldn't be easier.
Except when it is.
When you first open the thing, they tell you to set it up before you hang it. That way you're not climbing up and down a ladder if there's a problem, I guess. So I pulled the strip to engage the battery and my first Nest Protect told me to "PRESS THE BUTTON IF YOU WANT THE LANGUAGE SET TO ENGLISH!" And so I pressed the button. But apparently not fast enough, because my Nest Protect started speaking to me in Spanish. And wouldn't stop. Fortunately I was able to get the gist of what she(!) was saying and set things up without issue. Removed my old old smoke detector, no problem. Installed the mounting plate, no problem. Hung my Nest Protect, no problem. Tested the unit, no problem. Change the language to English... problem.
Using the iPhone Nest App, I was able to switch to English easily. But then I get a message saying "Changes will take place within a day." Yes... A FUCKING DAY! And they mean it. When I went to work two hours after installation, it was still hablaba español. Kind of ridiculous it should take so long, but okay.
Nest Protect does exactly what you'd expect a smoke/CO2 detector to do... detect smoke and CO2 and then sound an alarm if it finds anything. But Nest Protect goes much further than that...
Any alerts will be passed to your iPhone/Android phone, thus letting you know if there's a problem no matter where you are.
Have a false alarm? You can silence it from your phone!
Instead of having to test your detectors every month like you're supposed to, Nest Protect has a microphone so it can test itself then listen to make sure it's working.
You can also manually check to make sure all your detectors are working. Just press the big button on the bottom and they'll all talk to each other, figure out if there's any problems, then report back to you.
Rather than just screech at you with an alarm where you can't figure out which detector is going off, Nest Protect speaks in a human voice and tells you exactly where the problem is (you name each unit by its location).
Nest Protect monitors its battery level and will let you know in advance if a battery change is in your future. This alone is a feature worth $100 a piece... no more being woke up in the middle of the night by the idiotic chirping of your detector wanting its batteries changed.
Nest Protect has a fancy "Split Spectrum Sensor" that Nest says can detect both slow-burning and fast-burning fires. There's shit-ton of documentation from Nest explaining why their photoelectric technology is better than other photoelectric and ionization solutions, but I'm just going to take their word for it.
Almost as important, Nest Protect has a humidity sensor so it can tell the difference between smoke and steam.
Nest Protect has a light ring around that big button which indicates what's going on with it. Blue and Green lights indicate stuff is going good. Red and Yellow lights are for when things are going badly. Yellow is kind of a cautionary "advance warning" that trouble may be present. Red is for when the shit is hitting the fan. The cool thing is that the light ring can also act as a "Pathlight" nightlight which comes on automatically if you walk underneath it and it's dark. Clever.
Nest Protect is available in both battery-powered and power-line-powered options. My old alarms were power-line-powered, so that's what I bought. If the power goes out, the battery back-up kicks in and the outage is recorded, then (apparently) reported to your phone app. I never got a notification when I tripped the breaker for the the smoke alarms, which Nest says I will. If ALL power goes out, I don't see how Nest Protect can notify you because then the internet would be out as well, wouldn't it?
And so...
All in all, I'm most impressed with Nest Protect. I haven't had it long enough to know if the chronic false alarm problem that plagued v1 has been truly solved with v2, but I'm hopeful. And, of course, I haven't had an emergency to truly put it to the test, but I'm very much okay with that. What I can say is that all the various features seem to be working as advertised. I love being able to check in on my home when I'm gone and know everything is okay... but I've even more in love with the idea that if there's a serious problem with fire or CO2, my home will let me know.

*I will talk more about Apple HomeKit being a STEAMING PILE OF SHIT tomorrow.
Posted on December 20th, 2015

Welcome to Home Automation Week at Blogography!
Probably the most famous of home automation toys is Nest, the Learning Thermostat. The brainchild of a couple of ex Apple engineers, their "smart thermostat" took home automation into the mainstream. Able to smartly control your heating and cooling system, Nest is simple to install, easy to use, and makes a real difference when it comes to saving energy and money.
So when it came time to pick a "smart thermostat," Nest was the obvious choice for me... especially since I already had invested in NestCam as my security camera of choice.
But then I started doing the research in HVAC forums and found out that Nest might not be my best choice after all.
So I went looking for alternatives.
One of the first products to jump out at me was Ecobee3. Of all the choices, it seemed to get the best mentions by HVAC technicians. And the reviews were good. And I liked that it features the ability to monitor multiple rooms to figure out a best temperature setting. And of course it has all the usual energy-saving smarts you'd expect...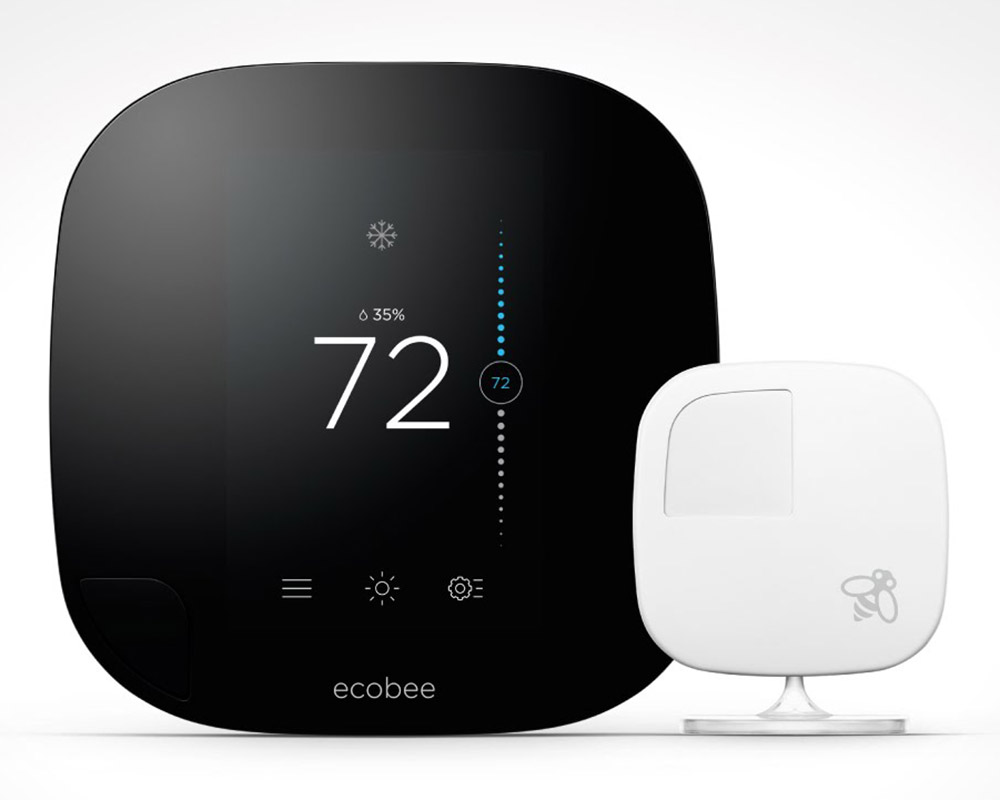 What was unexpected is that it can also control the whole-home humidifier I'm installing. I had hoped that this meant the remote room sensors would be monitoring humidity as well as temperature but, alas, this is not the case. Still, handy.
When it comes to controlling your Ecobee3, it comes with a beautiful color touch-screen and equally impressive minimalist interface. You can also use your iPhone (or Android, if you're so inclined) to control your thermostat from anywhere in your home... or anywhere in the world you have internet access.
One of the more interesting aspects of the Ecobee3 is that both the main controller and the remote monitors have motion sensors. This enables your thermostat to automatically determine when you're home and away... and also to follow where you're at so that the temperature is exactly where you want it wherever you are. The main unit's sensor activates the touch controls when you are near it and goes into a "display mode" (where the controls disappear) when you're away.
A nice feature that's so logical it seems a glaring omission for smart thermostats that don't have it... is integrated weather. This helps Ecobee3 figure out how to best use your heating and cooling resources to keep your home at the desired temperature. It also allows the unit to save on energy costs by using outdoor ventilation to cool your home when the outdoor temperature drops after the sun goes down in the summer (assuming your HVAC system can do that). And of course you can view the current weather and forecast at the touch of a button.
At first I thought the remote sensors were kind of gimmicky, but then I saw how Ecobee3 can integrate them into the system. At night, for example, you can tell the thermostat to ignore all but the bedroom sensors, because that's all you're really going to care about. Clever.
I've not had my Ecobee3 long enough to know if the "DataRhythm" technology is savings me big money (it takes a month before any of the main features are available), but the "HomeIQ" web portal keeps track of all kinds of information so you can fine-tune your HVAC system to get the most bang for your buck once everything kicks in. It seems fairly comprehensive, so here's hoping.
Overall, I'm very happy with the Ecobee3. It's easy to use, has features for days, has an excellent interface for my iPhone, on the web, and on the thermostat, and could end up saving me some money. As if all that weren't enough, it's also Apple HomeKit enabled. So if Apple ever gets their shit together, that could be a big plus.
If you're looking to dip your toe in home automation waters, a smart thermostat might be a good place to start. And if the Ecobee3 is compatible with your HVAC system, it might be worth a look.
Posted on December 19th, 2015

Welcome to Home Automation Week at Blogography!
When it came to installing cameras in my newly-automated home, I thought I would use the cameras I already had. They're older, but they still work perfectly fine. Most of the time. Kinda.
Okay, they suck. They're finicky and don't always work. They have a limited viewing angle so you have to pan to see everything, which is almost impossible to do remotely. You can't store footage to review past events... at least not easily. Worst of all they are a total bitch to set up and maintain. But they were relatively cheap and capable at the time I bought them, which is why they're here.
Time to upgrade.
Of all the home automation devices I bought, figuring out which camera system to get was by far the most difficult decision.
The obvious choice seemed to be going with INSTEON, since that was where most everything else came from. Unfortunately, their camera solutions are terrible. Barely a step above what I have now. Even worse, they're not really an integrated solution at all. They're just old FOSCAM models that have been re-branded for INSTEON and slapped on to the system half-assed. Complaints are legion about how difficult they can be to set up and maintain, which is what I hate most about what I've got now. Which means INSTEON cameras are not at all what I was looking for.
Luckily, there are a lot of other options.
Too many options, actually.
But one model kept rising to the top over and over again... DropCam.
Which was bought out by the Nest thermostat people (which was, in-turn, bought out by Google). Which means DropCam is now NestCam. Which wouldn't be a bad thing, except a lot of people have been complaining about lost functionality with the Nest app compared to what DropCam had. But, in the end, the things that NestCam did right were the things I most wanted to have, so I decided to buy one and try it out.
I loved it.
So frickin' easy to set up. You plug it in, scan the QR code on the back with the iPhone app, then connect to your network. That's it. And once you get it set up, it's solid. Over the past couple weeks there has been -zero- flakiness. The camera always works, it has a wonderful wide-angle lens. It has excellent night-vision. It has motion detection alerts sent to my iPhone. It has online storage (for an extra fee) which is dead-simple to scan through... even remotely. The image quality is fantastic. There are even multiple mounting options. I cannot say enough good things about NestCam. I now own four of them...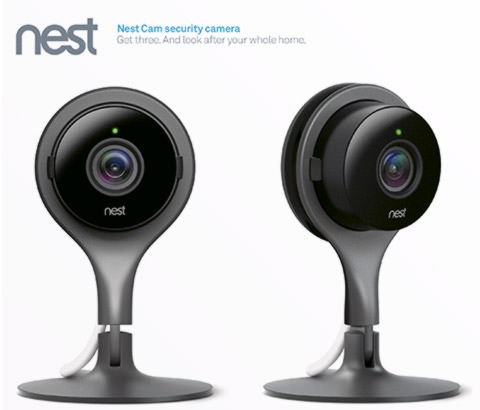 My hope is that one day Nest will offer a firmware upgrade that will allow their cameras to integrate with Apple's HomeKit. I'm not holding my breath, however, as Nest is building it's own competing architecture, and Google may not want to throw a bone that big Apple's way. Which is a bummer, of course... I'd love to be able to have my cameras be able to pass any detected motion to the rest of my home automation system... but even without that feature, they're still too good to pass up.
Not a bad acquisition for what started as a thermostat company!
And speaking of thermostats... what's in store for the final installment of Home Automation Week here at Blogography? Guess you'll just have to tune in tomorrow to find out...
Posted on December 18th, 2015

Welcome to Home Automation Week at Blogography!
So... the INSTEON solution for Apple HomeKit integration, the Hub Pro, leaves a lot to be desired. It only works with a handful of devices, which means HomeKit voice control via Siri is half-assed at best. Which sucks, because being able to literally tell your home what you want it to do is the brass ring of home automation.
Lucky for us, there's another solution for that.
It's Amazon Echo, which is better-known by the "wake word" you use to activate it... Alexa.
I've actually owned one for quite a while, but the novelty wore off quickly given the limited amount of things you can do with it...

But all that changed once Alexa got INSTEON integration.
Now voice-control for my automated home is a reality.
And it's pretty awesome.
"Alexa, turn on the kitchen lights."
"Alexa, dim the dining room lights 50%."
"Alexa, brighten the living room lights."
"Alexa, turn off the garbage disposal."
"Alexa, turn off the lights."
Anything that can be turned on or off via an INSTEON switch can be discovered then controlled by Alexa. You can even set up groups of items within the Amazon Echo app so you can control multiple devices at the same time. And while Alexa doesn't understand what I'm saying every once in a while, "she" pretty much nails my requests spot-on every time.
And that feels more incredible than I thought it would.
Thanks to my INSTEON automation system and Amazon Echo's ability to integrate with it, my home now has ears and a voice.
But what about eyes? We'll get to that tomorrow.
Posted on December 17th, 2015

Welcome to Home Automation Week at Blogography!
Home automated "smart" light switches are not really called "light switches" as their functionality is so much more than that. Most people call them "light controllers."
And, like I said yesterday, they're big.
Which means if your electrical boxes can't handle the additional size, you've got to install deeper boxes... or find a way of extending the box from the wall. Since the first option is a massive undertaking, I went with option two.
Which was not the cake-walk I was expecting. I could find only one manufacturer for such a thing. One.
Arlington Industries, Inc. and their UL-listed BES Box Extenders...
The extenders themselves are textured so you can paint them to match your decor. And while some people may not like the way they stick out from the wall, I'm actually quite happy with them. For one thing, I think it will cut down on finger-oils and grime hitting the wall. For another, when you pair the extenders with a screwless switch plate, it ends up looking kinda cool.
And when it comes to controlling the controllers? Now that they've been installed?
As I mentioned yesterday, INSTEON has a hub that plugs into your electrical system and the internet. You can then use your iPhone to control all your INSTEON devices wherever you may be... so long as your phone has internet data access.
But INSTEON didn't stop there.
In an effort to tie into Apple's HomeKit, they've recently released a Hub PRO model that does just that. Being able to integrate all my INSTEON stuff with all my Apple stuff and have Siri voice control for the whole shebang is pretty awesome. In theory. In reality? Well...
The problem with the HomeKit-enabled INSTEON Hub Pro is that it doesn't support all the various INSTEON devices. Only some of them.
Door sensors? On/Off sensors? Water leak Sensors? Nope. Nope. Nope.
Which means that the HomeKit option is pretty much worthless to me, for the time being. Perhaps one day INSTEON and Apple will get their shit together so everything will work right, but that day is not today. So I just bought the "regular" hub and figure I'll upgrade sometime in the future. That will be nice because then my HomeKit Schalge door locks will fit right in with everything else. In the meanwhile though... not so much.
Kind of a buzzkill, right?
Except...
There's another option to bring your INSTEON controllers into the future that Star Trek promised us. And I'll talk about that tomorrow.
Posted on December 16th, 2015

Welcome to Home Automation Week at Blogography!
One thing you find out very quickly when researching home automation solutions is that everybody has an opinion as to what's best. You're never going to find that one flawless technology that everybody universally loves. Which means making a decision can be a tricky business indeed. You have to weigh all the opinions and reviews so you can find the solution that feels like the best fit for you.
I'll just cut to the chase and say that I ultimately decided on INSTEON for the bulk of my home automation tasks.
Yes, there were some reviewers saying that INSTEON is crap, but there was enough good things said about the types of things I was wanting to do that it seemed the best solution.
One thing I really liked about INSTEON was the dual-mesh networking technology they've got going on. Many of their devices are wireless, but that can be problematic because low-power wireless devices don't have a lot of range. But INSTEON also has networking-over-power lines for many devices, which means your network is instantly extended via reliable hard-wired connections anytime you plug a device into an outlet.
So while that open/close sensor on your window may be battery-powered and have limited range over low-powered wireless... that light switch three feet away is wired into the electrical system and acts like an extender to the sensor, so no problem at all.
And speaking of light switches...
My new INSTEON light controllers are ever so dreamy!
Thanks to the INSTEON Hub, you can control your lights from anywhere your smart phone has internet access. You can also monitor what's on and what's off. You can also link light switches together. And, of course, you can program schedules easily. My front and back porch lights automatically turn on at sunset and turn back off at sunrise, for example. You can use INSTEON motion detectors to talk to the lights and have dark rooms light up automatically. You can pretty much do whatever you want so long as there's an INSTEON device to make it happen. And there are a lot of INSTEON devices available.
But, alas, all is not perfect...
The INSTEON "smart" switches are much, much larger than traditional light switches. They take up a lot of space. Which means if you have shallow electrical boxes throughout your home, the odds of the switches actually fitting into them are remote. Even if there is enough room to cram the switches into the box, that may not be a good idea, as it will involve smashing all the wiring to the back of the box with a hammer. I'm not an electrician, but that didn't seem like a very good idea. Won't heat build up and melt your switches? Or, worst case scenario, start a fire if the electricity arcs in there?
I dunno. But it's not a risk I'm willing to take.
So... I either replace all my electrical boxes with something deep enough to handle the new switches (a positively massive undertaking that will involve cutting into walls)... or I give up on automating my lights.
Except... my dad offered another solution when I told him of my dilemma... a box extender.
Usually box extenders are used for when you add tile or some other thick product to your walls and the electrical box ends up too deep for the switch plate screws to reach. That wasn't my problem, so I had to find a solution which would extend the boxes out from the wall.
I figured with all the home automation going on, there would be a plethora of solutions out there to do just that.
I was wrong.
After hours of research, I was able to find just one.
One.
Which I'll save for tomorrow's discussion.
Along with INSTEON's efforts to make their system Apple HomeKit compatible.
Posted on December 15th, 2015

Welcome to Home Automation Week at Blogography!
As I mentioned yesterday, trying to tie my home automation project to a single vendor was doomed to failure. So I decided to split the tasks between two vendors along a logical divide... one company for monitoring stuff and one company for acting on stuff. Simple, right?
Yes. Kinda. Maybe.
Except... no. Not really. After a lot of false starts, I realized it doesn't really divide out like that.
And so I decided to stop worrying about how many companies it took to get what I wanted and just get what I wanted. Which, after weeks of research, actually ended up being a pretty good idea.
Starting with the door locks...
The one area where Apple's HomeKit came through for me was door locks. Out of the dozen or so that are available, Schlage's "Sense" was the solution I liked best. It's not an add-on that sits on top of your current lock, but a complete deadbolt replacement. You can use a key to lock/unlock. Or you can use the keypad. Or you can use your iPhone. Or, since it's HomeKit compatible, you can tell Siri what you want. It can handle multiple entry codes and has a "tamper" alarm if somebody tries to take a hammer to it. Supposedly it can be controlled remotely (out of Bluetooth range) via AppleTV, but I can't get that to work. Perhaps eventually I'll get that part figured out, but it's not so important to me just now.
The one "feature" I did NOT want was auto-unlocking when you walk up to the door with your phone. This kind of proximity unlocking may sound convenient, but I didn't like the idea from a security standpoint. Schlage Sense doesn't have it, which was actually a plus for me.
Once I reset the door jamb strike plates back so that the lock opened/closed effortlessly when the door was closed, installation went perfectly.
On the first door.
On my two other exterior doors, I couldn't get the tab on the lock assembly to line up with the slot on the deadbolt turn. This was incredibly frustrating, and I had to place a call to Schlage support to find out why in the hell my locks were built upside-down. Turns out they weren't... they just weren't aligned properly. Using a screwdriver (and more pressure than I was comfortable with) you can force the slot to rotate 180° so everything lines up. Why in the hell they couldn't put that in the manual is beyond me, but all's well that ends well.
Except, as you can probably guess, this wasn't the end.
If my locks are HomeKit but my lights are not HomeKit, how do they talk to each other so that the lights turn on when I unlock the door at night?
Guess we'll find out tomorrow...
Posted on December 14th, 2015

Welcome to Home Automation Week at Blogography!
I've been dreaming of having a "smart home" for years, but the technology never really seemed "there" yet. It's either been flakey or lacked important features or had some quirk that made it less than ideal. I just couldn't see investing the money for an experience that was less than stellar.
But then Apple decided to get into the game by announcing their "HomeKit" platform and I was convinced that this was the solution I had been waiting for. Apple has a real knack for perfecting technology in a way that's smart, elegant, and simple, and finally they had turned their almighty gaze towards home automation. At last.
And so I waited.
And waited.
And waited.
But, other than an announcement, Apple never did shit for the longest time. Third party solutions never came.
Apple eventually got around to improving the HomeKit platform to make it more capable... and a few devices were released here and there... but overall HomeKit has been a failure. I love the security that Apple built into their solution (they really take stuff like that seriously), but that's about the only thing they've done right. Everything else to do with HomeKit has ended up being utter shit. The biggest failing being that all HomeKit devices are local, meaning that you have to be at home to control your home. Their solution for remote access is via Apple TV, but I've never been able to get it working well.
And so I went searching for a new solution.
I looked at every option I could find... Lutron, Wink, SmartThings, INSTEON, Nest, Belkin WeMo... the list goes on an on. There are a lot of companies out there doing home automation, and new ones are popping up all the time.
But which platform to choose?
At first I was convinced that I needed a single-company solution. If everything came from the same company, it would all work together and I'd have the most complete, powerful, and capable system. Right?
Well... not so much.
Every company has their strengths and weaknesses, which made choosing a single source for everything quite difficult. So after a while I decided I'd split my home automation chores between two different companies, focusing on their strengths to get the best system possible. Sure they probably wouldn't play well together, but if I were smart about which company got which devices, I could come up with a split-system that worked well for what I was trying to do.
It was a good plan.
But a plan doomed to failure.
Which I'll talk about in my next entry.