Every time I mention my various home automation projects, I get emails with questions. After mentioning "IFTTT" while talking about my new Google WiFi router system, there were people asking about it. So I thought I'd go through ways that I use IFTTT so I can explain better.
And so...
Let's start with smart lightbulbs.
There are a lot of programmable LED multi-color lightbulbs out there. Probably the most famous brand is Philips "Hue" bulbs. They are very cool lights with a lot of capabilities and incredible flexibility. But they require a "Hue Hub" in order to operate. This is just silly in 2018, so I ignore them.* Maybe if I start changing all my lights out, I'll switch to Hue where having to buy a hub makes more economic sense.
In the meanwhile I buy GoSund "Smart Life" bulbs which do not requite a hub. They connect to WiFi directly. There are quite a few bulbs that connect directly, but the Smart Life bulbs are cheaper than most. Also? I have a half-dozen other Smart Life products, and find them reliable and easy to use.
But most important? Smart Life products support IFTTT.**
For those unfamiliar with it, IFTTT (If This Then That) is a free service which allows you to create all kinds of triggers to control IFTTT-enabled devices. There are scads of triggers. Scads upon scads. And the number of things you can do with the triggers is vast. Want to get a text every time the International Space Station flies over your house? NASA has a trigger you can connect to a Text Service to do that. Depending on which IFTTT-enabled devices you have, you could have just about anything happen every time the International Space Station flies over your house!
But anyway...
Where I live they pick up your garbage every Thursday morning. But EVERY-OTHER Thursday, they also pick up your recycle bin. I can never remember which Thursday is which when I set my garbage out on Wednesdays, so I decided to have my driveway light turn blue on days before recycle days using IFTTT.
It sounds simple, but the cheaper Smart Life bulbs don't have a lot of capabilities within their own app (which I use to turn outside lights on at sunset and off at sunrise). To do what I want to do, I have to use IFTTT and get creative to makes sure that things work reliably the way I want them to.
Every day at 11:00am, I have IFTTT set the Driveway Light to 100% Green at 100% Brightness (but leave the light itself off). This is the default color I choose because I support the Greenlight a Vet Project. I do this to be absolutely sure that my light is set to default every day in case I have to manually mess with the color for some reason. This also puts my light back to default the day after it goes Blue for Recycle Day...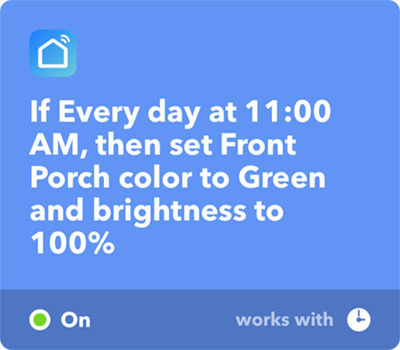 I don't use my Google Calendar for anything EXCEPT a reoccurring event every-other-Wednesday at 1:00pm called "Recycle." Every time that event happens, I have IFTTT set the Driveway Light to 100% Blue at 100% Brightness, then turn it on. So when I come home from work I will have a reminder that I need to set out my recycle bin (in addition to my regular garbage). And when my neighbors see my blue light they know to set their bin out too...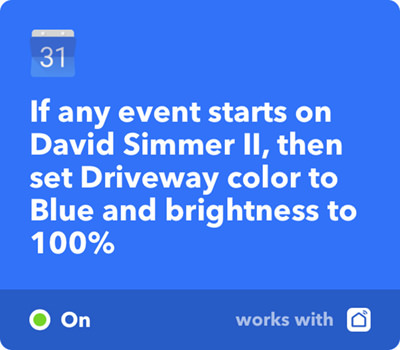 And that's that. It really is this simple, and creating your own "recipes" for triggers and action is easy. If you want some tips on how to do all that, then a YouTube search will result in a lot of videos showing you how.

And another thing I've done with IFTTT?
I have my television on 90% of the time I'm home. Even when I'm not watching it, I like the background noise while I work. The first thing I usually do when I get home? Tell Alexa to turn on the television. But now I don't have to. When I come home and my iPhone connects to Google WiFi, the router automatically triggers IFTTT to have my Harmony Hub turn on my television. It's on when I walk in the door***...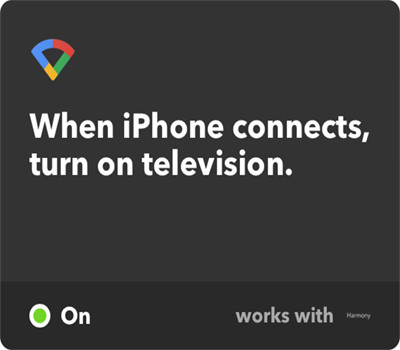 Yet another thing I've done with IFTTT?
I have a "Ring" smart doorbell. Thanks to Ring, I can answer my doorbell and see/talk to anybody who rings it no matter where I am. Problem is? I made the mistake of replacing my awesome Ring doorbell with a Ring Pro, which is a pile of shit. It disconnects from WiFi at random times for no reason at all. Even now that my Google WiFi Mesh provides plenty of signal, it's still disconnecting. And of course the piece of shit doesn't reconnect automatically. I have to remove the cover with a special screwdriver, press a button, then run through setup again. And the problem with that? How do I know when the doorbell drops WiFi?
Well, thanks to IFTTT, I have my Google WiFi router text me when my Ring doorbell goes offline...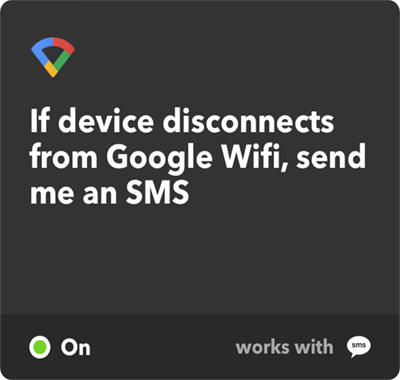 I used to use my iPhone's location services to create a "fence" around my home. That way when I arrive or leave home, I can trigger events. But location services, while more accurate than ever, are still not entirely reliable. What is accurate and reliable? My iPhone connecting to my Google WiFi mesh network when I arrive home.*** Which is why I now use that to tell my house that's I'm coming or going. IFTTT then triggers things like setting my smart thermostat to either "Home" or "Away"...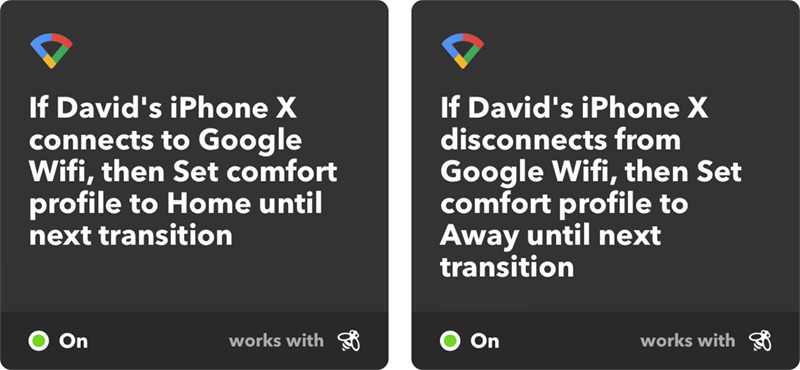 The possibilities are limited only by your imagination... and how many IFTTT-enabled devices you own... and what IFTTT services are available. The numbers are growing every day. Heck, even Dominoes Pizza has linked their Pizza Tracker technology to IFTTT! Have your garbage disposal turn on when your pizza goes in the oven... then have your garage door open when it's out for delivery...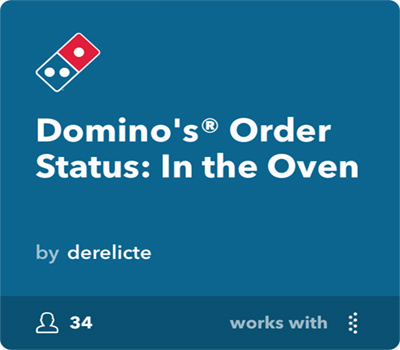 Regardless of how much home automation you have, there's still a lot of useful stuff you can o with IFTTT. For the longest time the only action I had was triggering Alexa to call my iPhone when I couldn't find it so I could follow the ring. That's magic right there.

*Also? There's some wacky hoops to jump through to get them connected to Alexa I think? I dunno. Whenever I "discover devices" with Alexa, I get some kind of warning for Hue stuff.
**Well, kinda. The ability to change bulb colors with the GoSund bulbs is kinda messed up right now... but I'm assured they are working on it!
*** I also have an IFTTT trigger to set my SONOS to a low volume so I don't give my cats a heart attack on days I was blasting music the night before.
**** Speaking of my Google WiFi mesh network... the sucker got range. When I was walking home from work today I had my phone out so I could see when I first started getting signal... it was here...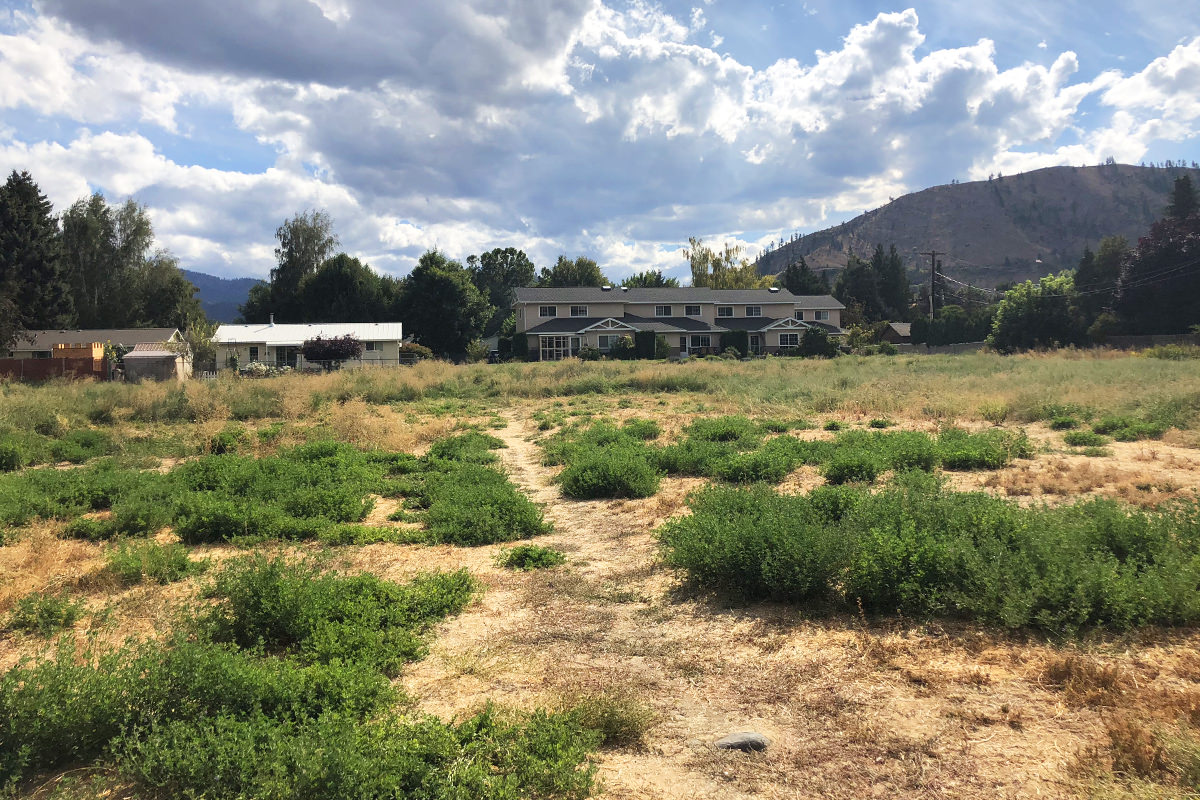 Pretty great, right? My old router had 1/3 the range.