Posted on October 22nd, 2017

I am Sundaying so hard right now, because an all new Bullet Sunday starts... now...

• Feral! This past Monday was "National Feral Cat Day." My cats, Jake and Jenny, were feral kittens when they were found. I don't think they quite adapted to foster care, and were still very much feral little scrubbers when I adopted them. Weeks of patience turned into months of building trust which has turned into 1-3/4 years of the best furry friends I could hope for. They are still, in their hearts, feral cats who are very slow to trust. And they hide the minute anything out of the ordinary happens. Sometimes, on rare occasions, they are even wary of me. But most of the time they love crawling all over me for pets and attention and I've never been lonely since they took over my home. Feral cats are more work than those kitten raised around people... but I wouldn't trade mine for the world. If anything, I think I appreciate them more than I would other cats because I had to put effort into getting them to accept me. And once they did? There's no better feeling...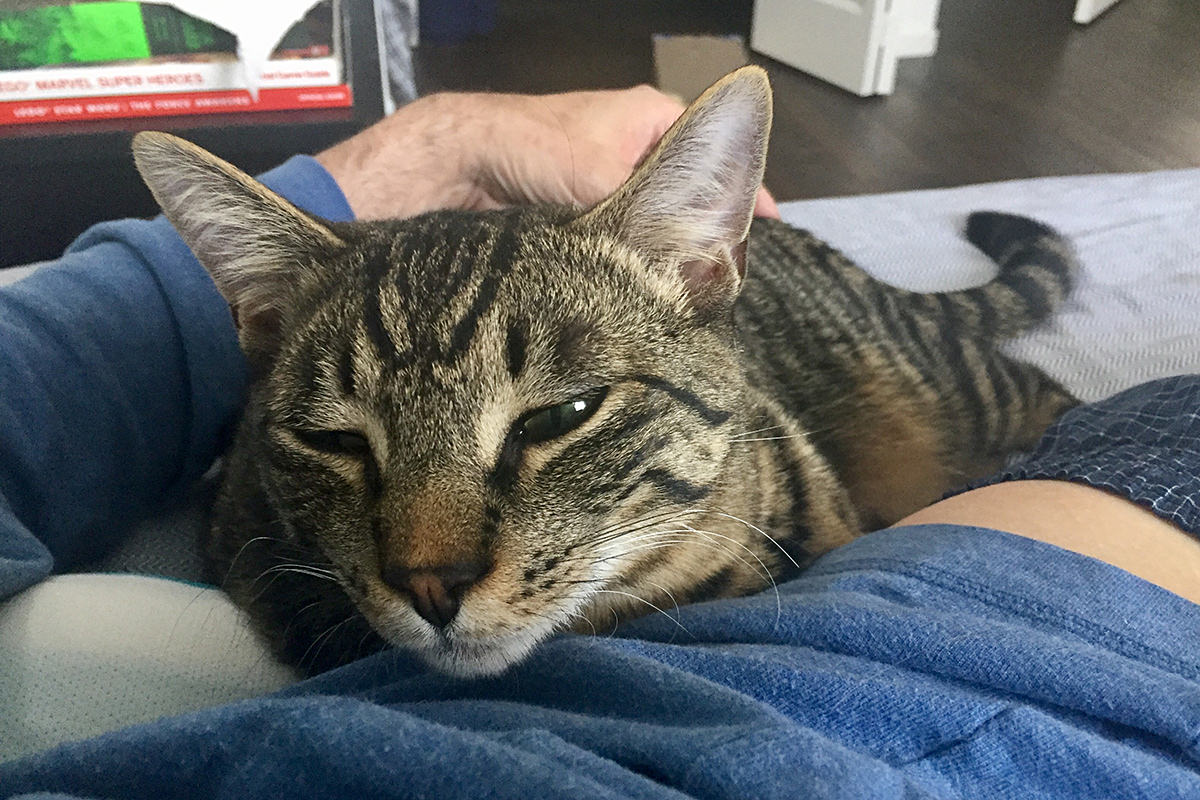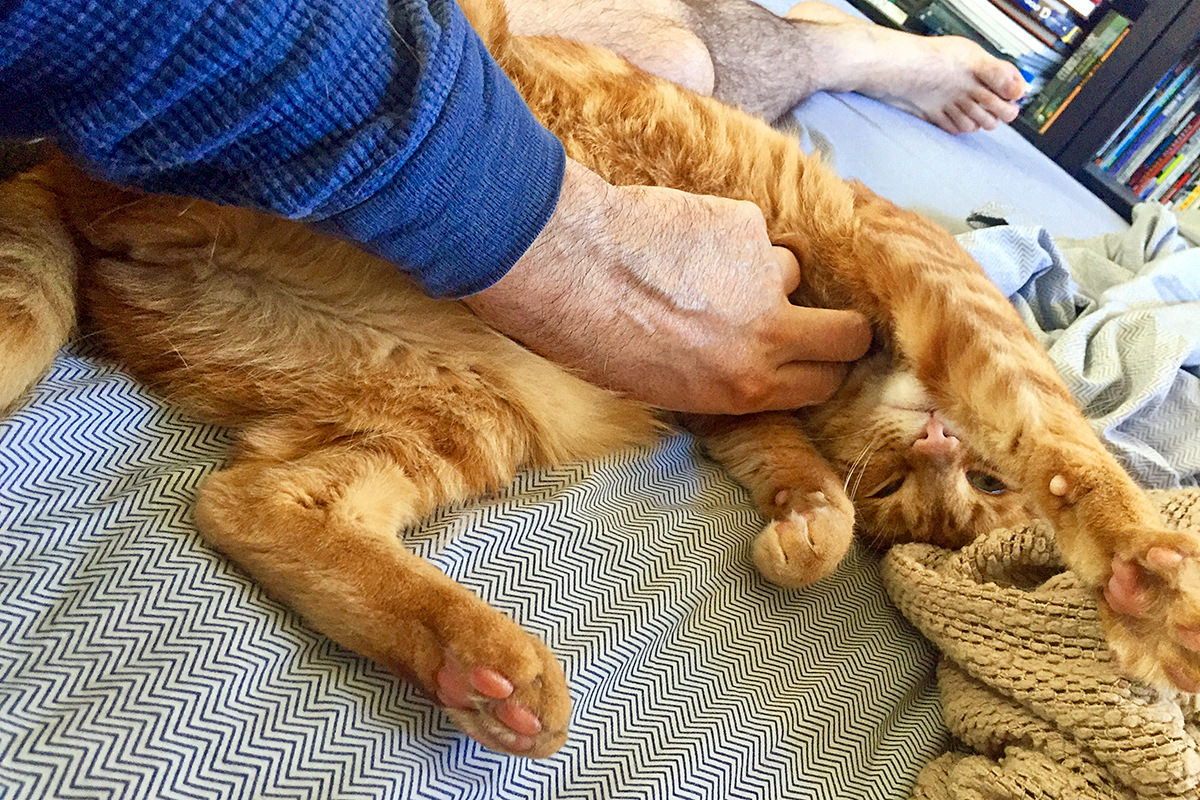 If you have the opportunity to help out a feral cat, the work is definitely worth the reward!

• Dimensions? And so... it would seem that LEGO Dimensions is no more. Typical. Oh well. The gameplay was getting tired... but it was kept fresh by the licensed properties they kept bringing to the table.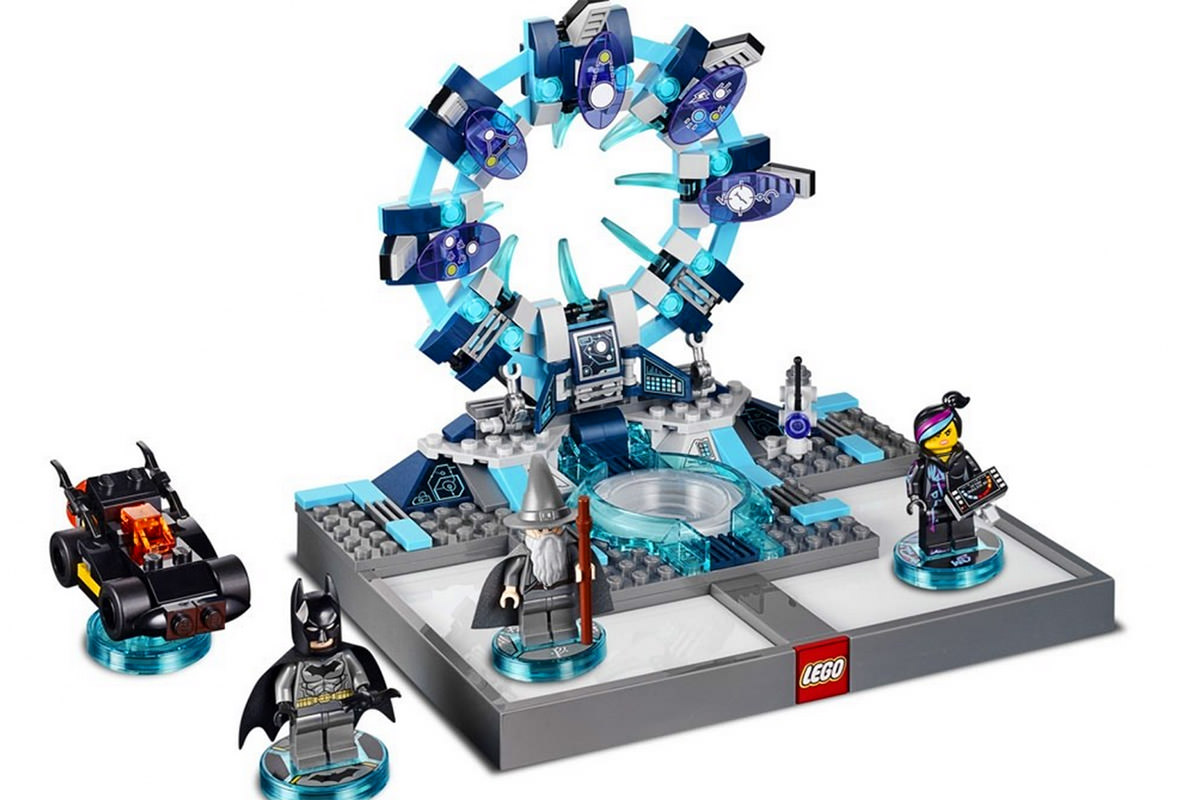 Wish they would have got LEGO Star Wars in the mix before signing off... after Disney Infinity dried up, it seemed a natural.

• Get Help! The reviews for Thor: Ragnarok have been stellar. And with each new clip released, I just want to see it more...
Cannot. Wait.

• Lucifer! Right now there's a lot of good television going on. In addition to The Good Place, which is the best show on television right now, we've also got Star Trek: Discovery, The Flash, The Orville, and Supergirl... not to mention some of the indy oddball stuff (like Dirk Gently), which makes it tough for me to keep up with my shows. But that one show I will always make time for? Lucifer!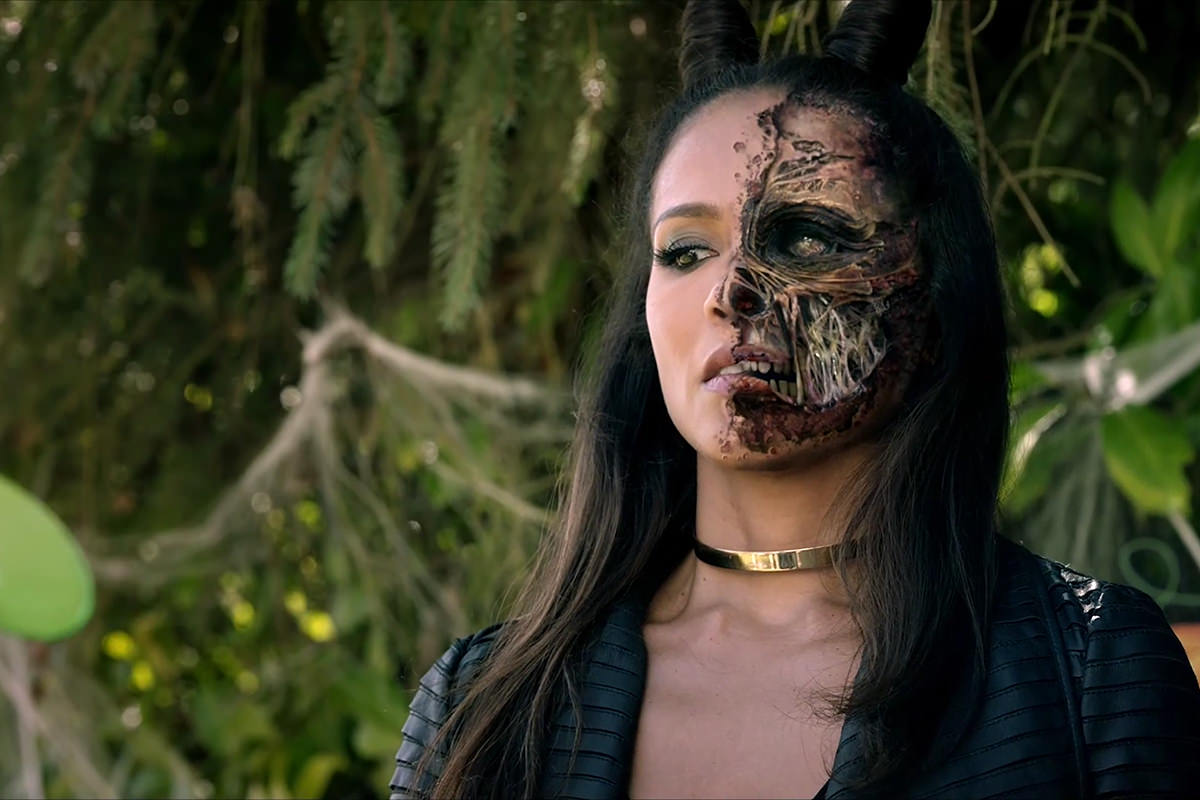 Last season was fantastic because "Mom" came to visit, which led to some interesting directions for the show. Now they seem to be focusing on fleshing out secondary characters instead of bringing in new ones, and I couldn't be happier. Maze is probably the best character on the show after Lucifer, but has been largely marginalized. But this last episode (S03:E03 Mr. and Mrs. Mazikeen Smith) puts her in the spotlight and the results are so amazing I find myself wishing they would spin her off into her own show. If you're not watching, you really should be.

• Jack! Another show I've been very much enjoying has been the revival of Will & Grace. Though I strongly dislike the two main characters, secondary characters Jack and Karen always seem to salvage the show. The latest episode (S09:E04 Grandpa Jack) is no exception. Jack, who discovered he had a son (thanks to a sperm bank "donation") gets an even bigger surprise when he discovers his son had a son, so he's now a grandpa!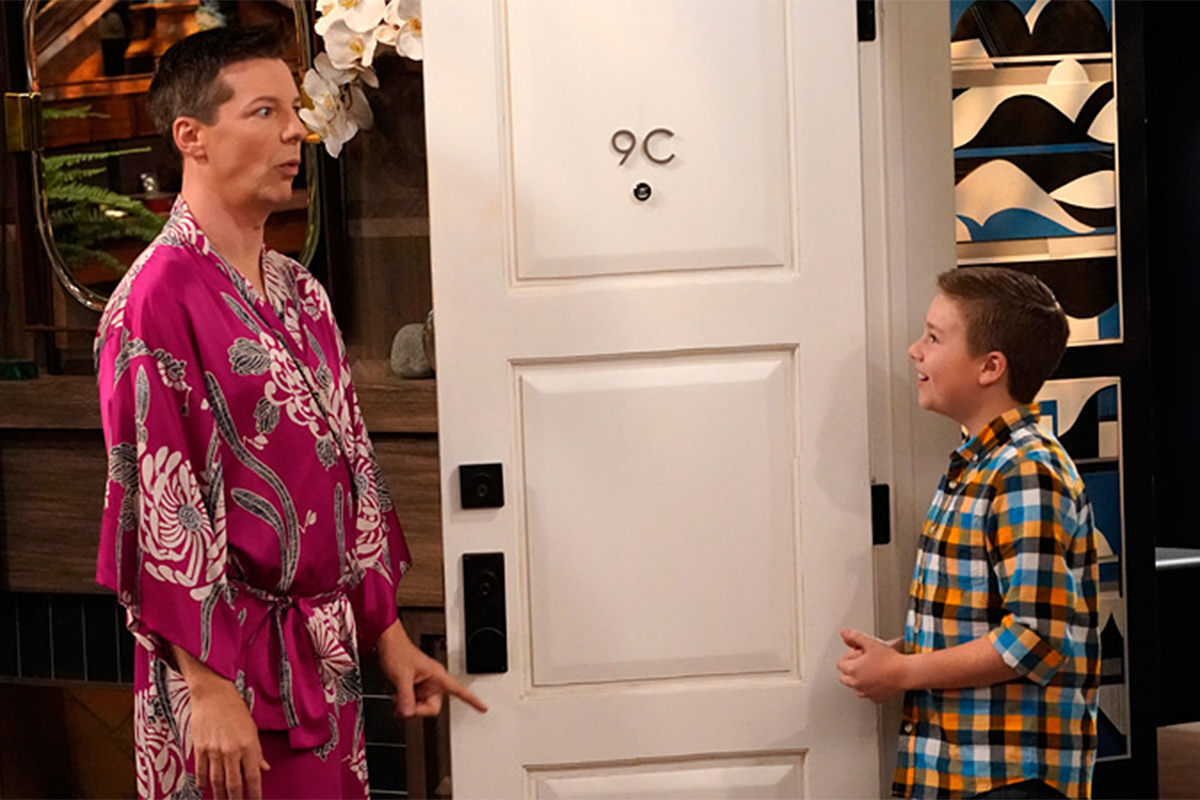 I will not spoil the story except to say... it's both hysterically funny and emotionally devastating at the same time. And it has two guest appearances that are absolute gold. When they restarted the show, I was hoping that we'd see Jack's son again. I never expected that his story would be this good. Well worth a look.

• Decor! When I moved into my home, I noticed that the previous owner had left a lot of decor scattered about. None of it was too my taste, so I made it my mission to toss it all out. The only thing left is a lion head above my doorbell and a weird dried flowers plaque with hooks I use for my keys and hats. The plaque was useful, but I vowed to replace it when I found something better... I never did. The lion I was going to ditch when it was removed for painting... but I ended up putting it back. Don't know why. I kinda like him, I guess...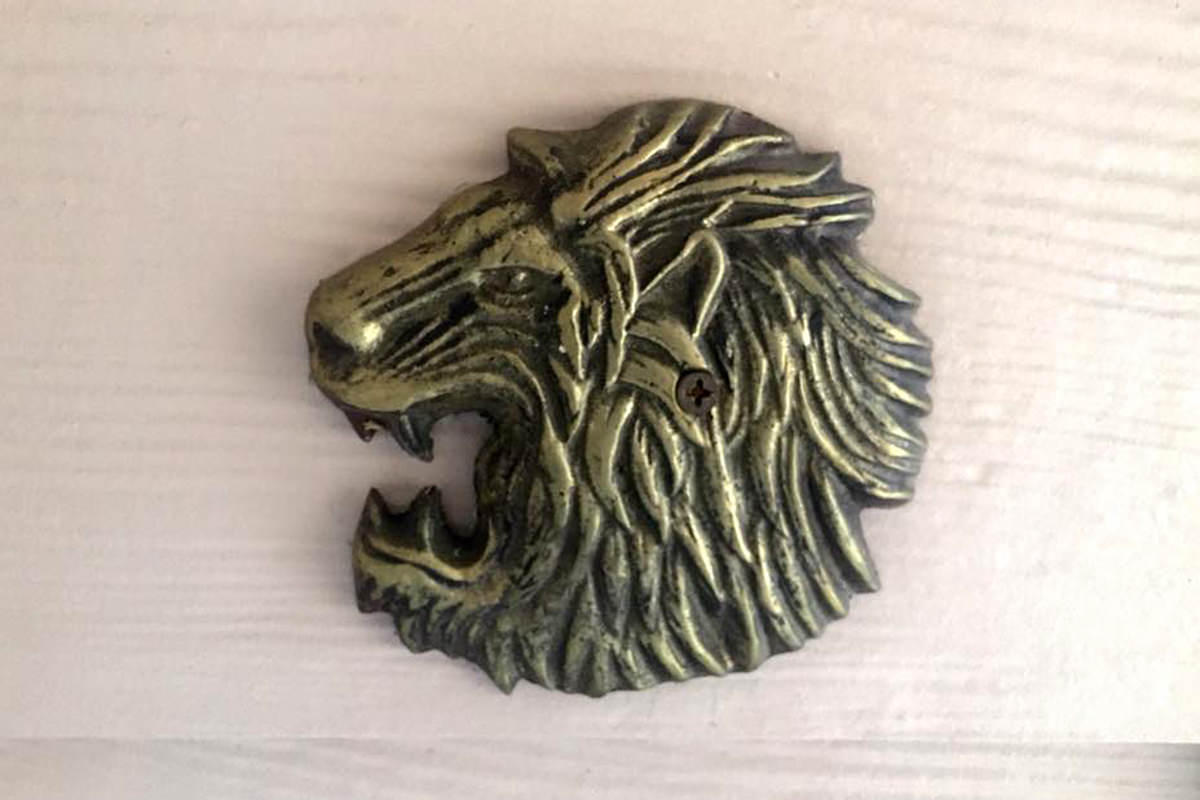 I suppose one of these days I really should go shopping to find a replacement for my key hooks.

And... Sunday is over. So too are the bullets.
Tags:
Bullet Sunday
,
Cats
,
LEGO Dimensions
,
Movies
,
Star Trek
,
Television
,
The Good Place
,
Thor
Categories:
Bullet Sunday 2017
,
Cats 2017
,
LEGO
,
Movies 2017
,
Television 2017
—
Click To It:
Permalink
—
0 Comments: Click To Add Yours!
Posted on April 16th, 2017

Sure it's Easter, but there are other reasons to celebrate the day, because an all-new Bullet Sunday starts... now...

• Kitty! Everything I love about cats can be found in this one clip of a kitty trying to escape the field at a Marlins game...
What a trooper! Apparently a Marlins' employee adopted the cat, who was named "Don Cattingly" in a Twitter poll.

• Kedi! And, speaking of cats...
Can't believe I have to wait until November for this to come out on video!

• Atomic! Okay... putting aside the fact that the trailer for Atomic Blonde features music by both Depeche Mode and New Order... how badly does watching this make me want to see the movie?
Charlize Theron should be in a lot more movies.

• Ragnarok! Speaking of movie trailers... how amazing is the latest Thor movie looking?
I'm part of the minority who actually likes the Thor films. The first one was really great at establishing the characters. The second stumbled quite a bit, but was still entertaining. But this? Probably the best Thor yet. Possibly one of the best Marvel films yet.

• Spicey! Melissa McCarthy is hosting SNL on May 15th. I'm hoping it's just an hour-and-a-half of her impersonating Sean Spicer, playing out the best of his ongoing fuck-ups. Verbatim. In the meanwhile, we have yet another flawless sketch from last night's episode...
What a big, beautiful slice of chocolate cake.

• Politics! The more you know about how politics work in this country, the more you think that we should burn the entire system to the ground and start over...
Politicians don't act in the best interest of those they represent because they don't have to. That's the underlying reason we're as fucked as we are.

Now go eat some eggs, you animal.
Tags:
Bullet Sunday
,
Cats
,
Dumbassery
,
Movies
,
Politcs
,
SNL
,
Thor
Categories:
Bullet Sunday 2017
,
Cats 2017
,
Movies 2017
,
News – Politics 2017
,
Television 2017
—
Click To It:
Permalink
—
0 Comments: Click To Add Yours!
Posted on May 22nd, 2014

All things considered, I'd rather be back in Chicago.
Even with all their thunder and lightning...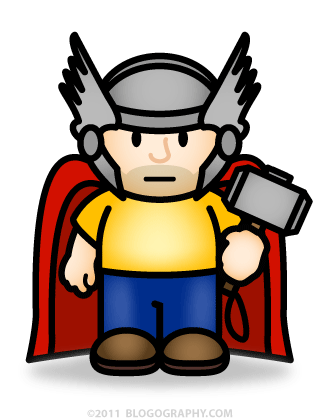 At least there I could get a decent veggie dog.
Posted on May 2nd, 2014

Why does that lady in the subway give Thor the wrong directions to Greenwich in his The Dark World movie?
The bullshit "three stops from Charing Cross Station" line bothered me when I first saw the film... and it really bothers me whenever I re-watch it on video. Like tonight. I can only imagine how badly it pisses off a Londoner. I mean, sure, it would have sucked to say "YOU CAN'T GET THERE FROM HERE, GOD OF THUNDER! YOU NEED TO TAKE THE DOCKLANDS LIGHT RAIL BY SWITCHING TO THE JUBILEE LINE!" or whatever (I think that's how I got there when I went). But wouldn't that be better than forever having the distinction of being known as a writer who didn't bother to take two minutes to look at a frickin' London tube map?
Don't make Thor angry. You won't like him when he's angry.
And angry is what he would be if he were to find out that he was lied to about how to get to Greenwich.
Next up? Where was Captain Britain when London was being torn to shit by the Dark Elves?
Posted on May 4th, 2012

HOLY CRAP WHAT A FRICKIN' AWESOME MOVIE!!
I don't want to spoil it for anybody, so I'm not going to give away anything. Except to say that The Avengers is a comic book lover's dream that even people who don't care for comic books will enjoy.
Which is not to say it's perfect. There are definitely some moments where it dragged a bit. But, unlike the crappy trio of original X-Men films which wimped out in every way possible, The Avengers attempted to show the brutal reality of what it would be like when a super-hero team come to life. And it totally worked...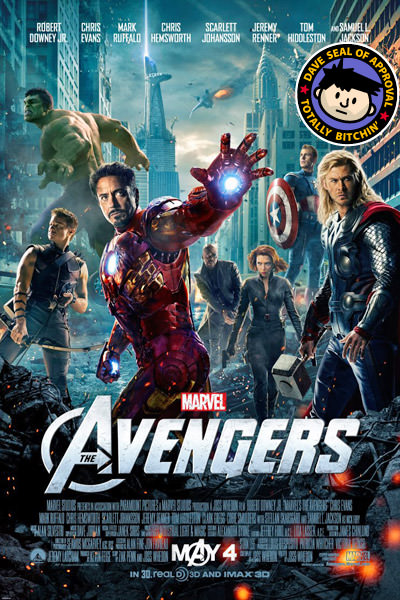 Writer/Director Joss Whedon just eclipsed every other comic book super-hero film ever made. And I loved, loved, loved it.
With one small exception.
Which I can't talk about without RUINING THE FILM FOR ANYBODY WHO HASN'T SEEN IT.
So absolutely DO NOT read the extended entry until you've seen the movie. Seriously, you just can't go any further if you haven't seen the film. Even if that's going to be on DVD two years from now. Which it shouldn't be, because this movie is screaming to be seen on the big screen.
But before we get to that, time to update my whole "Y2K Super-Hero Comic Book Renaissance" scorecard as follows...
The Avengers... A+
Batman Begins... A
Batman Dark Knight... A+
Blade... B
Blade 2... B
Blade Trinity... B-
Captain America... A+
Catwoman... F
Daredevil... B-
Daredevil (Director's Cut)... B+
Elektra... D
Fantastic Four... C
Fantastic Four: Rise of the Silver Surfer... D
Ghost Rider... C
Green Hornet... D
Green Lantern... C+
Hellboy... A
Hellboy 2: Golden Army... A
Hulk... C-
Incredible Hulk... B
The Incredibles... A+
Iron Man... A+
Iron Man 2... A
Jonah Hex... F
Kick-Ass... B+
Punisher... C+
Punisher War Zone... C
Spider-Man... B+
Spider-Man 2... A
Spider-Man 3... D-
Superman Returns... C+
Thor... B+
Watchmen... B
X-Men... C
X-Men 2: United... D
X-Men 3: Last Stand... F-
X-Men Origins: Wolverine... D
X-Men: First Class... B
→ Click here to continue reading this entry...
Posted on May 29th, 2011

It's Bullet Sunday from The Windy City!

• Forecasting. And when I say "windy" I actually mean "stormy with torrential rains." This afternoon there was thunder, lightning, black clouds, and a literal flood pouring from the sky. What's so odd is that the forecast for tomorrow is "mostly sunny" which is almost impossible to believe. But, then again, looking at the extended forecast, impossible weather seems to be a continuing event here over the next week...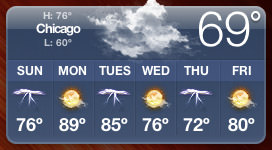 Make up your mind, Chicago!

• Thor. Back in the 1980's I was mostly reading DC Comics, with only occasional dalliances with Marvel Comics' stable of characters. All that changed when I got hooked on Walter Simon's absolutely brilliant work on Mighty Thor. His critically acclaimed run on the book was the stuff of legends, and I instantly became a massive fan of the epic stories he was telling there. Eventually Simonson left the book and my interest in the series waned, but I never lost my love of Thor as a character...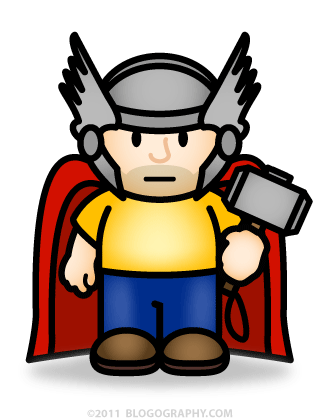 Fast-forward to earlier this month, and Marvel has released a massive tome which collects Walter Simon's work and called it the Thor Omnibus. It runs 1200 pages and is almost too big to hold comfortably (it should have been a 2-volume set!). The interior is absolutely stellar, having been completely recolored. They also added 50 pages of bonus material including drawings from Simonson's sketchbook...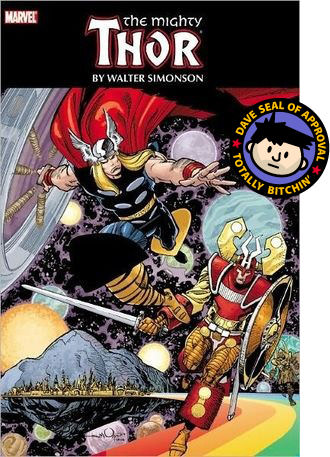 If you are a Thor fan, this is essential. If you are not a Thor fan, this book will make you one. Highest possible recommendation.

• Thorified. Which brings us to the brand new Kenneth Branagh-helmed film Thor, a faithful and wholly amazing adaptation of the comic book series. It is a massive, brilliant, totally EPIC film that I simply didn't want to end. Everything from the acting to the special effects to the design to the story was near-flawless...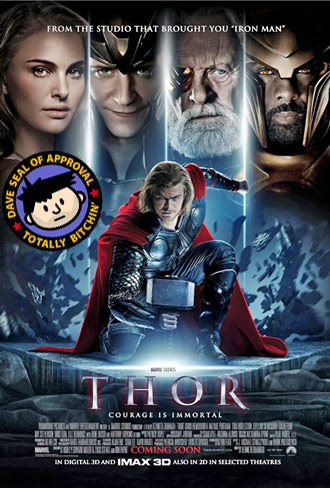 If I have one complaint, it's that the story seems oddly rushed. What should have taken months to unfold seems to happen in mere days, providing an unrealistic edge to the character development. I don't care who you are, you don't completely change your entire outlook on life in two days, and yet that's exactly what we're given.
Anyway... the movie tells the story of an ancient race of Norse gods who live in Asgard, one of the "Nine Realms" of our universe. One of these gods is Thor, a vain and arrogant warrior who is due to succeed his father Odin as king. But all this changes when Thor makes a big mistake and ends up being banished from Asgard to "Midgard" which we know as earth. Love, loss, and adventure ensue.
I gotta hand it to Marvel Comics here. First Iron Man came along and blew me away. Now Thor. Next up is Captain America, which looks even more amazing. And then there's X-Men: First Class which looks like it's going to kick all kinds of ass and finally make up for the totally shitty X-Men films that came before. All this will culminate with The Avengers in 2012 which has the potential to redefine the word "epic"... especially with Joss Whedon behind it. All in all, this is a great time to be a comic book fan.

• Bridesmaids. Even with all the critical acclaim and internet love, I was still wary of going to see Bridesmaids. Too many times the things other people think of as being "funny" I just think of as being "stupid" and a big waste of time. And then along comes Kristen Wiig's answer to The Hangover. And it's actually funny. And more than a little touching. But mostly entertaining...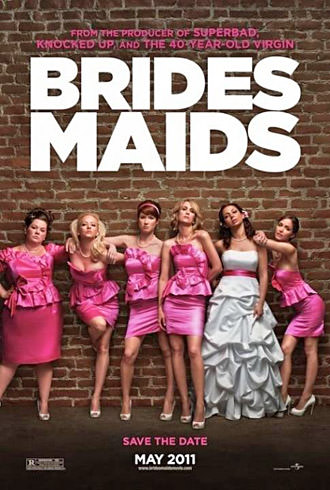 Wiig plays Annie whose best friend Lillian (Maya Rudolph) is getting married and wants her to be her maid of honor. Hilarity ensues. And while there are moments where it felt like an SNL skit that goes on way too long had been shoehorned into the plot, overall I really enjoyed the story. Probably because it went for "funny-smart" instead of "funny-stupid." Add to that a really good cast, and you've got a movie actually worth your valuable time.
Assuming you're an adult who can appreciate an R-rated movie with occasional lapses into gross-out humor.

• Pasta. I seem to be going through a ravioli renaissance. I stopped eating the stuff (despite it being one of the things on an Italian menu I could eat) because it always ended up being gummy and squidgy. The last Wednesday I had some of the best cheese ravioli in my life at Piccolo Sogno... followed by an amazing dish of butternut squash ravioli tonight at Prasino. Apparently the greater Chicagoland area knows how to make the stuff. Which is little help as I head back home where nobody seem to know how to make it very well at all.

And speaking of home... I suppose it's time to finish up my work, pack my bags, check in for my flight, and post this blog entry so I can fly out tomorrow. Hopefully in better weather than today.
Posted on March 27th, 2011

Back to reality for a super-hero-fashion episode of Bullet Sunday! But, before we get there, I need to remind everybody that the best podcast on the internet you're probably not listening to is now on iTunes! Cannot recommend it highly enough: Hey! That's My Hummus on iTunes. And for baseball talk, don't forget Just Talking to the Cornfield on iTunes.

• Wonder Woman! I've had very strong reservations over the whole David E. Kelley Wonder Woman television pilot from the very beginning. From everything I've read, it seems as though he's dead-set on putting his personal stamp on the material, which means we're not going to get Wonder Woman... it's going to be Ally McBeal in bad latex. The first episode's villain is perfume company CEO Veronica Cale (WTF?) which is being played by the incomparable Elizabeth Hurley (who arrived in L.A. a while back to film her scenes)...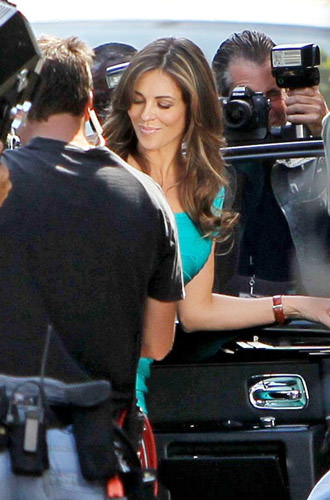 ©2011 Michael Wright/WENN (from AceShowbiz)
Since Elizabeth Hurley is in it, I'm pretty much obligated to watch the show now. Which is a shame, because the official Wonder Woman costume photo looks like crap...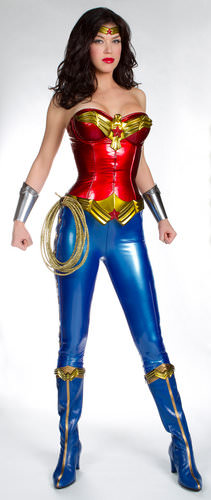 In all seriousness, I've been to comic book conventions where the fan costumes looked better than this cheap-n-glossy joke. She looks like a badly-dressed dominatrix or something. Such a horrible departure from the classic Wonder Woman uniform that was worn so perfectly by Linda Carter in the original TV show...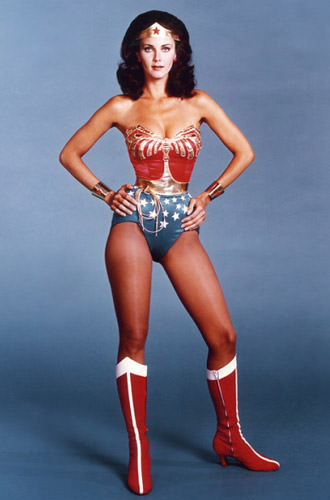 Call it cheesy if you want, but THAT'S what Wonder Woman is supposed to look like. COSTUME GRADE: F

• Spider-Man! And speaking of truly terrible costumes... I loved the first two Spider-Man movies. The third one was awful story-wise, but had really good action sequences. Still, I was hoping for another Sam Raimi/Tobey Maguire installment because I liked the "feel" they gave the character. Alas, it was not to be. So now we've moved on to something new which could be good or could be bad. And if the costume is what we have to go on, this is going to be as bad as it gets...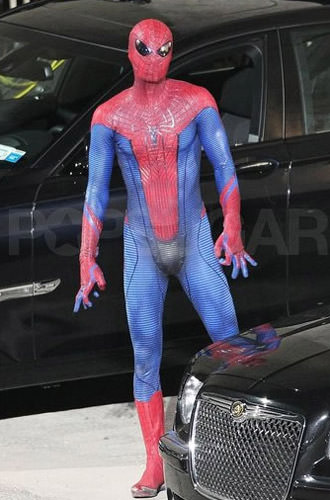 Even if he didn't have an inexplicably black crotch, this would be a horrible interpretation of an iconic costume. COSTUME GRADE: D

• Captain America! The modern-day Captain America comics have never interested me very much. Sure there are good stories that pop up from time to time but, overall, it's a one-note concept to me. But I have to say, everything I've seen for the upcoming Cap film looks flawless. First of all, they set the movie in World War II, which is faithful to the character's origin. Second of all, it seems as if director Joe Johnston is going out of his way to make it a fun and entertaining film to watch...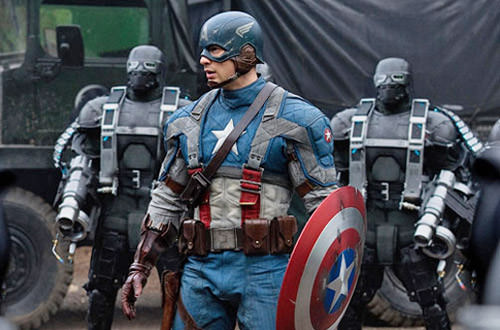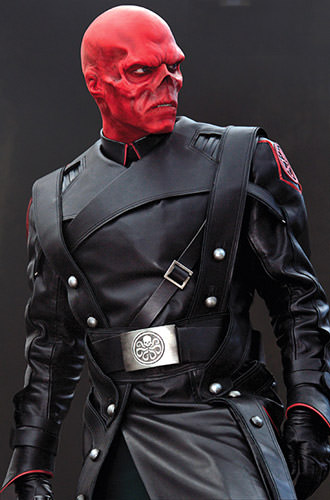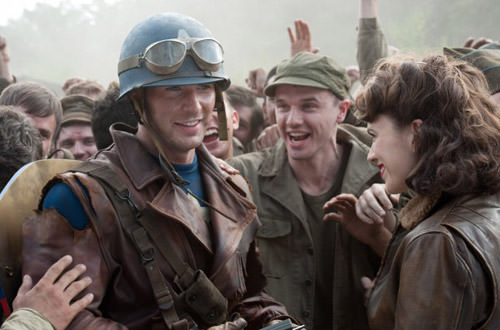 What's so killer about Cap's costume is how you can see they're clearly building up to his modern-day outfit by starting with a WWII era interpretation. He was designed to be a symbol for the guys in the trenches, and its coming across perfectly. And just look at the Red Skull! Cannot wait for this movie. COSTUME GRADE: A

• Thor! Other than Walter Simonson's brilliant run on the character in the 1980's, I've never been a big fan of Thor. He just never seems to work in the context of the super-hero genre very well. But this film has Kenneth Branagh directing, and the trailers look to be pretty epic in scope, so we'll see...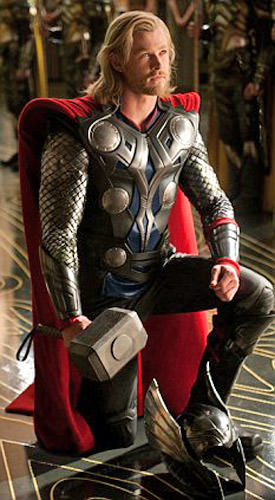 I am the first to admit that translating Thor's costume to the big screen is no easy task... but this looks all cheesy and plastic to me. I'm guessing it's supposed to be metal (maybe it is!), but I'm still not impressed and think it would have looked better with a brushed metal? This is probably going to appear much better on-screen when lit properly, so it's hard for me to be too critical. It is, after all, pretty faithful in "feel" to the original. COSTUME GRADE: C+

• Green Lantern! This is the hardest movie of all to figure out. I think my hetero-man-crush Ryan Reynolds was flawless casting for Hal Jordan, but the movie is looking like a George Lucas CGI party instead of a film of any substance. The special-effects generated costume in the preview trailer looked so bad that I couldn't fathom how the movie could possibly work...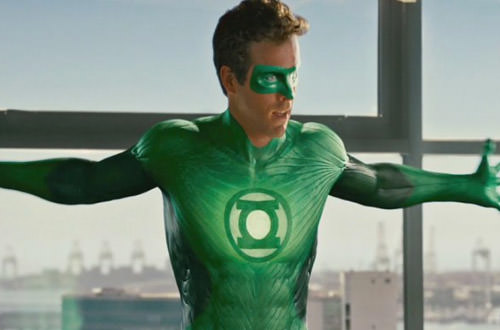 But then I saw this shot of Mark Strong as Sinestro and thought "maybe"...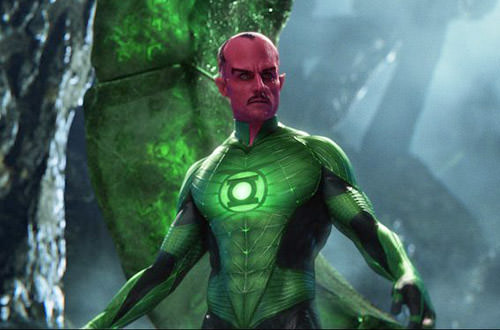 Green Lantern was one of the first comic books I ever read, and so I continue to hope that everything comes together. Out of all the super-hero projects underway, it has the most potential for greatness... or disaster.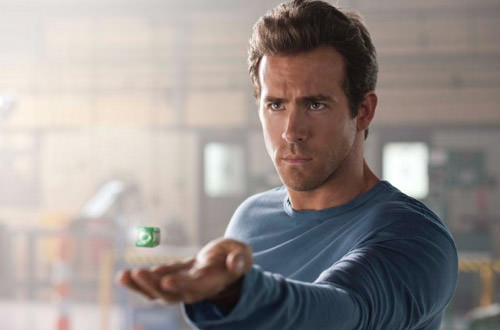 It's pretty hard to get a feel for how the costume works from still images. On Hal Jordan, all the crazy lines look just plain stupid. On Sinestro, they look awesome. I'm guessing that when they're in-motion they'll be all glowing and stuff, which will probably look cool. Or corny. I have no idea. I do think it would have been better to not go with 100% CGI though, which seems like a recipe for disaster. COSTUME GRADE: Wait and C

• X-Men! I should probably get this out of the way... I loathed all of the X-Men films. They were SO BORING. The X-Men were never really given any battles. Sure there were some silly little scrapes here and there, but they didn't have any scope. Everything in the movie seemed so much smaller than life. And while the costumes weren't anything to write home about, I thought they were okay. Sadly, the costumes weren't the problem. And so now we're re-booting the franchise with a prequel...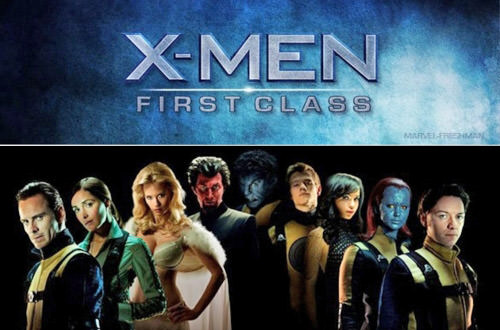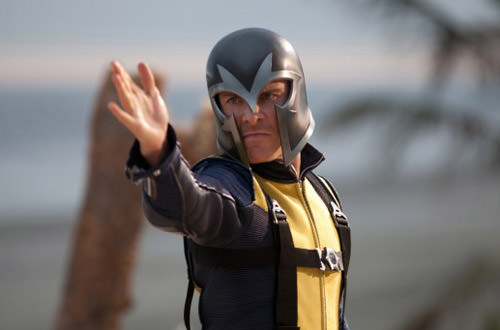 From what I can tell, the costumes here are pretty good. They are a faithful (albeit upgraded) interpretation of the "original" X-Men costumes, which was no easy task. All we can do is wait and see if the movie has the scope and story to make any use of them. COSTUME GRADE: B

That's a lot of super-heroes. And it doesn't even account for the new Superman movie reboot, the third Iron Man film, the third Batman film, The Hulk reboot, The Avengers, and whatever else that's coming up. I hope that people don't get burnt out on comic book movies.