Welp, you know what time it is... my annual wrap-up of my favorite films of the year! Or, to be more accurate, my favorite films that I actually saw. Which is not as many as usual, thanks to COVID, but here we are.
Interesting to note that my Number One is not a Marvel Studios movie. Last year it couldn't be because Marvel didn't release any movies... but I'm pretty sure that there's been one of their films in the Top Spot for the previous decade I've been doing this! Shocking, I know!
THE TWELVE BEST...
These are my favorite movies from this year that I actually saw.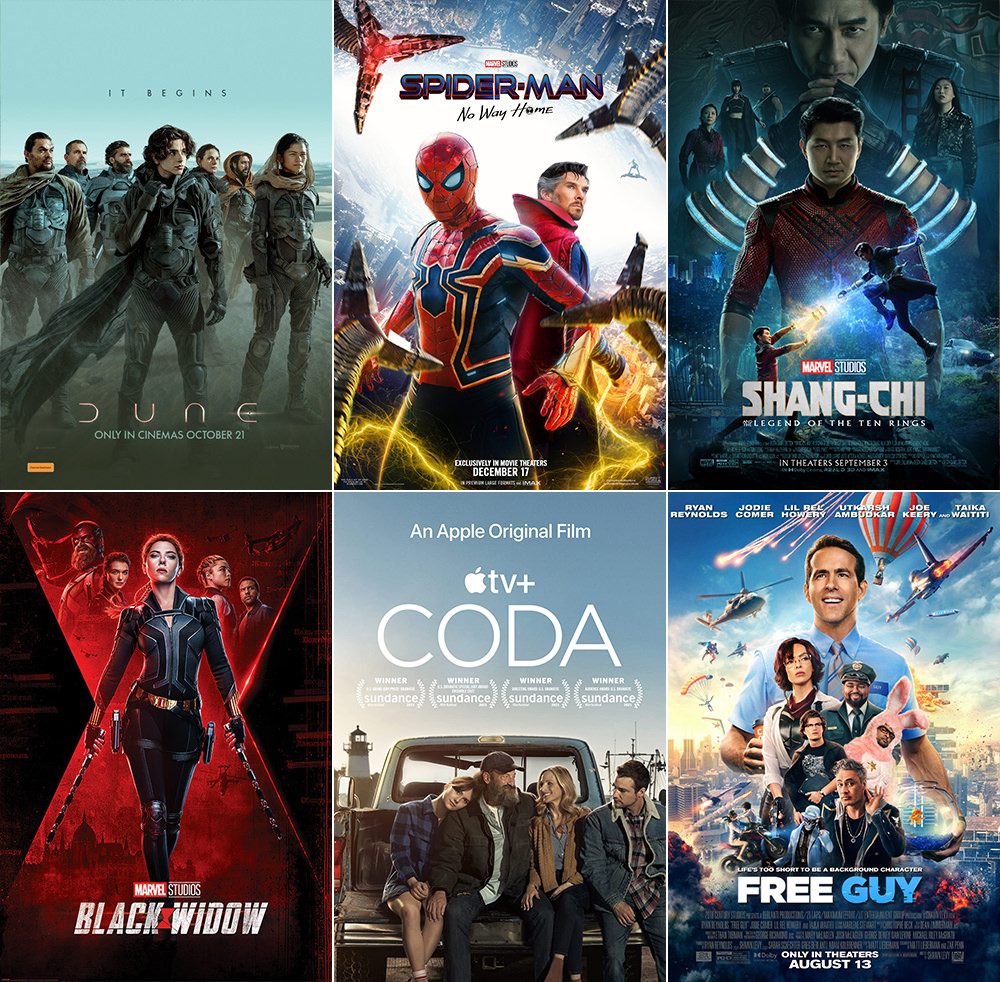 #1 Dune (Warner Brothers)
I'm one of those rare people who actually liked the David Lynch Dune effort in 1984. No, it wasn't "Real Dune" but how could it be? For what it was, it was entertaining and visually interesting, and that was enough for me. Then along comes Denis Villeneuve with his version of Dune and I was hopeful. He split the impossibly complicated novel it into two parts, which seems like it gave him a great start. Then I saw it. And saw it again and again and again. Because I was in disbelief that he actually pulled it off. And the way he pulled it off was to do something I never thought that I'd endorse... he cut out a lot of stuff that seems critical... but was actually not so critical after all. By streamlining the story, he let the parts he kept truly shine. And it was the most important parts, which is what makes this adaption so bloody brilliant. Cannot wait for the second part. And the third, if we get so lucky.
#2 Spider-Man No Way Home (Sony & Marvel Studios)
I fully admit that I was expecting to not like this movie. I thought the appearance of the alternate universe villains would overwhelm the story and take the focus off Spider-Man all in the name of fan service. Well, this movie was all about fan service. One could argue that this was the only thing it was about. Much to my surprise, it actually worked. The villains were an accessory to Peter Parker's story, as they should have been. And getting Doctor Strange to appear was icing on the cake. I could have watched Spider-Man battle Doctor Strange for hours. So clever. So well-constructed. So very, very comic book! In fact, this is probably one of the most "comic booky" of the Marvel Studios films so far. And it's for that reason that it's landed in the #2 spot for 2021. Even though I can't even touch on much of what really makes it so good out of fear of spoiling stuff. Suffice to say that every single person who appears in this movie is beyond exceptional in their roles. If you saw it, you know. If you don't know, you should know. What's truly exciting is what comes next. We're left at a very interesting place for Peter Parker in his next trilogy of movies.
#3 Shang-Chi and the Legend of the Ten Rings (Marvel Studios)
What can I say? They utterly and totally nailed it. That's not surprising. What is surprising is that two movies edged out Shang-Chi on my list! The film provides super-heroic thrills in a way that Marvel excels at... but gives us something new by steeping it in Asian culture and Chinese traditions. The result is magic (and it doesn't hurt that Michelle Yeoh is in it!). Simu Liu and Awkwafina are unassuming valets at a hotel who get dragged into a mystery (with plenty of action) once Shang-Chi's immortal father comes calling. From there we get epic battles with fantastic special effects that run the gamut. One minute we're getting Jackie Chan style kung-fu... the next minute mystical action that is beautifully realized. But the flawless action is tempered with some very nice quieter moments that make you completely forget that this is yet another origin story. Instead it's a really good story that's executed very well. And Michelle Yeoh is in it!
#4 Black Widow (Marvel Studios)
What bothers me so much about this film is that it feels as though Natasha Romanov is a supporting character in her own film. She's not... not really... but it feels that way. Taking place prior to her death in Avengers: Endgame (Spoiler Alert!) but after her turn in Captain America: Civil War, this is pretty much a set-up for her sister Yelena Belova to take her place in the Marvel Cinematic Universe of today. Which is most certainly not a bad thing. Yelena is actually a truly great character who was flawless in the Hawkeye Disney+ series... but was it too much to hope that we'd get a little more Black Widow in her first (and likely last) solo film? There's so much going on... Yelena, Red Guardian, Dreykov, Melina Vostok, The Widows, and a weird adaptation of the villainous Taskmaster from the comics... when it would have been nice to just get more Natasha out of it all. We did get a peek at her past (and finally get some questions answered about Budapest and Dreykov's daughter) which was nice though. Ultimately this was an entertaining film that had some terrific action and introduced some memorable characters. But as a send-off for Black Widow it was merely adequate.
#5 CODA (Apple TV+)
I don't know that the story synopsis grabbed me (the sole hearing member of a deaf family tries to live her own life while still trying to live up to the expectations and obligations of her family)... but the fact that Marlee Matlin and Eugenio Derbez star in it certainly made me take notice. And then I watched it. At which point I wondered for a millionth time how many gems like this are buried or go unnoticed by me every year. Because if not for Apple picking it up and promoting it heavily during episodes of Ted Lasso, I likely would have never knew it existed (which reminds me of last year's #3 film, Uncle Frank). The title, CODA, means Children Of Deaf Adults, and this coming-of-age tale stuck with me long after the credits rolled. There's just so many wonderful moments that are sublimely acted, and it's almost too good to be true that the film ever came together in the first place. Because that's all you really all you get... wonderful moments that are sublimely acted... which, in this case anyway, is more than enough. No fights or explosions. No hokey plot devices that seem tacked-on. No absurdly over-the-top dramatic moments. No yelling passed off as drama. No badly-shoe-horned plot devices. It's just a story that neatly sidesteps all the things I usually hate about movies like this. Just a story. But a really, really good one.
#6 Free Guy (20th Century Studios, now Disney)
This movie shouldn't have been as good as it is. It really shouldn't. A regular, every-day, boring guy discovers that he's actually a character in a video game? Who watched Tron and decided to reimagine that? Well, much to my surprise, the result is darn funny and has some seriously good action beats. Ryan Reynolds is the least "Ryan-Reynold-sy" he's been in a while, seamlessly meshing into a role that seems a bad fit... but one that he manages to pull off exceptionally well. And I'm most grateful that he got the chance. This film merges pop culture with video game culture to give us something special in a way that Ready Player One failed miserably at achieving (though I still enjoyed the book quite a bit). And just when you think that the movie has peaked... you're proven wrong. And you'll be happy to keep being wrong as everything piles up to a satisfying conclusion that makes you happy to have invested time in "just another video game movie."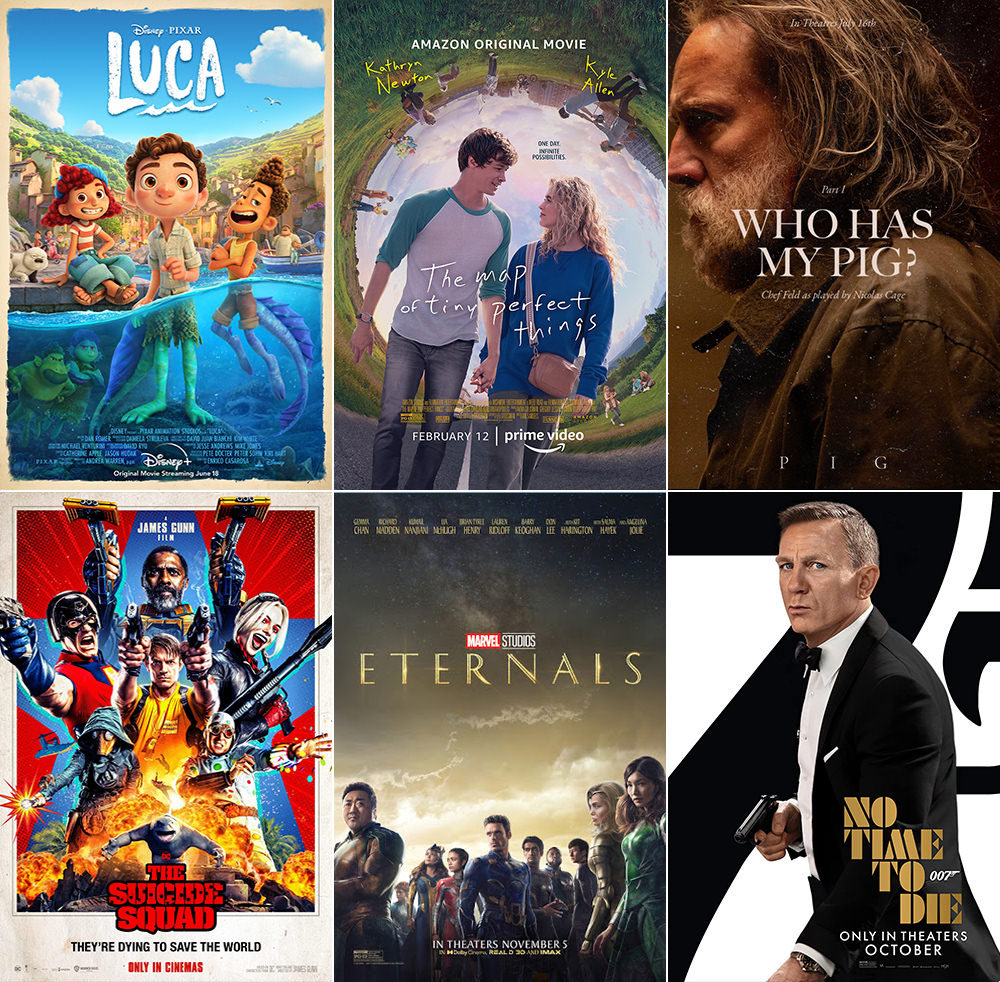 #7 Luca (Disney Animation)
This film would be amazing even if the story was lacking because it just looks so incredible. Animation so beautifully realized that I couldn't take my eyes off of it, and ended up watching three times in two days because I wanted to pore over every scene. The story takes place in the Italian Rivera, and the animators put the time in to capture it flawlessly. And, oh yeah, this story of a sea monster wanting to live a life outside of the water is wholly wonderful, combining heartwarming story beats with genuinely funny moments in a way that almost seems to have a Hayao Miyazaki Studio Ghibli feel to it instead of a Disney Animation feel. I can't possibly offer more praise than that.
#8 The Map of Tiny Perfect Things (Amazon Prime Streaming)
So there I was blazing through the streaming services I subscribe to looking for a movie to watch while I work. Amazon Prime recommended this film. And because Prime has an uncanny ability to recommend films I like, I decided to give it a shot. And was rewarded with this wonderful story that so totally absorbed me. Which was great from a movie standpoint... but truly terrible from a productivity standpoint since I didn't manage to get a lick of work done while I'm watching it. Twice. And what's so surprising is that this is yet another attempt at Groundhog Day where people are caught in a repeating time loop. But, like Palm Spring before it (my #7 film of 2020), they actually brought something new to the table and had something to say. The story is fun and sweet. The performances are all brilliant. And the way it comes together at the end really made me feel something. A treat that took me by surprise and was a total treat from start to finish.
#9 Pig (Al-Film)
Nicholas Cage in a masterful performance that's as challenging as it is beautiful. So much so that no movie surprised me more than Pig this year. Throw your preconceived notions out the door, go into it with an open mind and heart, and prepare yourself for something great. This is a thinking person's action flick in all the best ways, and the less I say about it before you indulge the better.
#10 The Suicide Squad (DC & Warner Brothers)
With James Gunn involved, I was hoping for the best. And that's pretty much what we got. This sequel/reboot of the franchise was a bloody good time and actually fought to live up to the title. Super bad guys get recruited to save the world on a "suicide mission" that will probably kill them, but will reduce their prison time if they survive. If there's a fault for me, it's that the character I most wanted to survive did not, and the character I most wanted to die did not. But, oddly enough, this probably made me like the film better because of it? It's tough to know. It's difficult for me to discuss the story in a way that doesn't spoil it all... but suffice to say that it's got some hilarious beats over some amazing action that made it worth my valuable time to watch.
#11 Eternals (Marvel Studios)
It's not that this movie is bad. It's just that it could have been so much better than what we got. It's tough to lay all of this on director Chloé Zhao's doorstep... she was offered a story entirely stuffed with too many characters trying to do too much and had to run with it. And because it's Chloé Zhao, everything certainly looks fantastic. But it's just not enough. These ancient beings who have been hidden amongst us humans finally realize their true purpose when the earth and all of humanity is threatened. Eternals Assemble. Or something. I guess. What's so sad is that they could have streamlined the character list, dropped the unnecessary diversions, and ended up with a movie that would have seriously kicked ass. But alas... we end up with unnecessary set-ups regarding The Black Knight. Characters who were superfluous and there for representation or death fodder only. And characters that I fucking hated so hard that they very nearly sabotaged the movie entirely (I'm looking at you, "Sprite"). But even so... Gemma Chan's Sersi, Mukail Nanjiani's Kingo, Brian Tyree Henry's Phastos, Don Lee's Gilgamesh, and most of all... Angelina Jolie's Thena... were enough to carry the film for me. Had we just focused on them and jettisoned the rest as the padding they were, we might have gotten yet another Marvel Studios classic. Instead it was a minor disappointment and the first true stumble to come out of Marvel.
#12 No Time to Die (MGM Studios)
This film barely makes my list. And it does so when, in my heart, I know that other movies from my Honorable Mentions list should probably he here instead. And yet... it's a Daniel Craig James Bond film, which guarantees a certain level of entertainment that's tough to dismiss. The problem is that this film is ultimately... boring. Truly shocking is that Rami Malek, an actor I adore, was woefully underutilized as the villain. Had they truly invested in him, we could have gotten all kinds of devious scenery-chewing scenes. But instead he's kinda boring as well. In the end I can't say that this is a bad film (because it's not) but I will say that it's a huge missed opportunity given that Daniel Craig is retiring from the role.
HONORABLE MENTION...
The Baker's Son
Yes, it's a Hallmark rom-com movie... and, yes, it deserves to be on my list because it's that good. Eloise Mumford and Brant Daugherty have chemistry for days, and their story is tempered with humor that lands just right. When Hallmark finally releases this gem to home video, I anticipate playing many times as background noise while I work. It's comfort food that will merit repeat viewings.
Nomadland
While not as enamored with this film as the critics (and general populace, apparently) I still enjoyed it very much. Chloe Zhao may have faltered with Eternals in the scope of Marvel Studio movies, but that takes nothing away from what she's done here. Frances McDormand is at her absolute best playing a woman who loses everything, but manages to find what's important in her journey through the Western USA.
I'm Your Man
Dan Stevens is one of those actors where you just know the project has potential. But to have him playing a robot in a genuinely sweet but equally bittersweet rom-com? That's a recipe for cinematic gold, and I was not disappointed. Note: This is a German film, but since Dan Stevens is fluent in German and French, it wasn't a problem for him. His performance is as wonderful and nuanced as you'd hope.
Our Friend
Based on an article I read long before it was adapted, I was surprised at just how well this narrative of a friend who becomes far more than "merely" a friend after a woman battles cancer plays out on screen. The performances are all touching and crafted with a care that comes from knowing that you are portraying actual people. And while I'm sure some liberties were taken with the facts to create a more compelling film, it's hard to fault that when the result is so beautiful.
The Green Knight
I don't mind challenging movies. I don't mind vague movies. I don't mind movies which leaves what happened to the viewer. But when you take risks like this, you had better do it well, or else you're just going to piss me off. But when a film does do these things well, they are massive plusses in my book, because they involve me like no other. The Green Knight combines all three with compelling acting and gorgeous visuals. I really loved it, and am very much looking forward to what David Lowery does next, because they guy just excels at crafting wonderful cinema.
Red Notice
This movie was panned more than praised and I just don't get it. The story is great with nice twists to keep things interesting. Ryan Reynolds and The Rock are at their most entertaining. The action sequences are pretty darn sweet. And I was entertained from start to finish. No, this isn't Shakespere, but for what it actually is, I enjoyed it quite a bit. This is what I was hoping to get from The Hitman's Wife's Bodyguard.
The Paper Tigers
I do love me a really good kung-fu action flick, and this one is a notch above. Three guys who were once known as "The Three Tigers" when they were kung-fu stars at the top of their game must avenge their sensei's murder. Sounds like a movie you've seen a dozen times before, right? Nope! This one is hilariously fun and entertaining in a way you might not have seen before.
Val
This documentary on Val Kilmer is a compelling watch. His story is far more complex than I ever realized, and it makes me love the man as a person and not just as an actor (for Real Genius and Top Secret alone!).
DIDN'T SEE, MIGHT HAVE MADE MY LIST...
The French Dispatch — I wanted so badly to see it, but could never make it happen. As a huge, mega-huge Wes Anderson fan, this likely would have made my list.
Ghostbusters Afterlife — I still know absolutely nothing about this movie other than it has Paul Rudd and plays on the heartstrings of the original in a way that a lot of my friends really liked.
Last Night in Soho
Roadrunner: A Film About Anthony Bourdain
Paper Spiders
The Velvet Underground
Beyond the Infinite Two Minutes
Passing
OVERRATED BUT STILL GOOD...
Encanto
I was so looking forward to this animated feature once the trailer hit. It looked interesting, fun, unique, and special... not to mention beautiful. And while it was all those things, it also missed the mark for me by ultimately being totally average in every one of those respects. Still, those Lin-Manuel Miranda tunes were good, there's some funny moments that totally worked, the characters are wonderful, and it was amazing to look at... I just wish they had polished the script more to push the movie somewhere that made it truly special.
The Mitchell's vs. The Machines
Make no mistake, this is a darn good animated movie about a resourceful family who has to battle a robot invasion. I enjoyed it. I thought it was beautifully made. And the voice performances were top-notch. But the story felt like it had been told a hundred times before and really brought nothing new to the table. These characters have been done to death, and I was really hoping for something more.
Candyman
When I found out that they were remaking the Tony Todd classic, my first thought was "Why?" And my second thought was "How?" It just seems impossible that anybody could possibly top Tony Todd's memorable performance in the original. But then I saw that Yahya Abdul-Mateen II is in it (not as Candyman), and I was thinking "Maybe?" Turns out that Nia DaCosta had a very clear vision for where she wanted to go, and then drove straight there without making any detours. Unfortunately this didn't turn out to be such a good thing... any genuine horror in this horror film is nowhere to be found, and I kept waiting for it to deliver any actual scares. It's more focused on ideas than fright, which is not a bad thing, per se, but it wasn't what I was hoping for when it comes to a movie picking up the mantel of Candyman.
DISAPPOINTING...
Matrix Resurrections
Because I'm a huge fan of Keanu Reeves, I took a chance on Resurrections despite how much I hated Reloaded and Revolutions. The Wachowskis thought they were being new-level smart with their psychobabble bullshit sequels, but it was just a messy narrative that wasn't any fun. Certainly not compared to the brilliance of the original The Matrix. The way that Resurrections works is that Lana Wachowski went all meta on our asses and, sadly, it wasn't terribly successful. There were some great action sequences, as expected, but I found myself asking "To what end?" as they unfolded. While not terrible, it's still missing the mark. Still... it's better than the previous two sequels. Alas, that's a bar so low that it really had to be, didn't it?
TOTALLY SHIT THE BED...
Reminiscence
A sad attempt at smooshing together Blade Runner and Strange Days in a way that fails in just about every way possible. I was hopelessly bored through most all of it and kept thinking over and over how completely unnecessary this movie was when the originals they were taking so liberally from still hold up today. How they roped Hugh Jackman, Rebecca Ferguson, and Thandie Newton into this comically executed dud is a mystery. They all deserved better.