Posted on September 30th, 2020

I stopped walking to work because of the pandemic. But I started again when I got my Apple Watch because it kept telling me to STAND and MOVE and EXERCISE.
It's also been a nice way of seeing new stuff since I haven't been traveling and likely won't be able to travel for quite some time. Yesterday, for example, I saw that somebody was giving away a bag of free play-food...
It looked like a lot of fun (TOY PIZZA!) but I figured there was likely somebody 1/6th my age who could make better use of it.
So... not too exciting.
But what is exciting is closing all my rings on my Apple Watch each day. You get a little fireworks show...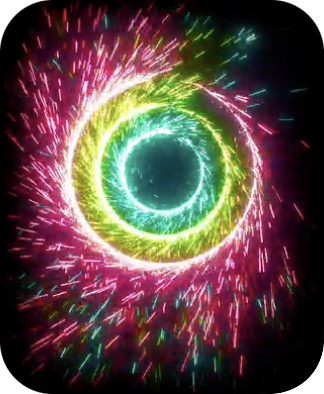 Yes, this is what passes for excitement to me now.
Yay!
Posted on September 28th, 2020

I've posted a couple times about making my own burritos so I can freeze them, microwave them, and serve up a tasty and convenient meal. Plus it can be healthier and far less expensive than buying them pre-made at the grocery store.
The problem is that I have never found a way to make and freeze breakfast burritos. When you microwave them they end up tasting horrible. The eggs are awful. The potatoes are awful. The salsa bleeds into everything. It's a gross, rubbery mess.
And so you have to make them fresh every time.
It's not a big deal, really. Scramble some eggs, cook up some tater tots, get out the cheese, salsa, and sour cream. Fry up some fake meat or real meat if you want it. Then slap everything together in a warmed flour tortilla.
So, not a big deal... but more of an ordeal than I want to mess with.
How I compensate is by making them every morning for an entire week. Once you get the process down and have all the ingredients grouped together in the refrigerator, it's easy to just stick with it.
I've just my eighth straight day of breakfast burritos and I think I'm done.
Until the next time.
Now I have to figure out what breakfast food I'm going to get addicted to next so I can get sick of it and have to find something new again. It's a vicious cycle.
Sorry, but thanks to the COVID pandemic and the fact that I can't travel, this is the kind of thing I have to blog about now.
Posted on September 24th, 2020

I live and die by my planning calendar, and absolutely everything gets entered there no matter how big or small. Usually it's a lot of travel. Dates I'm gone. Where I'm at. What my flight times are. Where my hotel is. What rental car company I check into. Any appointments I've got. This year, of course, there hasn't been any travel, so my calendar is mostly empty.
Except for those plans that I made before the pandemic that are still on my calendar and didn't get deleted. This morning I got an alert that the New Order and Pet Shop Boys concert I'm attending is coming up this Saturday.
Except it's not.
The concert, along with so many other things in my life lately, has been canceled.
Or, to be more accurate, it has been rescheduled, which is how TicketMaster wants to play it so they don't have to refund tons of money for all these canceled events. This is a bummer because I've never seen New Order perform live and have always wanted to... but less of a bummer than being in the audience with potentially hundreds or even thousands of COVID-infected attendees.
And now I'm off to make breakfast burritos for dinner. I had them last night and they were so good that I couldn't not have them again this evening. Scrambled eggs, tater tots, cheddar cheese, and salsa in a flour tortilla with sour cream and more salsa on top. I would add guacamole as well, but the batch I made yesterday is gone.
The guacamole, along with so many other things in my life lately, has been canceled.
Posted on September 18th, 2020

Despite air quality improving from "Hazardous" to "Very Unhealthy" to merely "Unhealthy" yesterday, I ended up being the sickest I've been yet. I left the office with a headache but was otherwise doing okay. By the time I got home ten minutes later I was in terrible shape. Blinding headache, so dizzy I could barely stand, and not able to keep anything down... including water.
Eventually I managed to eat some dry toast for dinner, which helped, but couldn't sleep even a little bit. Around 10:30 I finally gave up and took sleeping pills, curled up in a ball on my bed, then waited for the world to go away. Which it did. Until I woke up at 6:30am with a mouth full of fuzz because Jake was squished up against my face. Apparently while I was passed out he decided to use me as a cat bed.
I've had it worse.
On my way to Spokane a couple weeks ago I was seeing an awful lot of Amazon trucks on the road. Just as I was reaching the city I saw that their new Amazon Fulfillment Center was up-and-running. It's a massively huge warehouse filled with tons of stuff you can't live without. This morning I thought to look at my dashcam footage because I had snapped a photo of it. I thought it was pretty nifty how they tried to make it an interesting-looking building instead of just plopping down a boring grey cement structure...
I find it interesting that it was more cost-effective for Amazon to build a new center to service The Inland Empire instead of just fulfilling out of Bellevue or Kent on the West Coast. Even more interesting? Amazon has so much business that they are opening up yet another fulfillment center in Idaho! Can you imagine? So many packages are being sent out that Nampa, Idaho is getting a warehouse!
I guess Jeff Bezos is well on his way towards becoming a trillionaire then?

In other news... The Emmy's are on this Sunday! Rarely do the shows I want to win ever win (or even get nominated), but I always put my list of favorites out there anyway just because I'm a total whore for television...
OUTSTANDING DRAMA
I would have loved to have picked Killing Eve but it took a drastic step down in Season 2, then shit the bed in Season 3, so I'm going with The Mandalorian. Which is a long-shot given how enamored everybody is with Succession.
OUTSTANDING COMEDY
I would be happy with What We Do in the Shadows winning, as it's the funniest thing on television right now... but I won't be upset when Schitt's Creek wins for it's final season because I love that show.
OUTSTANDING LIMITED SERIES
Impossible that any series except Watchmen could win this. The show was phenomenal from just about every conceivable angle.
OUTSTANDING TV MOVIE
When it comes to simple storytelling done really well, you can't do much better than Dolly Parton's Heartstrings. I don't think there was a single episode I didn't enjoy. The nominated episode, These Old Bones, was remarkable for getting Kathleen Turner to play the lead and that made the episode for me.
OUTSTANDING VARIETY TALK SERIES
I'll take either John Oliver for Last Week Tonight or Trevor Noah for The Daily Show. They both deserve it... though I think Noah has the edge given how he has to keep it fresh five days a week.
OUTSTANDING COMPETITION PROGRAM
RuPaul's Drag Race is the only one of these that I actually enjoy.
OUTSTANDING DOCUMENTARY/NONFICTION
I thought McMillions was a stronger series than Tiger King, but there's no denying what the latter managed to accomplish in terms of sheer public consciousness.
OUTSTANDING DOCUMENTARY/NONFICTION SPECIAL
I really, really enjoyed Beastie Boys Story, which was a love-letter to the band in general and Adam Yauch in particular.
OUTSTANDING ANIMATED
The Vat of Acid Episode from Rick and Morty just continued to demonstrate how fantastic this series is.
LEAD ACTOR, DRAMA
I suppose that Jeremy Strong or Brian Cox will deserve their win for Succession, but I thought Steve Carell had the best performance from The Morning Show.
LEAD ACTRESS, DRAMA
If Killing Eve hadn't been so terrible, Sandra Oh would easily get my nod... but I'm going to go with Zendaya for Euphoria, which was a pretty amazing bit of work.
LEAD ACTOR, COMEDY
While I enjoyed Eugene Levy in Schitt's Creek, I don't know that his work eclipsed Ramy Youssef for Ramy or Ted Danson for The Good Place... but I absolutely won't be upset when he wins.
LEAD ACTRESS, COMEDY
Catherine O'Hara for Schitt's Creek is the only acceptable answer.
LEAD ACTOR, LIMITED SERIES
I sincerely doubt Jeremy Irons will win for Watchmen, but he darn well should.
LEAD ACTRESS, LIMITED SERIES
Regina King for Watchmen is the only acceptable answer.
SUPPORTING ACTOR, DRAMA
There are some good performances here... I particularly like Jeffrey Wright on Westworld... but Mark Duplass was exceptional on The Morning Show, so I'll go with that.
SUPPORTING ACTRESS, DRAMA
I'm going to go with Fiona Shaw for Killing Eve even though I didn't like the third season at all.
SUPPORTING ACTOR, COMEDY
I do love all things Kenan Thompson, and he would be a great choice... but Daniel Levy WAS Schitt's Creek, and totally deserves the win for playing David Rose.
SUPPORTING ACTRESS, COMEDY
D'Arcy Carden never ceased to surprise me as Janet on The Good Place. Easily my favorite character on the show. On most shows.
SUPPORTING ACTOR, LIMITED SERIES
Jim Parsons was a revelation on Hollywood, playing a complete monster in a role I never in a million years would have cast him for. But I'll take either Yahya Abdul-Mateen II or Louis Gossett Jr. for Watchmen (with a nod to Gossett Jr. for his long career of exceptional work).
SUPPORTING ACTRESS, LIMITED SERIES
Toni Collette is a phenomenal actor, but Jean Smart was a big part of why Watchmen was as phenomenal as it was.
→ Click here to continue reading this entry...
Posted on September 14th, 2020

I am not ashamed to say that I am most definitely not doing well.
Not only is Central Washington being blanketed with smoke from our own wildfires, massive amounts of smoke is being blown in from the fires in Oregon and California as well. And despite five air purifiers running day and night, my allergies are in overdrive, making for a miserable existance. I have had a crushing headache for a week. Breathing is painful. Nosebleeds happen at random. My eyes and nose are running almost constantly. Sleep is almost impossible. Not a great day to be me, that's for sure...

Last night I finally passed out around 2:30am. I woke up shortly after 3:00am choking on blood from yet another nosebleed. That is a scary enough way to wake up... but I had aspirated and couldn't breath. The wheezing as I struggled to catch a breath freaked my cats, both of which ran out of the room at top speed. Eventually I managed to work through it, but getting back to sleep was impossible. I called in sick and have been nodding off and on ever since.
Poor Jake and Jenny. The fires have been so tough on them.
After terrifying her early-early this morning, Jenny ended up sleeping in the room next to mine...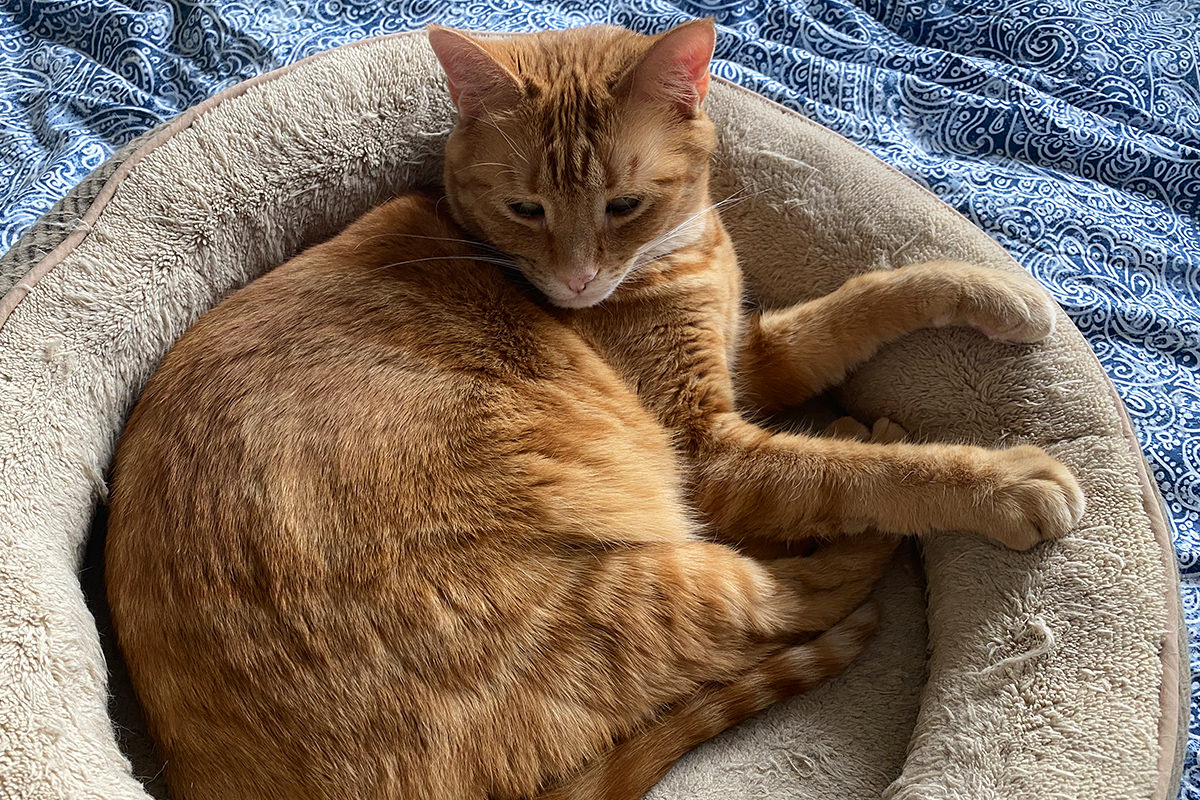 Jake... is more complicated. He has been really clingy lately and sleeping with me every night. After he ran out scared, I heard him come walking back in about an hour later. He didn't hop back on the bed, so I wasn't sure where he went. This morning I found him hiding in the cat tower...
My cats rarely go in those hidey-holes. As in very rarely. But Jake wanted to sleep near me while also being scared and this was his solution. Naturally I feel terrible about it. Note the smoke out my window.
And so here I am taking a sick day at home with two cats who are afraid of me.
In-between trying not to work because it makes my headache worse, I've been zoning out in front of the television. One think I saw today was that Drew Barrymore has a new talk show. I was interested in seeing how they were going to manage a new talk show, fully expecting it to be remote chats on Zoom or something. But that wasn't the case. Drew's Charlie's Angels co-stars Cameron Diaz and Lucy Liu were there with her... albeit socially distanced...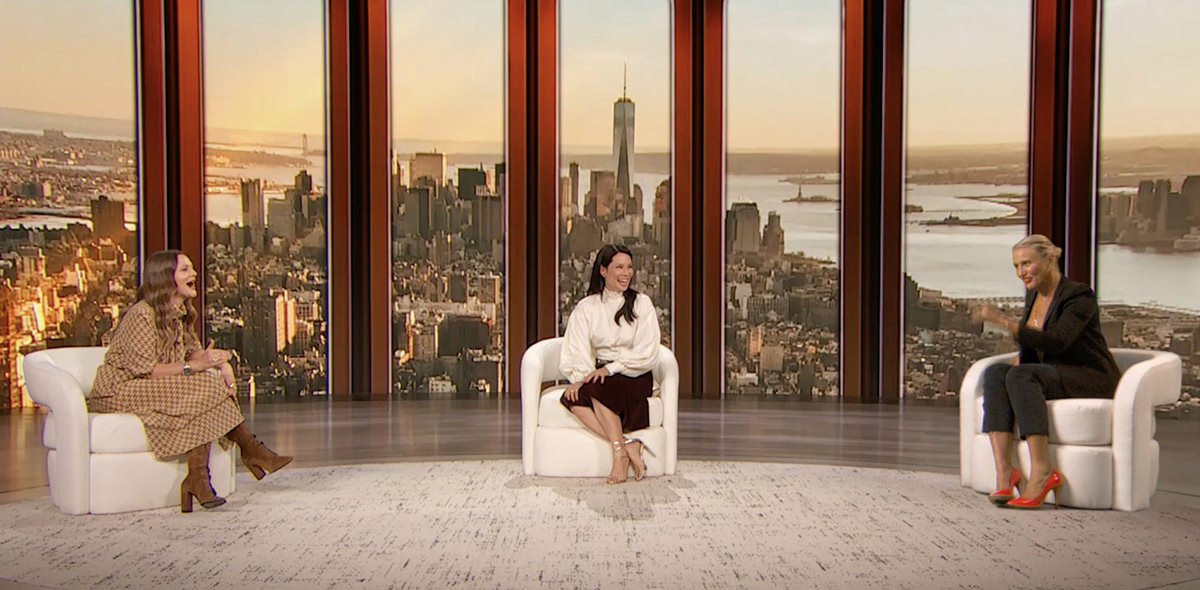 Except...
That wasn't the case at all. While Drew nd Lucy were in New York... Cameron was still in Los Angeles, appearing in the studio virtually...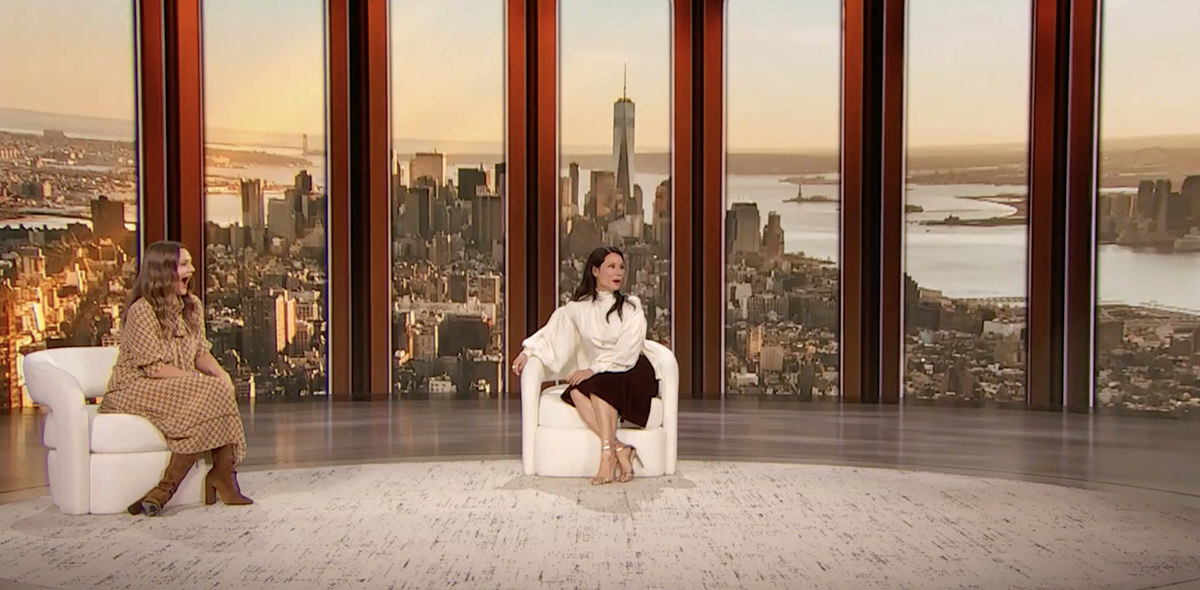 Weird to think that things like this will quickly become our new normal.
In the meanwhile I'll just go back to the virtual hellscape that's my life right now.
Posted on September 10th, 2020

With the exception of a quick drive to Spokane and back last week, I haven't gone anywhere. I likely won't end up going anywhere else for the remainder of this year. Perhaps a trip over the mountains at Christmas, but even that isn't a certainty.
Even more jarring is that I haven't had any houseguests since early January.
Used to be that I would have weekend guests sporadically through the Spring and Summer... then a non-stop parade of guests in Fall and Winter as friends stay with me so they can enjoy the festivities in Tourist Town down the road.
But this year? Zero. Zero houseguests. I just can't do it given that my reduced lung capacity puts me in very real danger of death should I contract COVID-19. Not that it matters, because I think all the festivities in Tourist Town have been canceled for the year anyway.
As you might imagine, any incentive to keep my home clean has vanished like a fart in the wind.*
The RoboVacs have been turned off and I just manually vaccum a couple times a month. I haven't mopped my floors all year. I bought a steam cleaner for disinfecting my floors, but haven't bothered to turn it on even once. Rather than hiding all my kitchen utensils, gadgets, appliances, pots, pans, storage containers, and everything else neatly in the garage while I remodel, they're just stacked on the dining room table and laying around. Needless to say I haven't dusted in months. Why bother if only me and my cats are here to see it? They don't care and I don't want to be bothered. Far better to sit on the couch watching television and eating potato chips than to make my life any less pleasant than it already is.
Nah. No need to clean. I'm good.
And don't even get me started on my garage, which is part wood shop and part dumping ground for crap I don't want to deal with. Like empty cardboard boxes and literal garbage.
Except you kinda do need to get me started on my garage, because before you know it Autumn frost and Winter snows will be here and I need to be able to park inside.
I've decided that cleaning my garage will be my weekend project. But only because it HAS to be. Otherwise I'll have to scrape my car off every morning, and I think we all know how much I absolutely don't want to be doing that.
Check back Monday to see if I actually managed to get motivated to dig in... or whether I've just kicked that football down the field to next weekend.
Right now I think my chances are 50/50.
Probably less than 50/50 if the massive cloud of smoke from Oregon and California blows up this way as it is expected to do. But in that case it's totally not my fault, right?

*Many thanks to the movie The Shawshank Redemption, which has made this analogy a part of my vocabulary.
Posted on September 8th, 2020

I have a terrible reaction to smoke... mostly revolving around cramping and a bloody nose. It's been this way for as long as I can remember, which has always made camping problematic. Usually I can just escape to another part of the state when everything is on fire but that would be tough this time even if there weren't a pandemic. The smoke is bad just about everywhere...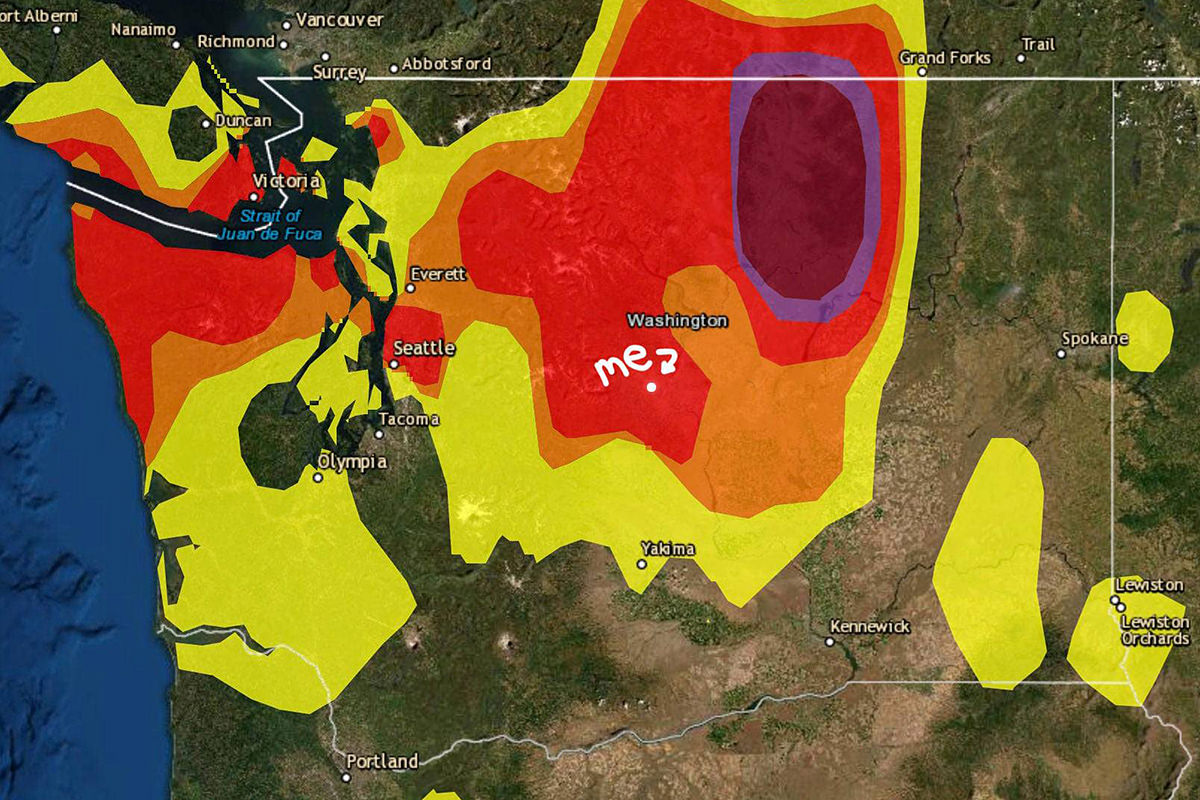 And so... not a fun time to be me.
Last night I thought I would take some sleeping pills and ride it out until this morning. But then I woke to what looked like a murder scene in my bed and the smoke worse than ever. I have a spill-proof mattress cover, so my mattress was okay... but I think the sheets are a goner. Fortunately I have three sets exactly the same, so I have more available to destroy tonight.
There was a bright spot in my day, however... the new trailer for Star Trek: Discovery is here...
After an incredible first season, I was let down a bit by the second. But now things are looking very interesting for the third...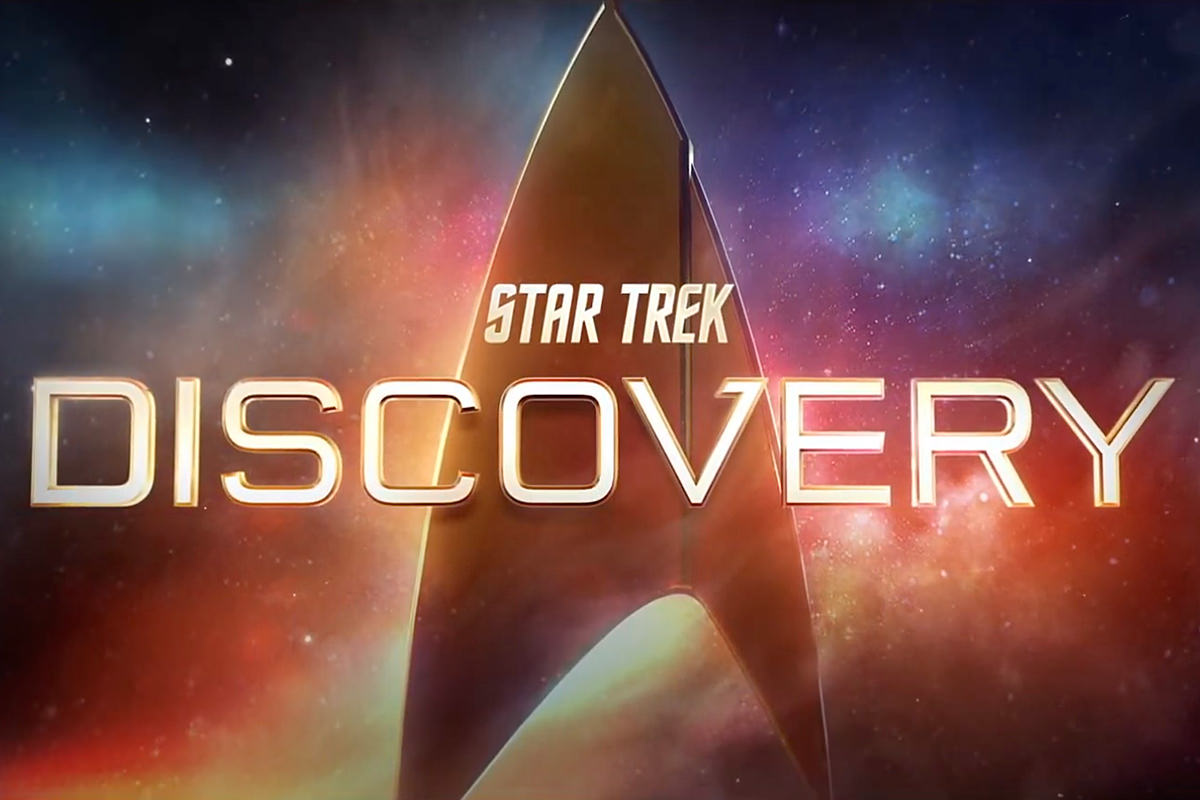 Despite now being set hundreds of years into the future, Michelle Yeoh is back as Mirror-Universe Georgiou, which is odd since she will be heading the new Section 31 show sometime in the future back in the present(!)...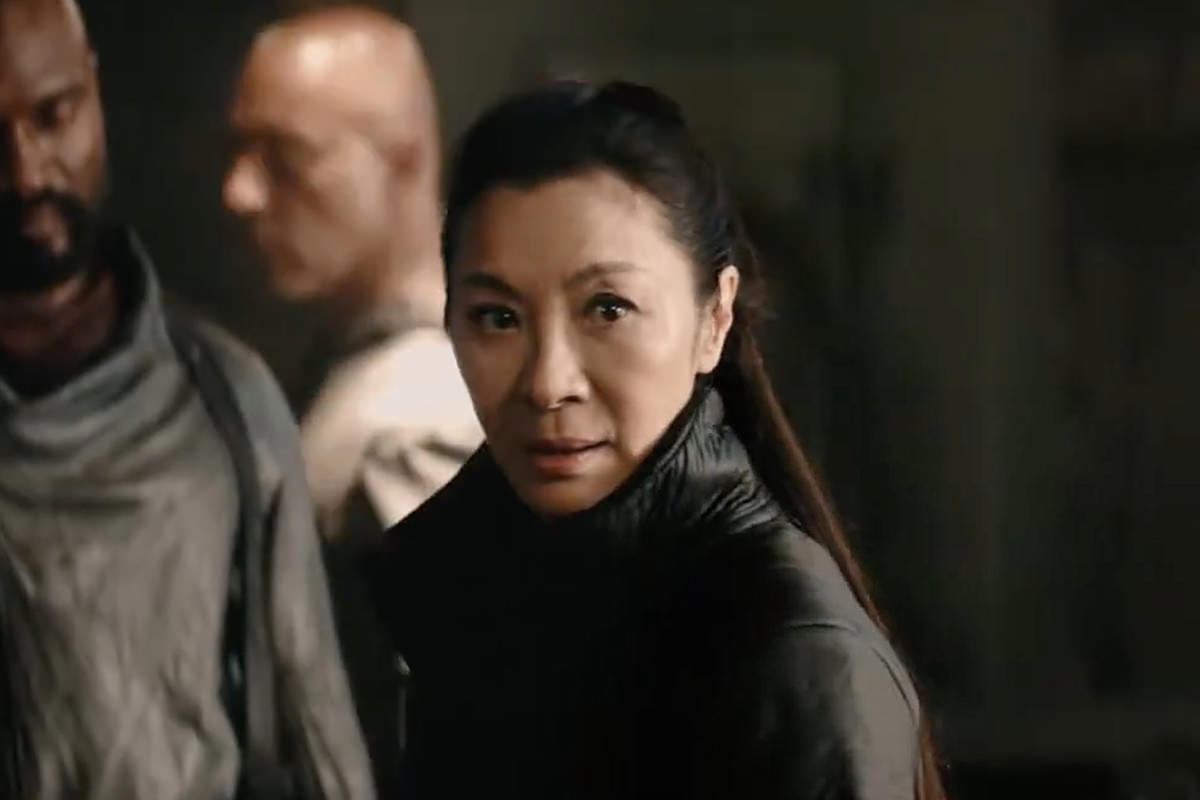 But we knew she was coming back. Somebody I didn't know was coming back (but am thrilled that they are) is Tig Notaro as Jett Reno!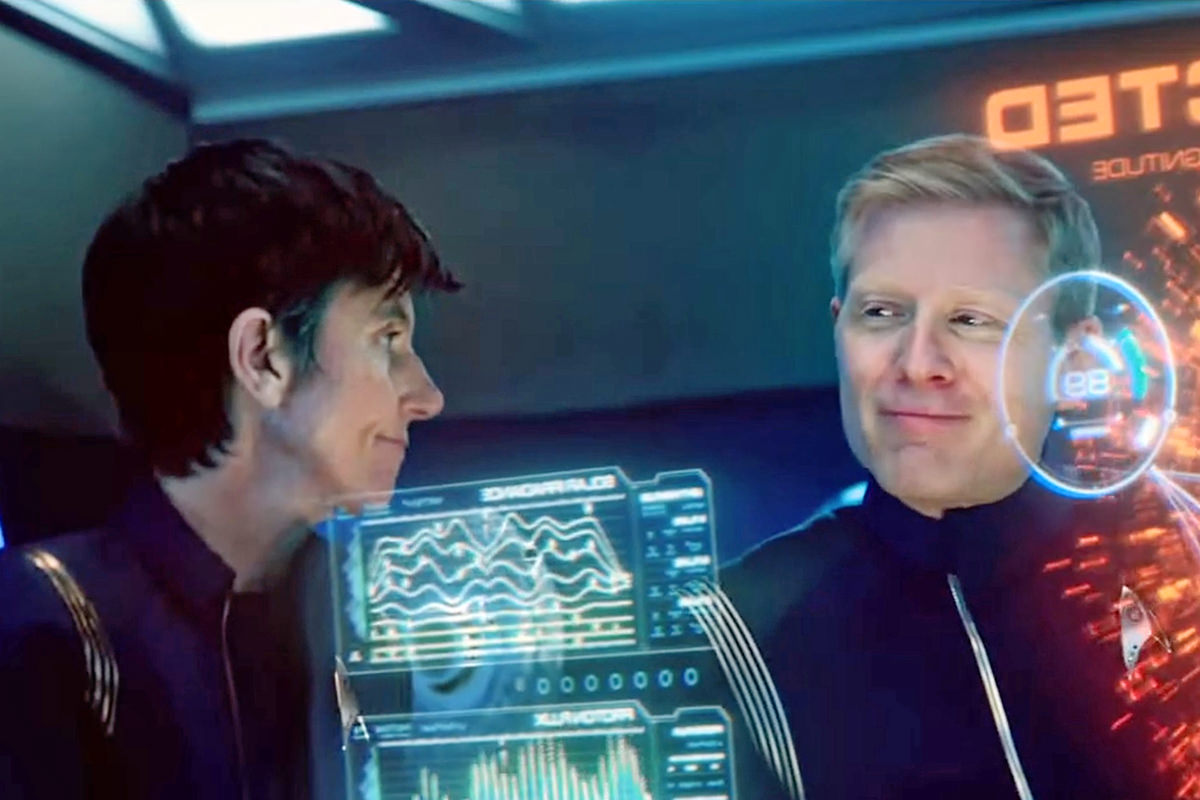 And speaking of Tig Notaro, I rewatched her documentary this weekend...
If you haven't seen it and have Netflix, it's well worth your time.

And now I guess I'm back to feeling sick. Blergh.
Posted on September 3rd, 2020

When I was a kid complaining about a candy bar going from 25¢ to 35¢ I had to hear my parents tell me that they were 5¢ when they were a kid. Now, of course, candy bars are $1.50, which still sends me into sticker shock whenever I feel the need to treat myself to a sugar-filled treat.
But stuff like that doesn't bother me. Inflation happens and things are always changing so there's no sense in being bothered by it.
And then today I saw this...

That DOES bother me. A little bit. Kinda.
Holy crap am I old.

Which brings us to this...
UNPOPULAR OPINION: I fucking detest common core math bullshit.
In the REAL WORLD, you just gotta be able to multiply shit to get answers you need. Like "How many square feet do I need to buy to tile my kitchen?" or "How much is 20% off this $18 sweater?" or "If all 13 of us needs 15 copies of the program, how many copies do I run?" — You don't need the "theory" behind multiplication. You don't need to know "how it works." You just need to know how to fucking multiply as quickly and easily as possible to get the information you need. And multiplication is some easy shit to accomplish. I still use the process I learned in school decades ago. Or, more likely, I use the calculator app on my iPhone.
Want to help kids? Teach them the critical thinking required to know WHAT you multiply for real-world application, not all this "behind the scenes" Mickey-Mouse-bullshit that will likely have precious little use when they'll just end up using a calculator app anyway. Who the fuck does multiplication by hand any more? Why would you? Sure it's handy if the battery on your phone dies... BUT THEN YOU CAN JUST BORROW SOMEBODY ELSE'S PHONE!
I use mathematics every fucking day... which is FAR more than most people will ever use it... and how much benefit would I get out of having to multiply numbers using the "common core" method? FUCK ZERO! THAT'S HOW MUCH! Because unless you're a teacher who is having to teach this shit... or somebody whose job requires you to be able to break down numbers and understand the process behind how mathematical fundamentals work... YOU'LL USE IT FUCK ZERO TOO!
I have debated this common core crap with friends way too often, and it ALWAYS comes down to "preparing kids for college" or whatever. I don't buy that argument (or the argument that every person needs to attend college in the first place given the job opportunities available here)... but okay. Sure. College. I guess having to calculate out how many kegs you need for a holiday weekend party of 128 people would be totally easier if you broke it down to 1 one-hundreds, 2 tens, and 8 ones by a seven drink average! OR IT WOULDN'T BECAUSE YOU'D JUST USE A FUCKING CALCULATOR! Get the fuck out of here.
Yeah, things are always changing, but sometimes it's not for the better.
Posted on August 24th, 2020


It's not the pandemic... it's the people.
Posted on August 12th, 2020

I am trying to figure out exactly how big of a moron you have to be to attempt any kind of home renovations during a pandemic. I'm guessing it has to be fairly huge.
I am, of course, speaking from experience.
With an uncertain future ahead, I decided to bite the bullet and finally get around to the kitchen remodel that I wanted to do when I first bought the place almost five years ago. That was always in the plan because my kitchen is heinous, but I ran out of money. It's always bothered me, but it's not like I should really care. However... if I end up having to sell my home, the value will definitely drop if I don't have a much nicer kitchen than I do now.
So here we are. I liquidated my vacation fund since I won't be going on vacation any time soon and started planning. I found a countertop material I liked then scheduled the installation. They are measuring things out tomorrow, then installing two weeks later.
Which means I will be without a kitchen for at least two weeks.
Step one was to rip out my old countertops. Originally I was hiring a contractor to do it in July. But when they had to reschedule I decided to just bag it and do the tear-out myself. Not only would this save me some money, but it would also help to limit the number of potentially infectious people coming into my home. How hard could it be? Demo-day always looks like a piece of cake on all those home renovation shows!
Turns out it's a total nightmare. Whomever installed my laminate-over-particle-board countertops went way, way overboard. They laid down a stupid amount of glue... then nailed AND screwed them to the cabinetry. It was absurd. In some places there was so much glue that the particle board could only be removed in chunks with a chisel. A process I thought would take a couple hours ended up taking almost my entire day.
But the countertops weren't even the worst part.
That would be removing the cast-iron kitchen sink. The fucker was well over 100-lbs. Maybe a good 150-lbs. And as macho as I like to think I am (ha!) there's just no way. Not with something this big and unwieldy.
Since my new countertop measurements are being taken tomorrow, I could either A) pray I could find somebody to help me last-minute... or B) attempt to use brain over braun and see what happens.
I'll take door number two, Monty.
Much as I'd love to replace my kitchen floor, that's a dollar amount I do not have, so they are staying. But since a 150-lb. sink dropped on the floor would likely smash the tiles, I had to come up with a plan.
First I laid down a thick slab of heavy-foam insulation. Then I put wood on top of that. Then I constructed a cardboard "cradle" to flop the sink upon. This was tricky, because it needed to be designed to crumple. Otherwise the sink might bounce off the cardboard and smash the tile. I need it to fall flat. Then, just to cover my bases in case the sink didn't land as planned, I rolled in my winter snow tires and put them around my cradle...
I managed to pull the sink up on the countertop ledge...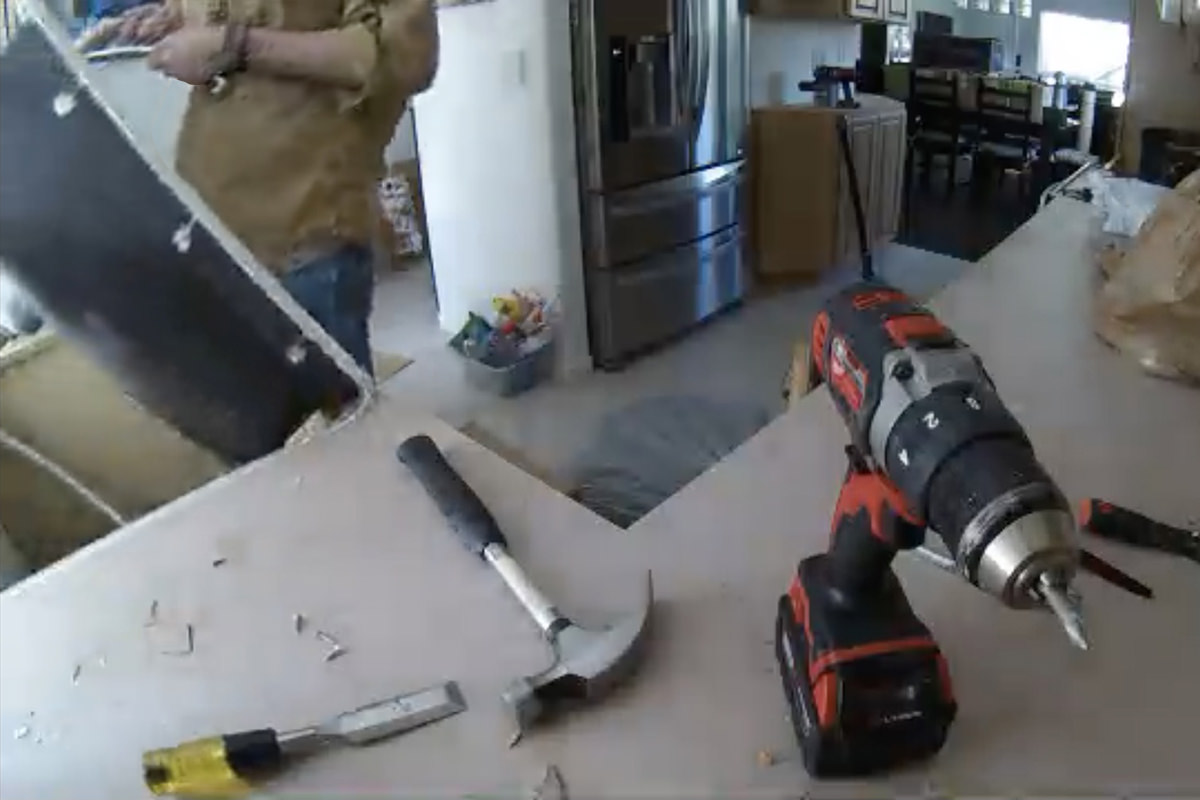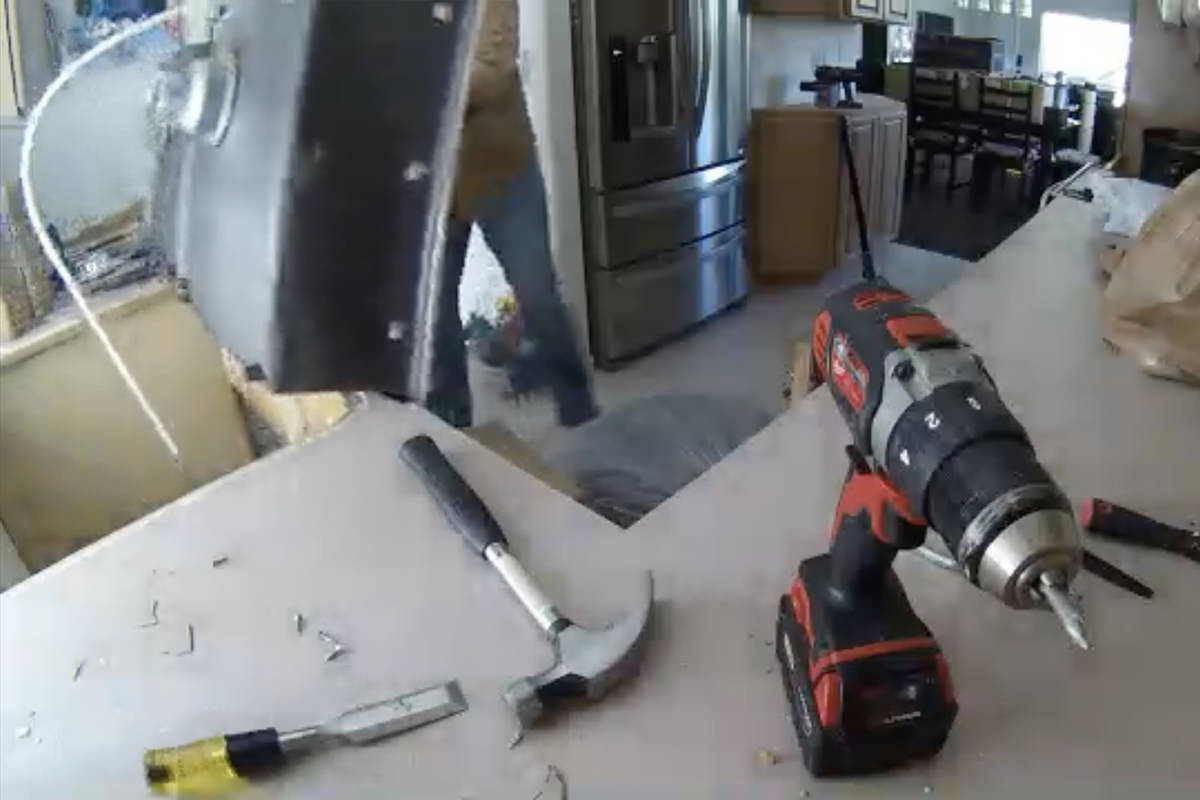 Then... bombs away...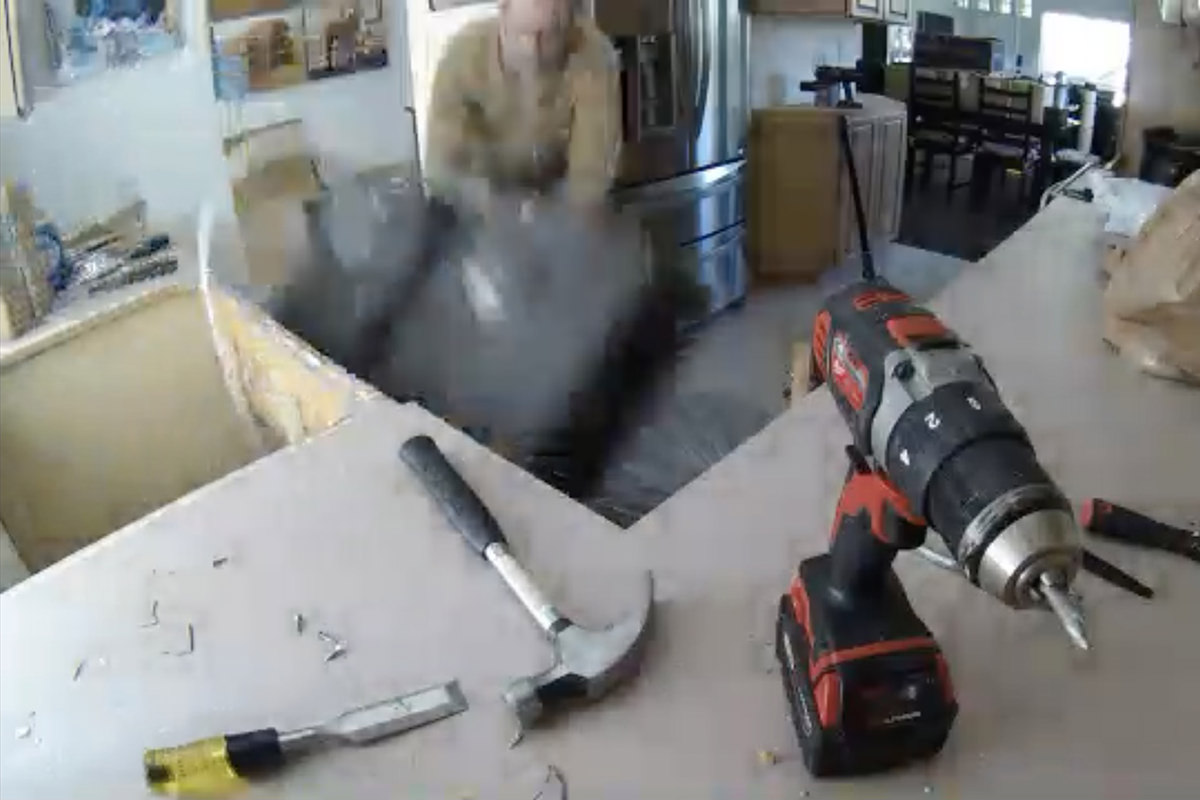 I left the faucet attached so I had something to grab onto, and that worked pretty well. My cardboard cradle slowed the fall then crumpled flat exactly as I designed it to do, so there was no bounce at all.
Then I had to wiggle a towel under my cradle so I could pull everything into my garage. Much like the way that aliens moved all those giant stone blocks when they built the pyramids.*
The rest of my night was spent chiseling glue. A futile gesture to be sure. I am going to have to use a belt sander to remove it and get down to the cabinets, which is crazy-stupid. I'm also going to have to repair a bunch of drywall, because whomever installed the backsplash used a warped piece of wood that they had to ANCHOR into the wall with steel flanges. Which means the only way to remove the backsplash was to literally rip it out of the wall. And that wasn't easy considering they used enough glue to repair the Titanic.
So... yay... I get to do drywall repair, which is like my most favorite thing in the world!
Not.
But I guess that's what you gotta do if you don't have money to throw at people to do the work for you. Unless you don't mind having big chunks torn out of your kitchen walls.

*Despite the fact that there are records showing exactly how the Egyptians built the pyramids, apparently it's easier for dumbasses to believe that aliens built them? Alrighty then.