Posted on April 15th, 2022

Yesterday I got a notification that I was now eligible for a second Pfizer Booster. A booster for my booster, I guess. Now, I am 1000% in support of getting "touch-up" vaccinations as efficacy fades, so there was never a question as to whether I was going to do this... I was just waiting for the word to be given.
The minute the text arrived, I went rushing to my local County Health website to make an appointment. Only to find that I didn't need an appointment. This didn't shock me, because all three times I went to get vaccinated, there was hardly anybody there.
What did shock me is that they are only offering vaccinations one day a week. Every Friday from 10:30 to 4:30.
I thought that surely there would be a line if we're down to one day a week... but nope! There was one guy who had already got his, and once he left I was alone.
Interesting to note that I only had to wait for five minutes after this time.
Didn't end up turning into a lizard person this time (again, darnit!), but there was some good news. Zero side-effects...
Vaccine #1: Fever for 2 hours. — Sore, stiff arm for 2 days.
Vaccine #2: Sore arm for a day.
Vaccine #3: Sore arm for 2 or 3 hours.
Vaccine #4: Nothing. I thought I might be having chills... but that was me forgetting that I turned off the heat weeks ago, and it ended up being a *very* cold day today. So... never mind. I guess the fourth time around my body is so used to the vaccine that I'm not going to have any side effects. Yay.
And so... until next booster, I guess.
Posted on April 14th, 2022

Fourth day in a row of waking up to a lot of snow falling down.
Previously, it would all melt before the day was ended. But today we got some serious snow. Seven inches I'm betting. Which is kinda a bummer because A) I started assembling my wood shop out in the garage, so my car has to be cleaned off each morning... and B) I already put away all my Winter clothing. I'm especially sad for all the flowers and trees that have already bloomed thanks to some warm days last week...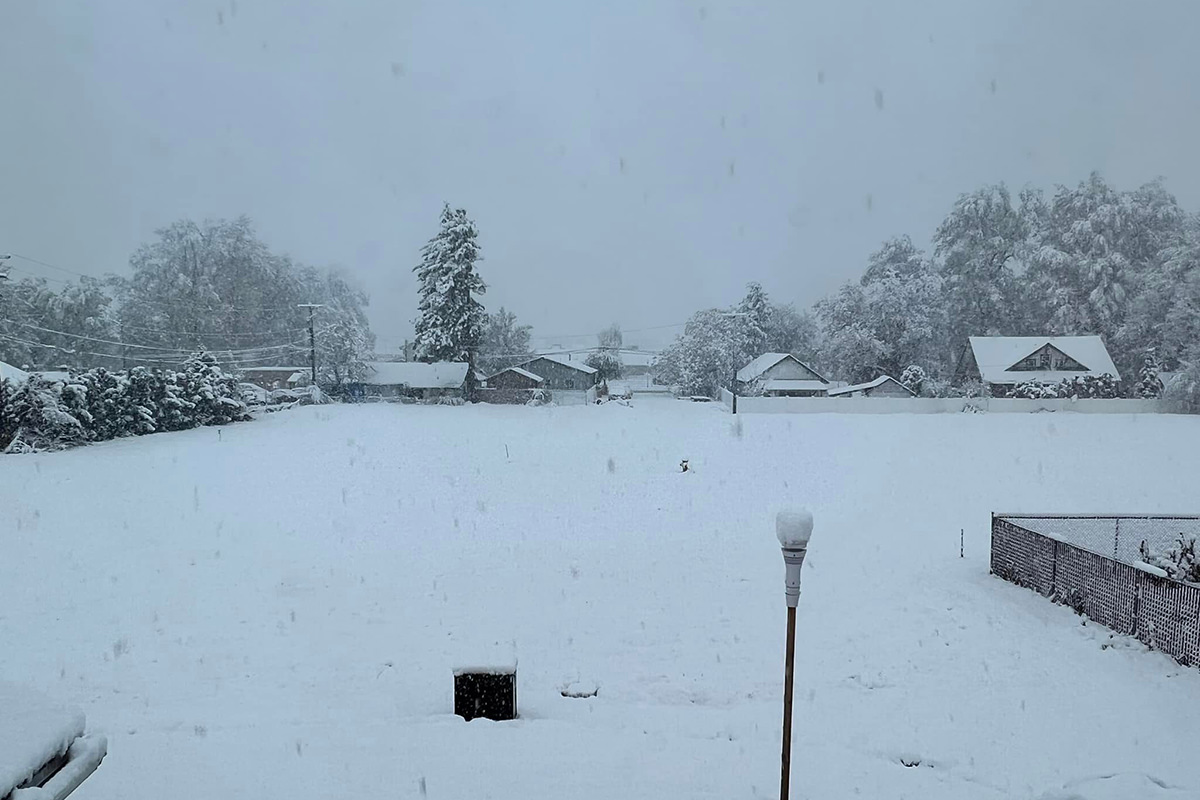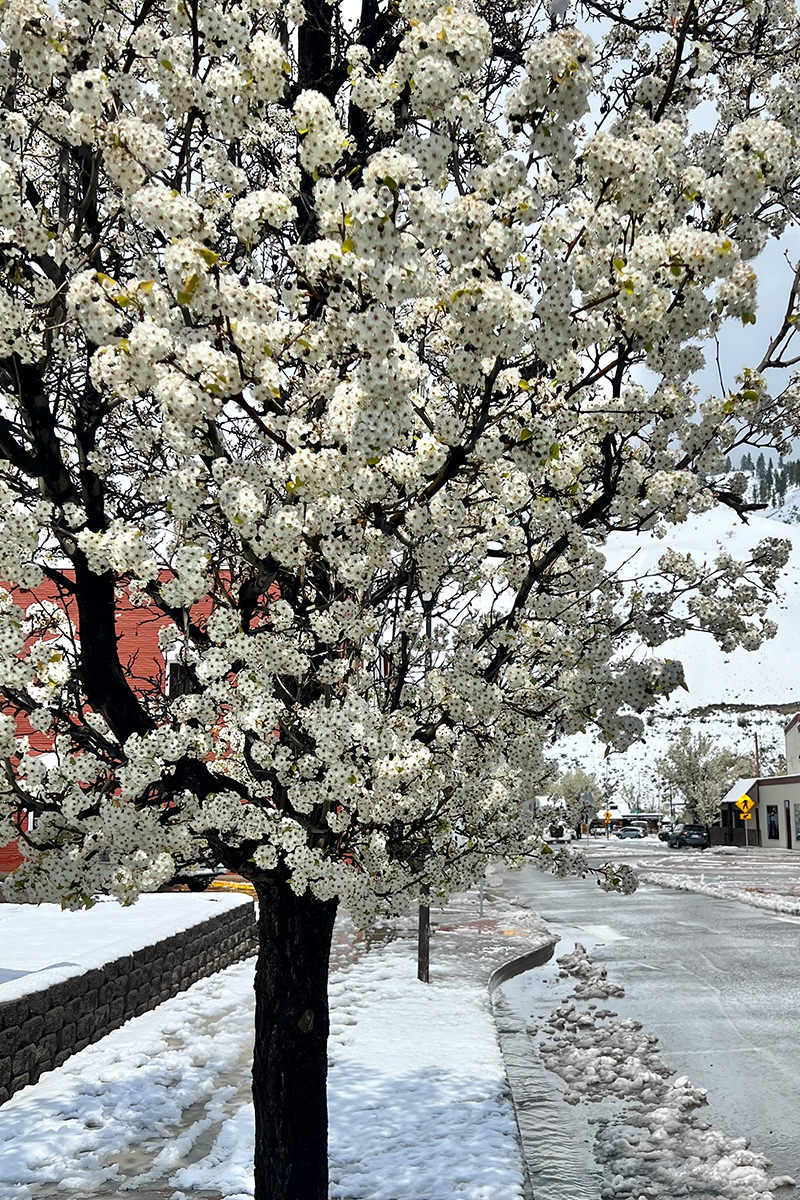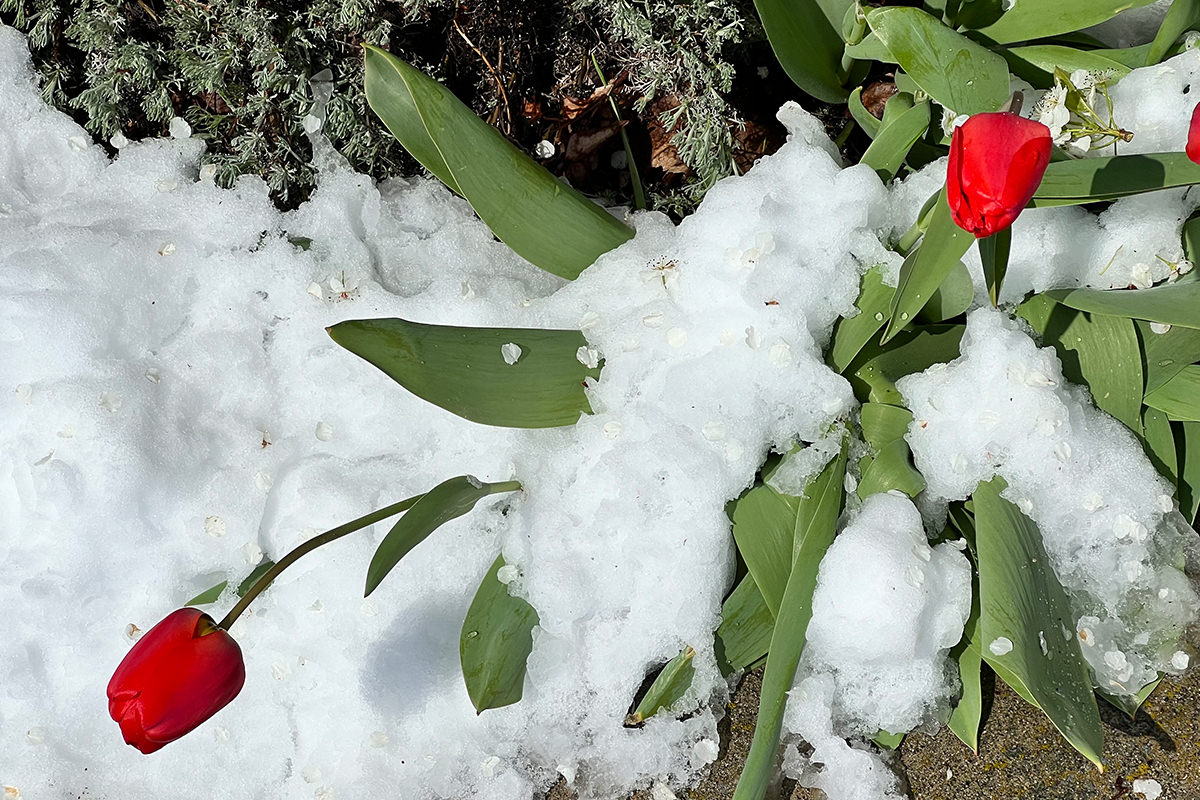 I mean...
That ain't melting by the end of the day. It will be lucky if it melts tomorrow.
Posted on April 11th, 2022

Yikes. It's snowing.
Like a lot.
Pretty sure that I will be clearing it off my car before going into the office. This isn't something that's going to melt an hour from now.
UPDATE: Yep...
Posted on April 7th, 2022

There's always that one person whose only endeavor seems to be to make everybody else's life miserable. Most just dismiss or avoid them, but I'm that dumbass who actually tries my best to be kind.
And without exception I end up regretting making the effort.
Maybe one of these days I'll learn.
Posted on April 6th, 2022

This morning I had a very early Zoom call. Which got the cats all excited, because they thought they were getting breakfast 1-1/2 hours early. But, alas... no.
After washing my face and attempting to make my hair presentable, I sat down for my meeting... went to say "hello"... and... nothing. My voice was completely gone. All that non-stop drainage from my allergies (which have been worse than usual this year) had caught up with me, and that was the end of it. I had to participate via typing in chat, which likely made nobody very happy with me, but it's not like I had much choice.
Allergies during COVID times is no joke. It's tough to come across as though I'm not infected when I'm a complete mess. And can't speak.
So I conitnue to test daily. Continue to be negative. And continue to wonder how long I will be suffering this year. Last year was only a couple weeks. This year feels like it will be lasting a while.
And yet... Spring is still my favorite season of the year.
Go figure.
Posted on March 28th, 2022


We'll crap. Guess I have to go into the office...
Kinda weird to be rooting for a positive COVID test. Oh well. I didn't want to stay home and play video games anyway.
No word if I'm pregnant. I guess I should have peed on it?
Posted on March 25th, 2022


"I'm getting too old for the hand-to-hand violence."

Posted on March 24th, 2022

I'm celebrating my birthday by leaving this planet.
Except I don't have any extraterrestrial contacts to arrange such an escape so I'm driving over the mountains instead.
It's either that or sit around trying to find an excuse to not clean out my flowerbeds.
Posted on March 23rd, 2022

And... dead.
HOW MY DAY STARTED:
Here lays David Simmer II, he was electrocuted to death one day before his 56th birthday while trying to repair his garage door opener.
HOW MY DAY ENDED:
Here lays David Simmer II, he died of embarrassment one day before his 56th birthday after realizing that his window was open while he was talking to his cat, Jake... "THERE'S MY HANDSOME BEAR! HOW'S MY BABY BEAR? JUST LOOK AT MY HANDSOME BABY BEAR! SUCH A GOOD BEAR! YES YOU ARE! YES YOU ARE!"... knowing full well that the people in the neighboring yard totally heard him.
I feel like I should go apologize or something.
Posted on March 22nd, 2022

Well, the wheels on the chair are supposed to go round and round. Which is why I was more than a little surprised when the "soft" casters for "hard floors" that I received from Steelcase (after two weeks of waiting for them to correct their error) are most decidedly NOT soft. They are hard as a rock. Really no difference at all from the "carpet casters" that came with my chair.
But worse than that? They barely go round and round.
I put them on my chair even though they weren't soft like I expected... but when I pull the chair out, half of them aren't rolling. They are scraping! The only way they rotate is when I sit in the chair so there's some weight pushing down on them. But I can't sit in the chair when pulling out from under my desk!
AND PLEASE NOTE: There is no wax or oil on my floors! It's just regular hardwood flooring!
So I had to order an entirely new set of third-party casters that are ACTUALLY SOFT, ACTUALLY MEANT FOR HARD FLOORS, and, oh yeah, THEY ACTUALLY GO ROUND AND ROUND!
Steelcase Customers Service says that the casters are "designed this way."
GOOD LORD, WHY?!?? THEY ARE SCRAPING ON MY FLOOR!!!
It's really shitty that you pay a huge amount of money for a new chair, get it with the wrong casters, wait for TWO WEEKS to get the correct casters, only to end up with something so low quality that it scrapes up your floors.
I'm more than a little raw about it.
I would expect this kind of thing from a $40 generic chair you buy from Walmart. I do not expect it from a $700 chair from a premium brand like Steelcase.
Oh well. Live and learn, I guess. More expensive isn't always better.