Posted on March 16th, 2021

Today I had some appointments I couldn't put off any longer. I was supposed to be vaccinated by now so I kept delaying, but Washington State keeps moving the dates, so now I have no idea when I'm getting vaxxed up. With that in mind, I went ahead and got my teeth cleaned and all the rest of the stuff that got pushed back for no reason.
I also picked up my free birthday burger from Red Robin, then went grocery shopping.
Every year (twice a year?) Safeway/Albertsons/Jewel-Osco/Eagle/Whatever has a "Monopoly" game where you collect little stickers that you have to lick and adhere to a game board for Boardwalk, Park Place, Kentucky Avenue, and the rest (not affiliated with the McDonald's game scandal from the documentary McMillion$). They promise prizes like boats and cars and a million dollars and stuff... but those stickers are scattered to the winds and I have no idea if anybody ever wins them. More likely you'll win a box of cookies or $5 shopping certificate or something like that. I think the most I've ever won is $20, but it meant having to waste more money than that with my time to open all the little tickets and organize all those little stickers. So... not worth it. But there's an occasional "instant winner" for things like "Save 50¢ on a Box of Crackers"... so free stuff, I guess.
So here I am opening up all the little tickets I got while typing this blog post and eating dinner when I see that there are no little stickers inside. Just bar code tickets you have to scan into an app. This was puzzling to me until I realized that people licking stickers in the Age of COVID is probably best avoided.
Which means we're now playing "Monopoly" without a game board.
And if that ain't a metaphor for my life right now, I don't know what is.
Just like Safeway "Monopoly" is not really "Monopoly" any more, my life hasn't been much of a life any more. Which is pretty much like everybody else on the planet right now, I suppose.
And it really gets me thinking about what our new "normal" is going to be going forward.
If history is any example, we will have learned nothing from this past year and just keep making the same mistakes that we've been making. That seems to be our nature. But with the "anti-science movement" gaining momentum like it has been, I'm understandably worried. The same science which cured polio and put a rover on Mars... the same science which paved the way for the technology which drives our modern lifestyles... the same science which has kept us moving forward as things turn to shit... is what people are choosing to hate, ignore, and mock when it comes to saving lives? Anti-maskers, anti-vaxers, anti-science, anti-everything-that-doesn't-fit-a-personal-narrative is apparently going to be the thing that kills us now. Because people bashing out "Science doesn't work! Science is a sham!" in a tweet typed on technology that science makes possible is peak humanity, when you think about it.
So maybe we should be embracing our doom?
Because if hate and willful ignorance is going to be our new normal, that's no fun.
Ooh! Look! I just got a "50¢ OFF One 4-Pack Kleenex Facial Tissues!"


Redemption code blurred so y'all can't steal my winnings!
That might come in handy as I weep for all humanity! It was good while it lasted.
Posted on March 15th, 2021

Just when you think things are finally turning around in your life and you're starting to see daylight at the end of a very long tunnel...
...kicked in the nuts again.
Oh well. What's one more thing? After 19 years of having to chew my way through the shit sandwich that has been my life, I should be used to the taste by now, right?
Could... um... somebody pass the ketchup?
Posted on March 12th, 2021

Last night I took a double Benadryl cocktail at 9:30 and went to bed at 10:00 in the hopes that I could get some rest after battling my allergies all day long. I started to read more of a book I started last month (the excellent Four Hundred Souls: A Community History of African America, 1619-2019)... except, according to my Apple Watch... I passed out 15 minutes later.
I slept a total of 7 hours and 56 minutes.
That's a massive amount of sleep for me. And once I saw the sleep report, I was thinking that today would be the best day ever since I was so well-rested. Except... the lingering effects of Benadryl has meant that I spent my morning being mostly drowsy. Oh well. I tried.
In non-drug-induced-slumber-news...
When I went to Amazon to look into more replacement filters for my air purifiers, the very first "recommended item" was leggings. For women. And I'm like... "Dude. The last thing I bought was a frickin' vegetable peeler and a case of Cheetos. How in the hell did the leap from Cheetos to leggings happen?" — YOUR ALGORITHM IS DRUNK, AMAZON... GO HOME!
Although...
...there are certainly worse things to have show up on your Amazon recommendations.
Even though pink isn't really my color. And no amount of Cheetos will ever make my ass look that good.
And in other, other news. I've discovered Goat TikTok...
And just when you thought your Friday couldn't get any better. You're Welcome!
Posted on March 11th, 2021

You would think that as the snow slowly melts and allergens are being released into the air, I'd have a gradual slide into allergy season. Nose runs a little more each day. Eyes water up a little more frequently. Cough gets more and more persistent.
But that's not how it works at all.
Not for me anyways.
In my case my body just deals with the build-up to allergy season and I'm perfectly normal with no symptoms... until one day I just ain't any more.
That day was today.
I woke up well enough this morning, but the minute I got downstairs to feed the cats I was in hell. Nose running like a faucet. Coughing continuously. Even struggling to breathe. The first thing I did was go around the house and replace the air filters in all four of my air purifiers just to make sure they were operating at peak proficiency. If they're not, then sleeping becomes impossible and I never get a break from the torture I go through each Spring.
Which is still my favorite season. Go figure.
It would be easy to blame it on the cats going in and out of the catio and bringing the allergens in with them, but I honestly think that it has to do more with my leaving the house and getting saturated.
And so, like last year, I will be doping up with Benadryl and sucking on cough drops all day so that everybody at work doesn't think I have COVID. The drugs make it tough to focus and keep me eternally drowsy, but I guess it is what it is. I just save the more technical stuff for the evenings when I am back at home and can cough my fool head off in peace. Jake and Jenny aren't happy about it, but so long as they can go outside and are still getting fed, I think they'll survive.
Me, on the other hand? I give myself a 50/50 shot of surviving.
Posted on March 9th, 2021

Last night I was in no mood for cooking dinner. So I had a pita bread pizza with a side salad and called it good.
The rest of the evening was spent trying to learn a new 3D rendering engine. All the while I had the television on with the movie On Her Majesty's Secret Service... AKA that James Bond movie without Sean Connery, Roger Moore, Timothy Dalton, Pierce Brosnan, or or Daniel Craig (it was George Lazenby)... and with Diana Rigg.
It also had Telly Savalas as Blofeld.
The television was meant to be background noise so I could focus on my work, but I couldn't keep my mind on anything except how many actors played Ernst Stavro Blofeld over the years. I could think of four (I had forgotten Charles Gray in Diamonds Are Forever)...
Donald Pleasance - You Only Live Twice
Telly Savalas - On Her Majesty's Secret Service
Charles Gray - Diamonds Are Forever
Max von Sydow - Never Say Never Again
Christoph Waltz - Spectre
There was, of course, another appearance by Blofeld in the opening pre-credit action sequence of For Your Eyes Only... where Roger Moore drops him down a smokestack in his wheelchair. That Blofeld was played anonymously by John Hollis... who is most famous for having previously played Lando's half-robot servant "Lobot"...
And Klytus's half-robot lacky in Flash Gordon...
The sequence with the missing Blofeld was played to comedic effect, which was an odd tonal shift from him having murdered James Bond's wife Tracy...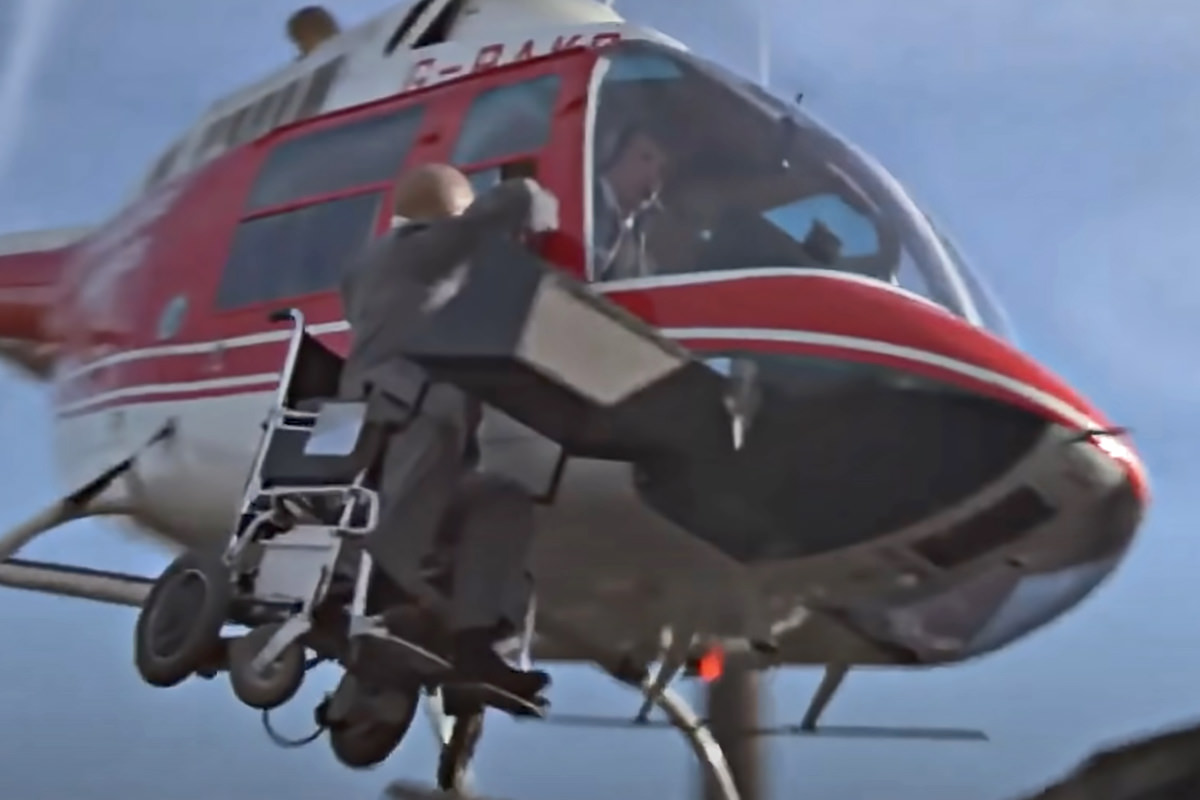 So... six Blofeld's total. Which is equal to the number of actors who have played James Bond (excluding David Niven in the original Casino Royale). That's quite a piece of Bond trivia right there.
Exactly the kind of trivia which keeps me up at night... and keeps my brain distracted from getting my work done.
If anybody's curious about which Blofeld is my favorite, it's Donald Pleasence as the first Blofeld in You Only Live Twice. He was deliciously weird, evil, dangerous, and menacing...
Not that Blofeld was the most interesting character in that movie. I was completely 100% in love with Bond Girl Kissy Suzuki...
I was one year old when You Only Live Twice was released. I didn't see the film until the 80's when I rented it on VHS tape. At the time I thought Mie Hama was the most beautiful thing I had ever seen.
And still is.
Posted on March 8th, 2021

Happy International Women's Day! Many of my most favorite people in my life have been women, and taking a minute to appreciate the way that women impact our world is important. History is replete with examples of women's contributions being overwritten, dismissed, and forgotten. That ain't right, and I keep hoping that each new day moves us in a better, more positive direction for equality and inclusivity.
I celebrated by watching the movie Hidden Figures, which is a fantastic story of what women have contributed to NASA's Space Program... despite the absurd intrusion of Kevin Costner's "White Male Savior" character into the mix. Did we really need that scene of him taking a crowbar to the "Colored Ladies Room" sign? Especially since IT NEVER HAPPENED?
That kind of crap is exactly why we need International Woman's Day... and Black History Month.
But before sitting down to watch Hidden Figures, I had to find my cats.
When I got home, neither of them came to greet me. This is unusual. Usually at least Jake is there to sniff around me and make sure I smell acceptable enough to enter their house.
They weren't downstairs, so I figured they might be asleep on my bed. Nope. They were on the second guest bed, huddled on a comforter...
Perhaps I was too quick to turn the heat off?
Probably.
Not wanting to get murdered in my sleep, I turned the heat back on.
Posted on March 3rd, 2021

The weather has been really turning a corner these past few days. Gorgeous blue skies and crisp air every afternoon. Which then turns to freezing cold at night, but still... happy to be able to come home from work and be able to open the windows for a while to let some fresh air inside.
Alas, the warmer weather has meant that Jake and Jenny are shedding their winter coats.
With Jenny, this is not an issue because she will happily lay there for hours while I run The Furminator over her to pull out all the hair that's falling out. But Jake? He will let me furminate him... to an extent. He won't let me near his belly with it and 4-5 minutes at a time is his limit.
Which, of course, means that it's Hairball Season for the next month or so.
Most times when I hear that tell-tale sound of him hacking up a hairball, he swallows it. That's good news for me. But every once in a while this time of year he'll puke one up. At which point I am never mad about it. And I always give him some love afterwards to calm him down a bit.
But I gotta say... the last two nights have been a trial.
Jake now sleeps on my bed every night. He'll curl up next to me... then keep pushing my legs away while he "stretches" until I end up on the very edge. A few nights ago he set up shop in the middle of the bed. Which is fine. Still plenty of room for me. But then he keeps snuggling into me harder and harder...
But three hours later after he's pushing and stretching and otherwise pushing me off the bed, I barely have any room left...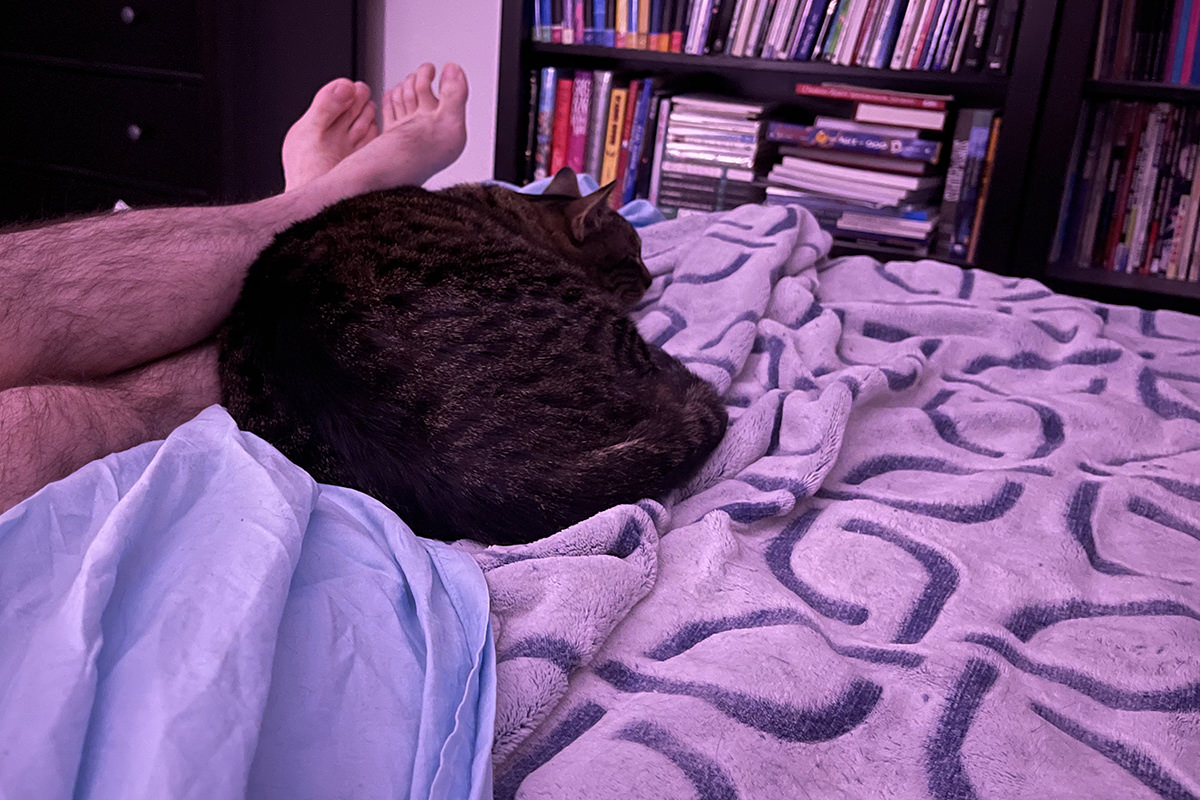 Eventually I am able to shift around him when I am ready to go to sleep and everything's fine, so I just deal with it. No problem.
But two nights ago I was awakened at by Jake hacking up a hairball at 2:50am. I know this because my Apple Watch recorded when I had to get up so I could run my blanket down to the clothes washer...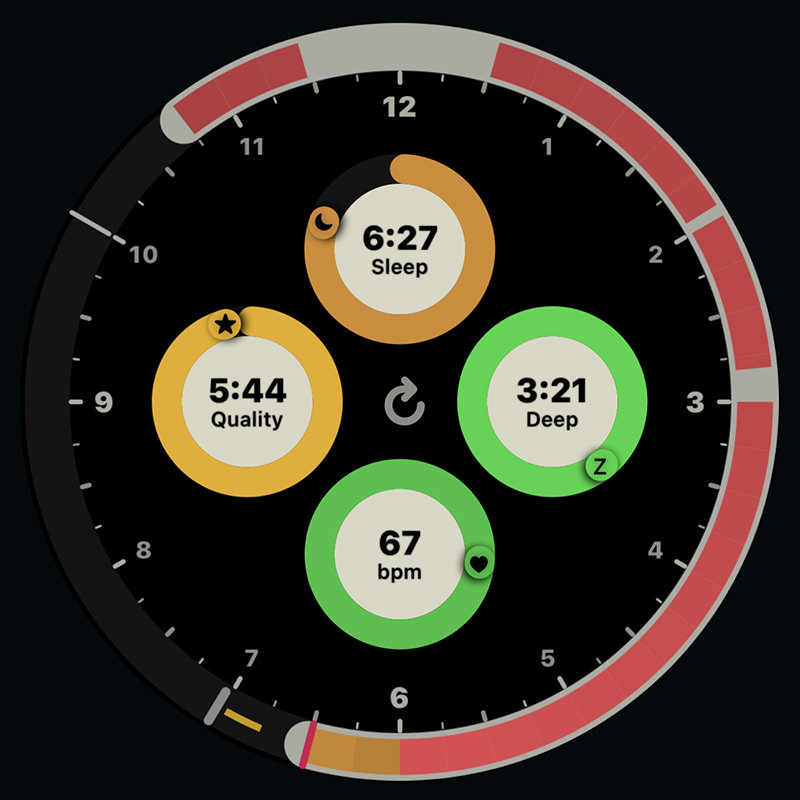 Last night I forget to get my blanket out of the dryer before heading up to bed. It wasn't cold though, so I thought I'd just make do with a sheet. But then... you guessed it... another hairball. This time at 4:35am...
Which meant I had to console Jake, then get him off my sheet... then take the sheeet down to the washer... then remember to grab my blanket before heading back upstairs.
At which point Jake curled up again and fell asleep.
But not before pushing my legs three inches, of course.
Posted on March 1st, 2021

I know that there are people out there who adore February. Maybe it's their birth month. Maybe their wedding anniversary is in February. Maybe they started their dream job in the second month of the year. Heck, Valentine's Day is in February, so I get it. Honestly I do.
But February means something entirely different to me.
And it's not even like Valentine's Day can save it because I'm not in a relationship. And, at this point, don't want to be in a relationship.
Consistently, without fail, all the worst things in my life seem to land within those 28 days. Or, if it's a Leap Year like 2020, 29 days. Heck, February 2020 is where things started going all wrong, am I right? My life of travel for volunteer work ended. The pandemic was blowing up globally. And, just a reminder here, the first death in the USA due to COVID-19 happened on February 29th, 2020.
I do try to make February a better month though.
I moved into my new home on Groundhog Day February 2nd five years ago. Then I also got my adorable kittens Jake and Jenny on February 16th. Two of the best things to ever happen to me. So that's awesome, right? Way to go, February 2016!
Except not really. My mom had to be rushed in for an MRI on the 12th of that same year. She then dropped several plateaus in her health and ended up back in the hospital on, you guessed it, Leap Day February 29th, 2016. It was the beginning of the end and it's all February.
So many deaths, tragedies, disappointments, and setbacks in my life end up in February that now I just brace myself whenever I turn the page on my calendar. At this point it's pretty much self-fulfilling prophecy, but the psychological analytics are tough to parse when I've been conditioned to expect only the worse... from having the worst actually happen to me.
This February was just a continuation of the pandemic horror show, so I didn't need to have anything new and terrible happen, but of course it did. Got my first blog death threat in a while (somebody late to the party over my posting a photo of two men dancing together back in December). Went through a horrific personal ordeal with somebody I thought cared about me. And, of course, had the usual reminders of all my friends and family that died in the worst month of the year.
Fortunately February was only 28 days this time, because Lord only know what new terrors awaited me if today was February 29th instead of March 1st.
I've been ready for March all month. I've been ready for Spring and the promise of something new. I've been waiting for Coming 2 America and The Falcon and The Winter Soldier. I've also been waiting to get vaccinated... but apparently my group's date has been moved again. I've also been waiting for my potato masher to arrive... AND HERE IT IS!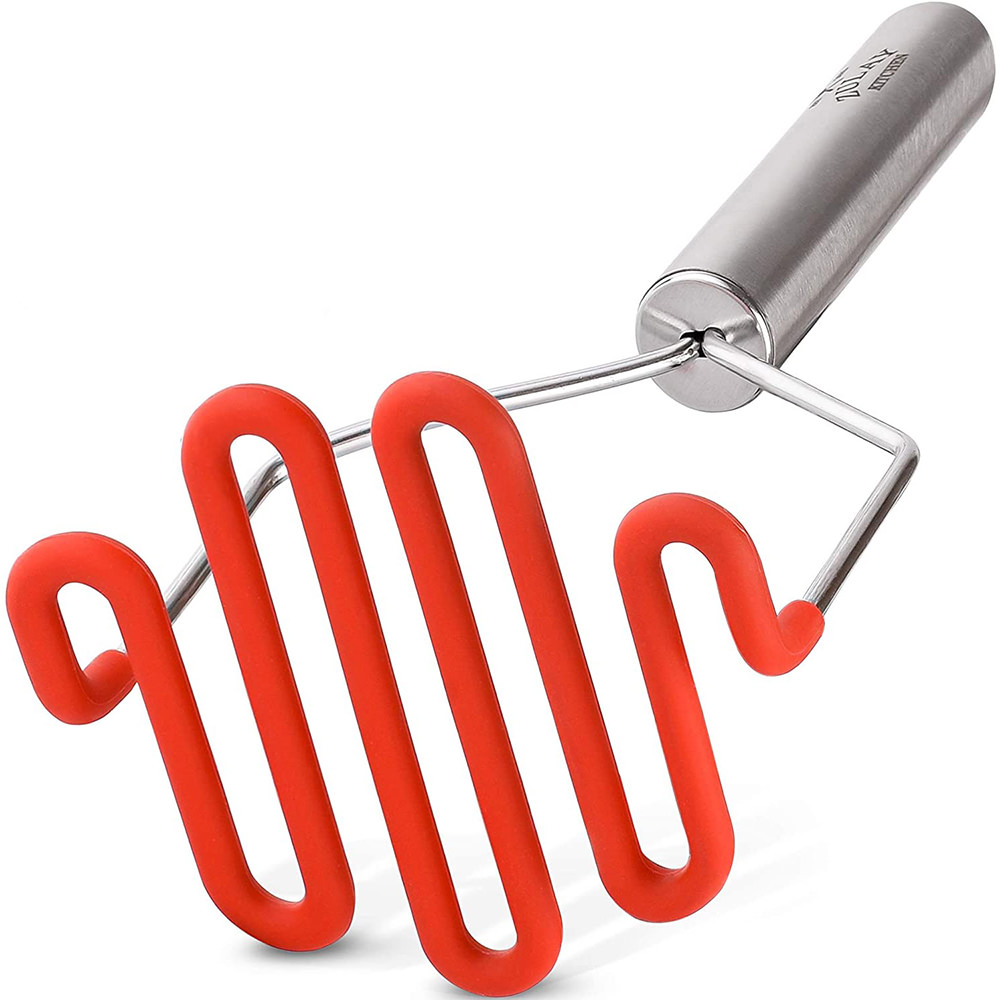 I've never had one before, but I keep running into recipes where they say "mash to a creamy consistency with a potato masher or fork"... usually for black beans or chickpeas. I've always just used a fork, which is a lot of effort. A potato masher looked like it would be even more effort since a fork had tines that were close together for more efficient mashing, so I never bothered. Then I had a friend laugh at me when I mentioned this, and said I really need to buy one. "And make sure it's dishwasher safe and can be used on non-stick pans!" And that's what I ended up ordering.
Holy crap.
It is no small difference. It's a monumental difference. I can mash up a can of chickpeas with minimal effort in a fraction of the time! I can't believe I've been suffering with a stupid fork all this time!
Kinda makes me wonder what other kitchen gadgets I've been avoiding as "superfluous and unnecessary" that are actually critical and brilliant. Thanks, March!
Posted on February 26th, 2021

It's almost 1:00am. I watched the latest episode of WandaVision (discussed below) then picked up around the house before collapsing in bed to write this blog entry. An entry which won't be posted until morning because I'm sure there are going to be a hundred mistakes that I'm too tired to catch right now.
Yesterday was uneventful. The most interesting thing to happen was when I decided to make a "Barbecue Pineapple Flatbread Pizza" from HelloFresh... then just couldn't do it. I ordered it because meal services often have things that sound disgusting but end up delicious. But when it came time to marinate the pineapple in barbecue sauce so I could slap it on the pizza?
No.
Just no.
There's no way that could ever be considered "delicious" so I put the ingredients away... slapped some Contadina Pizza Sauce on the flatbreads... added mozzarella, parmesan, and feta... then baked them until I had cheese pizzas. They were fine.
Except...
As I was pawing through my stack of drawers to find a pizza cutter, I reached in and ended up slicing my finger on a serrated knife. Took a nice chunk of skin off my finger, but didn't bleed. Lucky me. I can't wait for Spring so I can finish my kitchen remodel, because it's tough living like this. Tough on my fingers, that is.
But Anyway...
My thoughts on the latest episode of WandaVision are in an extended entry...
→ Click here to continue reading this entry...
Posted on February 25th, 2021

Last night I finally took some sleeping pills to knock my ass out so I could catch up on some of the sleep I haven't been getting.
I went to bed at 10:00pm, fell asleep by 10:30pm, then woke up ten minutes before the cat breakfast alarm went off at 7:00am. According to my Apple Watch app AutoSleep, that resulted in 8 hours and 18 minutes of beddy-bye sleepy-time...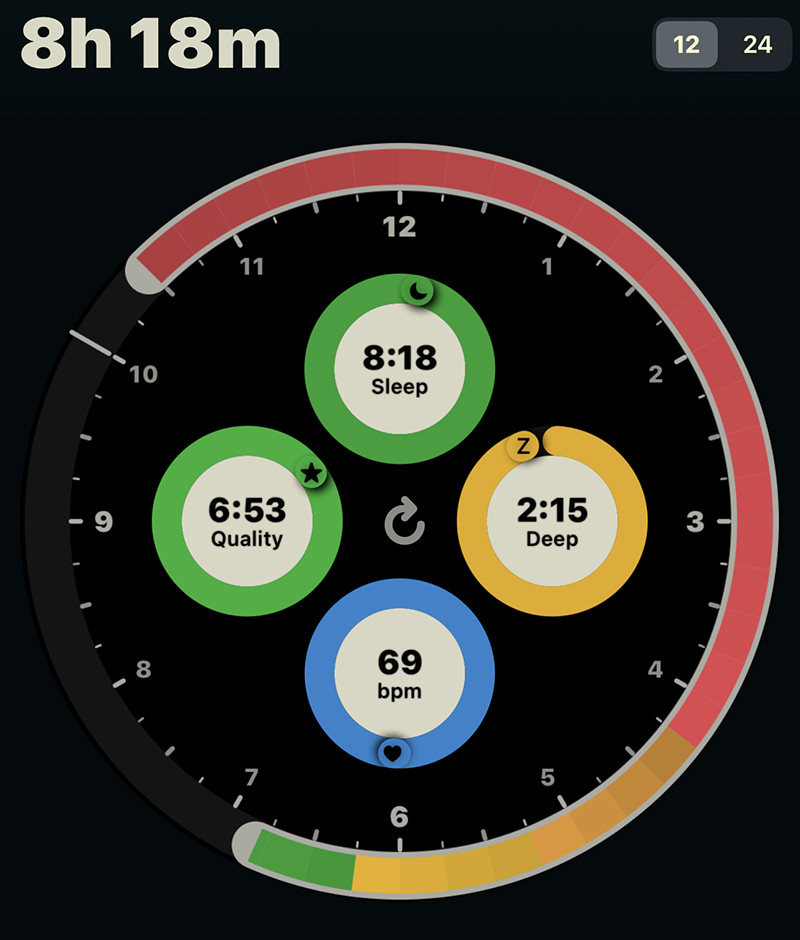 And it was a huge mistake, because I felt drugged up this entire day. Still managed to get my work done, but was mired in a mental fog that made it tougher to function that days when I'm only getting 4 hours of sleep.
Thanks to Apple Watch, I think I understand why. It used to be that I looked at the "Quality Sleep" metric... which in this case is 6 hours and 53 minutes. That sounds great. It sounds like a lot. Where I need to be looking is at the "Deep Sleep" metric, because it's on days where I get more deep sleep that I'm feeling my best. Though I slept for over 8 hours, I only got 2-1/4 hours of deep sleep.
That's less deep sleep than I get on a "regular" night where I'm sleeping half as much.
Apparently the drugs are good at knocking myself out, but the sleep I get is restless. I looked back to other nights and see a pattern. 5 hours 42 minutes sleep, 3 hours 6 minutes deep sleep... 4 hours 12 minutes sleep, 2 hours 48 minutes deep sleep... 3 hours 45 minutes sleep, 2 hours deep sleep. Shorter periods of sleep are actually far more productive for me "Deep Sleep-wise," as crazy as that might sound.
And so now I'm going to see what I can do to get better, longer deep sleep.
My guess is that exercise will have something to do with it. Which is fine because the snow is melting so I can start walking to work again. Correlating how much deep sleep I get with how much exercise I get will prove interesting, I'm sure.
In the meanwhile, I guess I'll be happy with 4 hours of sleep knowing that a good chunk of that will be the sleep I need to function properly.