Posted on May 7th, 2020

YOU YIELD TO TRAFFIC IN THE CIRCLE. It's that simple. That's the only rule. It doesn't take a rocket scientist to understand it. If there's a car already in the traffic circle, you wait until it's passed before entering. And yet...
25% of the time... at least 25% of the time... I run into somebody who doesn't yield.
Like yesterday when I was driving home. And of course the guy is pissed at me even though he was 100% in the wrong for cutting in front of me instead of yielding like he should have. And I honestly don't get the mentality. I'm supposed to just slam on the brakes in the middle of the traffic circle and back up traffic to let people in? That's the complete opposite of how it's supposed to work.
=le sigh=
I continue to wade my way through the massive list of movies and shows I've flagged to watch so I can see if there's anything good on TV. My latest obsession is Plan Coeur (aka The Hook Up Plan) on Netflix. It's a French romcom that has its fill of stupid moments, but is otherwise fantastic. The characters are all beautifully realized and you want to care about them even when they aren't at their best.
Because it's French, I have to watch with English subtitles, which adds another level of amusement to the show...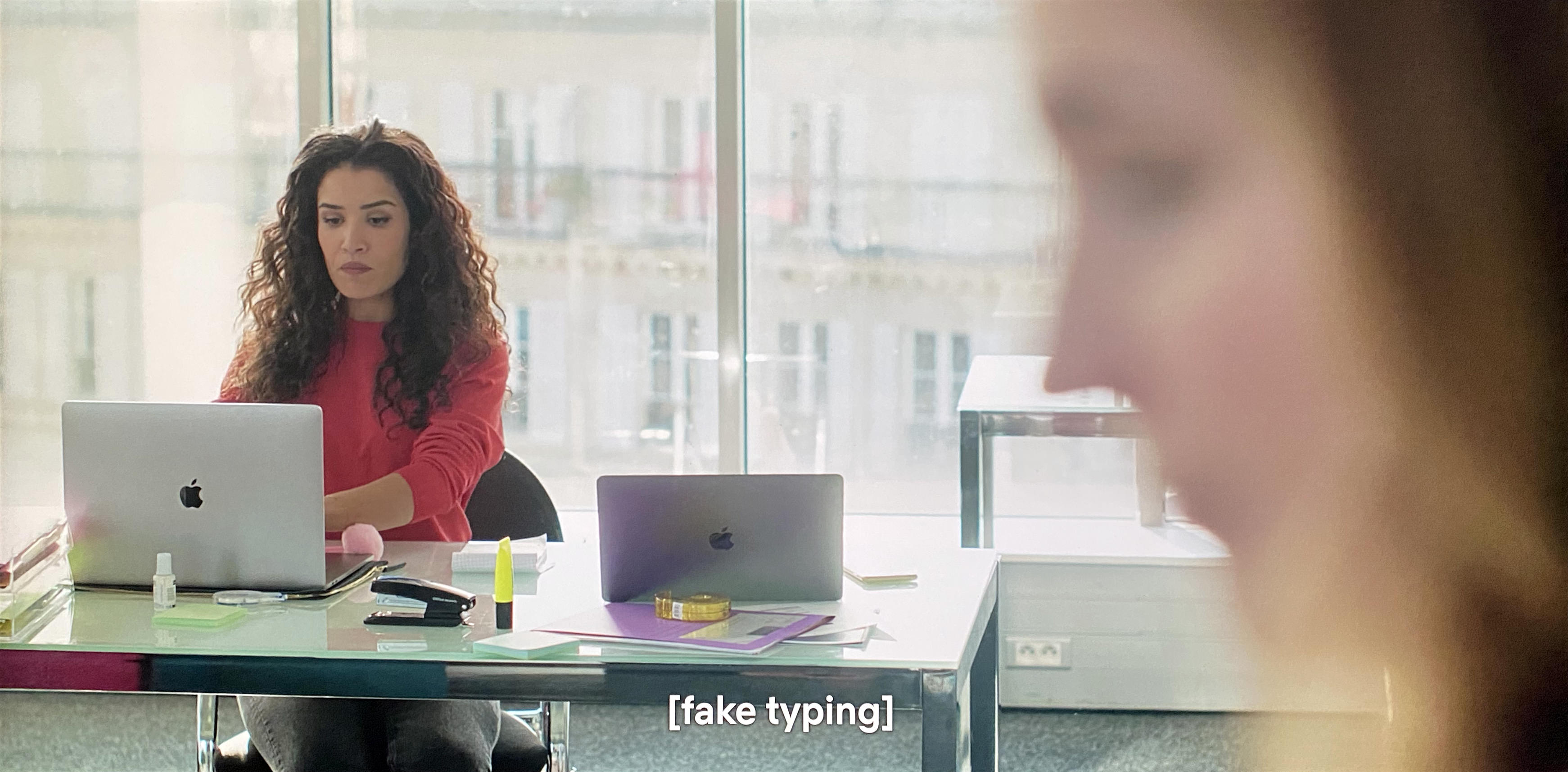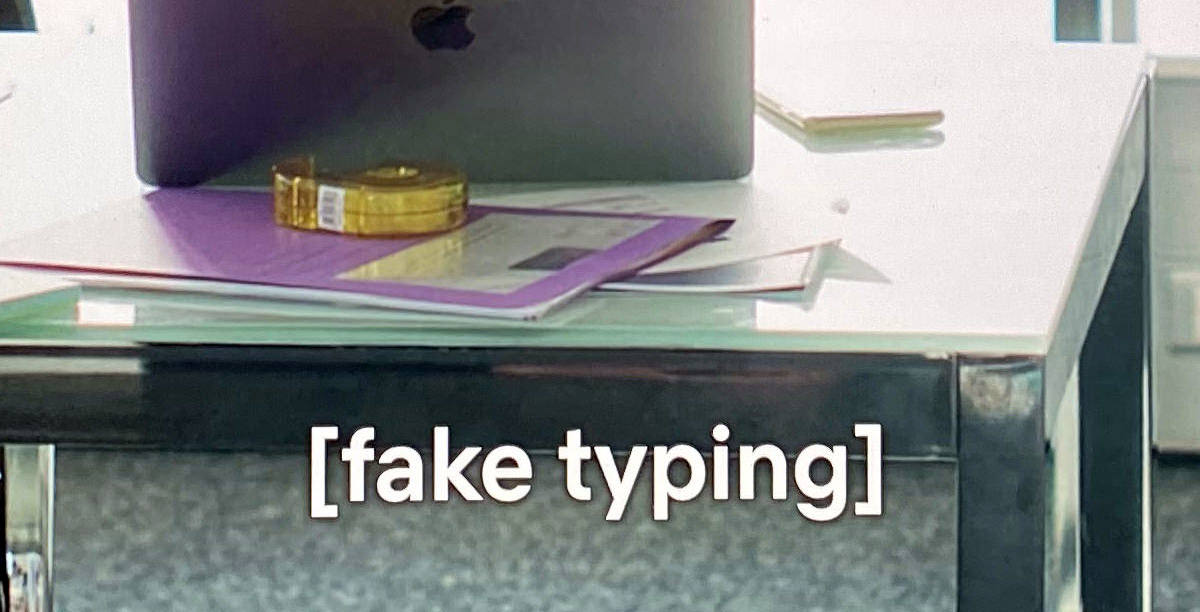 Most of the time, the show is smartly written and has clever one-off lines throughout to bring the funny...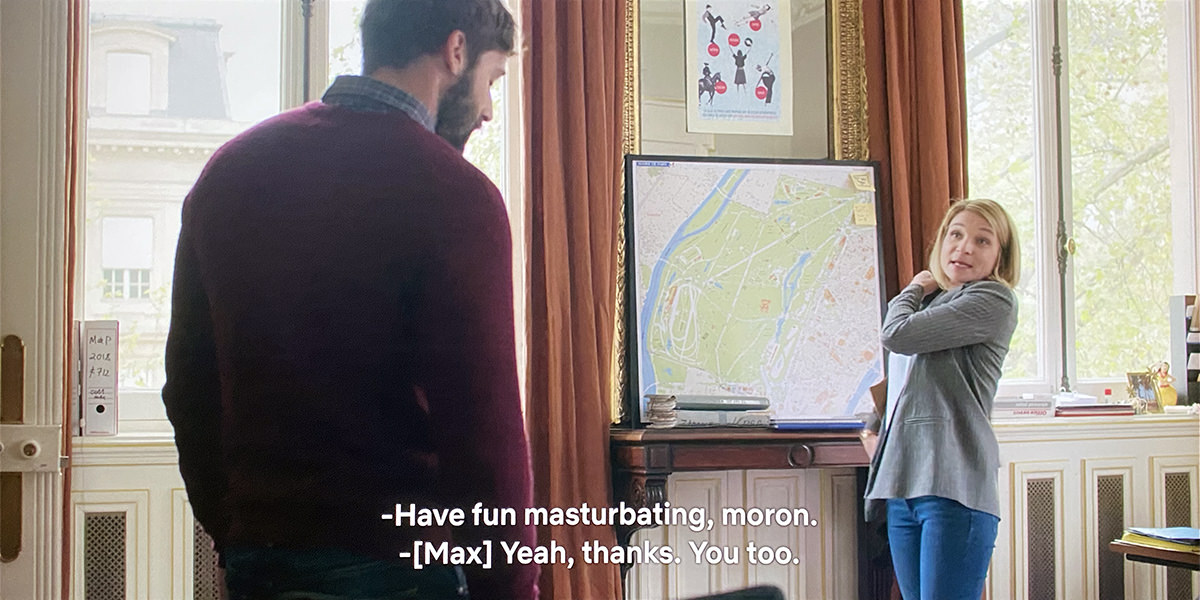 And, of course, it's French, so the romantic moments are flawlessly orchestrated...
What really took me by surprise is the music, which is haunting and beautiful. It's practically another character in the series and makes even mundane moments something to be savored...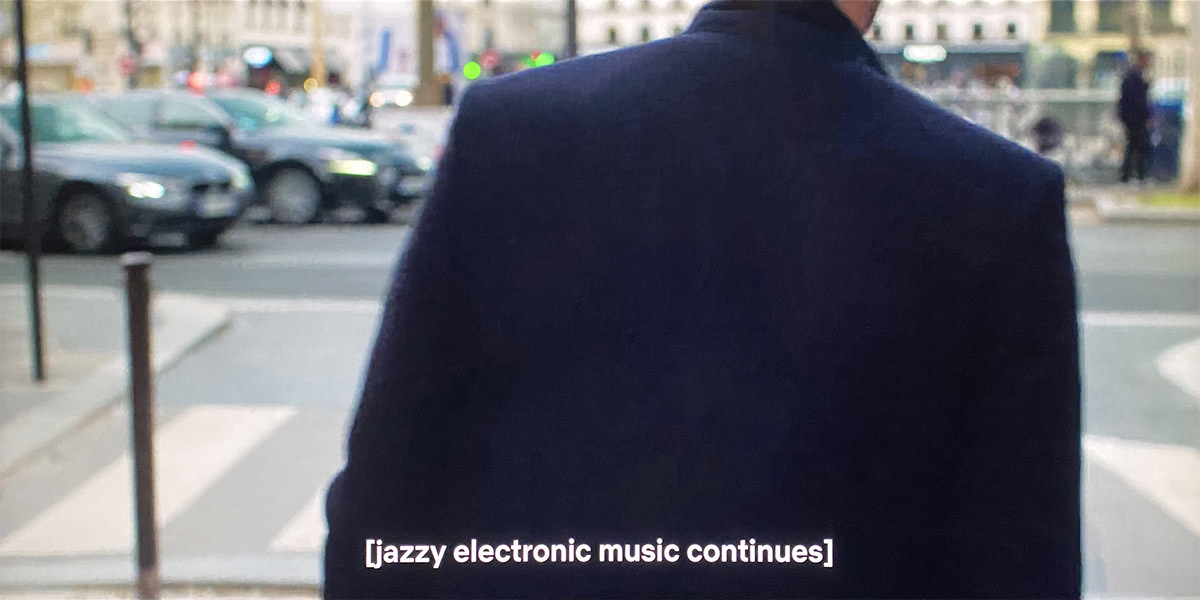 I was compelled to track down the composer, which is Frédéric Magnon, and became an instant fan. When Elsa shows her sister her new apartment, I had to rewind the scene and play it over and over because it's just that good...
The entire soundtrack is fantastic and worth hunting down (Amazon Prime Unlimited has it).
So... if you're looking for a show to binge while you're stuck at home, I highly recommend giving The Hook Up Plan a try. Both series of the show are available on Netflix...
As much as I loved the show and want to see a third series, I almost think I'd rather they left things where they were at in the finale. It was the perfect way to end things even though you'll definitely be wanting to know what happens next.
Which is what makes great television, isn't it?
Posted on May 6th, 2020

I cannot catch a break this week.
Between murder hornets invading my state and suffering revenge of the killer flowers, I was ready for my hump-day to be a change of fortune for me.
I should have known better.
This morning my long-time blogging friend, Jester, posted this to my Facebook wall...
After failing to find an apropriate amount of barf emojis for both the concept of adding raisins to potato salad AND the fact that people think a "French tuck" doesn't look like ten bags of stupid (I WILL NEVER FORGIVE YOU FOR THIS MR. TAN FRANCE!)... the first thing to pop into my head was "Say, don't I have some leftover potato salad in the refrigerator?"
I had forgotten about that! Turns out that, yes, indeed I did.
Breakfast is served.
Except it tasted funny, at which point I remembered it's been there for a week and was probably overrun with bacteria or whatever. And so... I set it next to the bathroom sink so I could take a shower before headed down to the kitchen to toss it.
Likely no surprise to anybody what ensued...
"Jake. What are you doing?"
"Jake. Please don't eat that."
"Jaaaaake. Staaahhhhp."
At which point I had to get out of the shower soaking wet and put the bad potato salad on top of the bathroom cabinet.
What happened next will shock you...
"Jake. What are you doing?"
"Jake. Please don't climb up there."
"Jaaaaake. Staaahhhhp."
I know better than to think tomorrow will be much better.
It's all raisin-filled potato salad for the foreseeable future.
Posted on May 5th, 2020

I've been spending a couple hours each day puttering around my flower beds. A neighbor was kind enough to pick out some new plants for me, so I've been working hard to create a home for them.
One of the things I've been meaning to do for years is pull out the irises in the front of my house. I've never understood these flowers. They're pretty for a few days, sure...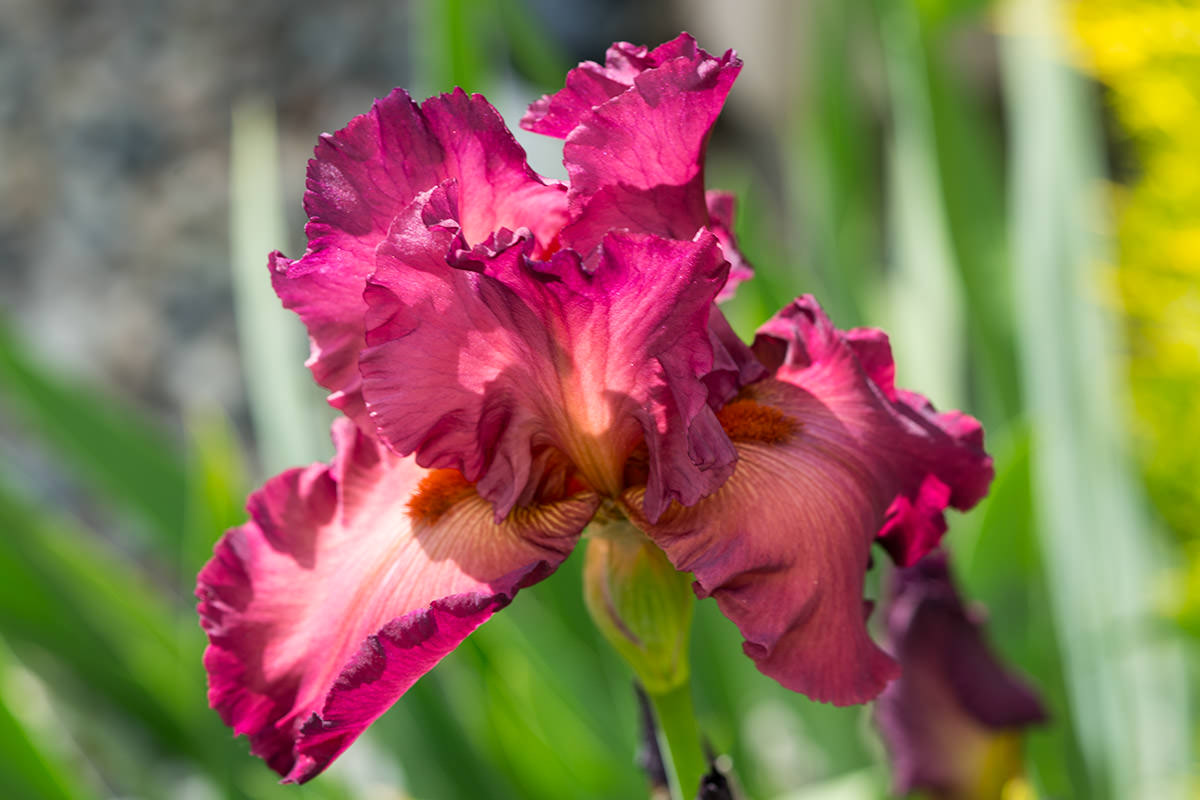 But they are top-heavy and fall over... many times before they even bloom, which means they bloom on the ground. Then the yard care team runs over them with the mower and they look horrible until they finally die. Then it all repeats next year. I try to move them off the lawn so they at least don't get torn up by the mower, but they still look pretty bad and have to go...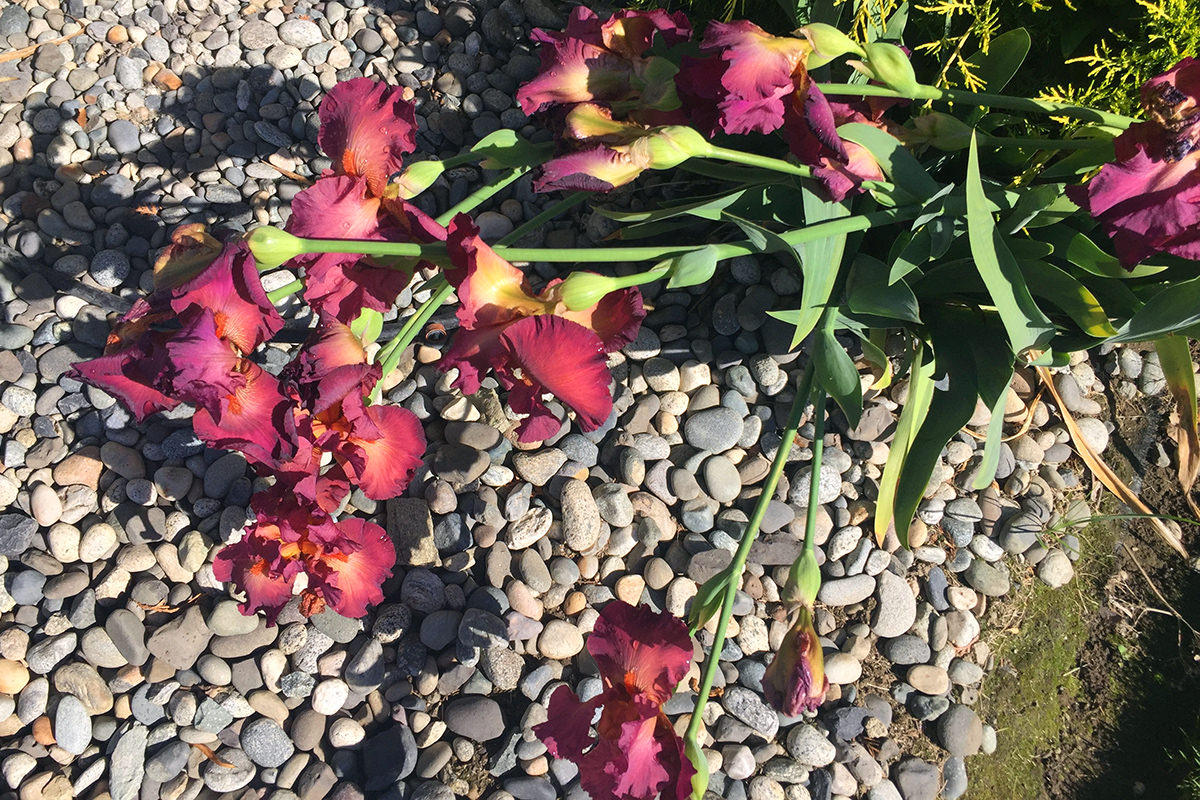 And yesterday was the day. I ripped out the two plants in the front of my home. But those flowers got their revenge, let me tell you.
The pollen got all over me and I had an allergy attack unlike any I've had in years. It was so bad that I had to take a big dose of Benadryl, then have a nap.
When I woke up an hour later, I was covered in blood.
I ended up with a nosebleed that would not stop, though it did slow to a trickle when I finally fell asleep around 3:00am. I was expecting to wake up and have to slog to the clinic to get it cauterized, but it had miraculously stopped overnight.
The irises on the side of my house can stay right where they are. I'm afraid of these flowers. I missed a half-day of work because I had to catch up on sleep because of these flowers.
Today I tried to take it easy and definitely not sneeze or blow my nose. Instead I laid on the couch and watched television, including a clever movie called The Great Seduction which is not some period romance bullshit as you would expect from the title...
I love it when I happen across a movie I've never heard of and actually end up enjoying it!
Kinda a nice way to end a day that started out so badly.
Posted on May 1st, 2020

Sucks.
It just sucks. It sucks so hard.
Posted on April 30th, 2020

Life doesn't hold enough pleasant surprises. All too often the surprises we get are crap. Especially lately. Take, for example, the Coronavirus. Could there have been a worse surprise for 2020? Though, given how health experts have been warning that a pandemic was nigh, I suppose the real nasty surprise was how ill-prepared that world governments have been for it actually happening.
What's nice is how people are stepping up to drop some nice surprises in our laps to make our quarantine-filled days a bit sweeter. My favorite is the bands who are either streaming old concerts for free or live-streaming new performances. Tomorrow one of my favorite contemporary bands, The 1975, is having a listening party... then on Saturday Orchestral Manoeuvres in the Dark is unleashing their 2019 Hammersmith Apollo show with new footage.
A lot of other bands are doing something... so check in with your favorites on social media to see if they've got something going on.
And yet...
The problem is that so many of these things are starting to overlap. No sooner did I get The 1975's listening party in my calendar than Erasure announced that they would be having a "Conversation About Nothing in Particular" at the exact same time! Two of my favorite bands competing for my affections! What to do?
I'm going to try doing both.
I used to roll my eyes over movies like Mrs. Doubtfire and 27 Dresses having characters double-booked for two critical events, then letting hijinks ensue to make it somehow "funny." It's just too ridiculous to be taken seriously... even in a comedy. Who does something that idiotic?
Apparently the answer is me. I do something that idiotic.
Wish me luck!
Posted on April 29th, 2020

There was a time I loved going to the movies. Me and my friends meeting up to catch some Summer blockbuster that I'd been dying to see. Sitting in front of that big screen waiting to be blown away by the lush sounds and the smell of popcorn. It was an experience like no other.
But then my attitude started changing as time marched on. There's always been rude people at the cinema, but it just keeps getting worse and worse as society degrades further and further. And once mobile phones became commonplace, the experience became unbearable. I actually blogged about it ten years ago when I went to see the Angle Jolie thriller Salt while in Chicago. The entire fucking film was spent looking at a sea of mobile phones glowing in the darkness...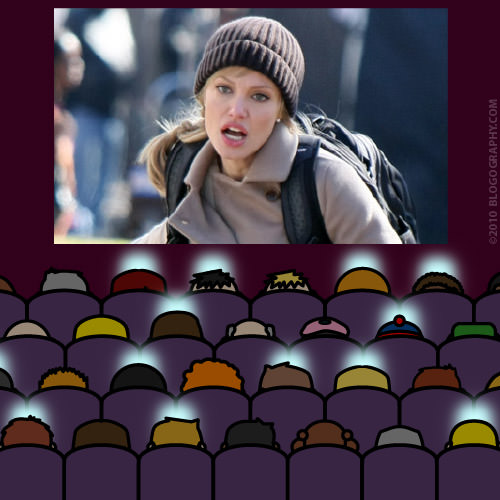 I was livid.
Going to the movies is not cheap. And now that movie studios are demanding a bigger cut of the films they release, theater owners have to compensate for their losses by charging huge amounts of money for popcorn, candy, and drinks.
At this point I downright loathe going to a movie theater. You pay absurd amounts of money to be constantly distracted by rude assholes. It sucks.
So I don't go to the cinema any more. I'm done. Occasionally I make exceptions so I can see a Marvel Studios movies before any spoilers leak... or will go to hang out with my friends if there's a movie they feel strongly about seeing in a theater... but that's about it. Even then I never go to a "regular" theater but instead go to the "premium" theater in the hopes of having a decent experience.
The beauty of it all is that I really don't have to go to the theater any more. Not when I have a theater of my own at home. I've got a big-screen TV with a great picture and really good surround sound. Popcorn and drinks at my house are dirt-cheap. There's no assholes to spoil my movie-viewing experience unless I invite them over. It's perfect, really. I love watching movies at home! And, thanks to digital downloads, I can get them the minute they are released! No trudging to the store for a DVD or waiting for it to arrive in the mail.
The only down-side is that it takes months for the movies to be released digitally because first they have to have a theatrical release. At least they did.
Enter COVID-19.
Thanks to people having to quarantine and movie theaters having to close, movie studios are having to release movies to home video without a theatrical release. It's expensive, sure... $20 to rent the movie... but is it really more expensive than going to the cinema? After you buy a ticket and get gouged for popcorn and a Coke, you're likely in for $20 anyway. And if you are a family of four? A $20 rental is far, far less expensive than going to the theater.
Right now there is a huge dust-up over the movie Trolls: World Tour because Universal Pictures claims that the film made $100 million without ever having seen the inside of a theater. This disclosure made the AMC theater chain so livid that they quickly banned all Universal films from being shown in their cinemas (once they reopen).
Which is about the most stupid thing they could have possibly done given how it's going to be a long while before people are comfortable sitting in a theater with a bunch of people who may be carrying the plague.
Furthermore, anybody wanting to see a Universal film is going to have to go to AMC's competition... or not bother seeing it in theaters at all. They should have been understanding as to why Universal had to do a home-rental release to get their money back on a film that was being lost in the Coronavirus shuffle. And why they had to release the non-box-office numbers so they could assure stockholders that they weren't losing money with their decision. Universal literally didn't have a choice here!
And, who knows, Universal may very well end up saying "Okay then. Fuck it. We don't need theaters anyway!" and just release their movies directly to consumers at $20 a pop rental. Or even $40 a pop if it's a huge expensive movie. I'd gladly pay $40 to watch Black Widow and all the Marvel Studios movies at home! Hell, I'd pay $75 if it meant I didn't have to go to a movie theater to see it on opening night! The theater experience is so shitty now-a-days that I'd do just about anything to avoid it. Whether that means waiting months (for movies I think I like) or paying more up-front (for movies I know I'll like), it doesn't really matter.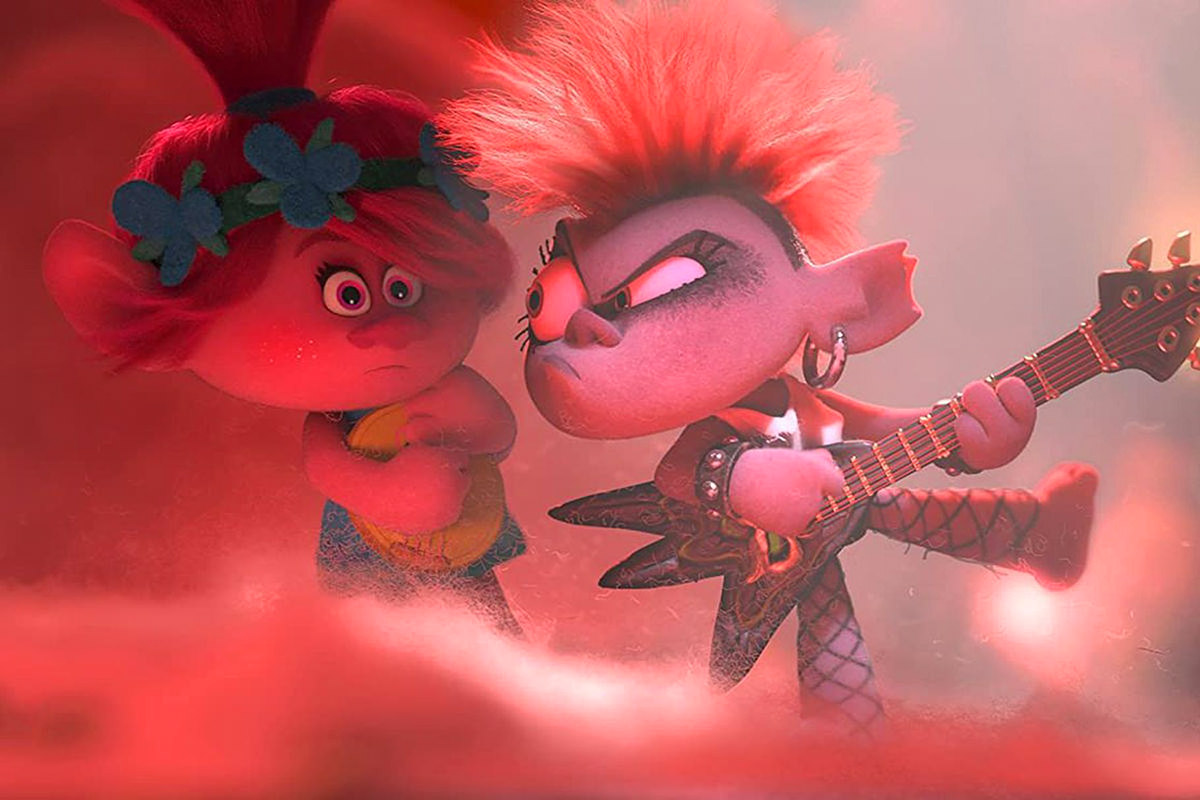 One thing is for certain... when this whole COVID-19 thing is over (if it's ever over!), it's doubtful we will ever go back to how things used to be. Every decision we make is going to have to be tainted with the realization that there is a risk involved. People will have to weigh whether going to a movie theater is worth potentially being exposed to a virus or disease. On top of all the other risks that we take just by walking out the door.
It's a hard truth for AMC to face, I know. And I most certainly don't blame them for the pandemic we're all living with. They are losing money every day and I'm sure a lot of theaters will end up closing in the fallout, so I understand their frustration. The situation is sad for them and for people who love to go to the theater. But lashing out at the hand that feeds you at a time like this is just bad business. Everybody is doing the best they can to accommodate what's happening in the world right now, so let that sink in before making rash decisions... like banning movies from your theater.
People need to stop acting like it's "business as usual" when it's anything but "business as usual" right now.
Posted on April 28th, 2020

My allergies are not improving. In previous years my body manages to adjust after Spring starts springing. As I get older, it takes longer. But usually in early April I start to feel better. It's almost May and I am feeling worse. And last night in the middle of my geek documentary marathon, I ran out of the only thing that works... Benadryl.
I thought perhaps I could make it until I was done with work, but at 10am I couldn't take my running nose and itchy eyes any more and decided to put on my mask and head to the grocery store for more. While there I picked up some groceries which, much to my surprise, included toilet paper, paper towels, and flour! The only thing on my list I couldn't get was yeast and Comet cleanser scrub. I forgot to check and see if rice noodles were available this time (last time I found it strange that they were out of stock).
Grocery shopping was a horrific experience thanks to one dumbass who was proudly proclaiming that he was an asshole who wasn't going to wear a mask. Which, fine, whatever, you do you. Right now there's no law here about masks being required even though they help halt the spread of the Coronavirus, so be an idiot if you want to. But then he leaned into me as he was passing and said "You know, it's okay if you catch it!" which was rage-inducing. THIS is the kind of thing I worry about when forced to leave my home. There is ALWAYS going to be something out there... now it's COVID-19, later it will be something else... and some people are just going to be fucking assholes when it comes to the greater good and protecting their fellow citizens, friends, family, and neighbors. Just like drunk drivers, their stupidity hurts us all.
I did not react well to this particular asshole and said something I really shouldn't have. It was all downhill from there as I attempted to curb my allergies by taking way too much Benadryl. Not a fun day to be sure.
And so... $190 spent restocking my pantry, refrigerator, and shelves for another month or two.
At which point I'll have to go out amongst the assholes again. Wheee.
Posted on April 22nd, 2020

Remember when computer operating systems started allowing multitasking... but the hardware wasn't really capable of handling it, so it never really worked right? You'd start burning a CD and switch to a word processor, then have the burn fail while you're writing because the computer didn't have the resources to do both at the same time... that kind of thing?
That's been me recently. I am trying to do way too much all at the same time without the mental resources to manage it, and I'm starting to worry that my multitasking abilities are going to fail me.
This was made perfectly clear this morning when I took out the garbage and didn't realize that I did it in my underwear. There I was... climbing into the shower... and realized that I didn't take off any pants. That's when I was all "Did I just take out the garbage in my underwear?" Which, of course, was easy enough to verify on the security cameras. And sure enough...
I should really try to get more sleep.
Posted on April 20th, 2020

So... not a great day.
The volunteer work I do has been suspended indefinitely. No travel through all of 2020 and while there's a hope we can get things back together in 2021, it's looking grim indeed. Which is pretty much where we're all at right now, I think.
Sure this opens up some free time I could use for other endeavors, but it also takes away some of my purpose for being on this earth. I suppose I could look into other organizations where I could donate my time (and maybe I will eventually), but I don't know that my heart would be in it. Not like it has been for the past five years.
I guess we'll see. I try to remain hopeful.
Because life goes on.
I've been doing everything I can to avoid going to the grocery store. For the second time in a month, I took everything out of my cupboards and took inventory of my freezer and refrigerator to see what I can make from what I already have.
There's a lot of pasta. A goodly amount of cheese with a month or two on the expiration date. A surprising amount of canned beans. A couple cans of soup. Not much else by way of ingredients. I do have a stash of boxed rice dishes. And a half-dozen frozen meals. I think I could get away with another week... possibly two... before having to go shopping.
Tonight my tomatillos felt ripe enough that I could pull out the ingredients I've been saving to make one of my favorite recipes I got from the meal service I've been using (Martha Stewart and Marley Spoon, which you can read about here). I had never cooked with tomatillos before, and have fallen in love with them. They make a great green sauce. I bought some weeks ago, but they were pretty tough. And so I kept them in the refrigerator in the hopes they would take their time to ripen so I could have something nice as my food supply ran out.
And tonight was the night...
That's
"Cheesy Baked Quesadillas with Green Enchilada Salsa"
... but the filling is actually a mix of canned refried beans, onion, garlic, and taco seasoning with cheese. It's pretty fantastic, as you can imagine. My leftover cilantro and green onion had not held up that great, but I managed to salvage enough to drop on top with some crema and more cheese.
'Dillas on a Monday evening of the apocalypse won't compensate for what I lost today... but it's a good enough start, I suppose.
Posted on April 17th, 2020

Usually I work on the weekends so Friday is just another day to me. But given that my charity work has ground to a halt, my travel has ended, and I spend no time hanging out with friends, I'm in this bizarre place where my weekend is actually going to be a weekend without work. At first I was going to do something crazy... like absolutely nothing... but then I decided I would rather catch up on housework. So now Friday is the same sucky day it always is with no weekend to look forward to.
The good news is that Disney released another one of these amazingly adorable Frozen shorts...
I like the baby snowmen better than I like Olaf!
So I guess that's something?