Posted on March 11th, 2021

You would think that as the snow slowly melts and allergens are being released into the air, I'd have a gradual slide into allergy season. Nose runs a little more each day. Eyes water up a little more frequently. Cough gets more and more persistent.
But that's not how it works at all.
Not for me anyways.
In my case my body just deals with the build-up to allergy season and I'm perfectly normal with no symptoms... until one day I just ain't any more.
That day was today.
I woke up well enough this morning, but the minute I got downstairs to feed the cats I was in hell. Nose running like a faucet. Coughing continuously. Even struggling to breathe. The first thing I did was go around the house and replace the air filters in all four of my air purifiers just to make sure they were operating at peak proficiency. If they're not, then sleeping becomes impossible and I never get a break from the torture I go through each Spring.
Which is still my favorite season. Go figure.
It would be easy to blame it on the cats going in and out of the catio and bringing the allergens in with them, but I honestly think that it has to do more with my leaving the house and getting saturated.
And so, like last year, I will be doping up with Benadryl and sucking on cough drops all day so that everybody at work doesn't think I have COVID. The drugs make it tough to focus and keep me eternally drowsy, but I guess it is what it is. I just save the more technical stuff for the evenings when I am back at home and can cough my fool head off in peace. Jake and Jenny aren't happy about it, but so long as they can go outside and are still getting fed, I think they'll survive.
Me, on the other hand? I give myself a 50/50 shot of surviving.
Posted on March 19th, 2020

As I probably mentioned once or twice... or a hundred times... I have killer seasonal allergies. They are pretty harsh in the Fall when all the vegetation is rotting. Summer is marginally annoying, but I don't notice it any more. Winter is my least favorite season, but the absolute best time for my allergies.
Spring... what's happening right now... is my favorite season. I love Spring.
But my allergies are at their absolute worst.
I survive it by taking more Benadryl than is probably healthy. It's the only thing that works despite it making me drowsy. Every day at work it's a fight between the allergy meds putting me to sleep and the caffeine in Coke Zero keeping me awake. At home I stop taking pills and happily cough my head off.
Today I left the office early to work at home because I was already tired, and taking another Benadryl would have done me in. I managed to work through the coughing for a couple hours before my lungs ached and I finally took a Benadryl and a bunch of cough syrup...
...and fell asleep.
Until the alarm to feed the cats... as well as the cats themselves, of course... woke me up at 6:00pm.
After making sure they had their food, I sat down with a grilled cheese sandwich to tide me over until my pizza dough defrosts for dinner. I turn on the television and this commercial is playing...
Isn't that an amazing ad? It's like a Hallmark movie in 30 seconds... but less sappy and more sweet. Man, I love great advertising!
And speaking of Hallmark... I see that they are airing a Christmas movie marathon so people who are self-isolating can re-live memories of a happier time. I've already seen them all, of course, so I'll spend any free time I have playing Animal Crossing: New Horizons, which releases tomorrow. OR... at midnight tonight, I'm guessing? Yeah, no. The last thing I need to do is become addicted and stay up until 3am playing a game.
Posted on April 10th, 2019

After spending a week being sick I was ready to start feeling myself again. Alas, it was not to be, because now Spring allergies have hit me like a truck. There goes the next two months of my life. It's all sinus pressure, post-nasal drip, and coughing from here on out.
When I was younger I had allergy shots to keep me from being a complete mess. Eventually I outgrew my allergies and the shots stopped. Then, without warning, my mid-forties arrived and Spring allergies along with them. I've tried dozens of drugs... both prescription and over-the-counter... and have found only two things that help: 1) Flonase which, unfortunately, causes nose bleeds... and 2) Benadryl which, unfortunately, causes me to become useless and fall asleep. Obviously I can't go to work while falling into a coma, so I have to suffer through every day and drug myself to oblivion every night.
Such is my life.
As I mentioned a while back, every year on January 1st I convert the maximum-allowable 100 of my DVDs to digital. Sure it's $200 down the drain, but I then have access to all those movies anywhere I have internet. So much more convenient than having to dig through hundreds of DVDs to find something to watch.
Dozens of these movies I haven't seen in decades, and it's been well-worth the $2 conversion fee. I just finished Secondhand Lions which is a fantastic film I didn't even remember existed. Surprising to me that it wasn't a much bigger hit than it ended up being...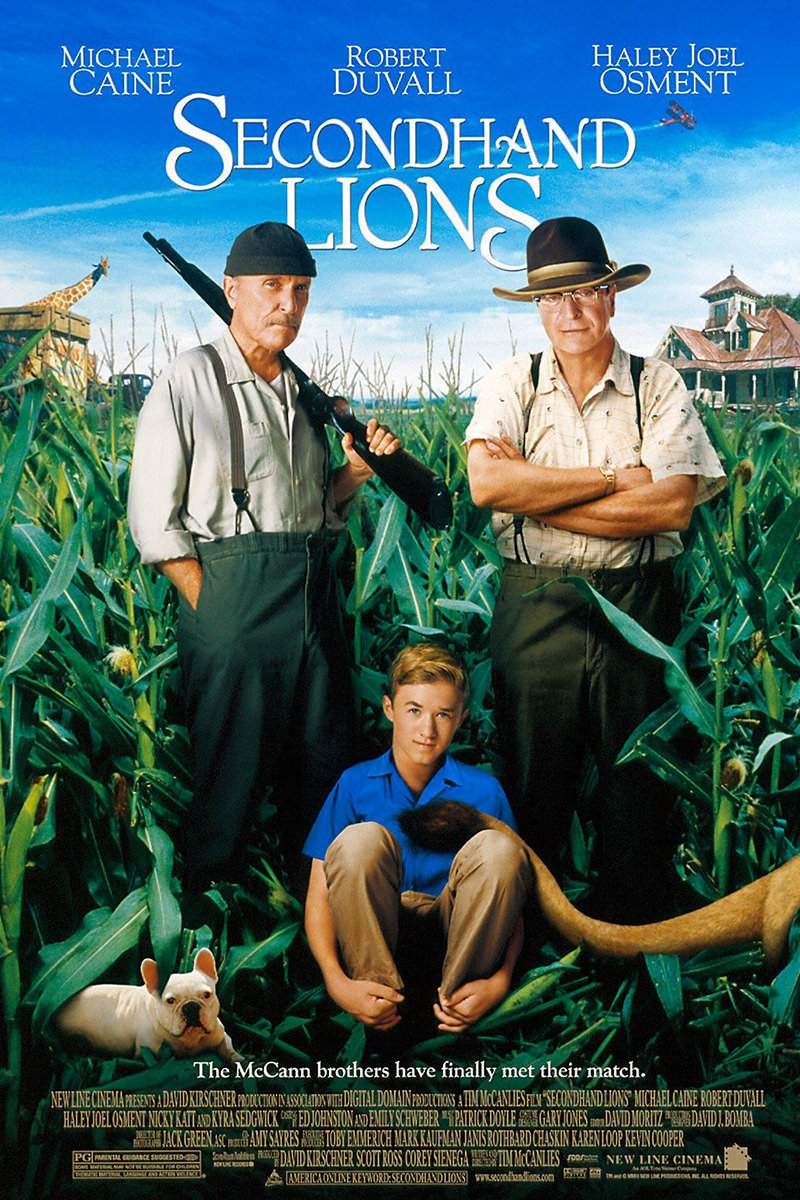 A few things...
Haley Joel Osment deserved a lot more films as he grew up. He's spectacular in Secondhand Lions, and it's a shame that he wasn't getting more work after he was no longer that adorable "Sixth Sense" kid.
Kyra Sedgwick can play literally anything. Her role in this film was unlike anything else I've seen her do... and yet it was still her.
Casting Robert Duvall and Michael Caine as two cantankerous old farts with a rather exotic and interesting past was total genius.
Christian Kane and Kevin Haberer could not possibly have been more convincing action stars for their roles. They managed to be younger versions of Robert Duvall and Michael Caine without being enslaved to the idea of becoming Robert Duvall and Michael Caine.
Few movies which switch between the past and the present do so in a way that "clicks" this beautifully. There are subtle echos going both ways that are wonderfully crafted.
Whomever trained the dogs used in this movie should have been given some kind of award. The canines have small, but critical roles to the story.
It is fucking criminal that Secondhand Lions only has a 59% fresh rating on Rotten Tomatoes. The bad reviews are completely vexing to me. I read the criticisms and can't help but wonder if they watched a different film than I did.
"What Every Boy Needs to Know About Being a Man" is one of the most inspired speeches in cinema (even though you only get to hear a part of it). Not because of what it says, but because of how they wrap it up with a disclaimer that it may not be true but you should believe in it anyway.
If you don't feel for what Walter is going through (thanks to Haley Joel Osment's inspired performance) you don't have a heart. I'll say it again... it is a tragedy that Osment didn't get put into more movies when he was at this age. He's a sublime actor, and could have brought everything to "coming of age" movies of the day.
I'd give just about anything to see all the comic strips and artwork that Berkeley Breathed created for the movie. Some of it pops up online, but I'm sure there's pages and pages of stuff that we've never seen.
Needless to say, if you like movies and haven't seen this one... you should probably get on that.
Posted on May 17th, 2014

What was supposed to be a "free day" ended up being a full-on work day from start to finish.
Which wasn't a terrible thing, because my seasonal allergies are back. The transition from Winter to Spring and Spring to Summer are always a miserable few weeks while my body adjusts to the changes. And I always seem to get nailed when I travel... I swear I could feel the assault on my eyes and sinuses the minute I stepped off the plane.
Thank heavens for Fluticasone, which at least makes it so that I can breathe.
And now, thanks to Wikipedia, I know how it's synthesized...
Or not.
But still, better living through chemistry, I always say.