As I said last year, pretty much all I have left to say on the subject of 9/11 can be found here. Now that my mom is gone, that's even more true since it's her story too. And so I'll just be linking to that entry from here on out when it comes time to remember the tragedy of the terrorist attacks.
Except...
When I was going through my mom's stuff last month I found this...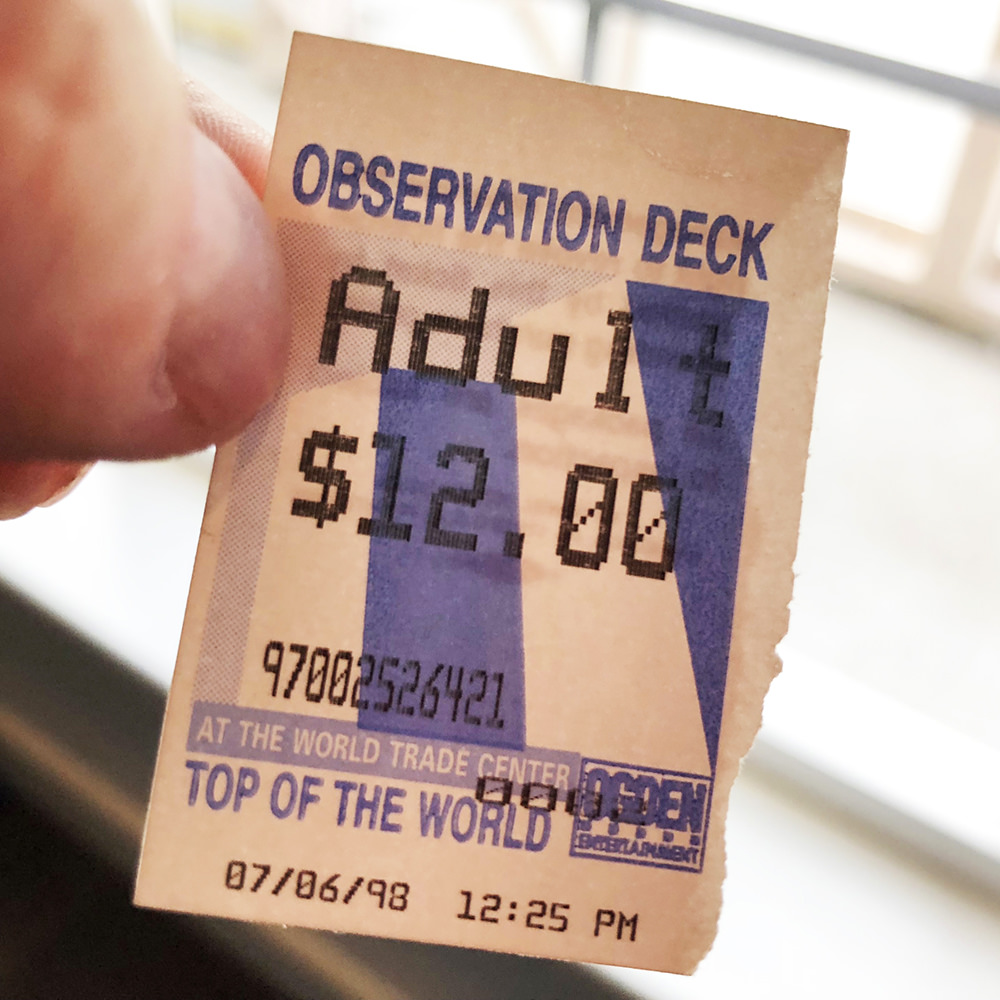 She saved her ticket stub from when I took her up the "Top of the World" at The World Trade Center on that day.
Mom saved a lot of stuff from our travels. Tons of stuff. I'm finding things like matchbooks and coasters from restaurants to brochures and pamphlets of activities we did to receipts and ticket stubs like this one. I had asked her why she'd want to save all this kind of stuff and she'd explain that it was just souvenirs. One day she thought she'd want to look back and remember all the things we did when she was too old to travel any more.
It's sad that she never got that chance. But kinda cool that she was so busy visiting new places that she never had time to look back on old travels while she was alive. Well, except for the photo books I made her. She'd look at those often. Many times while showing them to other people. Where the first words out of her mouth would be "Are your hands clean?"
Funny how I didn't start out as much of a picture-taker, but the books kept getting thicker and thicker as I was taking more and more photos. There's no book for 2006 because I helped her buy a car instead of taking her on vacation that year. I think I ended up taking her with me on a work trip to San Francisco or something, but it wasn't the same.
One of these days I really need to look at these again. And create a book for all the miscellaneous trips we took from 1994 to 2001 that I never got around to. Most of these I haven't opened in years. And one of them I can't find. Her book from Cambodia and Laos (Southeast Asia Vol. 2) has gone missing.
Even if I don't find it, I'm sure there's a matchbook from Cambodia around here somewhere.