Kapgar was talking about the Stanley Cup's triumphant return to Chicago in his blog post today, and it got me to thinking back to how I became a Blackhawks fan. That, in turn, got me thinking about how I became a fan of all the league sports teams that I follow.
A blog post was born. Thanks, Kevin!
&nbsp
Boston Red Sox Baseball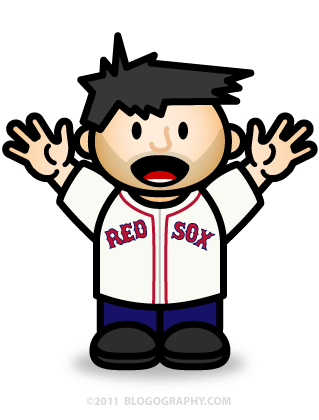 Baseball is hands-down my favorite sport. It was the only game I liked playing as a kid (even though I really could't play) and I love watching it. Baseball just seems more intimate and personal for some reason, and it's easier to feel a relationship with the players than with any other sport. When your team loses, it hurts because you're invested with those nine players. The first pro team I rooted for was my "hometown" Seattle Mariners, which were enfranchised when I was 11 years old. That lasted until I was in my mid-teens and was given an brand new Orioles jersey as a gift (probably because somebody didn't want it). I didn't know a darn thing about the Orioles, but I liked the shirt a lot. That was apparently enough for me to become a fan, and it didn't hurt that the Orioles were an amazing team back in the early 80's. But, truth to be told, I was never really into professional baseball growing up. I'd rather watch a high school game than a League team, and I was a "fan" of the Mariners and Orioles only in the vaguest possible terms.
And then it happened.
While I was in college, I had to read the book Shoeless Joe for some class or another. It provided an insight into baseball and the love of the game that completely captivated me. A key story-point to the book was the "Black Sox" scandal that rocked the world of baseball in 1919. It was such a fascinating story that I became a little obsessed with it, and ended up reading a lot about the sport. Fortunately, there were no shortage of books about America's favorite pastime, and one book lead to another... then another... then another... until I landed on a Ted Williams biography. This lead to a run on Boston greats, starting with Cy Young, which lead to Smoky Joe Wood, which lead inevitably to Babe Ruth... and his infamous trade from the Red Sox to the Yankees, which caused a curse that plagued the team for over eight decades. This eventually led me to become interested in pro baseball, in general, and the Red Sox, in particular. Then the movie Field of Dreams (based on the novel Shoeless Joe) was unleashed, became my favorite movie of all time, and instilled a love of Major League baseball in me that I never had before... but felt as if it had been with me my entire life. I've been a die-hard Red Sox fan ever since. I love the team. I love the history. I love the fans. I love Boston. And I love Red Sox catcher Jarrod Saltalamacchia (probably a little too much). SALTALAMACCHIA!!!
&nbsp
Chicago Blackhawks Hockey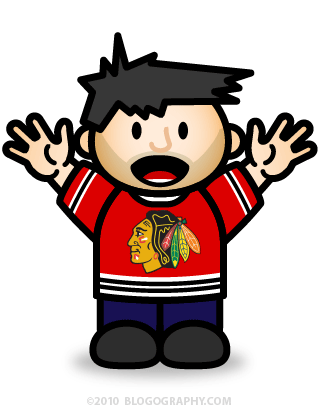 Hockey is not a big sport where I live, so I never really "discovered" it until I started traveling to Milwaukee for work in the mid 90's. I went to a couple Admirals games and was instantly hooked. The problem being that the Admirals are not a NHL team, so they were kind of hard to follow when I was not in Wisconsin. Eventually my fandom traveled down the shore of Lake Michigan to the Blackhawks when I started traveling to Chicago for work in 1998. I've been a fan ever since. I don't really keep up the League standings, but I have news alerts set for the Hawks so I can watch games and keep up with the team. Hockey remains one of my favorite sports to watch, so a Stanley Cup win for Chicago is a big deal to me after following the team from afar for 15 years. GO HAWKS!
&nbsp
Seattle Sonics Basketball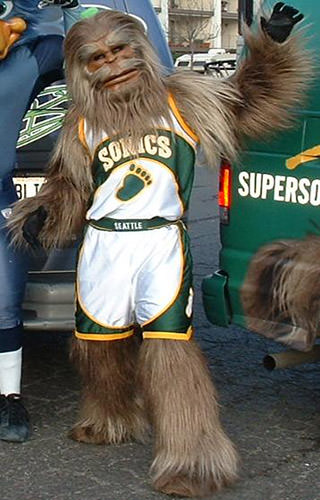 Sonics mascot SQUATCH!! Photo credit unknown.
Basketball is another spectator sport I enjoy because, like hockey, it's fast-paced and action-packed. The only team I've ever rooted for is my "hometown" Seattle SuperSonics, and I have more than a couple fond memories of traveling to Seattle Center Coliseum (later named Key Arena) to cheer on the team. Of course we all know how that turned out. Our team was sold to Tulsa and basketball died in Seattle. I haven't bothered to find a new team to follow since. INTERESTING FACT: Seattle Center Coliseum has the dubious honor of being the only venue where a basketball game was rained out. Back in 1986 a rainstorm was so severe that water started pouring through the roof and the game was forfeited. It's also the venue where The Beatles played in their two tours of Seattle in 1964 and 1966.
&nbsp
New York Liberty Women's Basketball
I'm not going to candy-coat this... for the longest time, I had -zero- interest in women's sports, thinking that they would be a pale imitation of the real thing. That all changed when I was taken to a New York Liberty game in Newark. These ladies played their guts out, and I got to see a fantastic game that opened my eyes to the fact that women can bring it to the court every bit as dedicated as men. I am not an avid Liberty fan, but check in from time to time to see how they're doing and what's new with the roster. Since the Sonics are gone, I keep hoping I'll find time to take in some Seattle Storm WNBA games and maybe get interested in pro basketball again, but no luck so far.
&nbsp
Seattle Seahawks Gridiron Football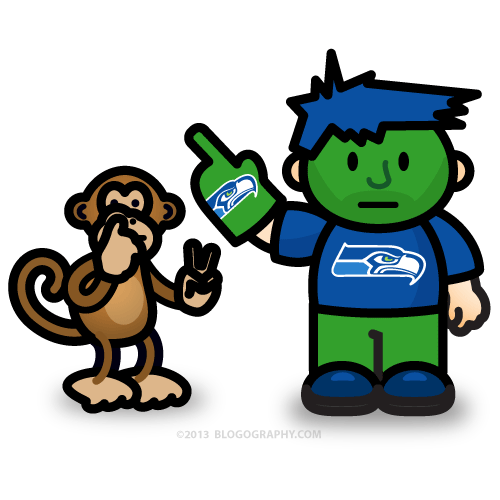 I find football kinda boring, so I'm not invested enough to have a team. If I were, it would be my "hometown" Seattle Seahawks. Probably because I was there in the beginning. Back in 1976 the NFL expansion granted Seattle a team, and it was an exciting time to be a Washingtonian. Seahawks were everywhere, and I remember collecting player posters from the backs of Lay's potato chips boxes (yes, potato chips used to come 2-small bags to a box back in the day). Players like quarterback Jim Zorn and wide receiver Steve Largent that were elevated to local heroes, and their charisma and enthusiasm for the team made it impossible not to root for the Seahawks. But, as I said, I'm not a big football fan, so any love I have for the team comes out of nostalgia more than anything else.
&nbsp
Arsenal Football
With apologies to my friends who are either Manchester United or Chelsea fans... Nick Hornby's novel, Fever Pitch, got me rooting for Arsenal first. The ultimate irony being that when the American movie version of Fever Pitch was made, the sports-obsessed character was a Boston Red Sox fan. Whenever I can find sports highlights for Arsenal, I'm sure to tune it, and I follow their stats every season.
&nbsp
Cronulla Sharks Australian Water Polo
When I was traveling around Australia, I saw a T-shirt for the Cronulla-Sutherland Sharks Football Club. The logo was awesome (SHARK EXTREME!!!), but the shirt didn't come in my size, so I was bummed. When I got back to my hotel I Googled the team to see if there was a way to order a shit through the mail. Somehow, I ended up NOT on a Cronulla Sharks football page, but a Cronulla Sharks water polo page. Other than a vague recollection of water polo being an important Olympic sport, I didn't know much about the game and was curious. After some digging, I ran across internet video and was amazed. Water polo has to be one of the most difficult and grueling sports in existence. It's also a lot of fun to watch. And so I tune into water polo from time to time whenever I run across it on my television. I also keep up with both the Women's and Men's Cronulla Sharks teams because they were what started it all for me.
Sadly I haven't decided on a professional curling team to watch, so I guess that's the end?