Posted on August 9th, 2010

After flying up from Sacramento this morning, I was in a mad rush to get my work caught up so I could meet up with Muskrat and Whit to goof around in Seattle for a while.
Since Muskrat's time in The Emerald City is short, Whit and I attempted to do a whirlwind tour of the most popular Seattle tourist spots, including wandering the Pike Place Market, going to Ivars for dinner (with some very angry seagulls), getting a coffee at the first Starbucks, riding the monorail to the Pacfic Science Center, and (of course) going up the Space Needle...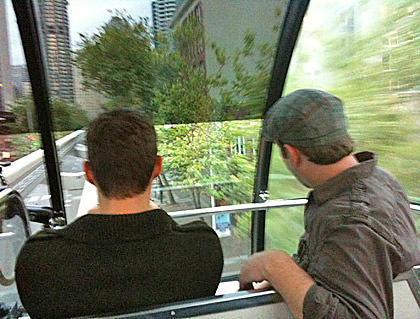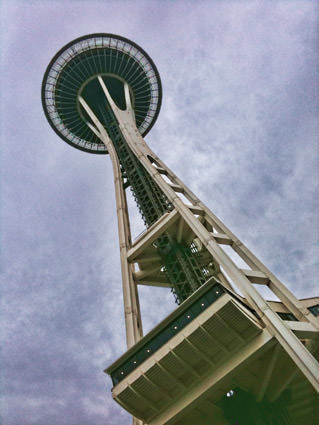 The evening ended at Von's... a Seattle classic bar since 1904. We started with beer, but when a $4 Manhattan hit the Big Wheel of Magical Drink Specials, we couldn't resist...
Not a bad way to kill an evening!
Posted on February 20th, 2010

This afternoon I hit Hard Rock property number 125 when I visited the new cafe in Seattle.
The best Hard Rocks take a classic older building and transform it into something new. In this respect, Seattle's cafe is beautiful, with warm woods, original brick, and exposed pipes. Unfortunately, it followed in the footsteps of the new cafes in Yankee Stadium, Dallas, and the Las Vegas Strip, in that the memorabilia is pretty scarce. Unlike the older properties where the walls are packed with artifacts from all aspects of music history, the new-style restaurants have much fewer scattered pieces sprinkled amongst a bunch of photos and video screens. The good news is that they do relate to Seattle's unique music history pretty well, featuring items from Hendrix, Heart, Mother Love Bone, Nirvana, and more.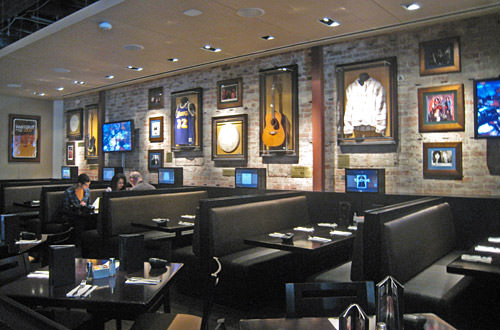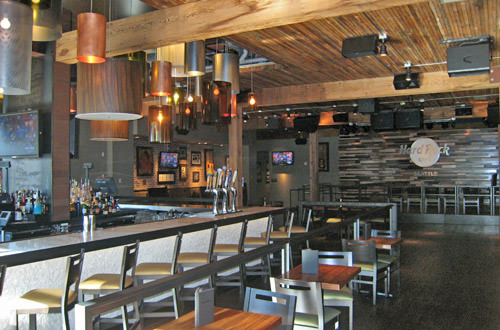 Something new that I haven't seen before at any Hard Rock is their "call-in" number, where you can dial a local phone number, punch in code that's been tagged on a piece of memorabilia, and get more information about it. It's pretty sweet, and something I hope gets rolled out to other properties in the chain.
Despite my misgivings about the new design direction for the Hard Rock chain, the Seattle cafe is actually pretty nice. The location is perfect (just a block from the Pike Place Market), the staff is fantastic (a lot of experienced transfers from other properties), and the building is spacious (two levels with a stage at the upper bar).
Overall I'd say it's worth the two-decade-wait to finally have a "local" cafe in the Emerald City.
Here's hoping it will stick around for a good long while.
Posted on September 20th, 2009

Last week I skipped Bullet Sunday because I was traveling but, lucky for me, Hilly-Sue was kind enough to pick up my slack! This week the bullets are back in Seattle, and so am I...
• Finale! Now that it's all over, I have to say that the cruise to Alaska was pretty darn special. Despite some dreary weather in spots, things couldn't have gone better, and the shore excursions were all beyond amazing experiences. If you're looking for a little adventure in your life, you could do a lot worse than exploring the Inside Passage. I booked through Jester's new company, Cruise Avenue, and am grateful for all his advice in getting me the perfect vacation. Might want to see those glaciers now while you still can...
• Pandemonium! Just got back from the Pet Shop Boys' "Pandemonium" tour stop in Seattle. It seems like it was just yesterday I went to their first-ever concert here in the city, and now they're back for round two! As expected, the show was amazing. I really like their new album, Yes, and they did a good job of mixing the new material with their classic hits...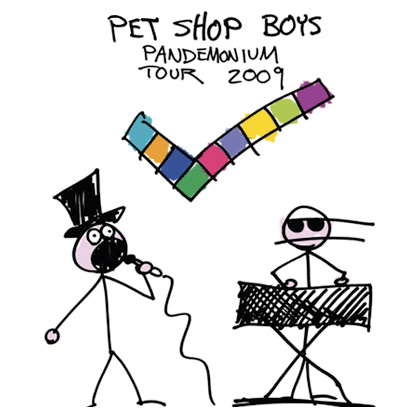 For my fellow Pet Shop fans, the set-list went something like this... Heart, Did You See Me Coming?, Pandemonium/Can You Forgive Her?, Love Etc., Integral/Building a Wall, Go West, Two Divided By Zero/Why Don't We Live Together?, Always On My Mind, New York City Boy, Closer to heaven/Left to my Own Devices, Do I Have To?, King's Cross, The Way It Used To Be, Jealousy, Suburbia, All Over The World, Se A Vida É (That's The Way Life Is), Discoteca/Domino Dancing/Viva La Vida (COLDPLAY?!?), It's A Sin, Being Boring (encore), West End Girls (encore). A pretty sweet set... despite the sound at The Moore Theater being really uneven, and the sound-mix for the show being pretty bad in parts (Neil's vocals during King's Cross were obliterated). Still... well worth attending!
• Pet Shop Pics! I was too busy enjoying the show to be much of a photographer, but still managed to grab a few shots when I thought of it. From the looks of things, Neil and Chris have taken the "Cubism" theme of their previous tour and amped it up to the n-th degree, appearing as cube-heads with cube-head dancers and backup singers. As always, it was a pretty impressive production... even when restrained to the small stage of The Moore...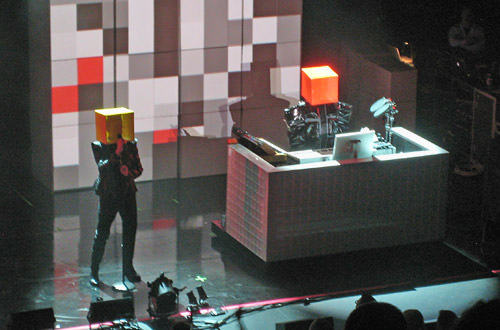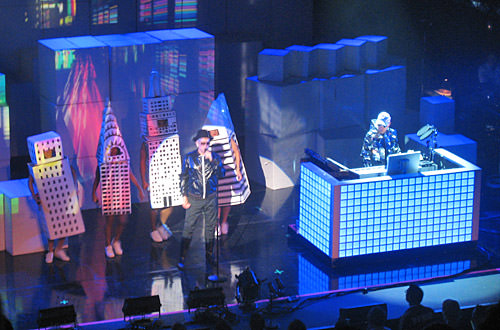 • Dee-Jay? I have been to clubs where very talented individuals have crafted amazing mixes of a wide variety of music in clever and interesting ways. These DJ's deserve their title, and work hard to craft an exciting experience for their audience. On the OTHER end of the spectrum, you have people who just take a string of dance remixes with the EXACT SAME throbbing disco beat... smash them together one after another... and call themselves a DJ. Now, it's probably me... I'm just somebody who doesn't "get" it... but who the fuck cares? Apparently, the Pet Shop Boys do, because THAT'S who they had as their opening act... a disco DJ with one throbbing beat after another. I honestly couldn't tell where one song starts and the other begins. It's just a blur of bass and synthesizers (but mostly bass). Yeah, I'm sure this "music" is just awesome to somebody who can appreciate it (or is high on crystal meth)... but I thought it sucked copious amounts of ass. After 45 minutes of this redundant shit, I was ready to jump off the balcony. The only thing I can think of to explain it is that the Pet Shop Boys wanted to bore the shit out of people before they take the stage so they appear that much better. Which is crazy. They don't need it. Things don't get much better than the Pet Shop Boys live.
• Progress? They keep plugging away at Seattle's Hard Rock Cafe. Now they've got actual signs up to let people know what's coming (but who knows when?)...
• Blue! Man, what a beautiful day in Seattle I came back to from rainy Alaska!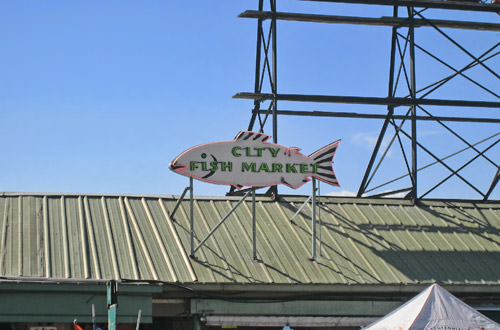 And thus ends my week of vacation big happy fun time. Back to the daily grind...
Posted on September 13th, 2009

Ooh! It's time for vacation!
I'm departing sunny Seattle for the rain-soaked shores of Glacier Bay, Alaska. At least I'm assuming they're rain-soaked shores, because that's what everybody has been telling me. Whenever people hear where I'm going, it seems to be all they can talk about... "Those Alaska cruises are fantastic... if you like rain" or "You'll love it... if you don't mind getting wet" or "Yeah, I did that Alaska cruise... AND I HAVE NEVER SEEN SO MUCH RAIN IN ALL MY LIFE!" Since rain doesn't bother me much, I'm not worried about getting wet. I am, however, a little concerned that it seems to be the most memorable part of the trip for people who have done it before.
Interestingly enough, Seattle had positively flawless weather today...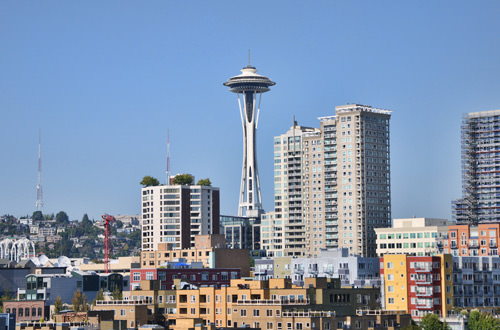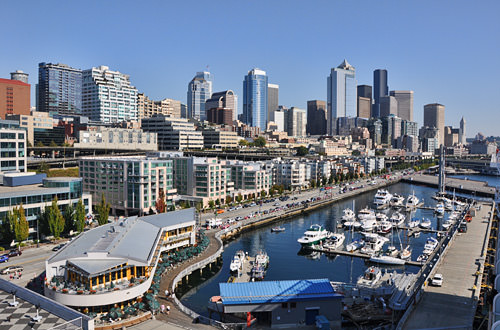 But the minute we headed out into Puget Sound, the clouds started rolling in...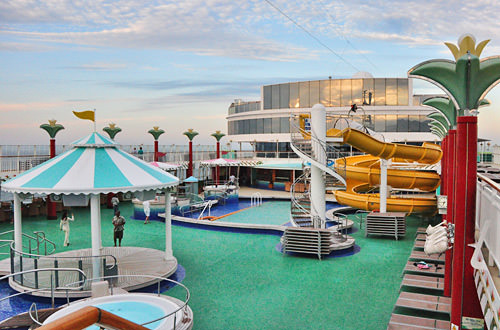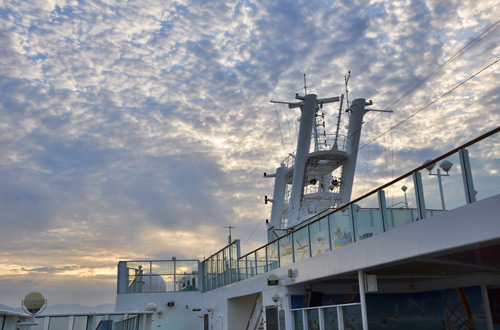 Which made for a nice sunset...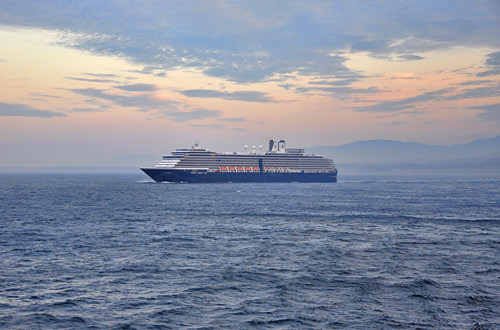 After the sun had gone, mist drifted in and covered the shoreline...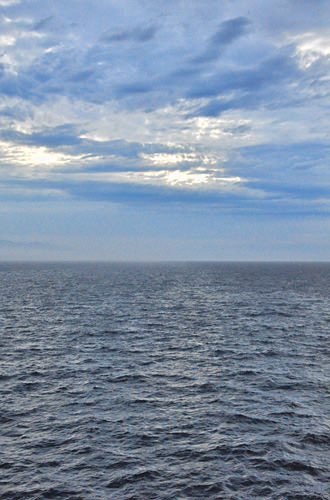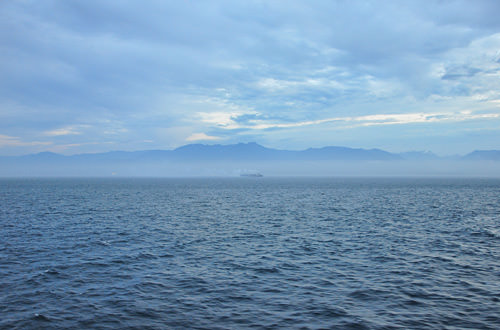 And now it's getting dark. That must mean it's time for ice cream.
Posted on June 11th, 2009

I have a pile of work that won't go away. I have 138 unread messages in my email in-box. I have hundreds of unread blog posts. I even have a box of Junior Mints that is only half-finished... when am I supposed to find time to do all that stuff?
Probably after I drive home on Sunday.
But I'm not counting on it.
Every day when I pull into work, a cat jumps onto the hood of my car and attempts to break in. I like him, and have named him Psycho Cat because he never blinks... he just sits there and stares at you with crazy eyes. This morning he ran all around my car looking for a way inside. Eventually he was smart enough to stand on the door, apparently knowing that I had to open it sometime...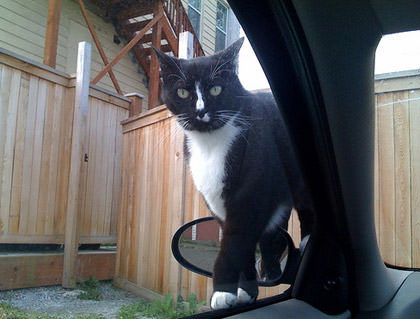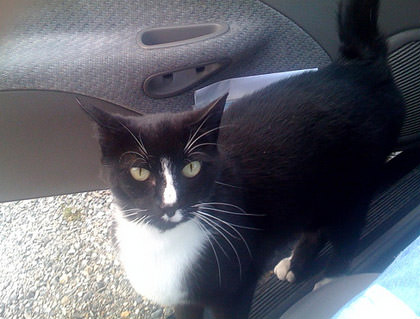 At this point he hopped on my lap and demanded to be petted.
Vicious.
Since I am going to a conference tomorrow morning and a graduation party tomorrow night, I decided to make time for a haircut after work. Fortunately, I'm in Seattle, which has my favorite place to get a haircut ever, Zero Zero...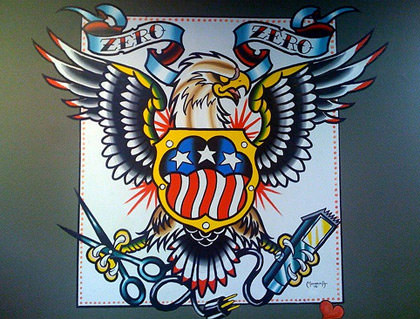 I don't usually endorse businesses on my blog, but this is the coolest place for hair I've found, and the icing on the cake is that they're pretty darn affordable for a full-service salon (my cut was only $25!). But don't take my word for it, read all the rave reviews on Yelp! If you're in Seattle and looking for a stylist, you might want to give Zero Zero a try.
Since it's almost midnight, I suppose I should try to get some sleep.
Work, email, blogs, and Junior Mints will have to wait until tomorrow.
HA HA HA HA!
I lie. I am so totally going to finish off those Junior Mints now...
Posted on June 9th, 2009

I had such a great time watching The Hangover at the movies last night, that I was planning on seeing a different film tonight. All day long I've been looking forward to it. But as the day became night... the exhaustion set in and suddenly none of the movies seemed good enough for me to make the effort. Terminator: Salvation was almost there, but I've read too many shitty reviews to risk it sucking. I guess I could have seen Star Trek for the third time but, given how tired I am, twice was good enough. Instead I walked to Johnny Rockets for yet another amazing vegetarian burger, then headed back to the hotel so I can blog and get ready for work tomorrow. My life is so exciting right now.
Meanwhile...
Work doesn't seem to be moving very quickly on the new Hard Rock Cafe in Seattle. It looks the same as it was months ago. Maybe they're just working on the inside where you can't see it right now...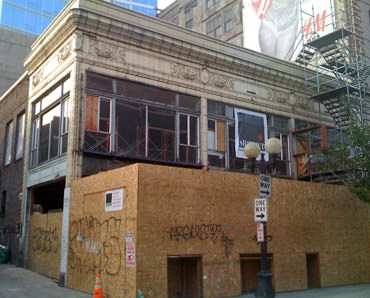 Given what a colossal Hard Rock whore I am, I'm understandably excited about the new cafe. My biggest worry was that Seattle would get a shitty property, but the artist sketch from the Official Hard Rock Cafe website looks fantastic...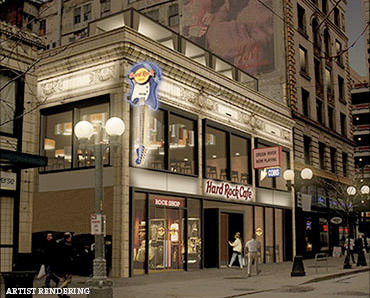 They're taking a classic old building and turning it into something special, which is what the best Hard Rocks do. They've also got a great spot... just one block from the Pike Place Market entrance. Hopefully it will do well so the location can stay open for a while... I'd be heartbroken if the cafe I've been waiting over two decades for shuts down after only a year or two. That would suck worse than never having one at all.
I just hope the guitar is right-side up on the finished building. It looks really funny up-side down in that sketch.
But what I REALLY hope that the baby in the room across the hall will settle down eventually. It's been screaming almost non-stop for THREE HOURS now. I need sleep tonight!
Posted on June 8th, 2009

I don't know what it is about me, but I sure do attract the crazies.
Probably because I am a crazy, which I haven't ruled out.
It doesn't matter where I go on this planet, I always seem to end up in some kind of messed up situation with my fellow humans. I've been attacked by a drunken knife-weidling moron in Seattle. I've been chased five blocks by a crack-head in Cleveland who wanted my phone. I've been felt up by gypsies trying to find my wallet in Rome. I've been mugged at gun-point by a psychopath in San Francisco who talked to himself. The list goes on and on. Ask Vahid about the time we were walking down the street in Albuquerque and was accosted by a spaced-out "purebred Italian Mexican" who wanted to have his fellow alcoholics kick our asses... everywhere I end up, the crazies come running.
Tonight, after going to the movies and watching The Hangover I was walking to Johnny Rockets for dinner when another one came out of the woodwork...
Homeless Guy: Hey have you got any change... a nickel... anything?

Dave2: (looking up at him from his iPhone) No, sorry, I don't have any cash at all (looks back down at his iPhone).

Homeless Guy: Hey! What were you thinking just now?

Dave2: (looking back up) Err... I was thinking I don't have any change on me...

Homeless Guy: (getting angry for no reason) No. NO! What were you THINKING when YOU first saw ME?!?

Dave2: I was thinking "Why is this asshole being so RUDE to me when I'm trying to be NICE?"

Homeless Guy: I WANT TO KNOW WHAT YOU WERE THINKING!!

Dave2: WELL, RIGHT NOW I'M THINKING "FUCK OFF!" SO WHY DON'T YOU LEAVE ME ALONE?
He was still calling "WHAT WERE YOU THINKING?" after me as I was crossing the street. And I still don't know what I did to set him off. I treated him with courtesy and respect. I looked him in the eye when I spoke to him. I was as nice as I could be when I explained I didn't have any cash, but it didn't make any difference. I dunno... maybe there's something about me that makes people crazy. That would explain a lot.
And it didn't end there... after dinner I was crossing the street and some guy with a tourist map wants my help. I thought he was going to ask for directions, so I stopped. Instead he told me that he picked his mother up from Swedish Hospital after surgery, and now he doesn't have enough money for gas to get her home. This made no sense at all, because he was downtown when Swedish is up on First Hill, but I guess I have to give him the benefit of doubt since he seemed to be lost. In any event, I'm guessing his mother is stuffed in a car somewhere on the side of the road after surgery, and this makes me sad. If I actually had any money, I probably would have given him a couple bucks, even though this goes against my beliefs of causing no harm.
In any event, it was nice to just be alone for a while after such an exhausting day. It doesn't hurt that The Hangover was such an awesome movie. Most comedies today take some stupid joke and then repeat it to death until the entire movie is run into the ground. The Hangover was refreshingly different. They never let the funny get repetitive or stale, so I was laughing all the whole way through. That almost never happens anymore. Kudos to writers Jon Lucas & Scott Moore, director Todd Phillips, and a fantastic cast and crew for a job well done. A particularly well-deserved shout-out to Bradley Cooper, who took an annoying character that would have driven me insane in most any other movie, and made him totally watchable and brilliant. I liked Cooper in Alias, loved him in Kitchen Confidential, and have been pleasantly surprised at his appearances in movies like Wedding Crashers... I hope he gets more leading roles out of his home-run performance in The Hangover.
And now I should probably call it a night. Tomorrow is a very long day.