Apparently, we have more tax dollars than we know what to do with here in Washington State.
Yesterday Seattle pressed the "on button" for their new "Smart Highway" project. In theory, it sounds fantastic. Highways which adapt to traffic conditions and help to regulate congestion by controlling the speed and position of vehicles on the road.
These new "Smart Highways" interact with reconfigurable signs like this...
In the above example, there's been a car collision, and the right two lanes have been closed. In preparation for this, there were instructions to merge earlier up the road...
And even earlier up the road, the traffic was slowed in order to make the merge happen more smoothly... and also to compensate for the loss of two lanes.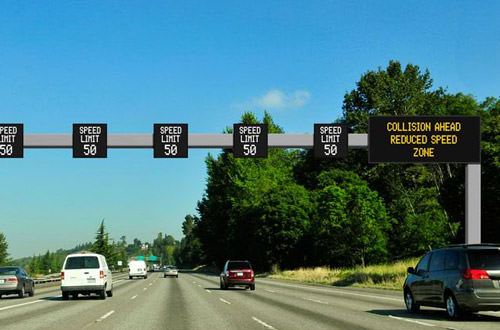 See? Fantastic. In theory.
In practice? Not so much.
Because the big glaring flaw in all this is that drivers aren't going to give a shit about any of it. People are going to wait until the last second before they merge (as always). People are going to ignore the reduced speed limits and go as fast as they can (as always). People are going to slow to a crawl as they approach the accident so they can gawk (as always). And it doesn't matter if you tell everybody that police will be enforcing compliance with the signage, because they don't really comply with the signage we have now.
And controlling traffic around an accident is the BEST CASE SCENARIO for making use of the "Smart Highway" signs. It's completely ineffectual for anything else. Case in point? It's ineffectual for managing heavy Seattle traffic, because no sign can change the fact that I-5 Northbound goes from five lanes to two lanes once you hit downtown. What can a sign... even a changeable sign... do with that bottleneck? And every time I saw that the speed had been reduced to "help with the lane flow" it was still posted as faster than what anybody was driving. And, even if somebody could exceed the ever-changing speed-limit, how the hell are the police going to enforce anything? The speed is 50 MPH one second and 40 MPH the next. How do you enforce that?
And, everything else aside, is it even SAFE to take people's eyes off the road for constant changes, updates, warnings, instructions, or what-not?
Millions spent. Nothing's changed. Maybe things are even worse.
So sadly typical.