After a long morning of work... lunch with my sister... then more work... it was time to meet up with Muskrat again for dinner in Seattle.
Being a little selfish, I do what I always do when guests are in town, take them to MY favorite restaurant, Ray's Boathouse (as I've detailed on my Secret Seattle Restaurants Page... shhhhh!). The views and food really can't be beat, and I highly recommend the place to anybody looking for an amazing meal experience in Seattle. Especially at sunset...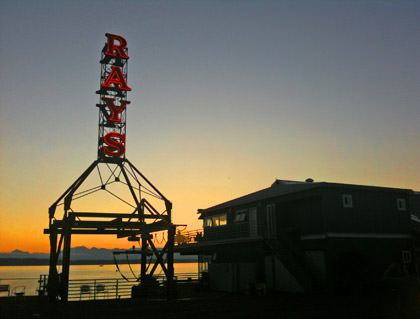 After that, we went to West Seattle's Alki Point so Muskrat could take a look at that picture-postcard-perfect Seattle Skyline view. Having photographed it dozens of times, I decided to play around with the "Hipstamatic" app on my iPhone to see what it would pick up. Generally I avoid Hipstamatic because it's so overused anymore, but there's no arguing with the freaky and wonderful results...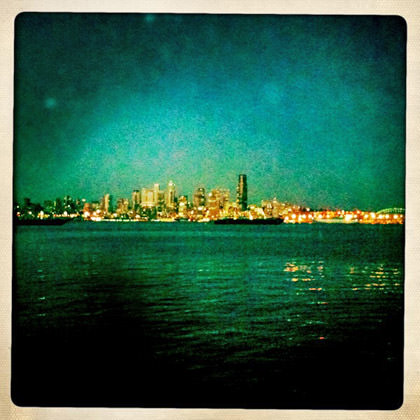 Of course, no photo can capture the experience of being there, which is why Alki is one of Seattle's "must-see" travel experiences.

And speaking of travel experiences... can I just say that Steven Slater is totally my hero now?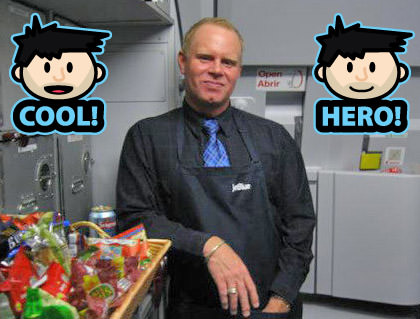 I am absolutely not kidding. While I am sorry he had to go through a melt-down while on the job, I am so sick and tired of the numerous abusive douchebags on planes anymore that ANYTHING which draws attention to these assholes is a good thing. If you're going to fly, be respectful and considerate and FOLLOW THE FUCKING RULES... OR DON'T FUCKING FLY!
I would never have the patience to deal with plane passenger dickwads for five minutes... let alone 28 years... so congratulations Mr. Slater for lasting this long. And especially for going out in such style when you'd finally had enough.
It's only a matter of time before a flight attendant has taken more than enough of people's shit and the killings begin. I, for one, can't wait. Maybe if being a fucking asshole could get you killed, people wouldn't be fucking assholes anymore.
Sure it's wishful thinking, but dreams can come true!