Today I paid $6.49 for a bag filled with two cups of slivered almonds. The shock still hasn't worn off, because that's nearly $16 per pound. By shopping online, I could get the exact same thing for $6 per pound. This sounds like an incredible bargain, except shipping and handling charges end up being about $10 which means I'm right back where I started. Things like this drive me insane when I think about it, so I am very careful to turn off my brain when I go to the grocery store. Apparently everybody else is doing the same thing, which is why everybody is wandering around in a zombie-like haze.
This is a good plan, assuming you turn your brain back ON when you get to the parking lot.
Today I found out that most people do not do this, resulting in zombie drivers...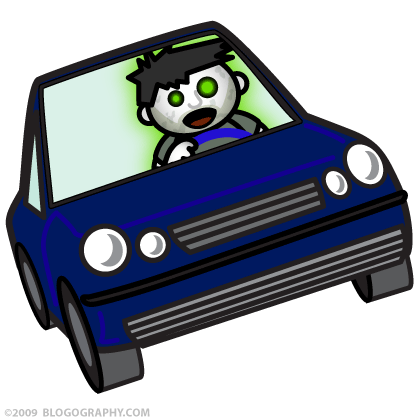 This was made clear to me as I watched two cars gunning towards the exit at the same time... each completely ignoring the lanes painted on the pavement. It was quite distressing because I was in the proper lane to exit the parking lot, which meant I had cars coming at me from both sides.
The first car arrived on my right. The driver was apparently very impatient, because they honked their horn at me while I was looking to make sure no traffic was coming. This caused me to become instantly enraged for two reasons... 1) It was unnecessary and rude. 2) I WASN'T THE ONE WHO WAS IGNORING THE TRAFFIC LANES!
I reached for my gun, but then remembered that I subscribe to Buddhist precepts which forbid me from owning one, so there was no gun to be found.
So instead I ignored the asshole and exited the parking lot. Which was just as the second car arrived on my left. This caused another round of honking as two cars... both ignoring the traffic lanes... attempted to exit at the same time. To make matters worse, a car arrived wanting to enter the parking lot, but couldn't get in because the two cars were blocking her. I didn't stick around to see how it all worked out. For all I know, they are all still there honking at each other.
It is getting to the point where I hate... hate... to drive anywhere because it's wall-to-wall dumbasses everywhere you go. Everybody seems to have their brain turned off, and so it's just not fun (or even safe) anymore.
So you can imagine how thrilled I am to be making the three-hour drive to Spokane tomorrow.