I am thinking that I have somehow acquired the power of invisibility.
Here is a series of tweets that I sent out YESTERDAY...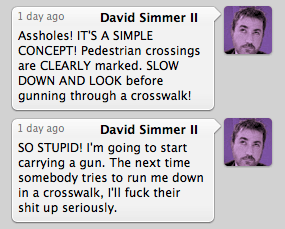 I was joking about buying a gun, Buddhist precepts forbid me from owning one, but now I'm wishing I had bought the damn thing. Because today as I was crossing the street, I was actually hit while crossing at a crosswalk with a full-on WALK signal giving me the right of way. This is the SECOND time that I've been dropped while crossing the street (the first time was Chicago, which I wrote about here).
Thanks to my previous incident, I don't charge out into the street when the light turns to WALK... I wait a second to be sure nobody is running a light, THEN start walking. But it didn't matter, I still got nailed. And I never saw the car coming. I think they ran a red light, because I don't recall a car exiting the parking lot beside me... but they very well could have zoomed out and I didn't notice. I was a good three steps into the street when the Honda Element suddenly appeared in front of me. I'm thinking the passenger-side mirror grazed me, then I twisted so that the left-side of my upper body hit the car. I then tried to twist away from the vehicle, but my foot was planted, so all I did was end up twisting my ankle and pulling muscles in my leg and back.
One more step into the crosswalk and I would have been seriously injured.
Or dead.
I stood in the middle of the street and screamed at her to stop, but she didn't stop.
I then hobbled across the street and ran down the sidewalk to catch up to her as she came to a stop at another light. First I took a photo of her license plate (SURPRISE! It was a vanity plate!), then I started screaming at her again while waving my arms. She never even looked at me. I have no idea if she saw me or was just ignoring me, but she drove off the minute that light turned green...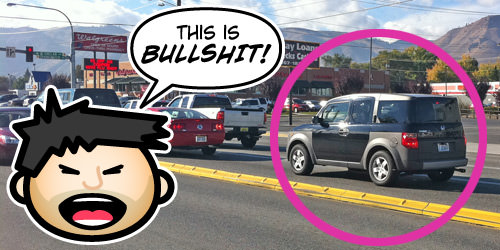 I don't get it.
Whether she broke the law and ran a red light to nail me or not... it just doesn't matter. She wasn't fucking paying attention. She's speeding along in a 3500-pound death-mobile and didn't even check to see if there was somebody in the crosswalk as she barreled through. I don't think she was texting on a mobile phone, but she was definitely distracted by something.
Whatever. if somebody can't focus well enough while driving... or if they just don't give a fuck... they have no business being on the road in the first place. Did I mention that I could have ended up dead?
So I reported her to the police. First I emailed the photo. Then I went to the station and filed a verbal report. Then I sent a follow-up email to the officer in charge of my case with a written statement, photos, and a map. In the past I've just screamed and posted some profanity-laden tweets when somebody tries to perform vehicular manslaughter on my ass. But not this time. Because this is getting insane. I mean, seriously, TWICE IN TWO DAYS?!? It's no longer safe to be a pedestrian on the street! It doesn't matter how careful you are or whether you use crosswalks and follow signal lights. It just doesn't matter. Every time you're near a street without a vehicle protecting you, you're nothing more than a moving target waiting to be hit...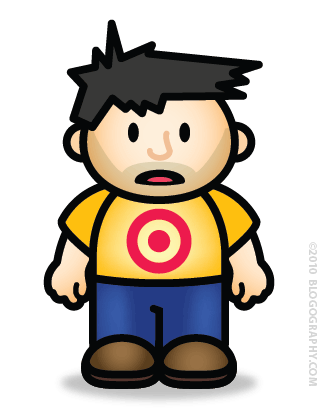 This is not rocket science. Operating a motor vehicle requires your total attention. If you're not willing to devote that kind of energy into being safe on the road, then DON'T FUCKING DRIVE! Otherwise, it's only a matter of time before you kill or seriously injure somebody.
And it will probably be me.