Posted on April 14th, 2012

And so it was that we came unto the Hard Rock Cafe Amsterdam for the merriment of Bitchsterdam 3 and a grand time was had by all. The DutchBitch was there, of course, along with Breigh and her husband Xander. And I finally got to meet Invader Stu as well...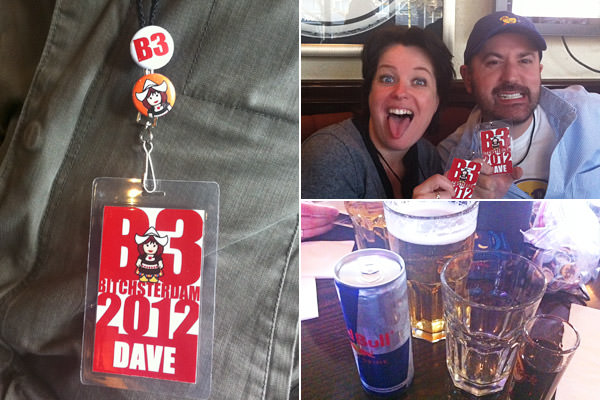 Unfortunately, the battery on my pocket camera was dead, so I only have these few photos from my iPhone. If any of us had thought to take a group photo, it would have looked something like this...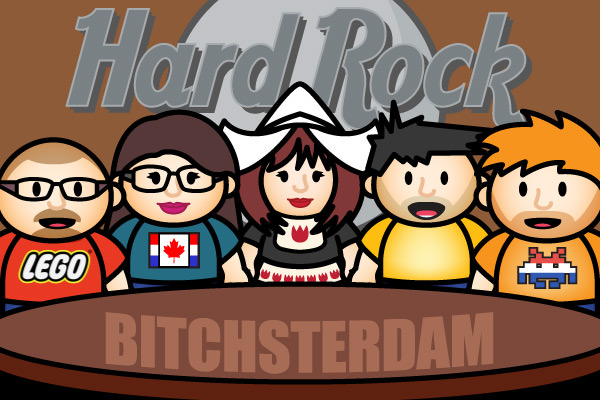 I can't wait until Bitchsterdam 4!
Posted on April 10th, 2012

And I'm off...

Posted on June 12th, 2010

And so the event I traveled 5000 miles (8000 kilometers) to attend, finally arrived... BITCHSTERDAM 2! As expected, it was well-worth the trip, and everybody had an awesome time. Just another reminder why I love blogger meet-ups so much!
As it was a beautiful day in the Netherlands, we decided to head into Amsterdam early and play tourist (even though The DutchBitch is a native and Lady Penelope and I have been here many times). It's such a beautiful city with so many things to do, that it would be a crime not to spend some time exploring. Eventually decided on a canal boat tour...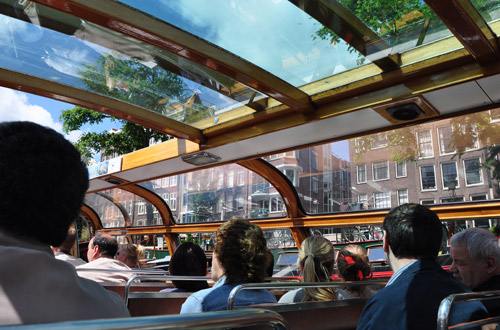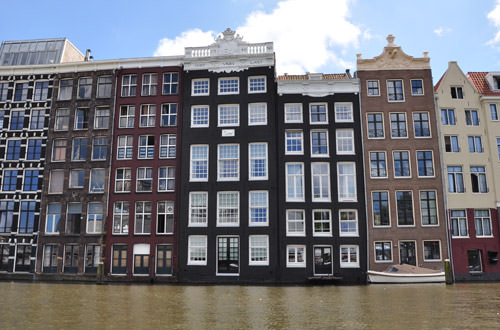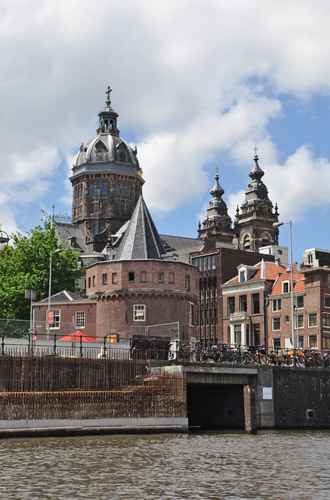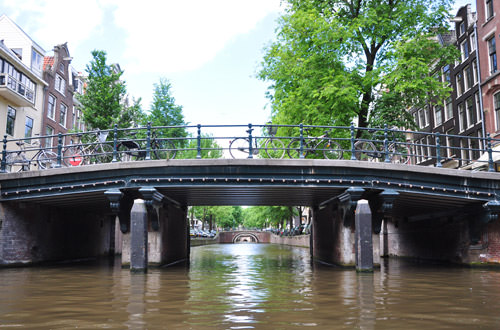 Since the Lady Penelope had never been to the Red Light District, we wandered through the neighborhood for a while. I've only ever seen it at night, and it was an entirely different experience in the daytime...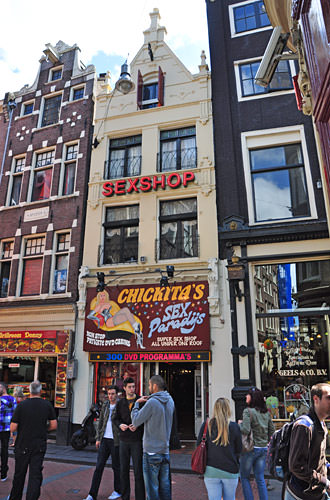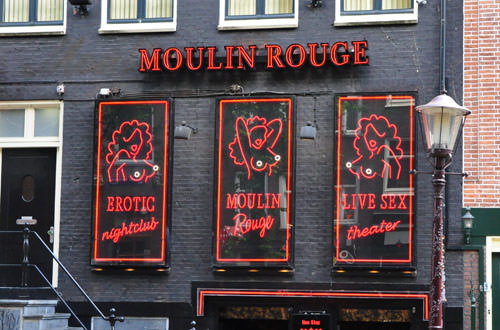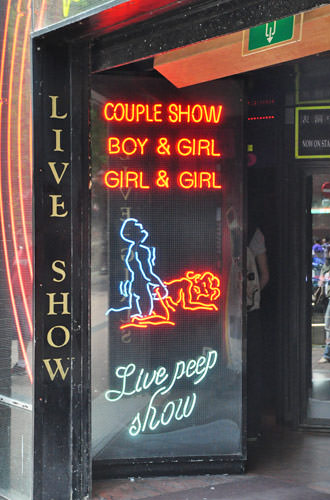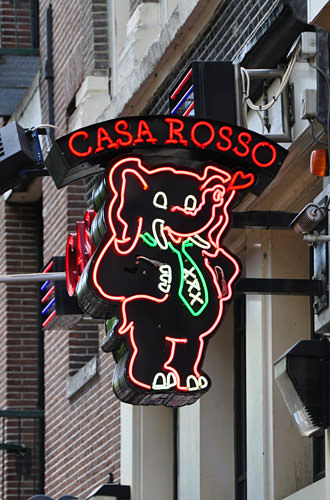 Along the canal in the Red Light District is actually quite beautiful in the daylight, as all the seedier elements are not so noticeable...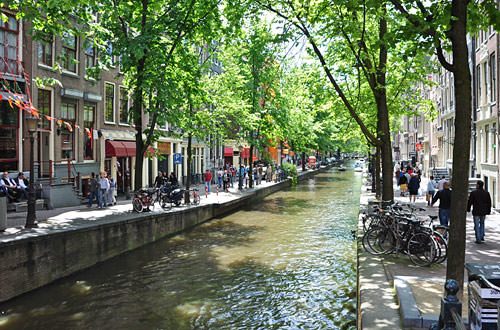 Throughout the Netherlands everybody has World Cup fever. It's a bit difficult to explain to Americans, except to equate it to the Super Bowl (if the Super Bowl took place once every four years and the entire world was competing for a spot to play in it)...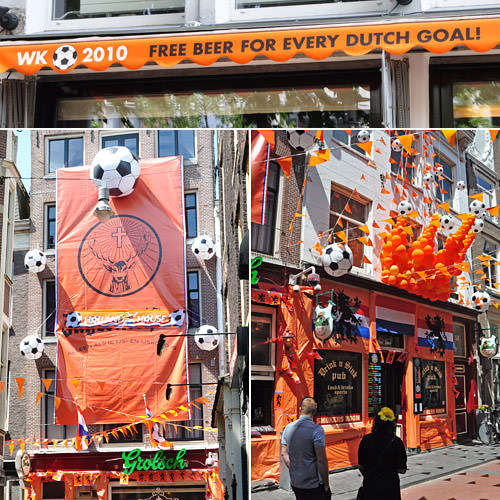 England was expected to wipe the floor with the USA in today's match, and the English were having a big laugh at the anticipated beating they were most certainly going to dish out to us. Unfortunately, things didn't go as planned, and the Americans managed to hold England to a tie game of 1-1. Many tears of agony were shed in Blighty, I'm sure. A really good recap to explain it all is over at the BBC.
After goofing about Amsterdam for a few hours, we headed to the Hard Rock Cafe early so we could have a few drinks while waiting for Bitchsterdam to ensue. The scenery at Max Euweplein was... interesting... to say the least...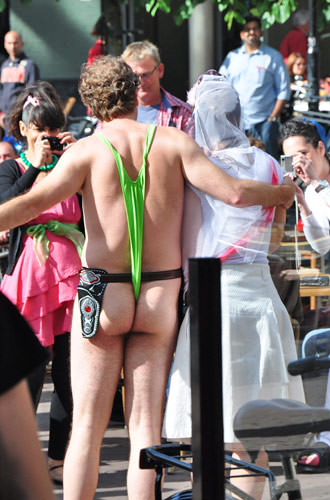 I'll leave the Bitchsterdam recap and photos to DutchBitch but, suffice to say, we all had a lot of fun. Many Euros were spent to make sure of it...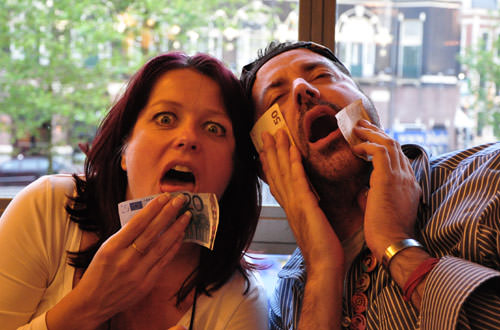 A big shout-out to Blogography reader Erik who was kind enough to come over and say "hello." He was sitting at the next table with his friends, and somehow managed to recognize me in my drunken state!
After Bitchsterdam had ended, we were walking back to the car park when we saw a drunken barefoot man kicking his shoe across the street. A motorcycle police officer was keeping a careful eye out, and went to question the man, who replied "What the fuck do you want?!?" Much to his credit, the police officer let the man go on his way... even when he shoved his shoe down the storm drain...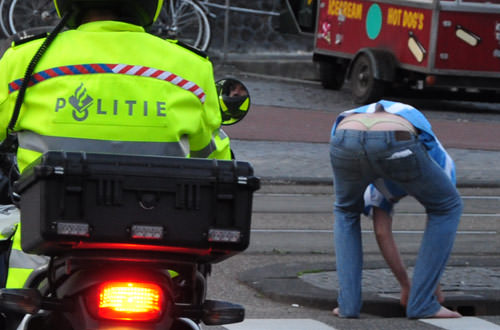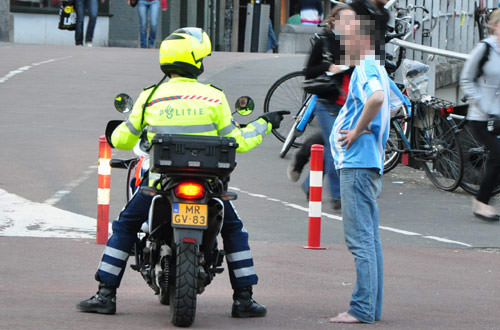 But then the drunk man decided to do some property damage by trying to tear out a street sign. This was something the the police officer could not ignore, and the result was obvious to everybody except the drunk guy...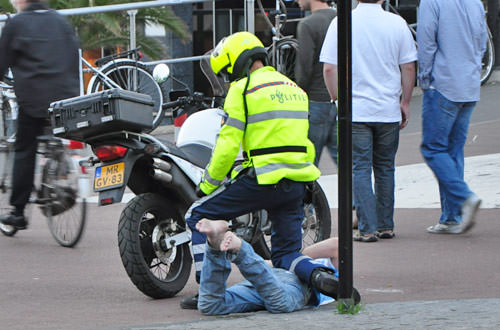 Backup forces arrived in the form of two beautiful lady cops in a squad car, who were apparently signing autographs while the drunk guy got hauled off in a van...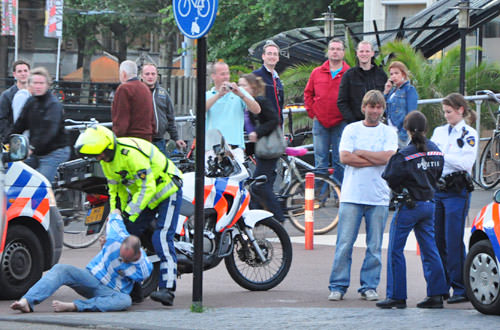 Bravo to the Amsterdam Police, who were incredibly calm, cool, collected, and reserved in trying to keep everybody safe! And bravo to drunk guy for giving us some post-Bitchsterdam entertainment!
And bravo to DutchBitch for an awesome day!
Posted on May 16th, 2010

It's... a righteous Bullet Sunday!

Righteous Cock! I've mostly ignored the whole Dr. George Rekers gay sex scandal because, honestly, what's the point? Yet another gay-hating public figure has been caught with his penis in a place he's advocated it doesn't belong... am I supposed to be shocked? As I've said the last couple times this has happened, I just automatically assume that anybody who would spend most of their time fighting so hard against "teh gay" is most likely a big ol' cock-loving hypocrite. Religious leaders. Politicians. Christian ministers who say homosexuality is a mental disorder to be cured. It's all the same. But I got a comment asking me to add Rekers to the list, so here he is...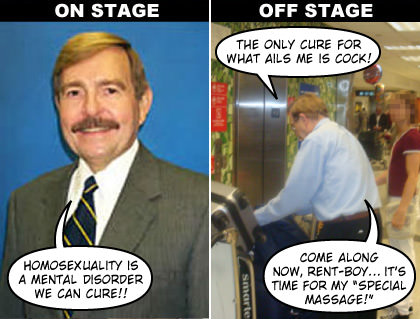 Dr. George Rekers Wants Cock!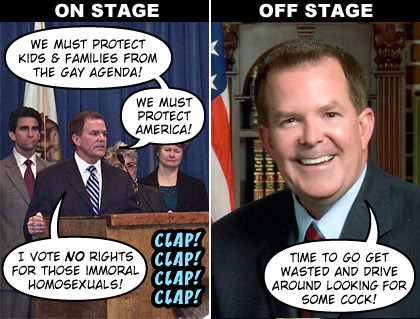 Senator Roy Ashburn Wants Cock!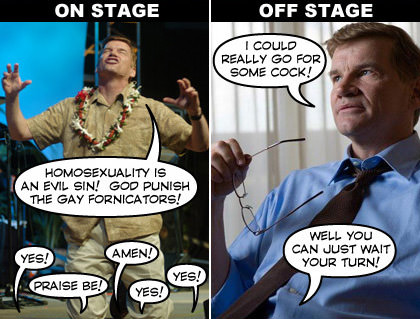 Reverend Ted Haggard Wants Cock!

• Righteous Bitch! The DutchBitch now has a logo poster for Bitchsterdam 2! Unless the volcanoes in Iceland go crazy or I get shipped off for work, I'm planning on attending June 12th...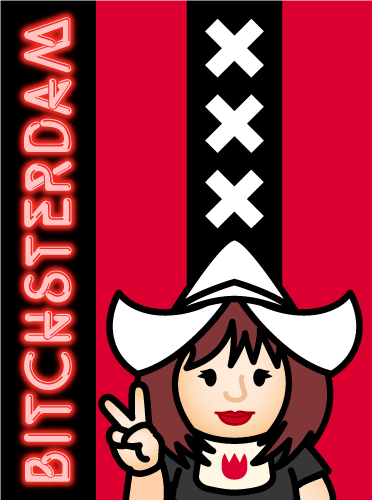 If you're going to be in the vicinity of der Netherlands that weekend, let The DutchBitch know so she can pencil you in the guest-list! There will be more good times and pooferflargen than you can shake a poofenwafel at!

• Righteous Anger! Yesterday on Facebook I updated my status with this...
"Holy crap. The only reason I would give a shit about Elena Kagan's sexuality would be if I wanted to bone her. And, since I really, really don't... why should I give a flying fuck whether she prefers sausage or taco? Why should anybody? I'm more curious about the sexuality of all these people that are constantly bringing it up... do THEY want to bone her?"
This got me an interesting message this morning, telling me that people have a right to know anything they want about the Supreme Court Justices who make the laws that govern us. That's a very good point. And so I have a few questions that need to be answered by the current Supreme Court...

How often do you masturbate?

Can you describe
your gay fantasies?

Have you ever
had anal sex?

What is the length of
your erect penis?

Got any sex fetishes
or hang-ups?

What's your favorite
sexual position?

Are you a spitter
or do you swallow?

Are you a spitter
or do you swallow?

Did that "pube on a
Coke" line ever work?

• Righteous Birthday! Tracy asked me to make a birthday wish for her friend Grant, who likes "Asian Bunnies." Since I owe Tracy a debt bigger than my bank account, I agreed and came up with a "Dave Bunny" drawn manga-style...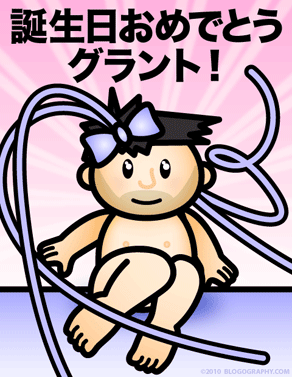 • Righteous Victory! There was a time that I valued the work of the American Civil Liberties Union for their efforts in defending the Constitutional rights of American citizens. Sure they did some crazy-ass crap that I disagreed with, but their overall mission was something I could get behind. Until they attacked my local library. I wrote about their outrageously stupid lawsuit over three years ago. To sum up... the local libraries in rural Washington State installed computers so that people without internet access can get it. Because most of these libraries are tiny little buildings with barely enough room for a computer in the first place... the library had to install filtering software so that children using the computers or kids wandering by web-surfing adults wouldn't be illegally exposed to porn or other mature subject matter...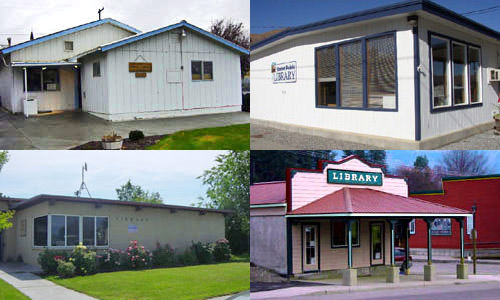 Of course, no filtering software is perfect... sometimes the library has to manually unblock sites that have been wrongfully blocked... or try some other way to accommodate valid (i.e. non-porn) requests. It's not a perfect system, but the libraries are doing their best. But that wasn't good enough for the ACLU. Apparently they feel that people should be able to do whatever crazy shit they want on a library computer since it's funded by tax dollars. So to assure the public's much-needed access to sexytime, the ACLU sued the North Central Regional Library System. Because hey, life, liberty, and the pursuit of internet porn is what our founding fathers fought and died for, right?
Well, after years of litigation, the library finally won their case. Small libraries can keep filtering on their computers so kids don't get exposed to adult material and the library doesn't get sued for child endangerment. And even though the libraries themselves know it's not a great solution, it's a compromise they are trying their best to deal with. So congratulations to my local library! And fuck the ACLU for being total dumbasses that sue those who are just trying to help as many people as they can the best way they know how. Fuck you up your stupid, self-righteous, disgusting asses.

And now... a busy week lays ahead. Time to get to work!
Posted on October 3rd, 2009

The day started off with an interesting twist... the hot water heater in Dutchy's house went kaput. The ladies managed to track down a hot shower for themselves (use your imagination here, heaven only knows I did), while I volunteered to stay behind and take a cold shower. So as to spend as little time as possible being chilled, I devised a plan whereas I would hose myself down, suds myself up, then rinse myself off.
It was a good plan. At first. Hosing myself down wasn't too bad, as it only involved a few seconds of contact with the icy water. Sudsing myself up was equally trivial. Where things went terribly wrong was in the last step.
Because it takes considerably longer to rinse soap off than to put it on.
And the entire time I was standing under that freezing stream of water... I could Not. Stop. Laughing.
Which probably made a terrific impression on Dutchy's neighbors, hearing a guy laughing hysterically while in the shower (let's hear her try to explain THAT one away!).
What finally made the laughter stop was when I looked down and saw the my once-magnificient pooferflargen had shrunk to the size of a peanut. There's just nothing funny about that.
Fortunately, Dutchy's cat was nonjudgmental on my plight...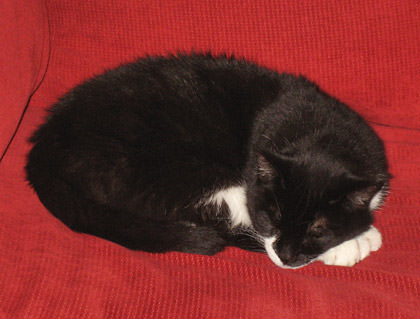 But the morning's adventure in shrinkage was all made worthwhile when Dutchy made my wildest fantasty come true... her and Penelope took me to a snack bar so I could get some frites met mayo...
But the awesomeness did not stop with the fries and mayo.
It was taken to the Next. Level.
Because I was able to also have a cheese sandwich as well. A cheese sandwich made with "Old Cheese." Beautiful, sexy, tasty, aged Dutch cheese. On a roll. That looked like this...
While I looked like this...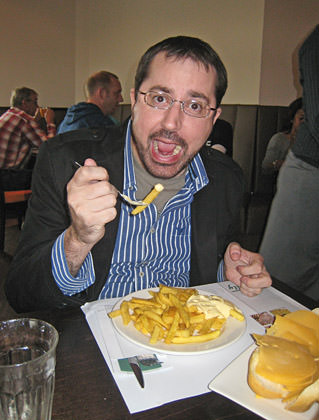 Then, after a lunch so delicious I achieved orgasm, we went wandering in the local shops so I could make fun of the native products. I think this one speaks for itself...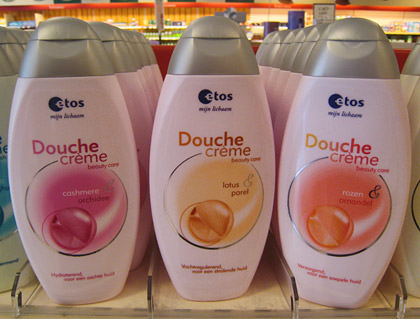 Unless you're familiar with the French language, in which case it seems perfectly sane.
But if you are not familiar with the French language, you may be wondering how much more hilarious a product name could get than "Douche Creme."
I'm glad you asked...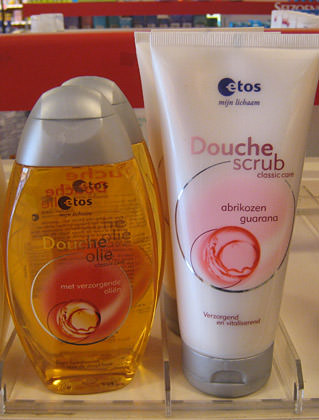 I can't quite decide which one I like best. There is a case to be made for both Douche Oil and Douche Scrub. But there was no time to debate the merits of these douchey products because Bitchsterdam was at hand, and we had to head up to Amsterdam. Where we ran across a new batch of elephants! Including this beauty...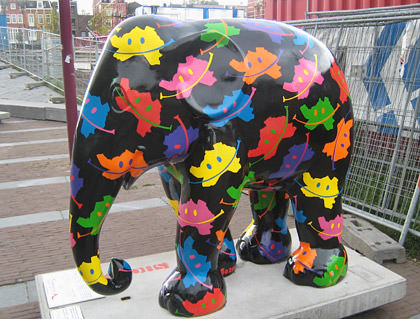 ... on the way to the Hard Rock Cafe...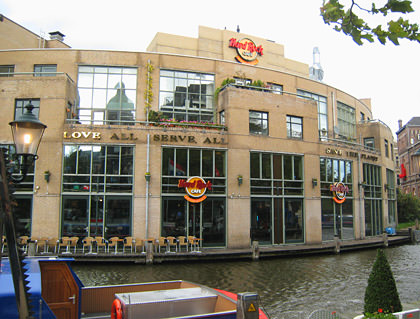 Where an amazing group of people consisting of Mr. Geeky Tai-Tai, Geeky Tai-Tai, Bra-Dutch, The Dutch Bitch, ME!, and The Lady Penelope got together for a wonderful night of food, drinks, and a lot of laughs...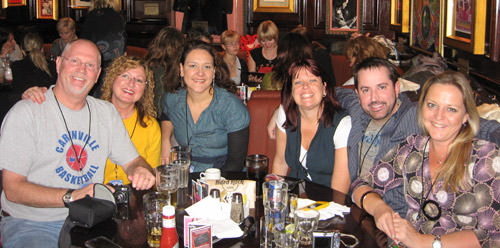 Despite all that, there was still time for my Jägermeister habit to corrupt the innocence of Penelope's seasoned wine-loving palette...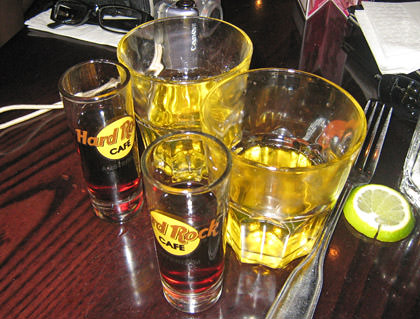 All-in-all in was a wonderful evening at the Hard Rock Cafe...
Because I was the luckiest bastard on the planet this night, as I got to go back home with THIS...
All my thanks to The Dutch Bitch, for hosting such a fantastic event!
Posted on October 2nd, 2009

As the grand Bitchsterdam festivities are not until tomorrow, those of us in DutchyLand early had decided to goof off in the picturesque city of Delft in South Holland. It's a rather important city in the history of the Netherlands, and is famous for it's Chinese-style pottery and being the birthplace of the painter Vermeer.
After arriving in the city, The DutchBitch, Geeky Tai-Tai, her husband, and myself decided to take a speed-boat cruise on the Delft canals. Except the speed-boat never went over two miles an hour, which made for a relaxing start to our day...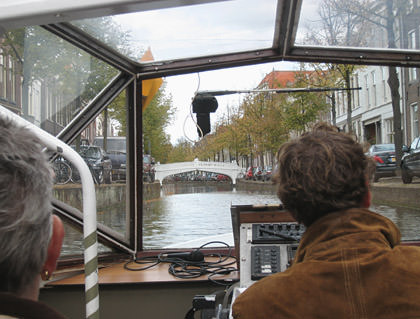 The canals are smaller than those you'll find in Amsterdam, which makes them that much prettier...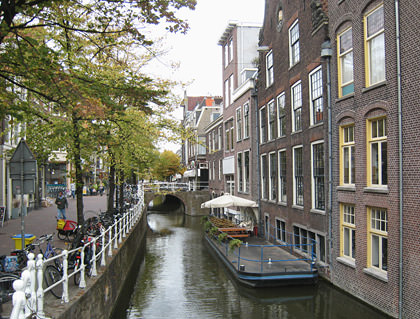 The Central Square still has many old buildings, though apparently they're not quite as old as you'd expect because the city was razed by fire and then later destroyed again when a gunpowder factory exploded...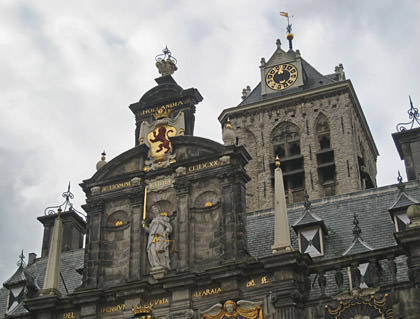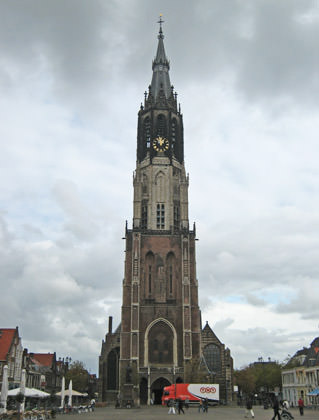 Geeky Tai-Tai and The Dutch Bitch outside of the Delf Cathedral...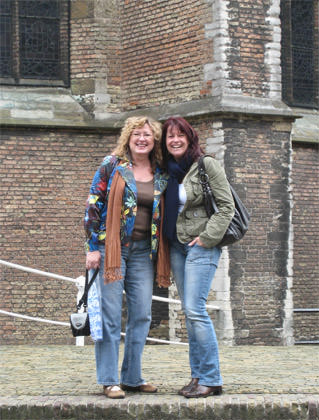 Delftware hand-painted pottery is a big tourist attraction and incredibly expensive if you buy the "real" stuff. Fortunately, there's tons of imitation pottery around for the tourist trade...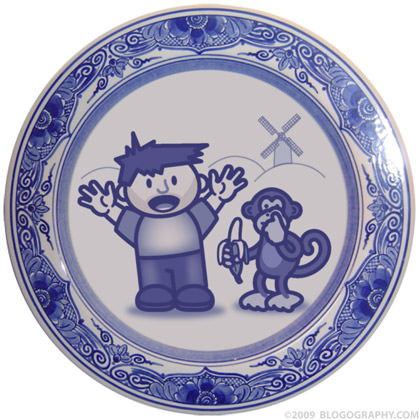 Given that this is the Netherlands, one of my most favorite foods on earth is easily available... potatoes and mayo...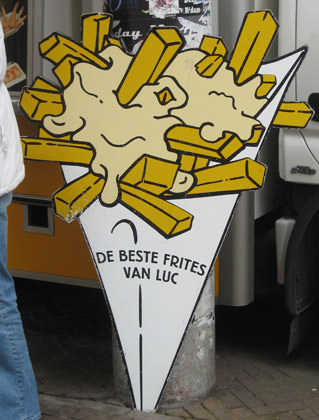 But the food for which Delf is made famous is Poffertjes, which are little pancake-type thingies that are served up with powdered sugar & butter and are totally delicious. Much to the annoyance of Dutchy, I kept mis-pronouncing them as "Pooferglarg" or "Poofterjarb" or "Pooferflargen"... which, if you follow any of us on Twitter, was responsible for terrorizing the Twitterverse last night...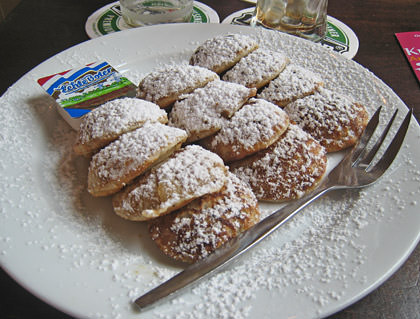 Amazingly, there was a restaurant we found which proudly proclaims that "Bill Clinton Ate Poffertjes Here"... and has somehow survived the experience...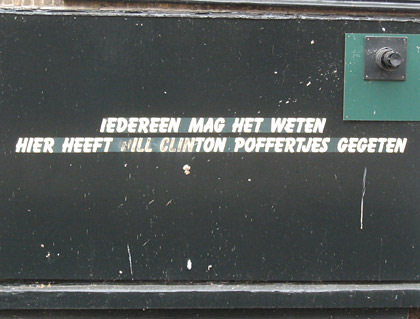 All in all, it was a perfect way to spend the afternoon...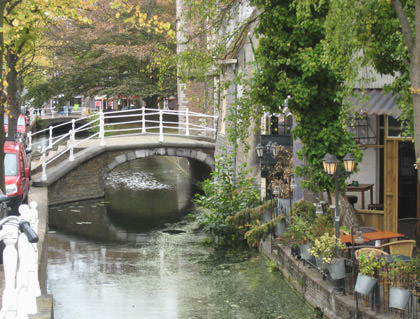 After dropping off Geeky Tai-Tai back at Schophol so she could spend some quallity pooferflargen time with her husband (without annoying bloggers around), we goofed off for a while until the celebrated arrival of The Lady Penelope. From then on, it was Wine-O-Clock, pooferflargen, chips & dip, Wine-O-Clock, pooferflargen, Twittering, Wine-O-Clock, pooferflargen, laughing, Wine-O-Clock, and pooferflargen for the rest of the evening and into the early morning...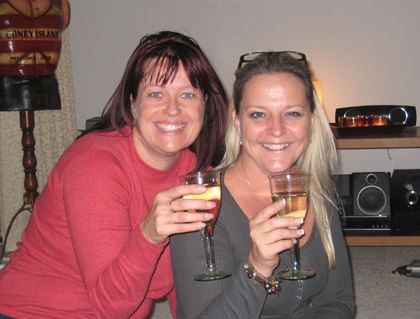 For everybody on Twitter who had to suffer through the experience with us, I apologize.
But not really.
Because we had an awesome time, and it's hard to make apologies for that.
Posted on October 1st, 2009

Coming over to Europe, I smoosh two days into one. Going back home, I make one day into two. It's a not-so-pleasant consequence of international travel... but I'm kind of used to it by now so it doesn't bother me that much.
Here was my "day" Wednesday and Thursday, which I am now calling "Wedthurday"...
I got up early to drive to Seattle...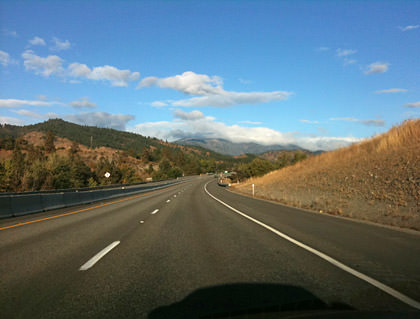 Was surprised to see there's already snow starting in the mountains...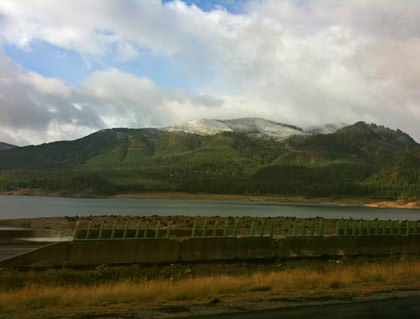 Hopped on a plane to Amsterdam...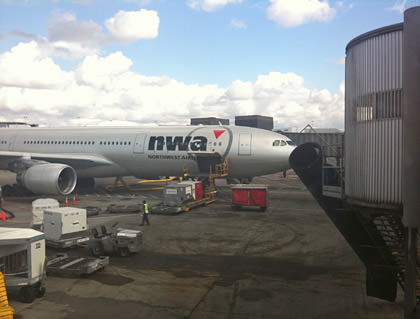 Was served warmed nuts while I watched movies (The Proposal and Terminator Salvation)...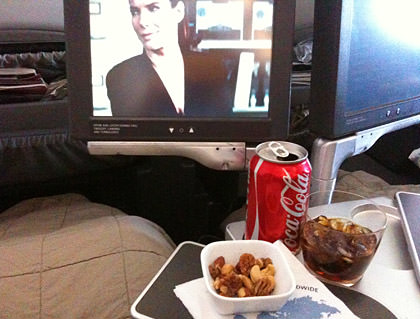 Got a butter flower with personal salt and pepper shakers with dinner...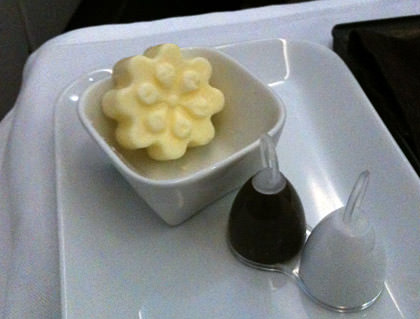 Watched my progress as I approached DutchyLand...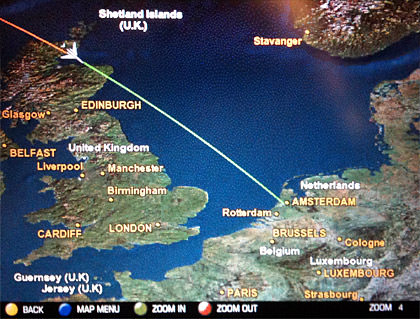 Got a "bagel" before landing...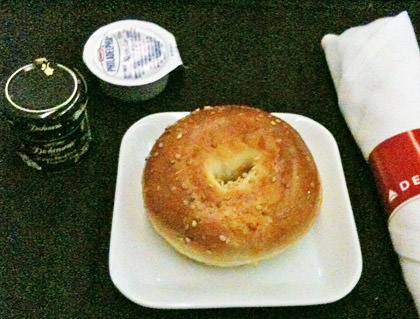 Landed at Schiphol Airport in the early morning...
After The DutchBitch was kind enough to pick me up from the airport, she went to work... and I took the train into Amsterdam to have lunch with some friends! I arrived a couple hours early, so I wandered to the wonderful Van Gogh Museum.
I love the Van Gogh Museum. The world never seems so big than when looking at it through Vincent's eyes. On top of that, the museum itself is really nice with some great architecture to it...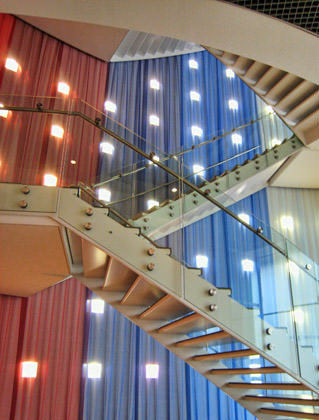 After a great lunch with some good people, I decided to stroll through Amsterdam for a while before heading back to DutchyLand...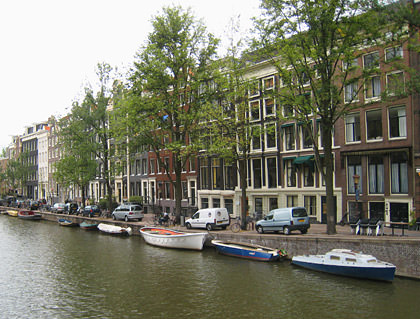 Just like many large cities, Amsterdam has some public art projects. My favorite is still the Bears of Berlin, but they've got elephants going on that are quite cool too...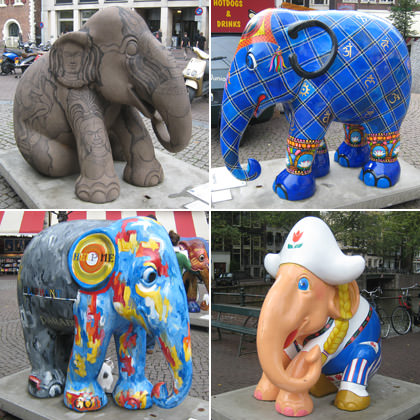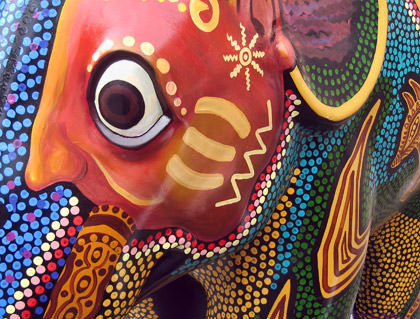 Then it was the train back for dinner with Dutchy and some blogger talk.
Not bad for a 36-hour day!
Posted on September 30th, 2009

And I'm off for a wild weekend in DutchyLand with the Bitch that is Dutch...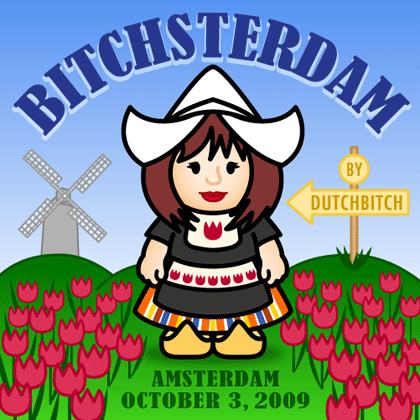 Also in attendence will be the Lady that is Penelope and the Tai-Tai that is Geeky.
With a roster like this, only time will tell if I manage to survive the event.
Here's hoping that if (by some miracle) I do survive, I'll not be permanently damaged...