Posted on December 12th, 2011

I caught some crap for this old blog post today.
Some people are really serious about their wine, I guess. I thought I could get out of it by saying "I was only joking," but then I re-read the entry and realized that I wasn't. Oh well.
When I got home from work I was hungry but nothing sounded good to eat. Well, nothing here sounded good to eat. I would have killed for some Patatjes Met from the Netherlands. Or a Puka Dog from Hawaii. Or a plate of authentic Fettucini Alfredo from Rome. Or Pizano's Pizza and an America's Dog from Chicago. Or even just a Johnny Rockets veggie burger from Seattle...
But what I really wanted was something I can't even have any more... even if I went to Salt Lake City to get it... I WANT BIG CITY SOUP!! But it closed down years ago...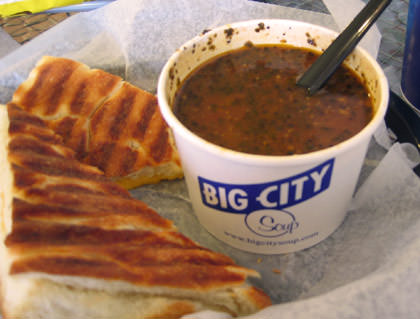 I hate it when that happens.
I hear they're making a Big City Soup Cookbook or something, but it wouldn't be the same.

I ended up having Peanut Butter M&M's and a Svenhard's butterhorn with a can of Coke...

Yo! Svenhard's... BUTTERHORN is ONE WORD, NOT TWO!
Delicious.
Relatively speaking.
Posted on May 15th, 2011

It's a rainy kind of lazy Bullet Sunday and I'd really rather be in bed. Let's do this shit!

• Foodie. I'm not much of a "shopper" and really don't enjoy going to the store... but the crazy-ass prices of food now-a-days makes me downright depressed to go grocery shopping. Just pulling into the parking lot of a market is enough to make me lose my will to live. Mostly because I know even a small bag of groceries is going to run me $50 or more. I never used to worry about stuff being "on-sale" or bothered to clip coupons or anything... I just bought what I wanted to eat. But now? I only buy something when it's on-sale. This means I am eating not what I like to eat, but what I can afford to eat. I can't even fathom how people with families manage to feed everybody. What even worse is that good food... like fresh fruits and vegetables... are beyond expensive. Far easier to eat crappy foods or blow through the McDonald's drive-through than even think about trying to eat healthy. This is a scary, scary state of affairs, and I worry that things are only going to get worse. Soylent Green may not be too far off.

• PATATJES MET! While having a conversation with a Twitter-friend, it was mentioned that when they did an image search for "Patatjes Met" a photo of me came up as #4. When I went to check for myself, I saw that a LOT of the images were mine! Apparently, I am obsessed with Patatjes Met. Who'da thunk it?

• Border. I was saddened to learn that most all of the Hard Rock Cafe properties in Mexico were "de-authorized" last week. I can only guess that their franchise payments weren't made to Hard Rock International, and so now they're no longer "official" Hard Rock properties. This kind of sucks, because now I won't have the opportunity to visit them. To make matters worse, two properties I also haven't been to in Ocho Rios (Jamaica) and San Juan (Puerto Rico) were closed outright. I hate it when that happens! I suppose that I should be grateful since I now have fewer destinations to check off on my Hard Rock list... but all I can think of is the missed opportunities.

• Maru. With all the sad and crappy stuff going on, it's always nice to have something good to hang on to. For me, that would be Maru the Cat! Maru loves to climb into boxes and bags and is always entertaining...
The site is in Japanese with some English, but you don't need to know Japanese to enjoy the fantastic photos and movies! The next time you're feeling a little depressed, click on over to I am Maru. It always puts a smile on my face... and hopefully yours too.
And if you've got some time to kill, you could easily spend a whole day watching Maru's YouTube Channel...

• Passing. IT'S A SIMPLE FUCKING CONCEPT... DRIVE RIGHT, PASS LEFT! And yet, despite bunches of signs saying "Keep Right Except to Pass," people still clog up the passing lane with their stupid asses. Finally... AT LONG LAST... Washington State troopers are starting to pull these idiots over for violating the law. I have little hope that this is going to do any good... people out on the highways usually have their heads up their asses anyway... but it's comforting to know that law enforcement is starting to take this shit seriously. I still think it should be legal to pop a cap in somebody's ass if you end up passing their slow asses on the right-hand side...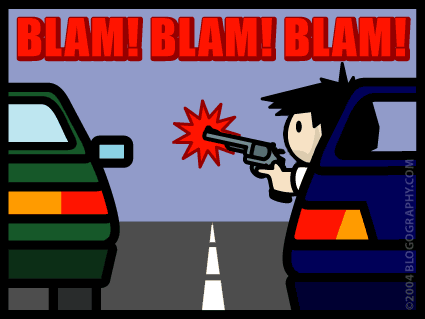 Or follow them home and explain their error to them...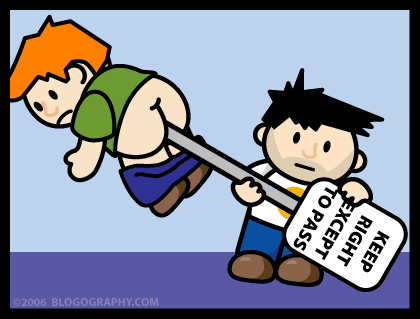 This has been a major pet peeve of mine for decades. I don't suppose it's too much to hope that the idiots on our roads will finally start to pay attention? Nah. Probably not.

And thus ends another Bullet Sunday... time to go be lazy, at last.
Posted on February 6th, 2011

Blargh. Two days of travel have left me more dead than usual. On to the bullets while I still have a will to live...

• TequilaCon. Unfortunately, there will be no TequilaCon event in 2011. In previous years, we've been extremely fortunate that the stars have aligned and everything has come together to make for an awesome event... but it just isn't happening this year for one reason or another. So rather than forcing together something mediocre, calling it "TequilaCon," and leaving people disappointed, we've decided to take a pass this year. The last thing anybody wants is to go to the time and expense of attending TequilaCon only to have it not live up to the high expectations set by previous years. As for the future... who can say? So long as there is tequila somewhere out there in the world, the possibility for a new TequilaCon will always be there. In the meanwhile... thanks for all your support. May your limes be juicy and your salt be salty until next we meet. Jenny, Brandon, Dave2, Vahid, and Mr. Tequila...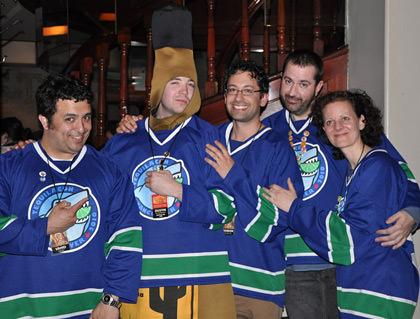 • Mayo. One of these days I'm bringing an extra suitcase with me so that I can pack it full of creamy delicious Dutch mayonnaise. I would have tried to smuggle a jar back this trip, but US Customs are real tight-asses when it comes to bringing superior food products into the country. The bastards.
Please note that I was NOT the person who opened the jar of mayo on the right, ate a few spoonfuls, then put the jar back on the shelf. Not that I could blame this person, but it wasn't me.

• Seriousness. But in all seriousness, who the fuck would open a jar of mayo in a grocery store, eat some of it, then put it back? If I looked, would there be slices of bread, cheese, and ham missing too? Did somebody make a fucking sandwich at the store? What the hell?

• Honestly. I mean, truly... honestly... what the bloody fuck? Did somebody obsessed with the creamy deliciousness of Dutch mayo realize that smuggling an entire jar was impossible... but smuggling a handful down their pants might work?

• Obsessive. Okay. Okay. Okay. I'm honestly not getting all obsessive over this, but these are the things that keep me awake at night, people. WHAT HAPPENED TO THAT MAYO?

• Foreigner. This morning as I was waiting to board my flight home, I made my way to some website where a video was available. After clicking on the video, I got an error message saying "I'm sorry this video is not available in your country." This left me dumbfounded and more than a little pissed off. I don't think that people should get to put videos on the internet unless the entire internet is allowed to look at them.

• Easy. One of the many movies I watched on my way home was Emma Stone in Easy A. It wasn't that this was a film I was dying to see, but it was one of the last things available that I hadn't already seen at least twice. Much to my shock and horror, I actually enjoyed this movie. It unapologetically borrows from a lot of those great 80's flicks like Sixteen Candies, Pretty in Pink, Say Anything, and the like. And does so pretty well. It always shocks me that quality films of any genre end up being made in this day and age... but for something in the teen angst/romance genre that doesn't completely suck? Miraculous.
Olive Penderghast is a forgettable nobody high school student who decides to embrace her newfound infamy as "school harlot" once a false rumor about her losing her virginity spreads throughout the school. Hilarity ensues. Not only is Emma Stone flawless as the witty and lethally unflappable lead, but they somehow managed to assemble a genius cast including Stanley Tucci, Thomas Haden Church, Patricia Clarkson, Malcolm McDowell, and a surprisingly appropriately cast Lisa Kudrow. If you're looking for some mindless fun (that's actually fun), here's your film...

• Hard. As opposed to the total shit-stain of a movie called Life As We Know It. I mean, holy crap, does Katherine Heigl actively search out the shittiest, most pedestrian, predictable, ridiculously stupid scripts in the gutters of Hollywood to find her movie projects? How many sublimely idiotic spit-take reactions to the foul smell of baby poop do we really need? Wasn't Three Men and a Baby enough? Are we doomed to see it replayed in a movie every three years until the end of time? Granted, I fast-forwarded through most of this film as redundant pap, so perhaps some of the nuance was lost on me... but what the fuck?!?

Annnnnd... I'm spent.
There are plenty more bullets left in me, but my fingers stopped working about ten minutes ago. Just three more hours layover until I get to go home and (hopefully) sleep.
Posted on February 5th, 2011

Today was a "wasted" day spent traveling. It all started when I woke up early so I could catch the hotel courtesy shuttle to the airport for my 7:00am flight. Except the hotel LIED about having a courtesy shuttle, so I instead paid a taxi €15 ($20) for a three-minute ride to the airport. I would have walked, but it was pitch-black and I'd have to travel over two ditches and through a construction site to get there. When I had attempted it previously, I had barely made it there alive in broad daylight, so I figured my life was worth the $20.
The flight from Málaga to Paris was uneventful except, of course, having to deal with Charles de Gaulle airport once I arrived. Since I was avoiding the dreaded Terminal 2G this time, I thought it would be smooth sailing. Except it wasn't. Getting from 2D to 2F still required exiting and re-entering security, which is stupid as fuck. At least I had time to use the bathroom this time. Barely.
If forced to choose between a kick to the balls and having to transfer planes at Charles de Gaulle Airport, I'd have to give it some serious thought.
And then choose the kick in the balls, because that's a pain which will eventually end.
Weather at Schiphol Airport in Amsterdam was mostly gusting winds, which had been canceling flights all morning. Fortunately, I made it out and arrived only 20 minutes late because...
PATATJES MET!!!
DutchBitch drove to the airport for a quick meet-up, where she bought me some DutchyLand deliciousness...
Since I had missed meeting up with Dutchy when she was last in Florida, it was nice to get caught up for an hour-and-a-half. I also had to tell her about the sphincter-puckering landing my plane made into Amsterdam. I've flown in some pretty crazy shit and don't scare easily, but the wind was so bad that I thought for sure we were going to crash into the runway and explode. What an awesome way to die that would have been. DutchBitch promised to toss some patatjes met out onto the flaming remains of my plane if the worst were to happen, so at least I would have died happy.
Alas, our chat was over far too quickly, and it was time for me to catch my flight back to Cologne. This time the flight was fine. My luggage didn't get lost in Paris. And my airport hotel which promises a courtesy shuttle actually has a courtesy shuttle. So I guess it's all good in the end.
Until tomorrow when I fly back home...
Posted on January 29th, 2011

Work ended a senses-shattering three hours early, leaving me a little free time to goof around Cologne today. Having been to the city many times, I'm very much at home here, and so it's an entirely different experience than visiting a place you've never been before.
But before I get to that, I'd like to observe a moment of silence for my newly-dead Kenneth Cole dress shoes. Tonight I pulled out all my work clothes so I'd be ready to go in the morning. As I was shining my shoes, I noticed that one of them had somehow split in the back (I'm guessing my suitcase must have been crushed in transit? Or perhaps when the TSA opened my bag to inspect it, they really, really hated my shoes?). Anyway... all attempts to repair them were met with failure. So now I guess I'm going to attend work in sneakers. That'll look special.
On to my favorite things in Cologne!

KÖLNER DOM!...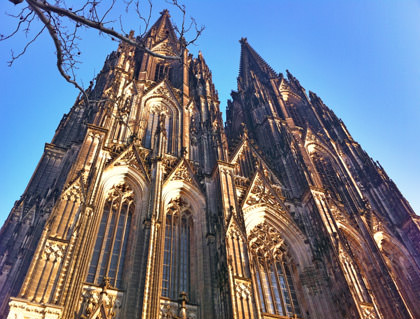 No matter how many times I see the massive Cologne Cathedral, it still takes my breath away.

SPRITZRINGE!...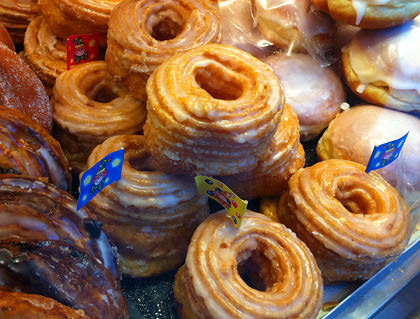 The light, airy, doughy inside makes "doghnuts" taste like shit by comparison!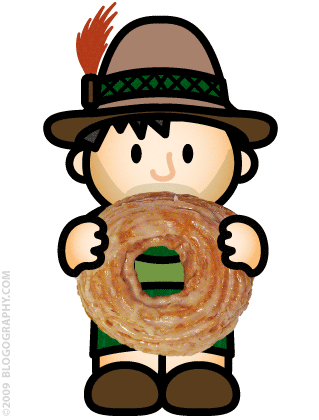 I could eat this delicious bits of deliciousness until I asploded!

PATATJES MET! POMMES FRITES!...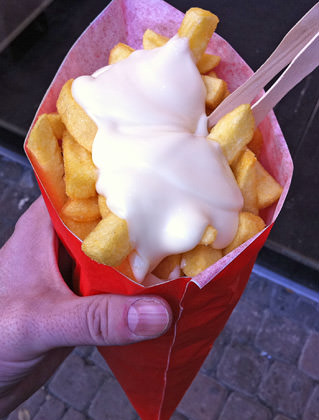 While not the same as the Dutch patatjes met, my favorite, they're still inanely delicious!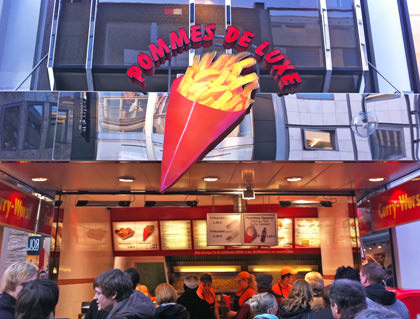 The line was crazy-long... it took me 8-10 minutes to get mah frites!!

KÖLSCH!...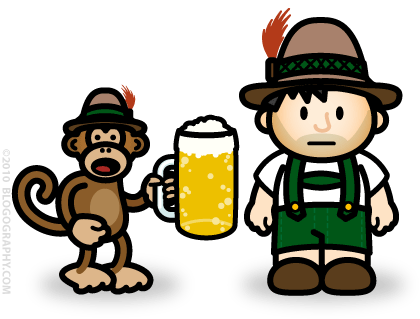 The delicious and refreshing regional beer... usually served in tiny glasses, not steins, so you have to order lots of them.

And, lastly, since you have to pay for all this shit...
GELDAUTOMAT!...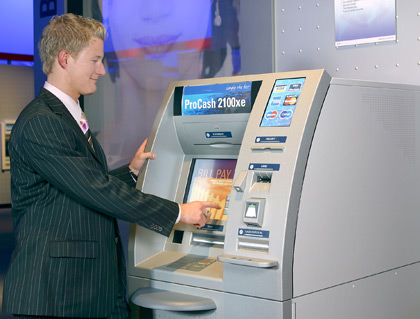 My photo turned out blurry, so this is not me. I found a photo of Neil Patrick Harris using a Geldautomat at Wincor Nixdorf.
Now, if you'll excuse me, I've had my fill of doughnuts, fries, mayonnaise, and beer for the evening, so I'm going to go to bed and hopefully get some sleep this time. Last night I managed to nap a mere two hours after being up for 38 straight hours, so I'm thinking I kind of have to sleep or I'm going to turn go brain-dead. ZOMFG! Do you think that's what happened to Sarah Palin?
Previous adventures in Cologne...
Posted on June 17th, 2010

I'm suffering from Patatjes Met withdrawals (which, for the uninitiated, is Dutch fries with mayo). And, since I won't be returning to the Netherlands until September, it's going to be a loooooooong three months.
In the meanwhile, I'm eating a lot of toast. Delicious toast with butter. It doesn't work.
So I've tried waffles. Freshly baked waffles with whipped cream. It's not helping.
Even my favorite, chocolate pudding, has failed to fill the void left by Patatjes Met...
I suppose this is how cocaine addiction starts...

P.S. If you love Dutch-style mayo too, there's a FaceBook Fan Page you can join!