Blargh. Two days of travel have left me more dead than usual. On to the bullets while I still have a will to live...

• TequilaCon. Unfortunately, there will be no TequilaCon event in 2011. In previous years, we've been extremely fortunate that the stars have aligned and everything has come together to make for an awesome event... but it just isn't happening this year for one reason or another. So rather than forcing together something mediocre, calling it "TequilaCon," and leaving people disappointed, we've decided to take a pass this year. The last thing anybody wants is to go to the time and expense of attending TequilaCon only to have it not live up to the high expectations set by previous years. As for the future... who can say? So long as there is tequila somewhere out there in the world, the possibility for a new TequilaCon will always be there. In the meanwhile... thanks for all your support. May your limes be juicy and your salt be salty until next we meet. Jenny, Brandon, Dave2, Vahid, and Mr. Tequila...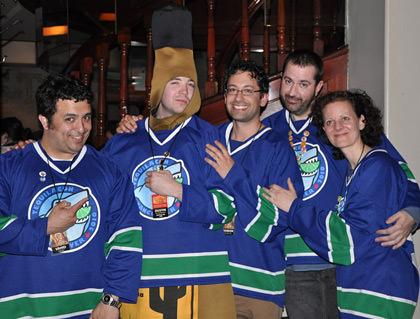 • Mayo. One of these days I'm bringing an extra suitcase with me so that I can pack it full of creamy delicious Dutch mayonnaise. I would have tried to smuggle a jar back this trip, but US Customs are real tight-asses when it comes to bringing superior food products into the country. The bastards.
Please note that I was NOT the person who opened the jar of mayo on the right, ate a few spoonfuls, then put the jar back on the shelf. Not that I could blame this person, but it wasn't me.

• Seriousness. But in all seriousness, who the fuck would open a jar of mayo in a grocery store, eat some of it, then put it back? If I looked, would there be slices of bread, cheese, and ham missing too? Did somebody make a fucking sandwich at the store? What the hell?

• Honestly. I mean, truly... honestly... what the bloody fuck? Did somebody obsessed with the creamy deliciousness of Dutch mayo realize that smuggling an entire jar was impossible... but smuggling a handful down their pants might work?

• Obsessive. Okay. Okay. Okay. I'm honestly not getting all obsessive over this, but these are the things that keep me awake at night, people. WHAT HAPPENED TO THAT MAYO?

• Foreigner. This morning as I was waiting to board my flight home, I made my way to some website where a video was available. After clicking on the video, I got an error message saying "I'm sorry this video is not available in your country." This left me dumbfounded and more than a little pissed off. I don't think that people should get to put videos on the internet unless the entire internet is allowed to look at them.

• Easy. One of the many movies I watched on my way home was Emma Stone in Easy A. It wasn't that this was a film I was dying to see, but it was one of the last things available that I hadn't already seen at least twice. Much to my shock and horror, I actually enjoyed this movie. It unapologetically borrows from a lot of those great 80's flicks like Sixteen Candies, Pretty in Pink, Say Anything, and the like. And does so pretty well. It always shocks me that quality films of any genre end up being made in this day and age... but for something in the teen angst/romance genre that doesn't completely suck? Miraculous.
Olive Penderghast is a forgettable nobody high school student who decides to embrace her newfound infamy as "school harlot" once a false rumor about her losing her virginity spreads throughout the school. Hilarity ensues. Not only is Emma Stone flawless as the witty and lethally unflappable lead, but they somehow managed to assemble a genius cast including Stanley Tucci, Thomas Haden Church, Patricia Clarkson, Malcolm McDowell, and a surprisingly appropriately cast Lisa Kudrow. If you're looking for some mindless fun (that's actually fun), here's your film...

• Hard. As opposed to the total shit-stain of a movie called Life As We Know It. I mean, holy crap, does Katherine Heigl actively search out the shittiest, most pedestrian, predictable, ridiculously stupid scripts in the gutters of Hollywood to find her movie projects? How many sublimely idiotic spit-take reactions to the foul smell of baby poop do we really need? Wasn't Three Men and a Baby enough? Are we doomed to see it replayed in a movie every three years until the end of time? Granted, I fast-forwarded through most of this film as redundant pap, so perhaps some of the nuance was lost on me... but what the fuck?!?

Annnnnd... I'm spent.
There are plenty more bullets left in me, but my fingers stopped working about ten minutes ago. Just three more hours layover until I get to go home and (hopefully) sleep.