Posted on July 16th, 2010

Tonight while watching television I fell asleep on the couch. Thinking that my body was finally willing to catch up on some much-needed sleep, I went and laid down in my bedroom around 8:30.
And promptly woke up at 10:17.
So now, on top of still being woefully behind in sleep, my internal clock is going to be messed up because I'm wide awake, and probably won't be getting any more sleep tonight. This is resoundingly bad news, because I start a series of back-to-back-to-back-to-back trips next week, and sleep even worse when I'm traveling. But no worries... I'm sure everything will be back to normal again by the end of August.
Just before I head to Europe and get all screwed up again.
Oh well. Insomnia is a great excuse to read through the incredible Wednesday Comics hardcover collection... again...
I sure hope that DC Comics does another series of Wednesday Comics... it's the most entertainment I've had with their characters in years. Many of the creators got really creative and experimental with their strips, and the payoff is a massive bucket of pure WIN! But even better than the uniqueness of it all is the FUN. So many of the stories are just plain fun which is exceedingly rare. I'd purchase every broadsheet edition plus the hardcover collection all over again just for Jimmy Palmiotti and Amanda Conner's Supergirl strip, where every panel is beautifully rendered... and funny...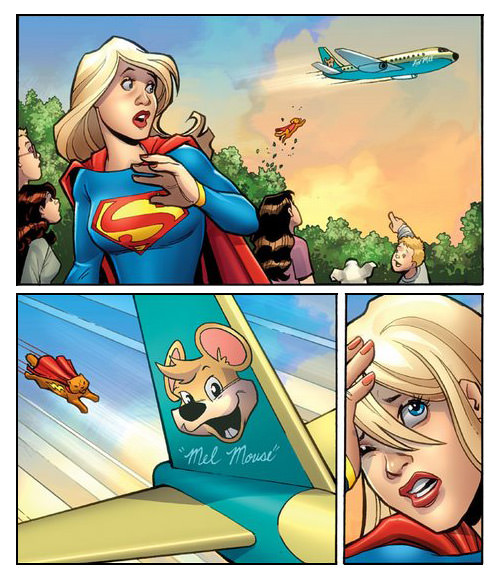 If you love comics... or even if you used to love comics but haven't read them in years... here's your book. It originally ran for 12 consecutive Wednesdays with one page of each strip per issue (Batman, Deadman, Demon/Catwoman, The Flash, Green Lantern, Hawkman, Kamandi, Metal Men, Metamorpho, Sgt. Rock, Strange Adventures, Supergirl, Superman, Teen Titans, and Wonder Woman) all written and drawn by top industry talents. Amazon has it for $32, which is an absolute steal when you consider it's an over-sized 11x17" volume that runs 200 pages! Recommended!
Posted on June 7th, 2010

After three restless hours of non-sleep, I got up verrrrry early this morning so I could trek over to Seattle to begin an incredibly chaotic week. While here in the city, I'm literally working on four projects at the same time, all while trying to stay focused on the main task at hand. I've all but given up trying to get caught up on sleep, and have just resolved to become a zombie...

It sucks, but I've had worse.
Posted on December 15th, 2009

The winter storm that was promised yesterday finally arrived this morning. It didn't end up being as bad as forecast, but I still had to scrape 5-inches of snow off my car when it was time to go home tonight. Tomorrow is supposed to taper off to "Wintry Mix," which is not as fun as it sounds. The rain/snow combo piles on the streets and makes driving a nasty business. It's all too easy to get trapped by the slush accumulation and find yourself being pulled off the road. When that happens your brakes are practically useless, so your only option is to hold onto your balls, enjoy the slide, and hope you don't end up in a wreck. I'll take snow over "Wintry Mix" any day...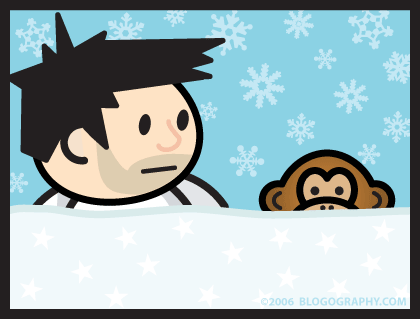 And right now I'll gladly take sleep over insomnia, but I have about as much a chance of that as I do controlling the weather.
If only I had an off-switch, my life would be so much easier.
Posted on August 3rd, 2009

Okay then! I got up at 4:00am yesterday so I could get to work on time... it's now almost 10:00pm a day-and-a-half later... that's 42 hours awake. I might have dozed off a couple times, but it didn't amount to any real sleep. That's tough, because even total insomniacs like myself require rest from time to time.
I never could have made it without the distraction of Twitter to keep me from giving up. Whether it was comparing notes of sleeplessness with @TheMuskrat or joking around about Twitter spam with @AnissaMayhew, it was pretty sweet that I was able to find Twitter peeps out there willing to help me stay awake.
Other than an incident where Jesus appeared to me in a bowl of Apple Jacks cereal, I managed to make it through the 42 sleep-deprived hours with my brain pretty much intact.
I now have 8 hours until I have to pack up my stuff and head back to the airport. I'm hoping a good chunk of that will be spent catching up on sleep, but I'm doubtful.
For reasons I can't even guess, I'm not at all tired.