Tonight while watching television I fell asleep on the couch. Thinking that my body was finally willing to catch up on some much-needed sleep, I went and laid down in my bedroom around 8:30.
And promptly woke up at 10:17.
So now, on top of still being woefully behind in sleep, my internal clock is going to be messed up because I'm wide awake, and probably won't be getting any more sleep tonight. This is resoundingly bad news, because I start a series of back-to-back-to-back-to-back trips next week, and sleep even worse when I'm traveling. But no worries... I'm sure everything will be back to normal again by the end of August.
Just before I head to Europe and get all screwed up again.
Oh well. Insomnia is a great excuse to read through the incredible Wednesday Comics hardcover collection... again...
I sure hope that DC Comics does another series of Wednesday Comics... it's the most entertainment I've had with their characters in years. Many of the creators got really creative and experimental with their strips, and the payoff is a massive bucket of pure WIN! But even better than the uniqueness of it all is the FUN. So many of the stories are just plain fun which is exceedingly rare. I'd purchase every broadsheet edition plus the hardcover collection all over again just for Jimmy Palmiotti and Amanda Conner's Supergirl strip, where every panel is beautifully rendered... and funny...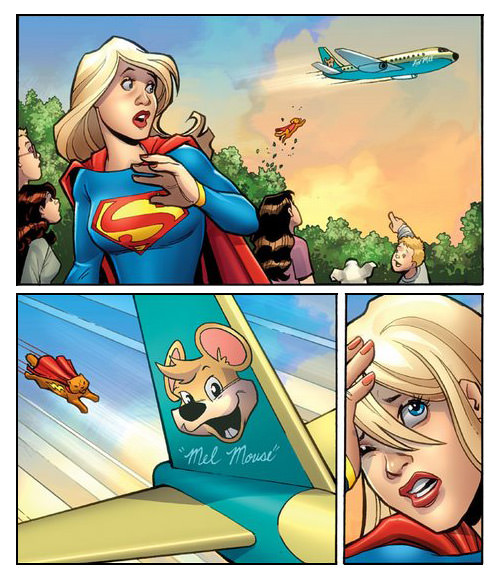 If you love comics... or even if you used to love comics but haven't read them in years... here's your book. It originally ran for 12 consecutive Wednesdays with one page of each strip per issue (Batman, Deadman, Demon/Catwoman, The Flash, Green Lantern, Hawkman, Kamandi, Metal Men, Metamorpho, Sgt. Rock, Strange Adventures, Supergirl, Superman, Teen Titans, and Wonder Woman) all written and drawn by top industry talents. Amazon has it for $32, which is an absolute steal when you consider it's an over-sized 11x17" volume that runs 200 pages! Recommended!