Getting a whole six hours sleep last night (pharmaceutically-induced, alas) was everything I dreamed it would be.
Anyway, just a few things I keep forgetting to review...

• Chilly Pad! A while back I was shopping for a soldier at AnySoldier.com (which I talk about here and here) when I was told about a product by Frogg Toggs called "Chilly Pad." It was billed as some kind of "cooling towel" that sucks the heat away via evaporation. That sounded like a load of crap to me, but who am I to deny a soldier something to make his life easier... especially if it only costs $12? Just for kicks, I ordered one for myself too.
Imagine my shock when, holy crap, it actually works!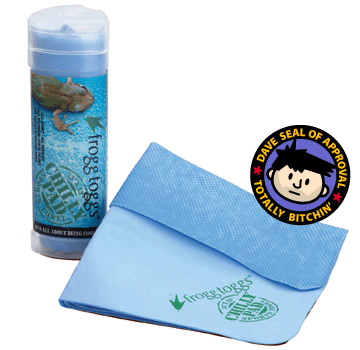 Just pour some water on it and be amazed as the super-evaporation cells go to work, causing the darn thing to become cool to the touch! Amazing! For the ultimate test, I wore one around my neck on my trip to Waverly Hills where there was a heat index of 105° and was pretty darn comfortable the entire time. I now keep one in the trunk of my car and will always have them on hand to send with my AnySoldier care packages. Worth checking out! I got mine at Sports Authority, but I'm sure they're available other places too.

• Spotify! Europeans have been enjoying the music mega-service Spotify for years, but Americans have been left out. Until now. For those unfamiliar, Spotify has a massively huge database of music available for streaming. In order to get at it, you have to sign up for an account. Free accounts are ad-supported and have a song limit. Unlimited accounts ($4.99/mo.) are ad-free, allow unlimited songs to be streamed, and have added sharing and organizational features. Premium accounts ($9.99/mo.) have even more features (like the ability to listen offline and stream to your mobile phone) and better sound quality. Free accounts weren't available yet, so I went for the $4.99/mo. Unlimited package.
The biggest selling point of Spotify is that they have a plain crazy-huge collection of songs. They pretty much boast that they have any track you want...

Except they really don't. There are many songs both obscure and popular I wanted to listen to which aren't available. That alone is a bummer, but what makes it unbearable is that a big chunk of their library is karaoke versions of songs, and every frickin' search you make is literally overwhelmed with karaoke crap I have absolutely no interest in.
Here's an example. Today I wanted to listen to Miley Cyrus's The Time of Our Lives (don't judge until you listen to it... it's a nice song!). Spotify doesn't have it available. What they do have is four karaoke versions...

WTF? And it gets worse when you do more generic searches like "Hall & Oates" where you get all kinds of karaoke shit mixed in. After a while, I figured out that you can do restrictive searches to cut out karaoke. Well, most karaoke... not all karaoke songs are described properly...

This should be an option in preferences to get rid of karaoke tracks if you don't want to see them, but I couldn't find one so I have to instead add "-karaoke" to every search, which is a pain in the ass. Other irritations? The Spotify app is clutzy and unintuitive compared to the iTunes interface I'm used to. I've also experienced "outages" of a sort, where certain artists simply will not play. Today I tried for quite a while to listen to Weird Al's new Alpocalypse album without success.
As you might guess, my final verdict is more negative than positive. I will be happy to keep my free account for occasional ad-supported listening, but I'm going to cancel my $4.99 "Unlimited" membership. Perhaps eventually they'll address my issues and I'll find it worthwhile, but for now I'm giving it a pass.

• Suits! Burn Notice. White Collar. Covert Affairs. Fairly Legal. Psych. When it comes to successes, USA Network has a pretty good track record for airing some really good television shows. Because of this, I'm willing to give any new show they come up with a shot. Their latest, Suits, sounded good on paper... but I wasn't sure how it was going to play out on the screen...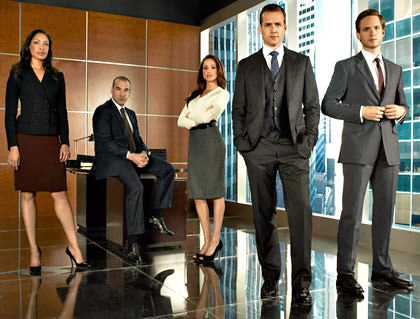 The story premise is that of a very smart guy with a photographic memory, Mike Ross (played by Patrick J. Adams) who tries to escape his dicey past by going to work at a prestigious law firm. He passed the bar on a dare, but doesn't have a law degree. His new boss (played by Gabriel Macht) is impressed enough to hire him anyway. The result is an uneasy partnership that is beneficial to both of them, even if they have to hide Mike's true nature from everybody at the firm.
And it works.
It works very well.
The cast is fantastic (Gina Torres!), the writing is sharp, the stories are smart, and the show as a whole is entertaining. My only concern is how long they can keep the premise interesting. Will people eventually find out about Mike? Will his scary past catch up with him? In all honesty, it doesn't really matter, and I hope they don't keep hanging the show on them when there's no need to do so.
Right now? Highly recommended. Only time will tell if they can keep it that way.

• Fotopedia! If you're a fan of travel photography and have an iOS device, run... don't walk... to the iTunes Store and grab everything you can from Fotonauts. Their Fotopedia apps have always been great, but the new stuff they've been cranking out has been amazing. North Korea (free) and Dreams of Burma (free) are well worth your time... but their latest collaboration with National Geographic, Above France ($2.99) is stunning...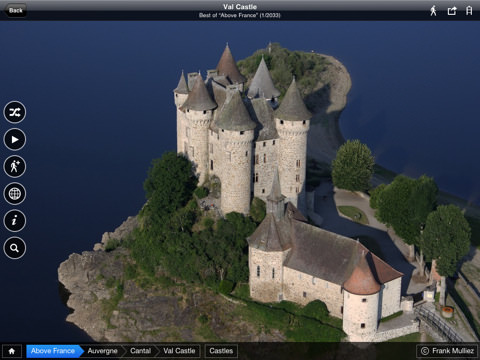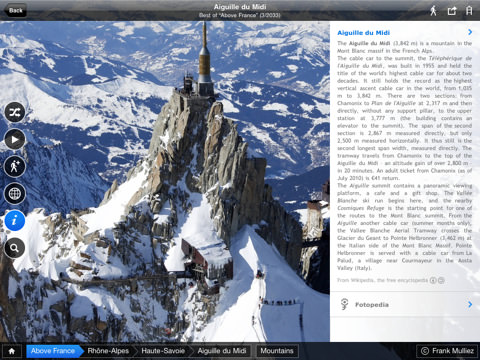 They work on iPhone but, obviously, have a better presentation on iPad. Highest possible recommendation.

And now... bed. And hopefully another night of half-way decent sleep.