Posted on October 11th, 2018

Happy International Coming Out Day to my LGBTQ readers and friends!
Some of you walked through fire to get to where you are today. Some of you are dipping a toe into the flames before taking the plunge. Some of you bounded over the flames like a golden god. Some of you are happy to hang on to your fire extinguisher to keep the flames at bay a while longer. Many of you escaped the fire only to besieged with people lobbing more fire in your direction. But regardless of who you are... what your truth is... I am happy you're here, you wonderful fireproof warrior, you!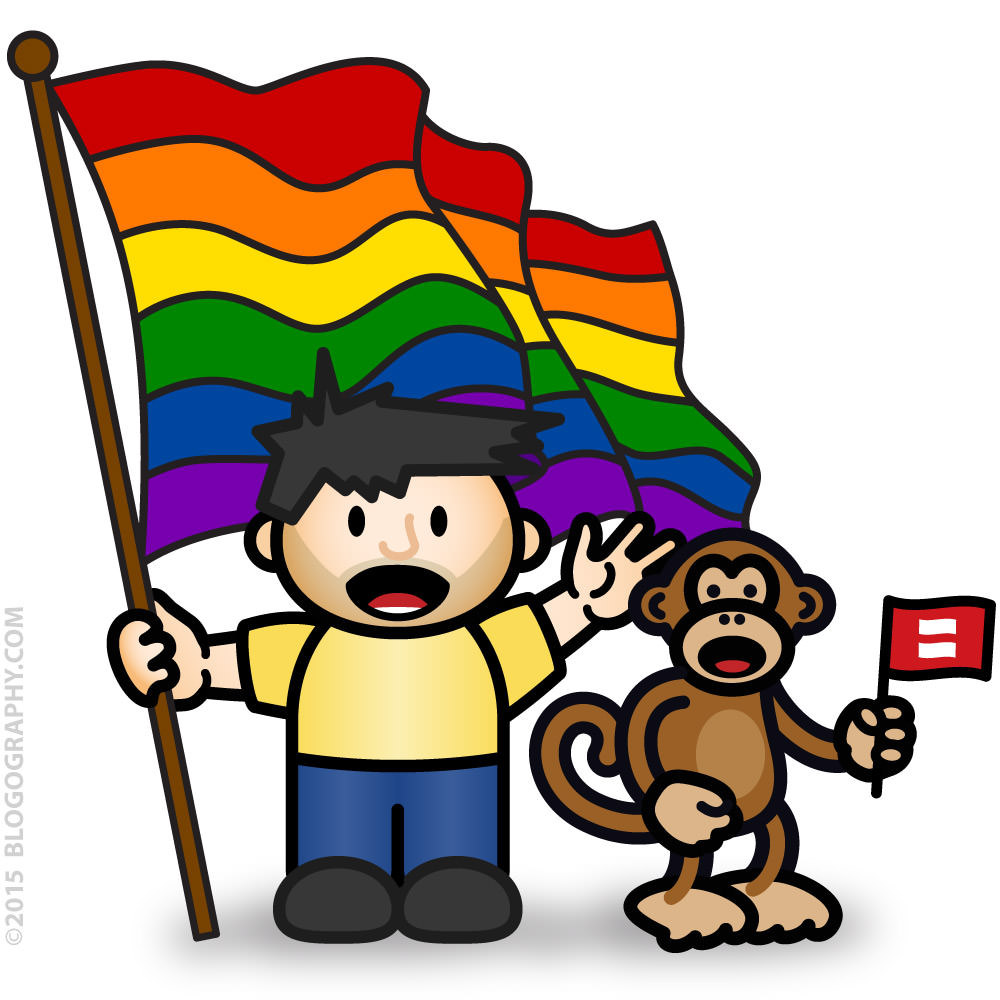 And now... time to clean up another round of cat puke. Poor Jake. I really thought he had turned a corner when he didn't throw up after yesterday morning. It was a lot less than last time though, so maybe he's nearing the light at the end of the tunnel?
Fingers crossed.
Posted on July 26th, 2017

It's been calculated that the cost for President Trump to go golfing in Mar-A-Lago four times is the same as the medical costs for taking care of our trans soldiers. And yet it's the money that President Trump cites as his reason for banning trans persons from service.
He also says they are a "distraction" which, given the shit-show that's his entire presidency, I find hilarious. Especially since his first tweet on banning trans service worried The Pentagon that he was starting a war with North Korea.
So much for promises...

The non-stop parade of misinformation and outright lies being lobbied at the trans community is horrible. These tax-paying citizens want nothing more than to live their lives in a way that's true to themselves and have the same rights as Americans as everybody else. And yet wealthy old white men desperate to stay in power are clutching their pearls at the thought of people they don't like being on the same playing field as everybody else. They fucking own the playing field. They fucking make the rules. They fucking referee the match. But even that's not enough. They want to determine who gets to play too.
Fuck. That.
One day... hopefully one day soon... people are going to wake up and realize that it's not "just the lesbians"... it's not "just the gays"... it's not "just the bisexuals"... it's not "just the transexuals"... it's everybody. The people ACTUALLY running this country hate everybody. They don't give a shit about you. All they care about is wealth and power. Everything else comes second. A distant, distant second. And the very minute that they feel you are no longer of use to them, you get pitched out with the rest.
It's only a matter of time.
In the meanwhile, best start speaking up for those getting shit on while you still can. It's the only way there's going to be somebody around to speak up for you when it's your turn.
Happy hump-day, everybody.
Posted on May 26th, 2017

I have a trans friend that I met while working at a job site. She's a kind, caring, hard-working person who just wants to be left to live her life the best she can. Needless to say, it hasn't always been easy for her. She puts up with abuse that would humble the strongest of us, and she endures it most every day... for no other reason than there are people who don't accept who she is and refuse to just let her exist in peace. It's been an incredibly difficult life, but she's managed to get through it all by being true to who she is.
I just found out today that she was assaulted while walking home back in March.
In addition to recovering from having been physically beaten, she has had to work through the psychological trauma that comes from being reminded in a very real way that there are people who want you dead... just because you are different from them. That can't be an easy recovery to make. I hope she can heal. I hope she can find her way back to the person I know. I hope she continues to find strength in herself and those of us who care about her. Because this world needs her. This world is a better place with her in it.
My friend has devoted countless hours to a charity who does nothing but make people's lives better. She has a big heart and she gives what she can of it. And this is how society repays her. What chance is there for humans as a species when this is how we treat the best of us? The most giving of us?
Not much of a chance at all.
I am not quite ready to say "Abandon all hope for humanity"... but whenever something like this happens, I inch closer to believing it.
And when that day comes? We'll have nobody to blame but ourselves.
Posted on July 6th, 2014

It's a great day to stay inside and surf the internet all day... because Bullet Sunday starts... now...

• Drone! Most of the time I am not a fan of the successor to RC helicopters... RC drones. When they're not making an annoying whine as the scream across the sky, they're blowing stuff up. But every once in a while, somebody finds a good use for drones that makes me forget all about the negatives. This viral video of a drone flying through 4th of July fireworks is one of them...
WARNING: It may not be all fun and games, however, as this link will tell you.

• Evian! Speaking of viral videos... how in the heck did I miss this one?
Guess this is the inevitable next step from stupid talking baby and talking animal commercials?

• Proud! During San Francisco Pride, Burger King sold a "Proud Whopper" in one of their restaurants along the parade route. Not surprisingly, I heard about the outcry before I heard about the burger. People were saying things like "I'M NEVER EATING AT BURGER KING AGAIN!" and "STOP CRAMMING HOMOSEXUALITY DOWN MY THOAT!" (ahem). Which is about as fucking stupid as it gets, because this was not a nation-wide project. It was specifically made for a single event in one restaurant in a localized area where the event took place. The only way you'd have "homosexuality crammed down your throat" would be if your were there for San Francisco Pride... and, even then, you could choose to have a plain-old Whopper if you wanted. Burger King never forced you to eat a "Proud Whopper" at all. Putting the usual homophobic idiocy aside, the idea of it all was actually pretty cool. Especially when people found out what a "Proud Whopper" was...
Exactly. Which is why seeing the insane reaction to a completely innocent publicity stunt (which had a positive message for everybody) just reinforces my disgust at what my LGBT friends have to deal with every day. Which I'm guessing is something like this...
The only thing that gives me hope for the future is that people like this will soon be dead and their absurd bigotry will one day be dead with them. Until then, I guess everybody can just "Be Your Way."

• Horrible! The movie Horrible Bosses was a complete surprise when I saw it... namely because it didn't suck. I actually really liked it. Well-written, well-acted, and funnier than it had a right to be. Largely thanks to one of Jennifer Anniston's best movie roles ever as a truly horrible boss. I had no idea they were making a sequel, but here it is...
Can't wait! I just hope that it doesn't go all The Hangover on us and do a crappy rehash of the first film in the sequel... then shit the bed in the third one.

• Democracy? It will come as no surprise that I'm completely disgusted with the state of government in this country. Politicians are bought and paid for every damn day, which has effectively destroyed any chance of true democracy in this country. It seems an insurmountable problem. But then I saw something that has me intrigued...
Surprisingly, MayDay US reached their $5 million goal. Whether or not it can make any difference against politicians backed by unlimited funds remains to be seen... but it's worth a shot, I suppose.

• Shark! After the idiotic crap that tainted Shark Week last year, I was kind of soured on the idea. Then I see this ad...
SHARK EXTREME! Oh Shark Week, how can I quit you?

And now I get to go to work! How awesome is that?
Posted on April 20th, 2012

Today is usually the day that I post some kind of DaveToon showing solidarity with those students taking part in the National Day of Silence. It's a worthwhile demonstration (in its seventeenth year) which calls attention to those who would silence the effects of anti-LGBT bullying in schools.
But I'm just too saddened to stay silent this year.
Maybe it's because the epidemic of gay youth suicide hit very close to home earlier this year when a guy going to my high school alma mater killed himself as a result of bullying.
Maybe it's because I learned that friends of mine have a brilliant, funny, amazing child who is being so badly bullied at school that they're only option is to home-school him because they are starting to fear for his life.
But probably it's because I came back from vacation and one of the first news stories I read is how 14-year-old Kenneth Weishuhn Jr. comes out as gay, immediately became a target of unrelenting bullying, and is dead a month later by his own hand...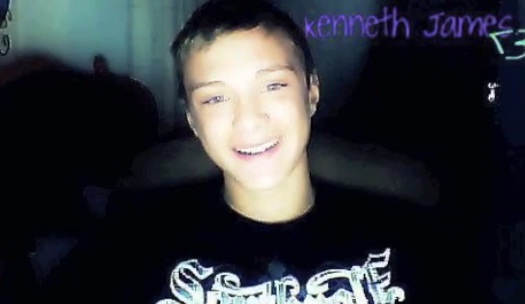 I look at this photo and my heart breaks at the thought of him waking up each morning trying to find the courage to get through just one more day. I look at this photo and try to fathom just how bad his life was that killing himself was the best solution he could think of to escape it. I look at this photo and wonder for the millionth time how somebody could be so cruel as to torture somebody over something that's not their fault, something they cannot change, and something that shouldn't matter. I look at this photo and die a little bit more inside because we live in a society where kids are killing themselves because they're different.
Was there nobody who would stand up for this poor kid?
If not for hearing this same story play out dozens of times before, it would be inconceivable.
New videos are being added to the It Gets Better Project all the time, and yet telling these kids over and over again that they're lives will be okay if they will "just hang in there" doesn't seem to be enough. In some cases, it doesn't matter how great things will be in the future, life is just too difficult for them to go on right now. And never was this made more clear than when looking at Kenneth's "When I Get Married" Pinterest page. He lived in Iowa where same-sex marriage was legal, had envisioned a bright future for himself where he would be married and happy, but didn't survive long enough to see it.
Which means that things need to BE better right now.
Kids need to know that they are accepted and valued right now.
Which is tough to get across when every time you turn around there's yet another attack on LGBT persons. Religious leaders screaming that being gay is an abomination... politicians saying that gays getting married will doom society... news pundits saying that gay soldiers will ruin our military... hate groups saying that if kids see gay people in public they'll turn gay... the dumbassery never seems to stop. It's all fucking bullshit, of course, but that's the kind of environment which is corrupting today's youth and turning them into bullying hate machines. It's horrifying how something so grotesque could ever become acceptable to society, but history is replete with examples of this kind of hatred going "mainstream." We just never seem to learn from it.
And yet... in small steps, things are moving in the right direction.
High school athletes are stepping up to befriend and protect their bullied classmates, and it's a step.
Organizations are forming to foster acceptance of gay youth by their straight peers, and it's a step.
Schools are adopting "No Bullying" policies to curb aggression towards students under attack, and it's a step.
And more steps are being taken every day. Sadly, some of them are steps backwards, but ultimately we are inching ahead. Which means we're making progress. Which means things are getting to be better for school kids right now. But not nearly fast enough. Because Kenneth Weishuhn deserved to live to see the future he saw for himself, and any society which would deny him that doesn't deserve any future at all.
Rest in peace, Kenneth. And forgive me for not being able to stay silent on a day where silence is meant to improve things for people just like you... innocent kids who deserve far better by our hands.
Posted on October 20th, 2011

Seven years, six months, and twenty-six days ago, a young man wrote to a stranger on the internet out of desperation because there was nowhere else he could turn. All he wanted was a friendly ear to share his dream of escaping from the horrific life he had to endure. Escaping to a place where he wouldn't be bullied, teased, or beaten just because he existed.
And since then not a day goes by that I'm not reminded of how this poor kid woke up each morning trying to find the strength to make it through life just one more day.
How can I forget? Victims of bullying are killing themselves in record numbers because they can't see any other way to end the suffering.
And we as a society continue to let it happen.
Homophobic activists spare no expense in screaming to the world that gays are filthy perverts who are ruining civilization, destroying marriage, corrupting children, and causing God to plague us with hurricanes and earthquakes. They waste no opportunity to tell us that homosexuality is an evil abomination that should be driven from our community. They advocate sexuality to be nothing more than a "lifestyle" that only the most horrible people choose to embrace. They preach hatred and intolerance to the masses and feign shock when their words inspire an environment so hostile that people would rather die than be forced to live in it.
And while everyone is entitled to their opinion, I'd argue that such ruthless persecution falls outside merely "voicing one's opinion" and could more realistically be described as "inciting violence."
Not that there haven't been steps in the right direction.
Since I got the email that changed my life back in 2004, there have been a number of organizations started to help troubled LGBT youth find inspiration, hope, and help. The It Gets Better Project is a shining example of how people can combat the hatred, lies, and fear that the truly perverse elements of society use to make innocent kids think that their life isn't worth living. Happily, other such amazing projects are arriving all the time. Society is starting to use tolerance and truth to reclaim ground lost by discrimination and lies.
And today is Spirit Day when millions will be wearing purple as a sign of support for lesbian, gay, bisexual, and transgender youth. It's a way of telling them that despite everything they have to endure, there are people out there who care about them. That they matter. That they are loved. That there are people out there who are fighting for them...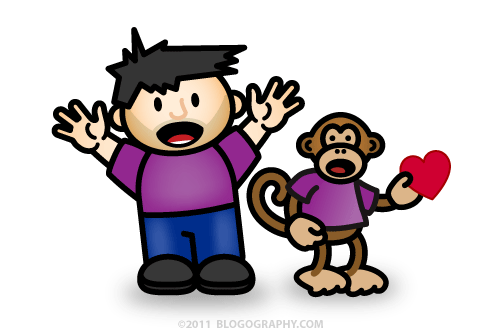 Seven years, six months, and twenty-six days ago a young fan of my blog wrote to me because there was nowhere else he could turn. Such a heartbreaking tragedy is unforgivable. Fortunately, it's also fixable. It's just a matter of caring enough to want things to change.
Then doing your part to make it happen.
Help out when you can.
Speak up when you're able.
Create a world in which LGBT youth are celebrated and accepted for who they are.