I am still not stepping foot into theaters. A part of me wonders if I ever will again. Because I have to say... I like watching movies at home far, far more than I do going to a theater. Like... frickin' MILES more.
Quentin Tarantino recently made a plea about supporting movie theaters thusly... "You have an experience with a bunch of strangers. And at that moment, once the movie gets going, once the lights are down, you become a collective." And I'm like... yeah, but it's the other people that makes going to the theater such a shitty experience. And that was BEFORE the pandemic! People talking. People texting. People taking phone calls. People yelling at their kids. People putting their feet up on your seat or kicking it. People being assholes. THAT'S WHAT I HATE ABOUT THE THEATER. And since people now-a-days are more awful and less considerate with each passing day, I'll take a big ol' pass at paying a lot of money for a shitty experience. I have a very nice home theater system where there's nobody to ruin the movie for me. Love your movies, Quentin... but... well... sorry. I can wait 2 to 4 months to avoid being tortured.
And while I was tempted to see Shang-Chi in theaters because I wanted to see it so bad (something I am currently struggling with when it comes to Eternals and will struggle with again when it comes to Spider-Man: No Way Home), I held fast.
But I'm still supporting the movie. I bought a copy on the iTunes Store today ($20, cheap!), but will repeat-watch on Disney+ to be sure that it gets my views (besides, Disney+ is showing the IMAX-filled scenes in near-full-screen height, which is an added bonus).
And now we can watch together, yay!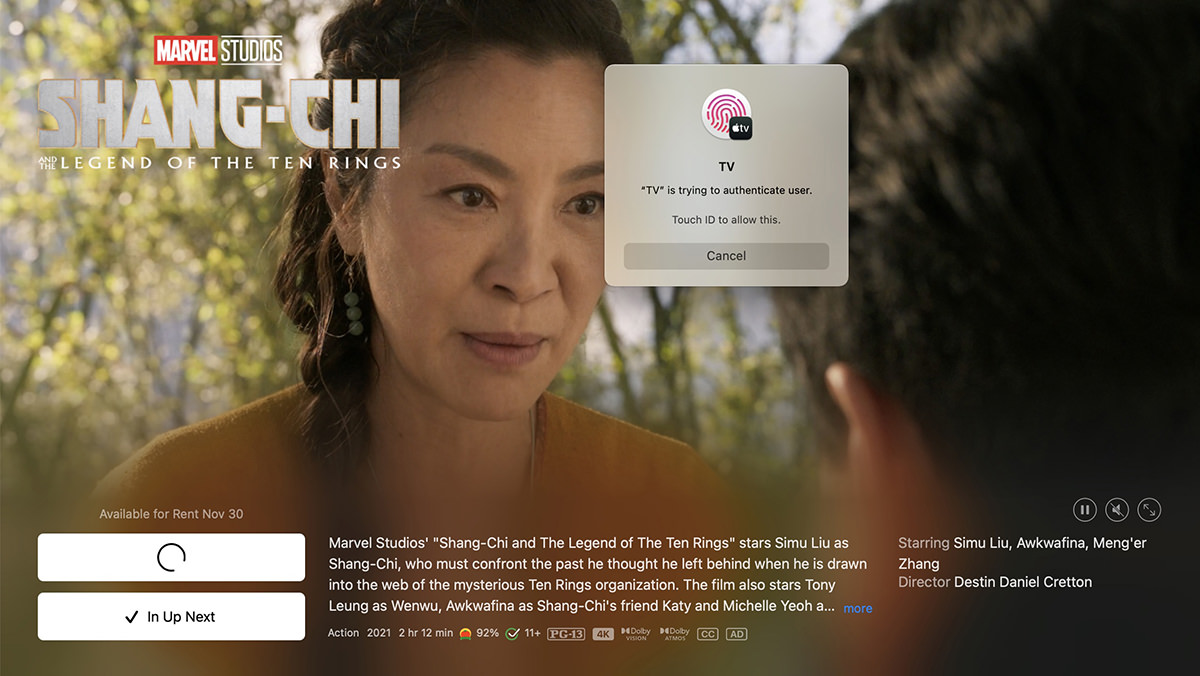 My spoiler-filled type-along with my second viewing of the film is in an extended entry.
→ Click here to continue reading this entry...

It's really weird to think that after a year of no new Marvel Studios films, we're making up for lost time by getting four of them in the second half of this year. I just prepaid my Premier Access fee for Black Widow last night so I'm all set for July 9th. I think the other three are all theaters-only, so I guess that's the end of the road for new releases at home.
After some social media posts this morning promising that the first full trailer for Shang-Chi and the Legend of the Ten Rings would be released... and here we go...
That cast tho! I honestly didn't know what to think of Simu Liu in the lead since all I knew him from was Kim's Convenience, but it looks like he's going to be the super-hero action type juuuuuust fine. Then, of course, there's Michelle Yeoh, Tony Chiu-Wai Leung, Fala Chen, and... Awkwafina! This film drops on September 3rd.
Then it's a one-two punch with Eternals on November 5th and Spider-Man: No Way Home on December 17th. On the Disney+ side, we've got What If? and Hawkeye and Miss Marvel also coming up sometime in the back-half of 2021.
The Marvel Cinematic Universe will be going into 2022 without half of its six original Avengers since Iron Man, Captain America, and Black Widow are all out of play. My guess is that Hawkeye will die or retire in his series, which would leave just Thor and Hulk (plus Nick Fury, of course). Black Panther was tragically lost to us, which leaves Ant-Man & The Wasp, War Machine, Okoye, Shuri, Nakia, Doctor Strange, Wong, Spider-Man, Captain Marvel, Vison, and The Scarlet Witch remaining from the second wave. Along with Falcon (the new Captain America) and Bucky. And then there's The Guardians of The Galaxy, which may be a very different team after the third movie of the trilogy wraps.
As for the future?
It's confirmed that we're getting (or have already spotted) Shang-Chi, The Eternals, The Black Knight, Lady Thor (Jane Foster), Photon (Monica Rambeau), Miss Marvel, Kate Bishop (Hawkeye II), She-Hulk, Moon Knight, Blade, Ironheart, Stature (Young Avengers—Cassie Lang), Patriot (Young Avengers—Elijah Bradley), Wiccan (Young Avengers—Billy Kaplan/Maximiff), Speed (Young Avengers—Tommy Shepherd/Maximoff), Falcon (Young Avengers—Joaquín Torres)... plus there's a rumor that the Netflix heroes will be integrated (Daredevil, Jessica Jones, Luke Cage, Iron Fist, and The Punisher)... plus Fantastic Four (and most likely X-Men) as well. Deadpool will be back, but how he'll fit into things is anybody's guess.
That's a lot.
But where's Alpha Flight, Namor, Wonder Man, Nova, Captain Britain, and The Silver Surfer?