Posted on October 6th, 2019
Posted on August 27th, 2019
Posted on August 23rd, 2019
Posted on August 20th, 2019
Posted on August 1st, 2019
Posted on July 31st, 2019

I wrote about Avengers: Endgame after watching it at the theater.
But when it was released on digital earlier this week, I decided to give it another look... then another look... so I could comment on it in a bit more linear fashion.
I still feel it's an amazing movie.... and even more amazing accomplishment...

Obviously there's going to be an abumndance of spoilers, so you've been warned...

The opening of the movie acts as a good recap of where we left off in Infinity War but, thankfully, isn't repetitive. Then Captain Marvel shows up, you realize that the Avengers she met in the Captain Marvel mid-credits scene ("Where's Fury?") must have sent her to find any off-planet Avengers survivors, and we're off to the races. The idea that the Earth Avengers and Space Avengers have no idea which of their teammates survived "The Snap" is pretty gutting. Especially when you get to Rocket comforting Nebula. And watching Rocket in these opening scenes just boggles my mind. You simply do not question that he's an actual character on-par with everybody else in the film. And he's a raccoon! Talk about movie magic.
Right from the start of Endgame you can tell that the entire purpose of the film is to wrap up everything which came before it. There's never-ending echos to past movies, and true fans are constantly being rewarded. This is pretty wild when you consider that Captain Marvel, easily the most powerful character in the entire film and the lynchpin for dealing with Thanos, hadn't even shot her solo movie when Endgame was being made. How everybody collaborated to make her appearance here sync up power-wise, visual-wise, and tone-wise with the Captain Marvel movie is the true marvel of Marvel Studios. There are single films which lack this kind of consistency. But here's Marvel making it look (relatively) effortless across 22 films (23 if you count Spider-Man: Far From Home).
Nowhere is Marvel's cohesiveness more visible than when Nebula is on-screen. She is a bit-part villain from a D-List comic book which has now become a central figure in the biggest super-hero team-up in cinematic history. It's so jaw-dropping amazing that I have a hard time wrapping my head around it. Yes, Marvel had a master plan to use Infinity Gems as MacGuffins in all their films from very early on with the intent of somehow tying them all together in the end, but the fact that they managed to pull it all of this well? Thank you Kevin Feige.
Back to Captain Marvel... it's fairly easy to see how her off-the-charts power level is going to be challenging going forward. The current solution seems to be to have her be "off-planet and unavailable" but that's going to get really tired really fast. I mean, come on... just look at her when they're off to attack Thanos! How many problems couldn't she solve in five minutes? Sure it's cool how totally confident she is, how kick-ass she is, how powerful she is... and her glowing aura is giddy-inducing wonderful... but I'm more than a little curious to see how she's going to play out in the future of the MCU.
Killing Thanos in the first twenty minutes is pretty ballsy, but it definitely leaves you wondering where they're going to go from here if the main villain of the movie is gone. And little did we suspect...
Five Years Later.
And lo did a rat activate the Quantum Tunnel which freed Ant-Man from being trapped in The Quantum Realm! It's funny to think about how Ant-Man ends up being the key to absolutely everything, but that's how Marvel rolls. They find surprising ways to make small characters have big impact in the grand scheme of things. Fortunately, they've got the ample acting chops of Paul Rudd behind the character or these scenes of "life after The Snap" would have rang hollow (ditto for Scarlett Johansson, who has a handle on somebody being haunted like nobody's business).
At the 30-minute-mark, Scott Lang shows up at Avengers Compound and the movie starts for real.
It also shows its hand.
Because the minute that I saw how much time they were devoting to Tony Stark's happy post-Snap life, I knew... knew... he was a goner. Luckily, Robert Downey Jr. gives the performance of a lifetime and totally sells it. Watching him interact with his daughter... with Pepper... with his former teammates... it's all so... beautiful?... I guess is the word I'm looking for? Tony's character arc over the past decade has totally come full-circle, and it's everything you could hope for. And speaking of story arcs...
Here we are introduced to Smart Hulk... the merging of The Hulk and Bruce Banner. It's a wonderful coda to Bruce Banner's arc through all the Marvel Studios films. Finally, at long last, Banner and Hulk are at peace and living in harmony. It's also a terrific starting point for new Hulk stories (should we be lucky enough to get them). What's even more remarkable than Smart Hulk is the absolutely mind-blowing computer graphics which brought him to life. Flawless. His every facial expression is realized to such a degree that the whole "Uncanny Valley Effect" is minimized. At no point did he take me out of the story. It's just... all Mark Ruffalo all the time.
If there's a scene which illustrates just how deftly Marvel manages to work humor into their stories, it's the time travel experiments with Scott. It's funny, but it's not just being injected at random for the sake of being funny (like the horrific Joss Whedon "humor" that was shoe-horned into DC's Justice League after the fact). Marvel's humor feels like it has purpose and is there to advance and serve the story. And that's why it succeeds. Plus we get Smart Hulk handing out tacos!
If you didn't think that Tony Stark was going to die after watching his family scenes, you definitely knew it when he handed Cap his shield back.
The reunion between Hulk and Valkyrie, completely cementing Thor: Ragnarok even further into the MCU grand narrative, is one of the rare moments in the film that had me scrambling for an explanation. In Ragnarok, Bruce didn't remember anything about his 5 years as The Grandmaster's "beloved champion." But here he does. Which means that when Banner and Hulk merged, the result has memory experience of both? That's gotta be the stuff of nightmares.
I read more than a few comments about how Thor's weight gain was just a way to make fun of heavier people. I didn't see this at all. The result of Thor's PTSD actually seemed like it was handled with great thought and care... even if there were some comments made by other characters which were pretty mean and played for laughs. What did bother me was the whole "shake it off and move on" attitude that was leveled at poor Thor. That seems deliberately cruel and unjust. After what he's been through, you'd expect a bit more empathy from his friends. On the bright side, this is yet another remarkable performance by Chris Hemsworth which has me dying to see more Thor.
Clint Barton's descent into a murdering vengeance-seeking bastard seems a bit forced but, seeing as how the guy lost his entire family, perhaps it's not such a stretch. This "Ronin" persona is kinda-sorta from the comics, but it makes even less sense in this film. Why in the hell would Hawkeye give up the bow and arrow with which he reigns supreme? Obviously the ramifications of Endgame will be explored in the Hawkeye series on Disney+, so I guess they can afford to short-change his character here... but it still seems wild how his character could change so much with so little explanation.
And here's where we get to how time travel works in the Marvel Cinematic Universe.
I'm saving my thoughts on how it works for further down the page, but suffice to say I really like what they've done here. It makes perfect sense. Regardless, we get current Avengers going back into earlier Marvel Studios movies, and how cool is that?
Ahead to the Past.
And here's where the fun begins...
ANT MAN, IRON MAN, & CAPTAIN AMERICA: The "behind the scenes" of what happened after the Battle of New York was kinda cool... but hands-down the best moment was how Cap managed to secure the scepter from Hydra. Right before Robert Redford makes a guest appearance! I was even more surprised by this than I was at seeing The Ancient One! And of course this is where Loki from the past becomes the new Loki, allowing him to appear in his Disney+ series while not negating his death in Avengers: Infinity War. Clever that. Almost as clever as "America's Ass."
SMART HULK: The amount I died when Smart Hulk was "smashing" to impersonate his more rage-fueled earlier self was pretty huge. Then he goes to retrieve the Time Stone and the first of many guest-appearance bombshells is dropped... The Ancient One is back! Mainly as a way to explain how time works in the Marvel Cinematic Universe. Again. Which, again, I will comment on further down the page.
THOR & ROCKET: Frigga coming back to help Thor in the way only a mother can was exceedingly sweet. Finally, here's somebody not making fun of Thor for being traumatized by what he's experienced and genuinely trying to help. At least until she told him to eat a salad. We also get the tiniest of appearances by Natalie Portman's Jane Foster, which was nice. And was probably due to her coming back for Thor: Love and Thunder.
NEBULA & RHODEY: They could have easily come up with a way to remove the Power Stone without stripping the shell off of Nebula's robotic arm, but it's actually a genius move because it will be an easy visual cue for distinguishing "good" Nebula from her "bad" past-self. Out of all the teams, this is the one that gets a lot complex in a little amount of time thanks to Thanos of the time finding out what The Avengers are up to.
IRON MAN, & CAPTAIN AMERICA: Well this was an added bonus. We get guest appearances not only by 1970's hippie Stan Lee and Farrah-hair Hank Pym... but Howard Stark and Peggy Carter as well! Seeing as how Tony dies and Steve ends up retired, I suppose it's only fitting that they get to reconcile the relationships which most haunt them.
BLACK WIDOW & HAWKEYE: I realize that the only way to make victory ring true would be for some sacrifices to be made along the way... but Black Widow? Like Samuel L. Jackson's Nick Fury, she's the glue that holds all the movies together. Unlike Nick Fury, Natasha has been pretty much shafted over the years. She exists only to forward other characters' stories without getting much of story of her own. Sure they are remedying that by finally giving her her own film, but she's forever stuck in the past now, and that's lame. She deserved a future in the MCU after how she's been there for literally everybody else, and now she ain't got one. Still, given how The Soul Stone works, I guess somebody had to die. I don't know that Hawkeye would be a better choice, so maybe this was the right choice. I certainly feel it more than if it had been Clint. But I'm still bitter about it.
Avengers Assemble!
I'll try to ignore the question of how The Milano (ship to The Guardians of the Galaxy) has evaporated only to appear again at the end of the film... let's just assume that Clint shrunk it again before he went forward in time. And it seems weird it is that The Infinity Gauntlet conveniently courses with gamma radiation just like The Hulk, giving him the ability to wield it... whatever. What I'd like to focus on is how Ant-Man has the ability to shrink... then grow into Giant-Man... when it was made abundantly clear that he was out of Pym particles? This gaping plot hole is ridiculously easy to see, and yet it was totally ignored. And Janet VanDyne was absolutely not wearing The Wasp suit when she was dusted (I checked) so where did she get her Pym Particles?
The final battle was pretty phenomenal, all things considered.
Even when you give a pass to Captain America being able to lift Thor's hammer. There's plenty of comic book history precedent for Steve being able to wield Mjölnir. Heck, the MCU hinted that it was possible back in Avengers: Age of Ultron. It was a smart way to give Captain America the ability to take on Thanos which was believable. What I don't understand is how he got to control lightning with it. As explained by Odin in Thor: Ragnarok, Thor himself is where the lightning comes from, and Mjölnir merely allows him to focus it more easily. Perhaps Mjölnir has some kind of residual lightning charge which makes this possible, but it still seems an odd thing to have happen. How does Cap even know how to make the lightning work? How does he know how to summon Mjölnir in the first place?
No other point in the movie hit more of an emotional note with me than when Cap is facing horrific odds all alone against Thanos and his entire army... than when he hears Sam say "On your left" through his earpiece. That's yet another nod to a past MCU film (Winter Soldier). It's the turning point of the entire movie, and any fan of the past decade will be cheering.
Back in Civil War when Hawkeye is facing off against Black Panther, an opponent for which he's badly outmatched, he buys time by saying "We haven't been introduced. My name is Clint." Black Panter says "I don't care." and proceeds to start pummeling his ass. During the Endgame final battle, Black Panther wants the Infinity Gauntlet and says "Clint, give it to me," at which point I got the warm fuzzies. Awwwwwww. T'Challa remembered his name! He must care a little bit after all!
Poor Wanda. She has to deliver the same line to Thanos that she gave to Ultron. Lucky for her, she's definitely got the power to back up any threat she makes, and having her battle Thanos was pretty sweet.
Spider-Man bringing back "instant-kill" from Homecoming was an LOL moment for me.
Captain Marvel gets the entrance to beat all entrances, and watching her decimate Thanos's ship all by her lonesome was pretty epic. Though not quite as epic as it would have been had we not already seen her so that in Captain Marvel. Still, having her be the only one who can truly go toe-to-toe with Thanos via brute force was more than enough.
The "Ladies of the MCU" moment may have been artificial and manufactured, but I just don't care. We've come a long way from when Black Widow was the sole female super-hero in the MCU.
And then we reach the end of the battle when Doctor Strange tells Tony that this is the moment.
I really, really, wish somebody had laughed at Thanos as his shit faded away.
Ending Endgame!
Rumor has it that Tony originally had dialogue as he lay dying. Robert Downey Jr. felt it would be more powerful if there was nothing left for him to say... his actions and sacrifice speaking more than words ever could... and he's absolutely right. Watching as the beginning of the entire Marvel Cinematic Universe from the very first film has his life fade away was about as powerful way to close out The first decade as we could have hoped for.
The reactions from the characters at Tony's service are interesting... as is the order which they appear. His family is first, of course. Followed by his closest friends. Followed by Captain America, who has seen many, many soldiers die in battle, and you kind of get that perspective on his face... stoic, but showing loss. Since Peter Parker is just a kid, I'm glad they had Aunt May there for him. Thor has experienced loss that nobody else here could possibly fathom, so Hemsworth gave him an unease that is perfectly fitting. Smart Hulk's more emotional response was exactly what was needed to drive home that this Hulk is very different from the early days of the character. Doctor Strange is in the unique position of knowing that he essentially sent Tony to his death, but also knows there was literally no other possible way to win this. The Ant-Man "family" had little to do with Tony Stark, so they appear a bit more detached, as they should be. The Guardians of the Galaxy have the most interesting response. All but Quill are aliens, and their perspectives on death are undoubtedly far removed from ours, which is smartly reflected. Note that Gamora is gone, her character having reverted back to a more raw state (something confirmed in the deleted scenes). Also note that Nebula gets a longer shot than most, which is apt considering how she is closest to the entire Infinity Saga and crucial to how it played out. Black Panther, Okoye, and Shuri's presence representing Wakanda is appropriately stately and reserved. Clint and his family here are a bit more affected than you'd expect... until you realize that this goodbye is more about Natasha to them than Tony Stark. Sam and Bucky, who have done nothing but fight since they met, have common ground here, leading directly into their upcoming Disney+ series, I'm sure. Wanda, likewise, is probably thinking more about losing Vision than Tony, but that too is leading into a Disney+ series. The young guy standing alone confused some people, but I recognized him immediately as Harley, the kid from Iron Man 3, and I'm glad they thought to add him here. I completely missed Maria Hill and General Ross when I saw the film in theaters, but it makes sense they're here. Captain Marvel is the one character who feels a bit out of place, yet it would be strange if she weren't here given her impact on the final battle. And then there's Nick Fury, the glue that holds the entire Marvel Cinematic Universe together saved for last. Perfect.
It was nice at the end to acknowledge that Tony wasn't the only one who sacrificed his life. Black Widow and Vision are gone as well. Though Black Widow has a movie coming up, and Vision is assumably a part of the WandaVision Disney+ series.
Valkyrie becoming queen of New Asgard is absolutely fitting, and sure to be explored in the upcoming Thor: Love and Thunder. Having Thor rejoin the "Asguardians of the Galaxy" should have interesting consequences going forward for both these franchises.
And... here's the end-end-end of the movie. Cap heads back with the Infinity Stones to prevent new realities from ever forming, Hulk acknowledges that he misses Natasha, and Falcon is given Old Cap's shield (from an alternate reality, see below) so he can become the new Captain America. Of course Bucky is there, which is a jumping off point for the new Falcon and Winter Soldier Disney+ series. Neat!
The End!
Paradoxically Speaking?
After the movie debuted, fanboys immediately got their panties in a bunch because of Steve Rogers' decision to go back in time and lives a life with Peggy Carter that he would have had if he hadn't been frozen in ice for decades. "THIS CONFLICTS WITH PEGGY SAYING THAT SHE MARRYING SOMEBODY STEVE RESCUED IN THE FIRST MOVIE!" and "STEVE ERASED PEGGY'S LIFE WITH HER HUSBAND AND KIDS! WHAT AN ASSHOLE!" Except... he didn't. As the movie went into meticulous detail explaining, that's not what happens with time travel disruptions in the Marvel Cinematic Universe. As explained by Hulk and Nebula to Ant-Man and Rhodey before they experiment on Clint... any change to the past creates an alternate reality...
This was such an important point for the story that they had The Ancient One re-explain it to The Hulk. The writers literally provided visuals to make it crystal clear...
Which is why I go crazy every time I hear a new diatribe on Captain America's time travel being a plot-hole. Let's break this down one more time, shall we? If you go to the past, the future becomes your past, so the future can't be changed. So when you change something in the past (like take an Infinity Stone), a new reality is created where that Infinity Stone has disappeared from existence. In order to fix this, Captain America went back in time and returned the stones to a point before any changes would create a new reality. Namely, he returned them to immediately after they were taken in the first place. This closed the loop and the new reality which was created then fades away because it never existed...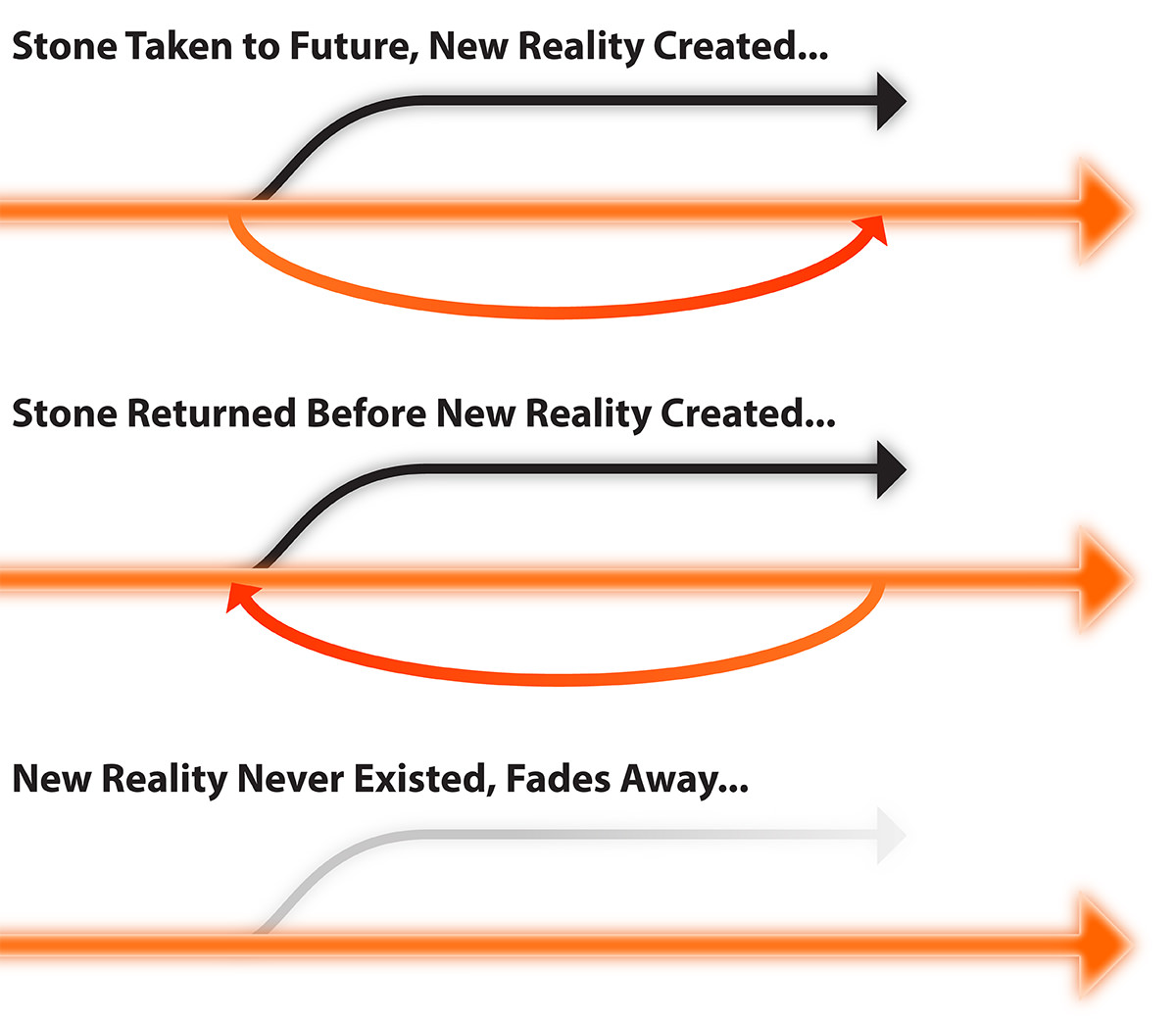 It's an incredibly simple concept.
And it applies to Steve Rogers' journey back in time as well.
At the end of Endgame, Steve returns the Infinity Stones and all the new realities created by their removal no longer exist. He then goes back in time to the late 40's or early 50's... before Peggy Carter got married and had kids... to live out his life with her. As clearly stated, this change creates a new reality where Steve is the one who marries Peggy. His original reality... the reality of all the Marvel Studios movies... where Peggy got married to some other guy, had kids, got dementia, then died... still exists because, to Steve, it's the past. And after Peggy died and Steve was ready to return to his original reality, he traveled back into the past BEFORE the new reality was created... then traveled into the future of the original reality as an old man (which is what we see at the end of the movie)...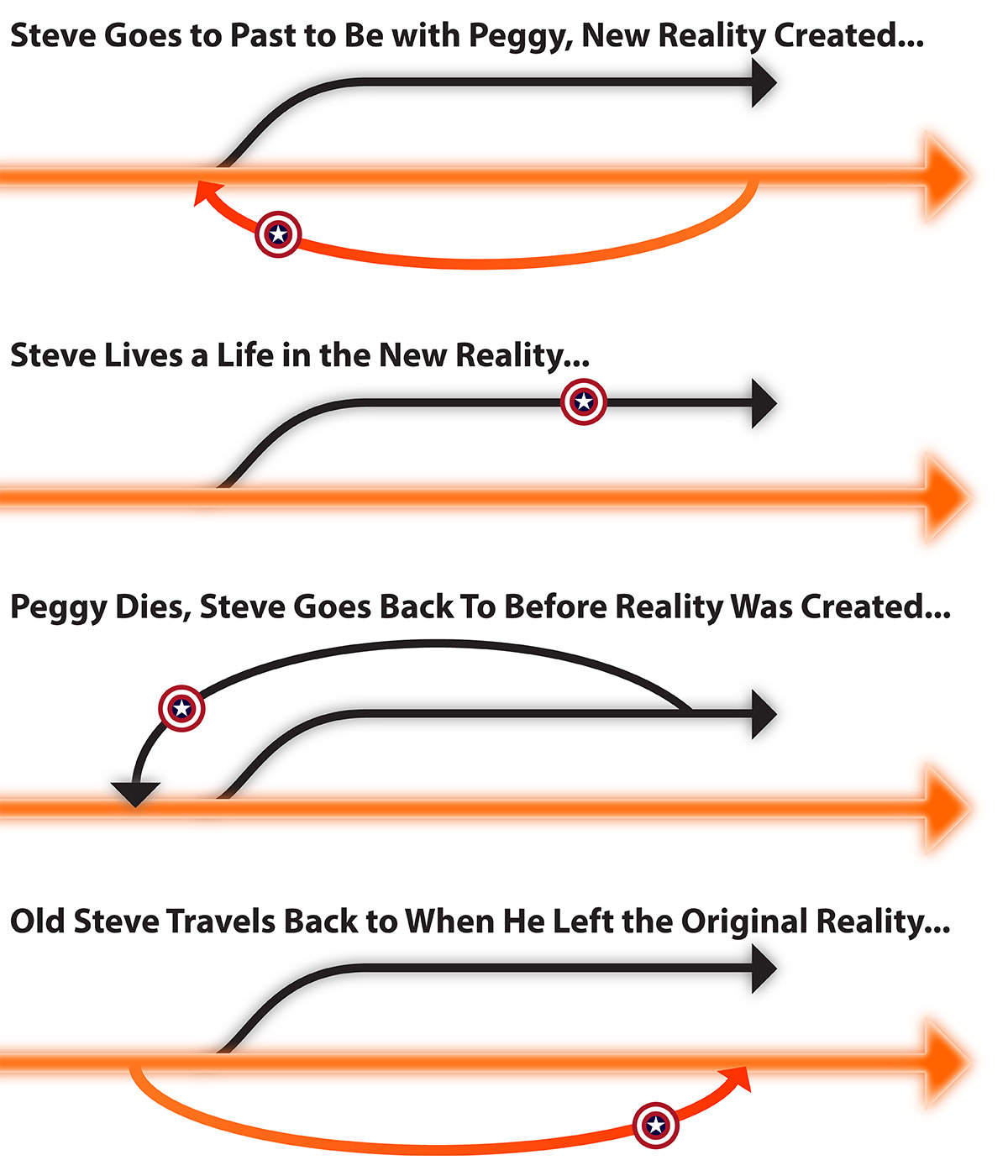 So does this mean that other reality where he married Peggy was erased? NO! because now that is in Steve's past! That reality is still there too. An alternate reality which may or may not be revisited in future Marvel films.
It all makes perfect sense, and everything works exactly as it was spelled out in the movie. If there's a plot-hole here, it's that the objects which the stones were encased were forgotten...
I love that YouTube Channel. And, no, I have no clue as to what happened in the new reality which was created when Loki escaped with the Space Stone. Perhaps that will be addressed in his Disney+ series? Because unless he crosses back over into the primary reality, that's where he is now. Our Loki is still dead. I guess I'll just ignore it all until we actually get the series.
And yet...
WHERE DID OLD CAP'S SHIELD COME FROM?!? If he brought it from the new reality he created when he went back to be with Peggy... if he found his other-dimensional-self in the ice there, then dug up the shield, but left himself frozen... does that Captain America not get a shield when he is rescued from the ice in the future? Or maybe Old Cap waits until New Reality Cap wakes up, then asks himself for the shield so he can take it back to his original reality, leaving New Reality Cap with nothing? Or did he go to New Reality Wakanda and convince them to make him a second shield so he had one to take back with him? That would have been interesting to see. Or... best theory... New Reality Captain America dies, and Old Cap retrieves the shield? Who the heck know? Regardless, it's incredibly lame that this gaping plot hole was left dangling. One can only hope that the New Reality Steve created will be revisited in future MCU films so we can have an answer... or ten.
Final Thoughts.
Given the nature of comic books, there's nothing to say that Tony Stark, Steve Rogers, and Natasha Romanoff can't return in future movies, even though somebody new will undoubtedly be taking up their super-hero mantles (ala Sam becoming Captain America). They could come back in dream sequences... flashbacks... resurrections... alternate reality versions... whatever. Black Widow's movie takes place entirely in the past, so that's yet another way to have them come back. Though, to be honest, it's probably more powerful if their characters aren't brought back. That kinda cheapens their sacrifice and will diminish their legacies.
So... good flick. Impossible flick given the complexities of juggling so many Marvel Studios franchises, a decade of history, and dealing with the astronomically high expectations of Marvel fans. For the most part, it feels like they succeeded. I certainly had no complaints walking out of the movie theater... or turning off my AppleTV.
As for the future of the Marvel Cinematic Universe? Well, if Spider-Man: Far From Home is any indication, it's going to be just fine. Hopefully Kevin Feige will find a way to pull another rabbit out of the battered old hat with weak series like The Eternals and Shang-Chi in the pipeline. Hey, he sure managed it with Guardians of the Galaxy!
Here's hoping the next decade is even half as exciting as the first.
Posted on July 20th, 2019

Hope you like comic book super-hero movies... because a Very Special Marvel Cinematic Universe at Comic-Con Edition of Bullet Sunday (filled with post Avengers: Endgame spoilers) starts... now...

• Black Widow — May 1, 2020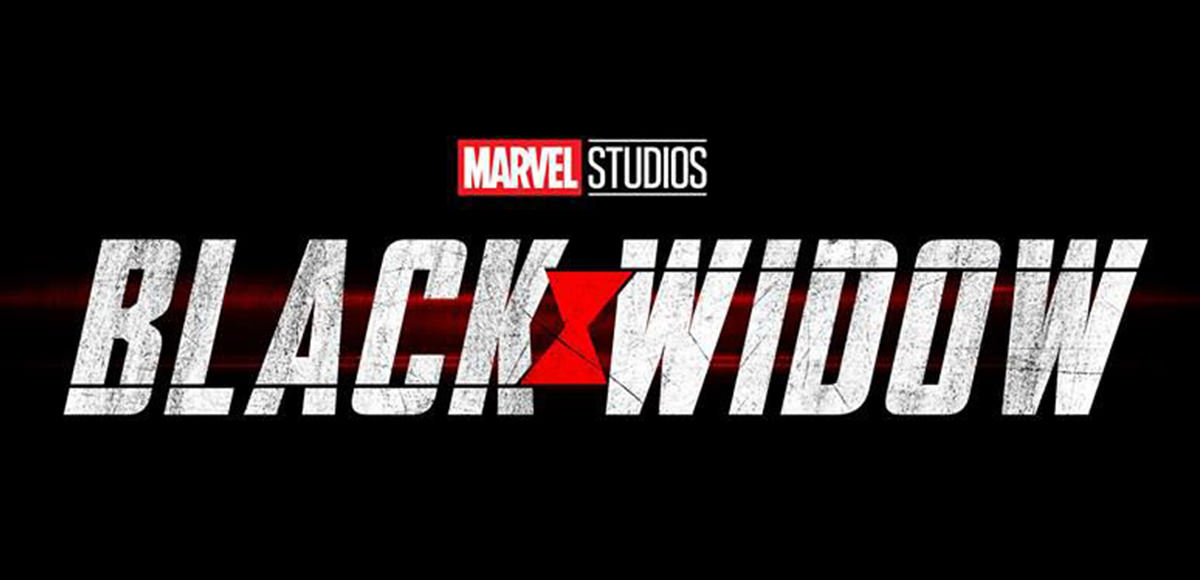 The crowd at Hall H at Comic-Con were treated to actual footage of Black Widow's solo movie (
AT LONG LAST!
). Since she's, like, um...
dead
... the film takes place in the past, but that's better than nothing, I suppose. It's a spy-action thriller featuring Captain America villain Taskmaster and promises lots of the cool hand-to-hand combat that Natasha is famous for. As with every other Marvel film which delves into the MCU's past, there's bound to be a motherlode of clever back-story surprises for stuff that's happening in current movies. I love that. But I sure hope it doesn't detract from Black Widow, since this is likely her last major MCU appearance. I would definitely be okay if Hawkeye shows up so we can
finally
find out what happened in Budapest!

• The Falcon and Winter Soldier — Fall, 2020 (Disney+)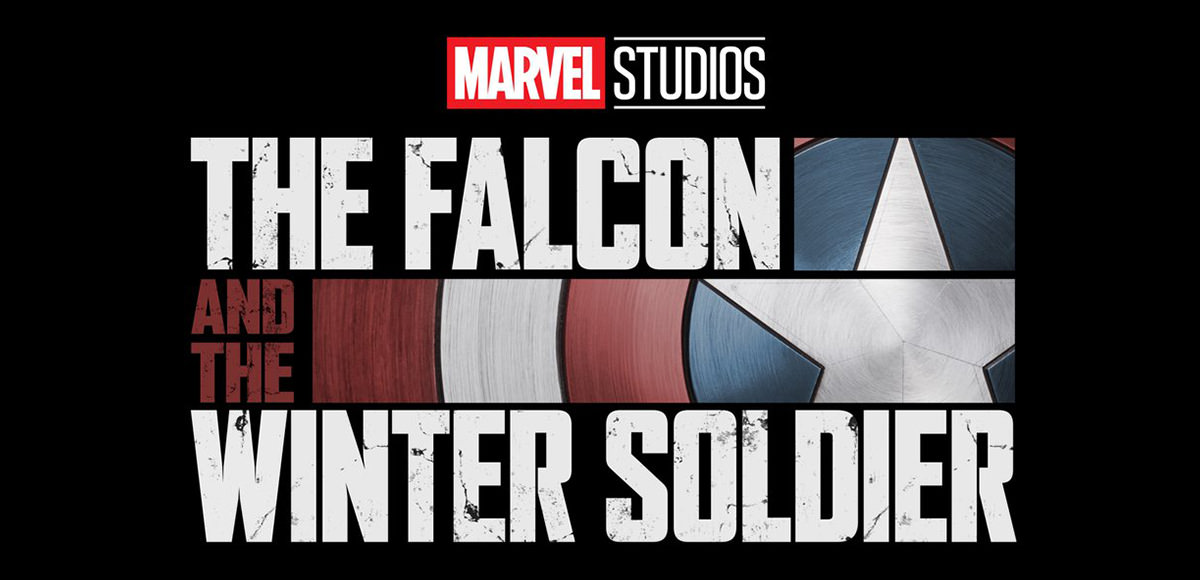 Look... the minute that John Wick's Derek Kolstad signed on as a writer, I didn't need to hear anything else. I love Anthony Mackie and Sebastian Stan in their roles, so everything else is gravy. And it looks like Marvel is serious about the flavor of that gravy because Kolstad knows how to write kick-ass action and they're bringing back Daniel Brühl as Baron Zemo. I'd pay for six months of Disney+ just to see this show.

• The Eternals — Nov. 6, 2020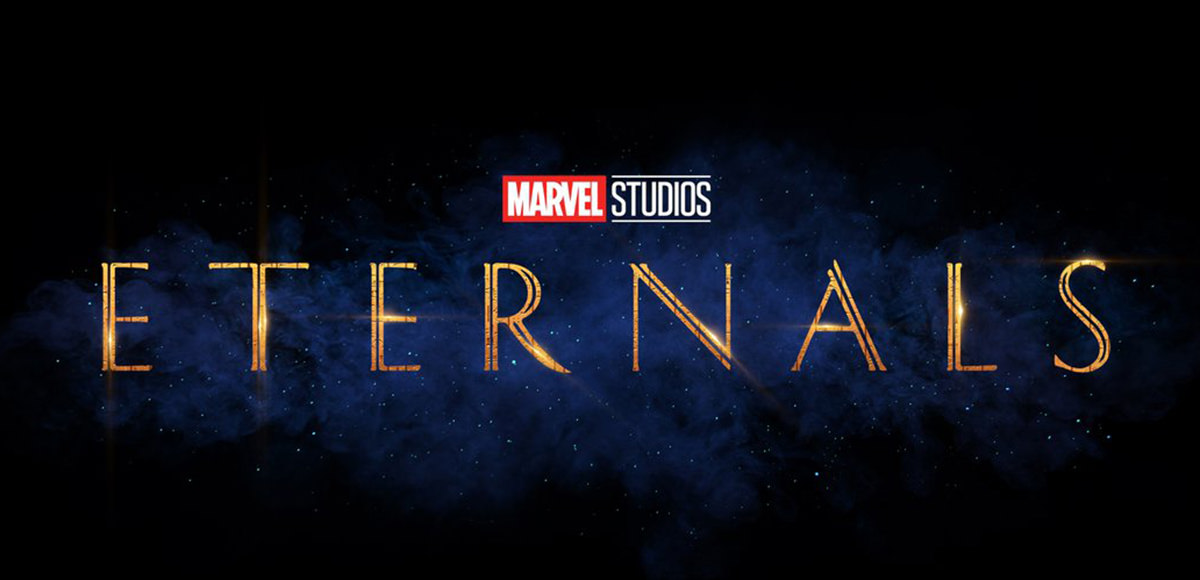 All the rumors proved to be true when Angelina Jolie walked out on the stage, confirming that she would be headlining the film about Marvel's god-like beings, The Eternals. The comic book has revised the characters so many times that I've lost count, but their astounding power is sure to make them interesting cinematic material. The cast announced was as follows... Angelina Jolie as Athena, Richard Madden as Icarus, Kumail Nanjiani as Kingo, Lauren Ridloff as Makari, Brian Tyree Henry as Fastos, Salma Hayek as Ajak, Don Lee as Gilgamesh, Lia McHugh as Sprite. I was never a huge fan of the comics, but I am interested to see how the characters will be fit into the MCU. This being Marvel, I'm guessing characters from the current movies will make an appearance, but I'm not quite sure how that's going to work. Could be that Marvel is just going to keep them entirely separate, but I doubt it.

• Shang-Chi and the Legend of the Ten Rings — Feb. 12, 2021

What began as a comic book rip-off of the television show Kung-Fu (which was called Master of Kung-Fu), Shang-Chi was gradually worked into the Marvel Universe proper. Unfortunately, most times he was shoe-horned into stories in ways I didn't think worked very well. Like him showing up and training Spider-Man how to fight better or something silly like that. For the movie, it looks like Marvel is working hard to not have the character seem silly. First of all they are bringing in the real Mandarin as the villain (as opposed to the fake Mandarin from Iron Man 3). Second of all, they've added Awkwafina to the cast. That alone guarantees I'll be watching.

• Loki — Spring 2021 (Disney+)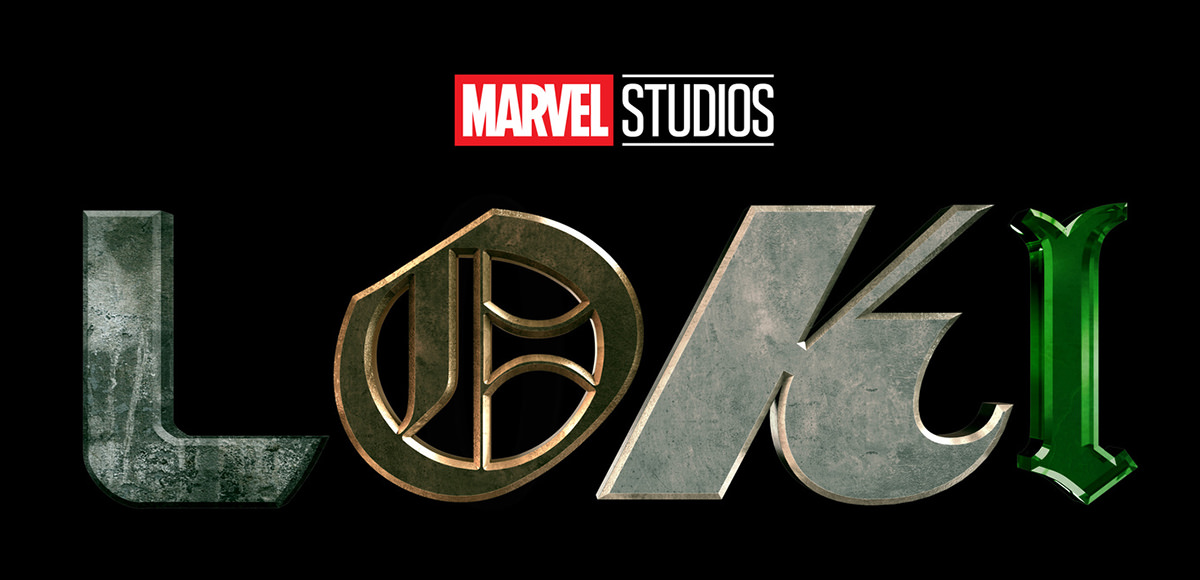 When it was announced that Loki would be getting a series for Disney+, there was a lot of speculation as to how that would happen... seeing as how he's dead and all. But then Avengers: Endgame comes along and shows how the Loki from the past (immediately following the first Avengers movie) escapes with the Space Infinity Stone. This means the Loki we'll be seeing in this series has never experienced the events in Thor: The Dark World, Doctor Strange, Thor: Ragnarok, or Avengers: Infinity War. He's just been defeated by Thor and likely still hates him. A lot. That should prove interesting. Especially if Chris Hemsworth is kind enough to make an appearance.

• WandaVision — Spring, 2021 (Disney+)

Yet another show with a dead main character... this time The Vision... who perished in Infinity War. In the comics Wanda went insane when the children she conceived with Vision were erased and used her substantial powers to create an alternate reality. That could be what we end up with here. Wanda somehow creates a new reality where The Vision was never killed by Thanos. Whether Vision will be back for good at the end of the series is anybody's guess (I hope so!) but the big news to come from Comic-Con was that Teyonah Parris was cast to play an adult Monica Rambeau, and she'd be a big part of the show. Monica is the daughter of Maria Rambeau, Carol Danvers' best friend in Captain Marvel. Since that film took place in the past, she'd be all grown up in the present. Cool.

• Doctor Strange in the Multiverse of Madness — May 7, 2021

Now this is interesting. Apparently the events of WandaVision will lead directly into this movie, and Scarlet Witch will be a big part of it. Sooooo... perhaps Wanda pulls a new Vision from an alternate universe which causes a big multiverse problem that Doctor Strange has to deal with? Hopefully Wong will be back. And Mordo (I want my Chiwetel Ejiofor!). Apparently this time it's a full-on horror film, which could be very interesting. If nothing else, it will be different! What I love here is how Marvel Studios is so tightly integrating the Disney+ shows into the MCU... this won't be a Netflix situation where the shows are kinda-maybe-sorta-possibly in the MCU.

• Hawkeye — Fall, 2021 (Disney+)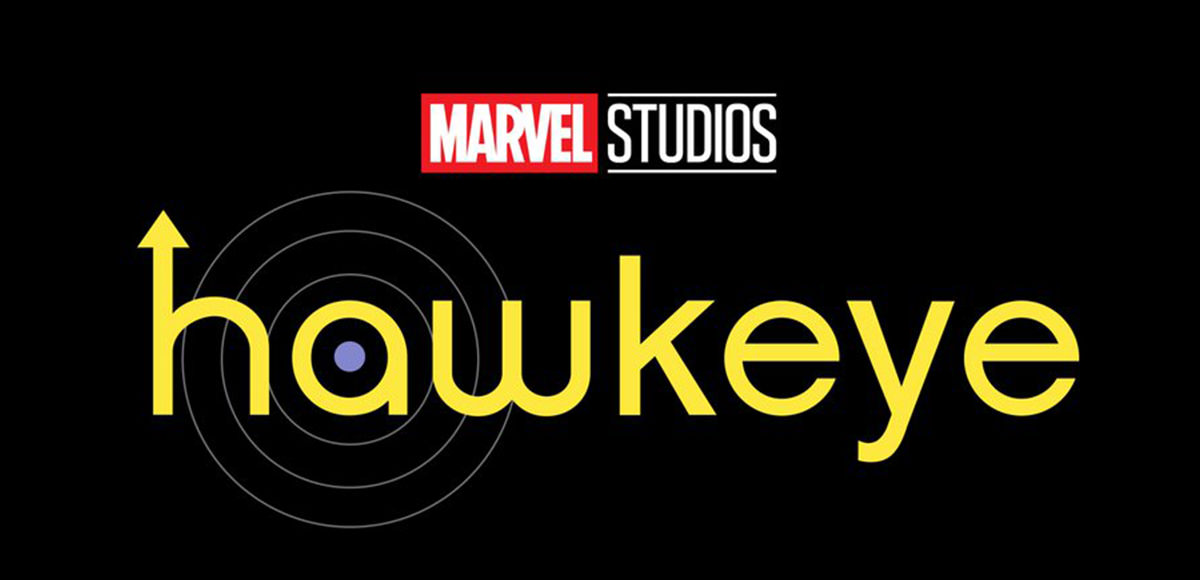 The Matt Fraction and David Aja Hawkeye comic series is one of my favorite comic books of all time. When they announced that Disney + would be giving us a Hawkeye series, all I wanted... ALL I wanted... was to have them adapt the comic book... or at least draw inspiration from it. Well... wish granted. Not only are they using the logo from the comic book, it was announced that Kate Bishop (a character from the comics) would be in the show! They also said that we'll see more of Clint's time as Ronin between Infinity War and Endgame. Assumably a huge part of the series will be Clint dealing with the guilt of Black Widow's death, which is important. A lot of people hate that Hawkeye wasn't the one to die, so hopefully this series will change their mind as to why Hawkeye needed to live.

• Thor Love & Thunder — Nov. 5, 2021

Of all the bombshells dropped in Hall H at Comic-Con, here was the big one. We knew that Chris Hemsworth was coming back as Thor... we knew that Tessa Thompson was coming back as Valkyrie... and we knew that Taika Waititi would be back to helm the whole thing. But the big surprise? NATALIE PORTMAN appeared on stage when it was announced that not only would Jane Foster be returning... she would be the new Thor! This storyline was a very good one for the comics, so I'm excited to see it happen in the MCU. In many ways, it makes sense. Chris Hemsworth has said that he wants to take time off for a while to be with his family, so this allows there to be a new Thor movie where he can play an (assumably) smaller part. It also opens the door to Original Thor appearing in Guardians of The Galaxy: Volume 3, something I'm dying to see. How great was that team-up in Endgame?

• What If? — Date Unknown (Disney+)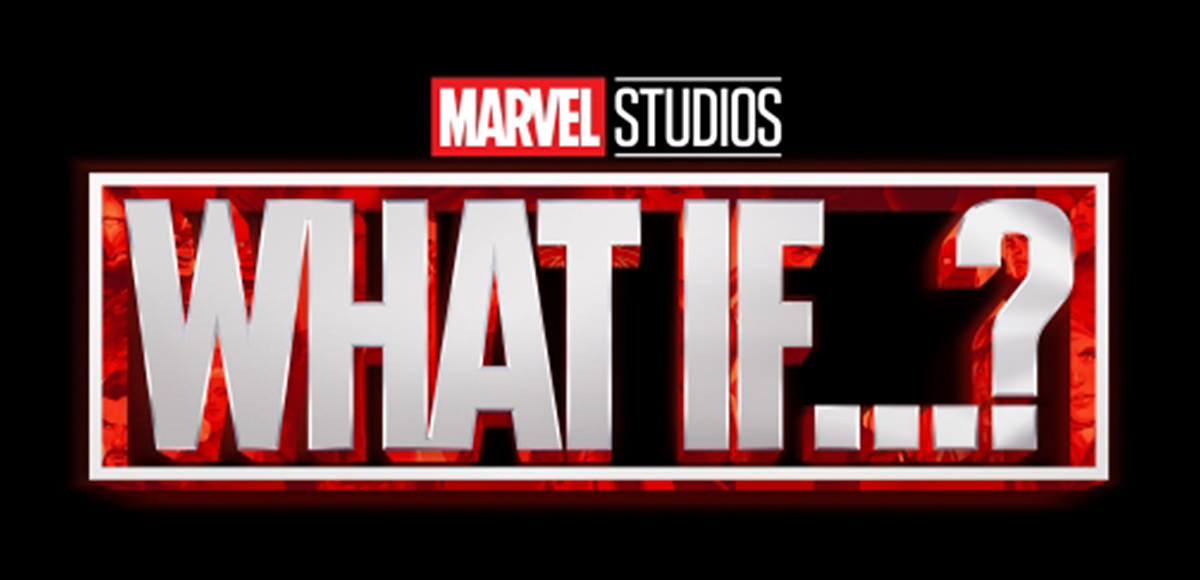 All we know is that this will be an animated series on
Disney+
which features the voice talents of the actors who originally portrayed the characters... but since this is an alternate reality
"What if this happened...???"
kind of show, they won't be the characters we know. They'll be altered versions of those from the movies. In addition to Jeffrey Wright narrating the show as Uatu The Watcher, the cast announced so far has been: Hayley Atwell (Peggy Carter), Chadwick Boseman (Black Panther), Josh Brolin (Thanos), Dominic Cooper (Howard Stark), David Dastmalchian (one of Scott Lang's friends from the Ant-Man films), Michael Douglas (Hank Pym), Karen Gillan (Nebula), Jeff Goldblum (The Grandmaster), Sean Gunn (Kraglin), Tom Hiddleston (Loki), Djimon Hounsou (Korath), Samuel L. Jackson (Nick Fury), Toby Jones (Arnim Zola), Michael B. Jordan (Killmonger), Natalie Portman (Jane Foster), Jeremy Renner (Hawkeye), Michael Rooker (Yondu), Paul Rudd (Ant-Man), Mark Ruffalo (The Hulk), Sebastian Stan (The Winter Soldier), Chris Sullivan (Taserface), Stanley Tucci (Dr. Erskine), and Taika Waititi (Korg). No idea where they're going to go with this, but I'm interested in finding out!

• Blade — Date Unknown

At the end of the event, MCU Mastermind Kevin Feige said he was sorry he didn't have time to get into Fantastic Four, mutants (X-Men), and all the rest... but he did have one final surprise... Mahershala Ali walked out and put a Blade hat on, so apparently they're rebooting that series! Ali is a phenomenal actor (he was Cottonmouth in Luke Cage!) and is memorable in everything he does (even in small parts like in Hidden Figures). He's a fantastic successor to Wesley Snipes for the role, and I will be interested to see if they go with an R rating or drop down to a PG-13. I am really hoping for the former.

And that's all she wrote from Marvel. I was disappointed that we didn't get any information on Black Panther 2, Ant-Man 3, Captain Marvel 2, Spider-Man 3, Fantastic Four, and Guardians of the Galaxy 3... but I guess you can't have everything. I'm guessing all of these will be released in 2022 and beyond, which seems like a long, long time away.
The surprising thing here is that there are only two new Marvel movies for 2020, and they're far from heavy hitters (Black Widow and The Eternals). This feels like a misstep, but maybe everybody has to catch their breath after Infinity War/Endgame? Oh well. Looks like Disney+ will be taking up the slack. I was really hoping that once the FOX acquisition was finalized that Marvel Studios might move from three movies a year to four movies a year, which would still be less super-hero flicks than when both studios were actively producing them.
And that leaves Iron Man. Obviously they're going to have a new one at some point. My guess is that they will let the character rest for a while first. But seeds will have to be planted. Pepper Potts is pretty much out now that Gwyneth Paltrow wants out. Will they make it be Riri Williams as Ironheart?
As for what's still missing in the MCU that I want to see?
• Alpha Flight. Canada's super-hero team, which was done so very well in the Scott Lobdell and Clayton Henry run.
• Moon Knight. This is essentially Marvel's Batman. If they got the right actor, this could be a really interesting addition.
• Namor. This is essentially Marvel's Aquaman... with arguably a more interesting take on an undersea hero.
• Ms. Marvel. Might be a better fit for Disney+ but I still want to see Kamala Khan in the MCU.
• Power Pack. Super-power kids? The perfect animated series for Disney+ methinks.
• Captain Britain. And if he wanted to bring along Excalibur, Britain's super-team, that would be great!
• Longshot Another perfect property for Disney+, this is a really fun character and one few mainstream audiences seem to know about.
Eventually they need to reboot The Defenders back into the MCU as well, don't they? At the very least Daredevil and Luke Cage!
And that's a wrap. So many Marvel bullets to look forward to, but I'm always wanting more.
Posted on April 26th, 2019

Welp.
Avengers: Endgame was a movie alright!
My expectations were phenomenally high for this film. Lucky for me, it was a pretty phenomenal movie and definitely lived up to all the pre-hype that Marvel has been shoveling out over the past several months. I absolutely loved it...
Needless to say I can't really talk about the film without spoiling some of the stuff that happens.
YOU DO NOT WANT THAT!
Trust me. If there's one film you do not want spoiled, it's this one. So absolutely do not proceed any further until you have seen Avengers: Endgame!
You've been warned.
Spoilers await in an extended entry...
→ Click here to continue reading this entry...
Posted on April 1st, 2019

Don't let Springtime allergies get you down... because an all new Bullet Sunday starts... now...

• Nate! It's very rare to find a comedian who works clean (no swearing) that can make me laugh. Nate Bargatze is one of those comedians...
If you have Netflix, I give it my highest recommendation. But before you watch... you might want to first watch his segment on The Standups, which he references in the special. Once you've done that, then move on to The Tennessee Kid.

• Endgame! This past week Marvel Studis released the official character posters for the upcoming Avengers: Endgame...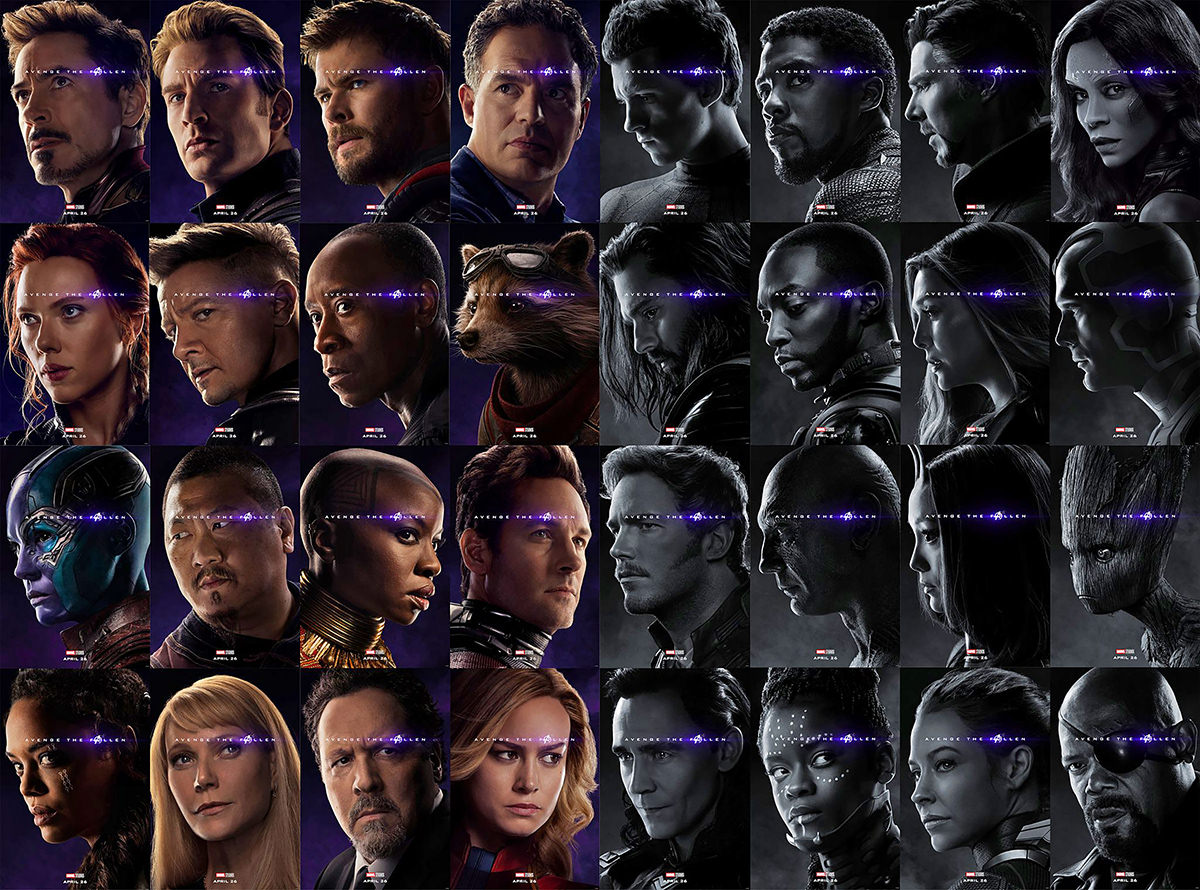 I was surprised to find that Shuri was one of the heroes who got snapped. Kind of a shame it happened off-screen, as she deserved her exit. Still no idea where the heck Nakia is for all this. Why bring back Valkyrie and not Nakia? And, oh yeah, kinda happy that Valkyrie is back. To what end is anybody's guess.

• Apollo! How utterly gorgeous are the new stamps commemorating the 50th anniversary of the Apollo 11 moon-landing mission?
Queue the fucking dumbass tin-foil hat wearing idiots who think that that moon landing was faked. If that's you, here's your sign...
Between stupid NASA conspiracy theory bullshit and the rash of flat earther morons making the news, I could vomit.

• The Card! Apple announced that they are partnering with the heinous assholes at Goldman Sachs to create their own credit card. Which, as you'd imagine, is a work of art etched in titanium...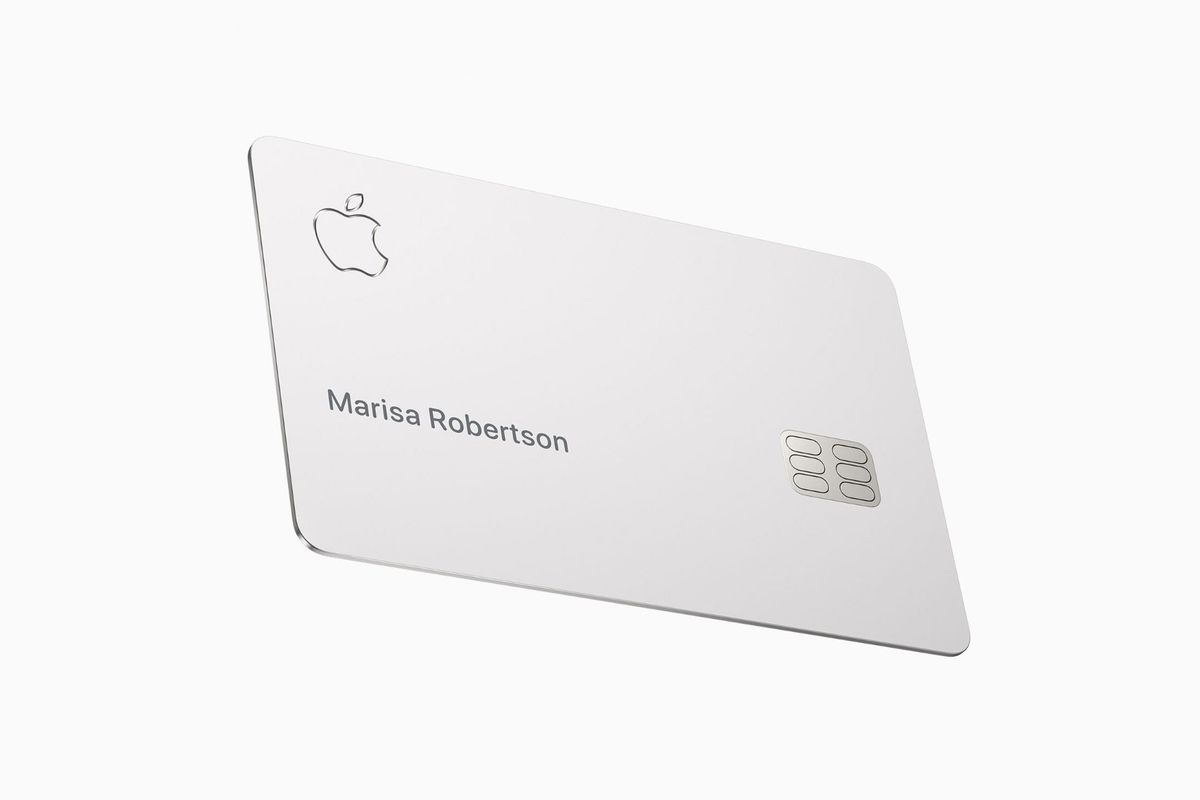 I had a lot of questions as to how the card is going to work. TechCrunch is on that with a great article. Needless to say, I want one. It won't be my primary card (travel point credit cards are more valuable to me), but the benefits for Apple purchases and its link to the amazing Apple Pay makes it a card worth having. Especially since there are no fees for having it. I really, really hope that other credit card companies start offering the features that Apple is going to offer.

• DOOM! The Grant Morrison and Richard Case run on Doom Patrol is one of my favorite comic book series ever. It was bizarre. It was smart. It was insanely entertaining. So you can imagine my interest was piqued when I heard that DC was creating a series around it...
The snippets they've released look very good. Except... what the hell is Cyborg doing there? He's a Teen Titan who somehow got dropped into Justice League who now got dropped into Doom Patrol. It's like DC keeps thinking "We need some diversity. Let's put Cyborg in it!" Completely ignoring the actual Black characters who have been in the Doom Patrol. Like Tempest (Joshua Clay), who does appear in the credits, but as "caretaker" to the "Original Doom Patrol?"
If his powers were too expensive to put on TV, then why not have Sam Reynolds and his son Lucius? They don't have any powers at all! And if that was too boring, why not give any of the other POC heroes a shot? Why does it always have to be Cyborg? Oh well. Once all the episodes have been released I might have to sign up for DC's streaming service to watch them all. The cast certainly looks entertaining.

• Stargirl! Speaking of DC Universe... in addition to Doom Patrol, we've also got Stargirl coming up...
Welp, if the costume is any indication, they nailed it. Also? Joel McHale is attached to play Starman, which has to be a good thing.

And, I guess that's all for my Sunday. If non-stop sneezing and coughing doesn't kill me, I'll be here in a week with more. I guess.
Posted on March 18th, 2019

It's hard to believe that March is already half-over, but don't let the march of time discourage you... because an all new Bullet Sunday starts... now...

• Queer Happy! Since I have (temporarily) stepped away from social media, I've been pretty much out of the loop. But I did have a news story pop up which mentioned that Queer Eye Season Three had just dropped on Netflix...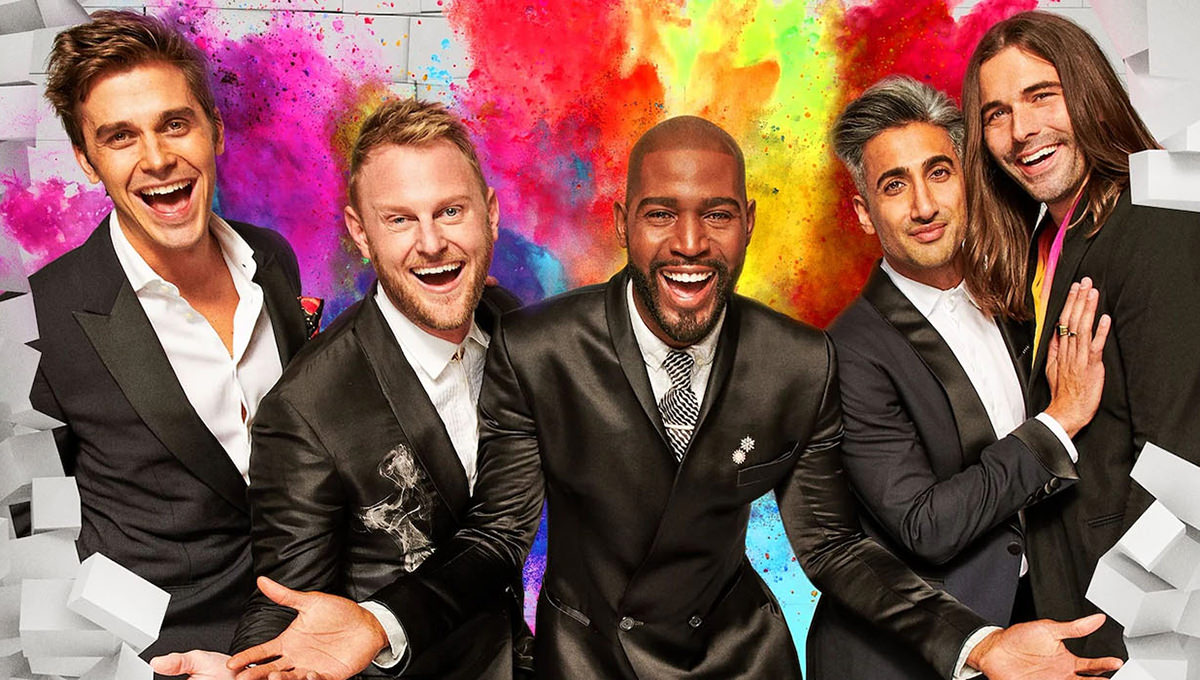 Sweet! I absolutely love Queer Eye because it packs one of the most emotional gut-punches you'll find on television. Some of those the Fab Five help out are genuinely good people who just need a little break to be happy, and the guys always manage to come through. And then I read the comments on the story. You think I'd know better. Because the amount of hatred that people have for this show is downright unfathomable and I just don't get it. Seriously... who gives a crap how other people live their lives when it does not affect you? Do these haters honestly think that there is a finite amount of happiness in the world and if other people find happiness in ways they don't approve of it means there's less happiness for them? Gay people aren't allowed to be who they are and be happy because if they are, there's no way anti-gay bigots can be happy? What pathetic, sad, miserable assholes these people are. But I don't care. This is one of the best seasons yet, and I watched all eight episodes back-to-back. I can't wait for Season Four.

• Top Gunn! Guardians of the Galaxy mastermind James Gunn made some horrific and terrible jokes about rape and pedophilia when we was young and stupid. He subsequently offered heartfelt apologies numerous times, promised to do better, and moved on to become an incredibly talented writer and director. But Disney/Marvel fired him anyway, despite him providing them two incredible hit movies....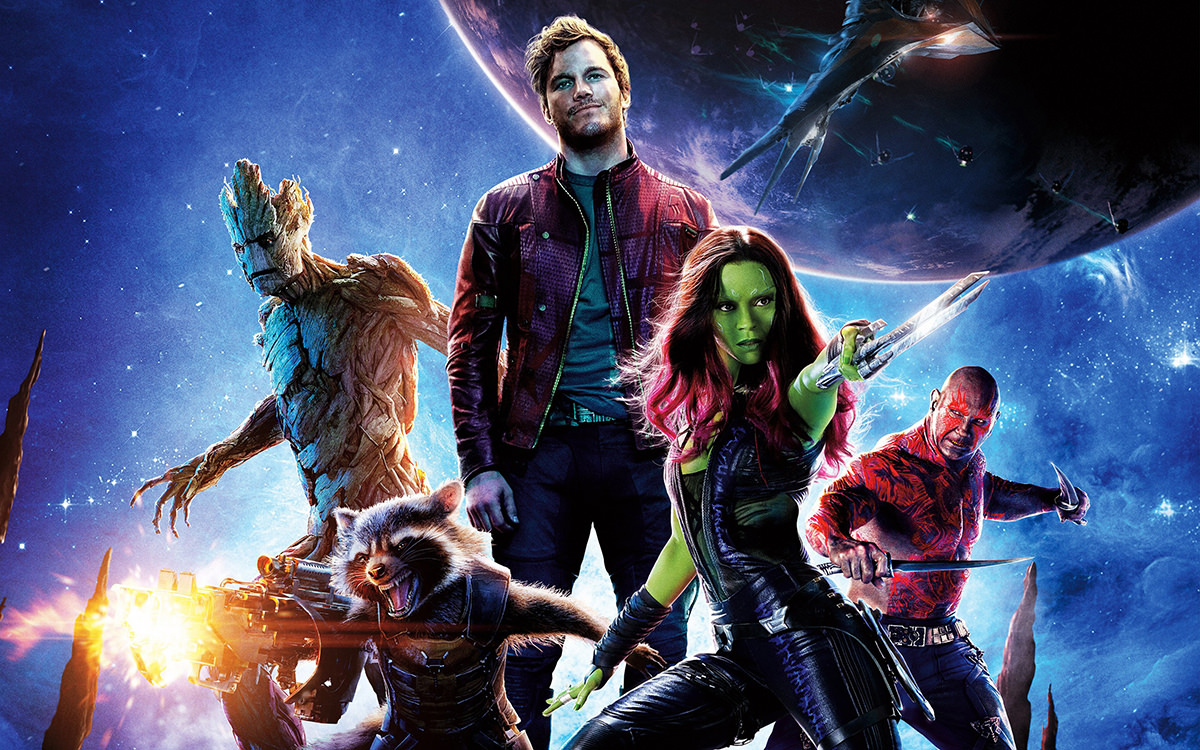 This was a rash and idiotic knee-jerk reaction that made me (and plenty of others) pretty mad. How many of us haven't made stupid mistakes when we were younger? The guy was wasn't an actual rapist and pedophile... he just made hurtful and overall moronic "jokes" about the subjects which weren't at all funny (unlike James Carr, who may be completely tasteless and inappropriate, but is really funny about it). His apologies were sincere. He grew up. And now Disney/Marvel finally seemed to realize how fucking stupid they were... probably not because it was wrong to fire him over his bad judgement... but because they couldn't find another writer/director to replace him. Money being more important than manufactured outrage, Gunn was rehired to direct his already-completed script for Guardians of the Galaxy: Volume Three!
So happy about this. I don't believe in second chances for everyone, but James Gunn has earned the support he's gotten to be reinstated.

• BURN! I was raised Catholic. I still have family and friends who are in the Catholic Church. I say this to qualify that I would never recklessly disparage The Church and its followers. Except... The Catholic Church has a history of horrifically problematic issues that have not been adequately dealt with. Big on that list is the seemingly never-ending sexual abuse of children by their pastors and officials. Abuse that The Church has been outright denying or only half-heartedly acknowledging. It is next-level fucked up, and I am outraged that it's still happening and victims are still being ignored or shoved aside. Which is why the Diocese of Brooklyn can seriously go fuck themselves for demanding an apology for this segment on Saturday Night Live...
Pete Davidson has said some truly stupid stuff... and it's not always funny. In this case what he's saying is not only funny, it's also 100% true. Until the Catholic Church reforms... and at this point it can't really be anything except a total reform because we're way, way past second chances for them to do the right thing... I'm done. See how that works?

• Aladdin! For me, the jury was very much out on Disney's upcoming live-action version of Aladdin. The original animated movie with Robin Williams is one of my favorites, and it just seemed... bizarre... that Disney would even attempt to replace him with Will Smith. But now that I've seen an actual trailer, I'm much more hopeful...
Will it take the place of the original masterpiece? Almost certainly not? Can it be an entertaining distraction in its own right? Sure! Guess we'll find out in May.

• Honey Honey! I try to use honey instead of sugar whenever I can. Honey is the only thing I add to my tea, and I'd rather drink it unsweetened if honey isn't available. I do have packets of "Sugar in the Raw" and artificial sweetener for my guests, if they want it, but there's always honey at my home. Over the years I've read some truly misguided comments about honey and people who want me to switch to agave nectar. Finally I've found a couple of people on Tumblr who have summed up why I'll never switch to agave...
Vegans of tumblr, listen up. Harvesting agave in the quantities required so you don't have to eat honey is killing Mexican long-nosed bats. They feed off the nectar and pollinate the plants. They need the agave. You want to help the environment? Go back to honey. Your liver and thyroid will thank you, as well. Agave is 90% fructose, which can cause a host of issues. Bye.

— VampireGirl2345 via Tumblr
Beekeeper here! Just wanted to say that the fact that vegans won't eat honey is very silly. Harvesting honey does not hurt bees. The invention of modern moveable-frame hives means we can remove a selected frame, extract the honey and return it without killing a single bee.

If we destroyed the colony to harvest honey there would be no bees for next year, and beekeepers are incredibly careful to keep their bees healthy and thriving. We take *excess* honey that they don't need, and it stops the hive from becoming honey-bound, meaning that there's so much honey the Queen has nowhere to lay eggs. And if the winter is harsher than expected and the remaining honey store runs low, we feed the bees plenty to make sure they survive. We also make sure that pests are controlled, bees are treated for disease, and the hive is weatherproof and in good repair, all things that wild bees struggle with.

Keeping bees in properly managed hives where they don't starve or die from preventable disease is much better for them than being left to fend for themselves, and they're far too important to be left alone. All the fruits and vegetables that vegans *do* eat couldn't exist without bees, and the hives which pollinate those crops also produce excess honey which the beekeepers can sell to help keep themselves and their hives going.

TLDR: BUY THE HONEY, HELP THE BEES.

— Vertiga via Tumblr
Bats are some of the most beneficial creatures on earth. Trading in a non-existent problem for a very real problem which threatens their survival is not helping.

• Coaster! I'm a big fan of interesting roller coasters and have been on many, many of them. My current favorite is "The Incredible Hulk Coaster" at Universal Studios Orlando. It's not as well-themed as Space Mountain or Big Thunder Mountain at Disneyland... or as iconic as The Cyclone at Coney Island... or as scary as Wicked Twister at Cedar Point... but The Incredible Hulk is really fun to ride. But for me right now? The coaster I most want to ride is the brand new "Yukon Striker" coming to Canada's Wonderland this Spring...
Yukon Striker will be the fastest, longest, tallest dive roller coaster in the world. It goes up to 80mph, is 3,625 feet long, has four inversions, and lasts three minutes, 25 seconds. And it looks like loads of fun...
Hopefully I can get to Toronto one of these days to ride it!

And that's all he wrote for writing bullets this week! See you next Sunday!