Today I will be cooking up a grilled cheese sandwich recipe that I've been working on forever. More on that in a second, because first I feel obligated to put some bullshit story in front of my recipe. Apparently that's The Law of the interwebs...
When we went into lockdown, I spent a lot of time in cooking forums and groups trying to find ways to get creative with limited groceries. One day there was a conversation built around your favorite grilled cheese sandwich.
Now, I have many, many "favorite" grilled cheese sandwiches. I love bread. I adore cheese. I have made so many different combinations of both that I couldn't possibly count them all. Growing up my grilled cheeses were American on whatever white bread was cheapest. I loved them. Still do.
All that being said, here is my favorite grilled cheese sandwich. Which got me some hate, I won't lie...
Blogography's Grilled Cheese
Two slices of rustic bread... my favorite is homemade. But if I'm not making it myself, I like Seattle Sourdough Baking Company's "Waterfront" round loaf.
Thinly-sliced, good quality Cheddar. It doesn't even have to be expensive or an import. I love Tillamook Medium.
Spreadable cream cheese.
Grated parmesan cheese. Not the "real" stuff... you want the cheap Kraft shaker stuff in the plastic bottle.
Thinly-sliced Granny Smith green apples or ripe tomatoes (if you got them, which I do not).
And here's what I do...
On a microwave-safe plate, pile up the thinly-sliced cheese between the slices of bread and nuke it for a short time. Ideally you want to stop just before the cheese is melted. On my microwave it's 12 seconds. Cheddar is a hard cheese that doesn't always melt easily, so this is just to make sure that the cheese gets really gooey when you actually cook it.
Place in a cold pan and turn on the heat to medium-high. Butter one side then turn it over and butter the other. Yeah, yeah, I know it's en vogue to use mayonnaise, and that's fine... but I prefer plenty of real butter.
Grill the one side until it is lightly toasted. You don't want it browned (you'll see why soon).
While the bottom side is grilling, take the top slice off and smear the inside with cream cheese. Stick the thinly-sliced green apples (or ripe tomatoes) to the cream cheese and stick it to the bottom slice.
Flip and lightly grill the top side.
NOW... once both sides are lightly toasted, that means the pan has come up to heat. What you do now is turn the heat down to medium. Lift the sandwich out of the pan with a food turner, then sprinkle a bit of the Parmesan into the pan and quickly place the sandwich back in the pan. Grill until the cheese has fused to the bread and turned deep brown (careful! It will burn quickly!).
Repeat for the other side.
Use a sharp knife to cut at an angle (you want that point on the end for your first bite!). The knife should be as sharp as you can make it so the bread doesn't get too smashed at the cut. I used to use a bread knife, but it really isn't necessary.
Serve on a plate with whatever green apple slices are left.
I didn't have green apple or tomato for this one, but you can get the idea...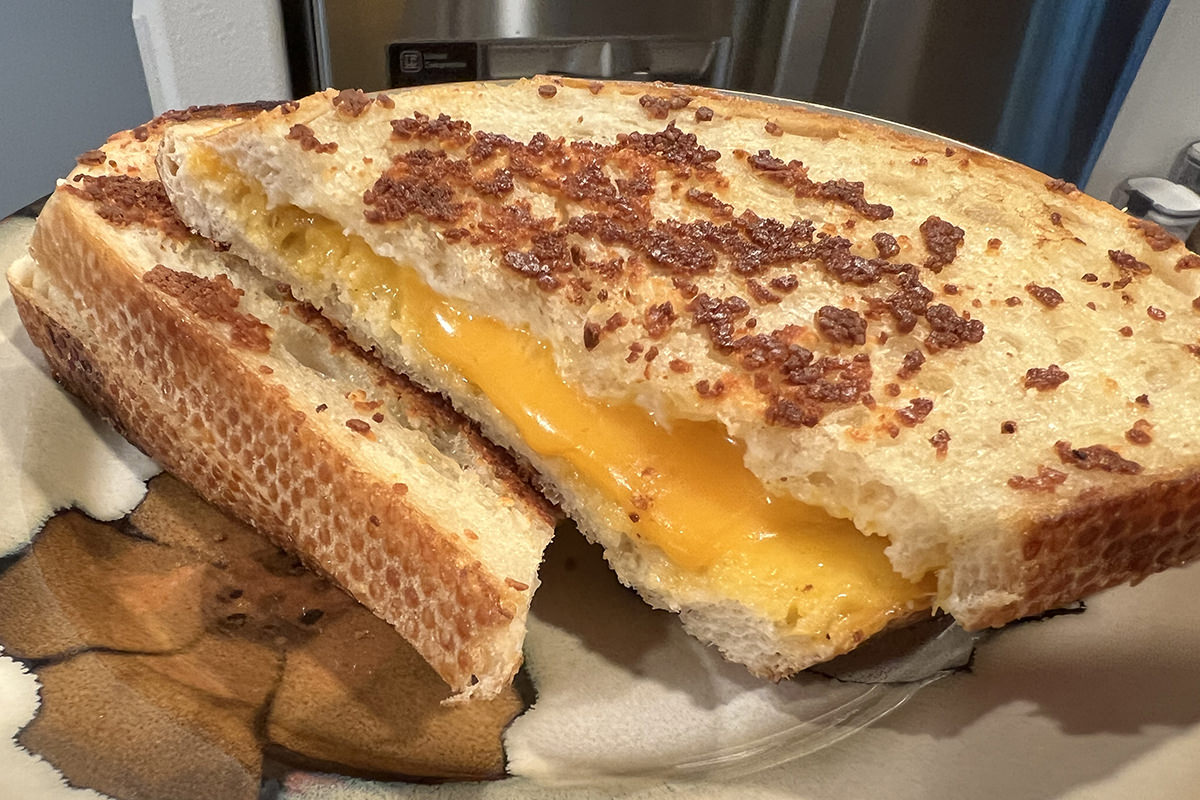 Now, there's some method to this madness. And I ended up having to defend my sandwich to people who were upset about my choices in a frickin' cooking forum...
"IF YOU MICROWAVE IT, THEN IT'S NOT A REAL GRILLED CHEESE!!" — As I said, cheddar isn't the meltiest cheese around and needs a little help. You can skip this step if it offends you so much, but those 12 seconds makes a big difference.
"CHEDDAR IS SO BASIC! THERE ARE BETTER CHEESES FOR GRILLED CHEESE!" — Then use them. Medium Cheddar is my favorite taste for this sandwich, especially when paired with green apple or ripe tomatoes.
"CREAM CHEESE ISN'T EVEN CHEESE!" — According to the FDA it qualifies, but whatever. I use it because it's a lovely, creamy texture addition... and does a darn good job of keeping the apples from sliding out of the sandwich. Unless you go too thick. Or over-cook it.
"GRATED PARMESAN? FROM A BOTTLE? IT'S NOT REAL CHEESE! IT'S SAWDUST!!! — Preaching to the choir. You're telling me something I already know. But whenever I use real parmesan, it sticks "wrong" and makes a mess. But the Kraft grated (with sawdust!) works perfectly for what we need. I don't want the "crustiness" to come from cooking the bread until brown. In my opinion, that's overcooked. But you want that crusty topping! Using grated Parmesan gives you a nice crustiness on the outside while keeping the bread soft and delicious. The texture is remarkable, and that small hit of Parmesan is so tasty.
"THAT'S A FRUIT SANDWICH, NOT A GRILLED CHEESE!" — Then leave off the green apples or the tomatoes. As you can see in the photo above, it's still a fantastic sandwich. I just like that small addition of other flavor to add a bit of complexity to the flavors and elevate it a bit. Cheddar has a strong enough flavor to not be overwhelmed.
"THIS IS A SHITTY GRILLED CHEESE. YOU DO EVERYTHING WRONG!" — If wrong tastes this good, I don't want to be right.
Thus is the politics of grilled cheese sandwiches. If you have a favorite of your own, then by all means keep doing what you're doing and not tell me how much my favorite sucks!