And so I had an unexpected day-trip to Chicago come up. But it's not really a day-trip when it takes a day to get there and a day to get back. And, when you have to start your day at 3:30am after staying up past midnight, it feels very much like a four-day trip.
So yes, it sucks... and yes, I feel like death... and yes, I know I promised myself I'd stay home the month of January... but we don't always get what we want, do we?
But there was something to look forward to. New stamps to add to my Gowalla Passport!
Or so I thought.
Between the weak GPS in my iPhone and the shitty state of wireless service from AT&T, using Gowalla is more a frustration than a fun scavenger hunt...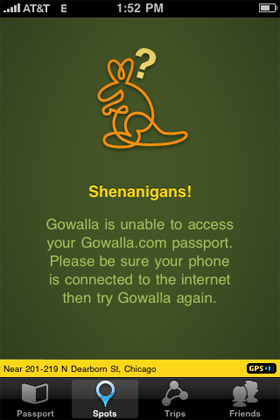 Yes, I can't get a 3G signal IN THE MIDDLE OF FUCKING CHICAGO!
And even though I get EDGE with full bars, there's NO data connection! AT&T FAIL!
And it seems like just yesterday that I was bragging that I had only had one bad experience with AT&T's wireless. It was when I was in Las Vegas calling Jenny. And now I'm in Chicago, and it's WORSE. Coverage SUCKS! My iPhone gears down from 3G to EDGE so often that you'd think Chicago didn't even have 3G. And even when you DO manage to get online, you've got a very real chance of not getting any data linkage AT ALL.
So this is what everybody has been bitching about!
Though, I am now thinking that it's not AT&T's fault. Because Jenny lives in Chicago. And the last time I had problems in Las Vegas, Jenny was in Las Vegas. And since I haven't had problems anywhere else on earth, I'm thinking that clearly the problem here... is Jenny!
Though that doesn't explain the myriad of problems I've had with my iPhone GPS lately. Like trying to check in at a Chicago Landmark, The Bean, only to find the GPS has me outside of check-in range...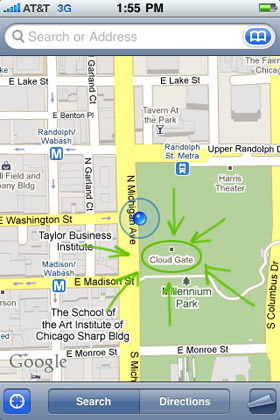 When clearly I am there. What do I have to do, sit on top of it? I mean, I understand that sometimes tall buildings and trees can obstruct GPS signal... BUT I'M IN THE MIDDLE OF OPEN SPACE!! WTF?!? It leaves me standing in Milennium Park wanting to scream NO! I'M HERE YOU MORON!!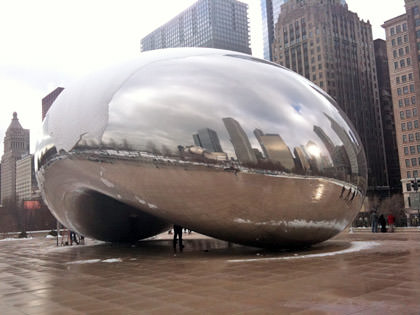 Oh well. Tomorrow after work Jenny and I are going to go see Avatar in 3D IMAX over at Navy Pier. It's apparently so good that people are becoming depressed when they wake up the next day and find out that the world is not a beautiful as the fictional world of "Pandora" in the movie...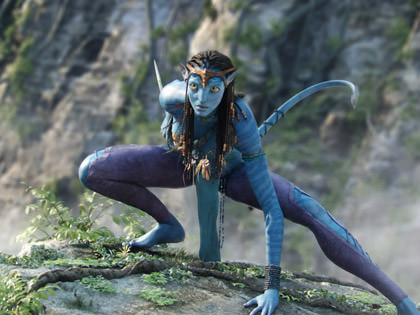 Heaven only knows I need more depression in my life!