Technical difficulties dictated that this edition of Bullet Sunday air on Monday. Now it's Tuesday morning where I pretend that it's still Monday. And since YouTube has been in "Read Only Mode" ever since I filmed it this morning, maybe it's actually Wednesday and I'm pretending it's Monday pretending it's Sunday? Sheesh.

• Winner! A huge "thank you" to everybody who donated to The Muskrat's Movember campaign. I appreciate it more than I can say.
Originally, I had filmed a video of me cutting up the names and putting them in the container on Sunday night. Then I had a dramatic "TO BE CONTINUED" come up so I had time to verify everybody's entries before drawing. But since I couldn't upload that video (thanks, YouTube!), I'm just going to skip to the drawing I had with the verified tickets (Monday Tuesday morning)... and hope that I can upload it...
Oog. I'm backwards! Congratulations, Remled Delmer! I'll get an email to you so we can get your AvitaToon and DaveToon under way!

• Martians. The Martian Tales of Edgar Rice Burroughs are among my favorite sci-fi books of all time. That's pretty amazing considering the first book, A Princess of Mars was published in 1917. Needless to say, I've been anxiously awaiting the big-screen adaptation by Andrew Stanton called John Carter. The new trailer for the film looks promising...
It's especially nice that Woola makes an appearance. He's as ugly-cute as I always imagined..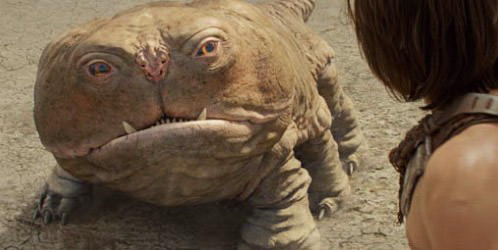 Here's hoping the movie doesn't suck. Given Stanton's incredible resume at Pixar, it shouldn't.

• Goose! Well, the geese are back again. Yesterday morning I got rushed in the parking lot while trying to get to my car. The vicious little bastards are fearless. When I got home they were gone from the parking lot, but a quick look out my back window AND THERE THEY WERE...
Look at them... out there plotting their next move. If you never hear from me again, alert the authorities. Or the Fish & Wildlife Department.

• Nowalla. And so Facebook bought out Gowalla. I've been using Gowalla to keep track of my travels for quite a while, but that's not the worst part. I invested a lot of time creating/updating/managing checkin spots for the service so, needless to say, this kind of sucks ass. Though, to be honest, it's not as devastating to me as it should be. They gutted all the things that made Gowalla so cool over the past couple months, so it's more of a relief than anything else. After shitting all over their users with unwelcome changes that nobody asked for or wanted, then ignoring people's pleas to fix major problems, I guess the writing was on the wall that they'd turn around and sell us out in the end...
=sigh= I will miss my custom spots for Blogography and Artificial Duck Co. though.

Annnnd... that's all she wrote this fine Sunday Monday Tuesday!