I worked so hard for so long to make relationships work, but eventually came to realize that being in a relationship isn't for me. That was a tough realization to come to after spending my entire life convinced I couldn't be complete without somebody else in my life. But I've made my peace with it. Relationships make me happy in the short run, but being single has made me happier in the long run.
Except when grocery shopping.
After my dentist appointment today I went to Petco for kitty litter... to Burger King for an Impossible Whopper... and to Safeway for food.
The problem with shopping for food while single is that it's more expensive than shopping for food with a family (per person). As an example? I need hamburger buns to go with my veggie burgers. Unless I eat veggie burgers every day, I can eat maybe four buns before they go stale. They come in packages of eight. Which means I have to freeze four and they never taste as good after being frozen. Cost for eight buns? $3.49. Or on sale at two for $5. Some stores will let you buy one for $2.50, but most won't. So do I spend an extra $1.50 for a bunch of buns I'll just have to freeze? That's the question I face every time I go shopping. At least buns can be frozen if I decide to go that route... some things cannot.
Like buns for veggie burgers, cream cheese for bagels is another thing that drives me nuts. They are never on sale at the same time. Fortunately cream cheese usually has an expiry date for 6 months, so I can stock up and wait for bagel prices to drop.
But it's not all bad news.
Because of the way my blood sugar spikes, I need to limit carbs. That's tough for a vegetarian, but I do my best and try to plan around it. It's just making choices. Do I want to spread my carbs throughout the day so I can have bread and fruit? Or do I want to splurge on carbs at one meal and go low-carb the rest of the day? If I have pasta for an early dinner (must be eaten before 6 so I have time to burn it off before bed), that means I am having eggs for breakfast and cheese sticks with hummus and veggies for lunch. It's not science, but it works. My doctor is please with my A1C levels, and that's all I need to know.
And while I have gotten rid of a lot of sugar in my diet, I can still enjoy sweets a couple times a week. My favorite is cake, but if I were to make or buy a cake, it would perish long before I got around to eating even a fraction of it.
Fortunately, there are several companies making microwavable "desserts for one" and they're pretty great (also great are break-and-bake cookies, but I wrote about them last week).
And even more fortunately, Safeway had a bunch of them on sale and on closeout...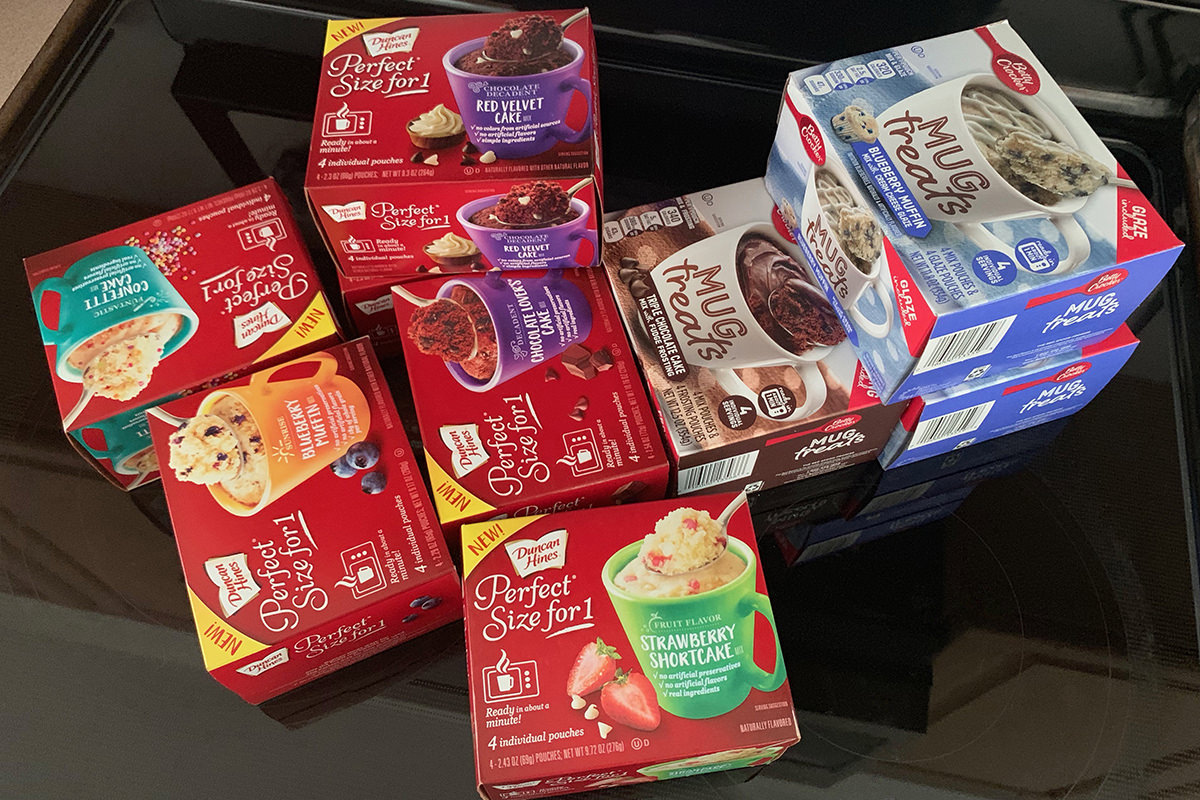 That's enough to last me for the rest of the year (there's 4 per box), and most of them were under $3.00! I prefer the Duncan Hines treats (in the red boxes) because they don't have icing. The Betty Crocker "Mug Treats" do have icing, but I always have to toss it out to save carbs.
No, they're not as fantastic as a real oven-baked cake or muffin, but not having to worry about food waste goes a long way for me.
How sweet.
And another thing that's pretty sweet? The upcoming Disney+ streaming service I've been writing about for weeks!
I don't know if this will help anybody out there, but... if you are planning on signing up for Disney+ and don't care about a bundle with ESPN and Hulu, there's a deal to be had by pre-ordering a membership NOW for when it begins in November.
Disney's official fan club is D23.com and basic membership is free. There are higher tiers with more benefits, but they are not necessary to get this offer. So if you are NOT a member, go sign up for a free membership. If you ARE a member, login and go to the My Account drop-down and choose "View My Account." There you will have the option to buy a 3-year Disney+ membership for $140. That's 33% off the "regular" price...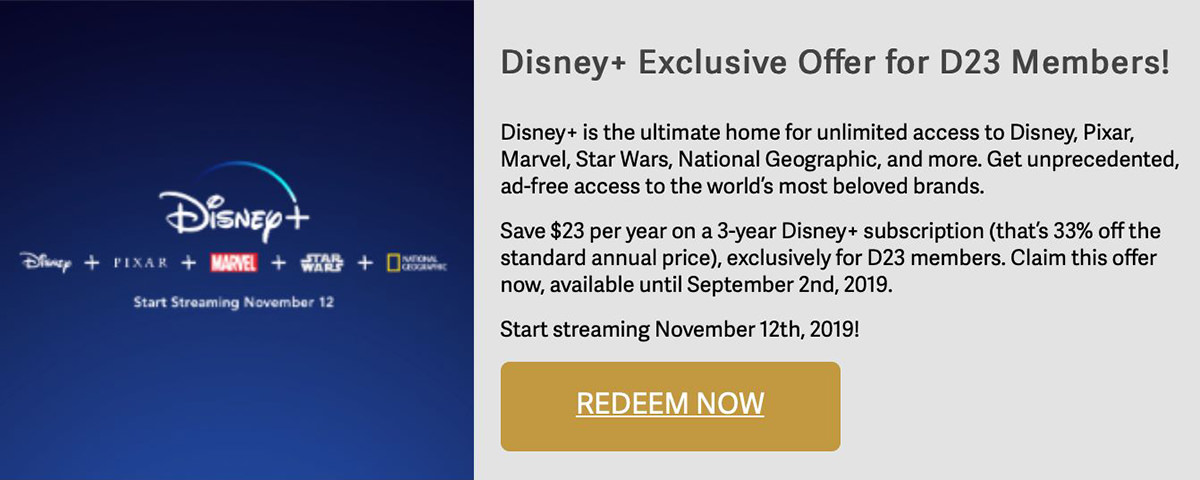 I know three years is a big commitment but, for me, it was a no-brainer. Considering there's exclusive Marvel Studios, Star Wars, Disney, Pixar, and National Geographic content... all of which I love... I was all over it. Sure I don't have $140 to be spending just now, but the offer expires after the weekend and I wasn't going to miss it (that's less than $4 a month!). Hello credit card debt, it's been a long time!
Despite having a bill to pay off, it's nice knowing that I don't have to worry about paying for Disney+ until November of 2022!

"Women. Can't live with 'em. Can't kill 'em!"
— Albert "Gib" Gibson, True Lies
I have every reason to despise, distrust, and demonize women for being the heartbreaking angels of despair they sometimes turn out to be. But I don't. I simply know too many women who are remarkable and amazing people to believe in such lame generalities... despite my extreme bad luck in holding on to any kind of long-term relationship with any of them. Like most guys, I've had my share of women troubles. I've been taken advantage of. Cheated on. Lied to. Mistreated. Wronged. Abandoned. Abused. Lead on. Left out. Shafted. Screwed... well, you get the picture. The list goes on and on.
But I've also been in love with women, which somehow offsets all the pain and heartache I've suffered at their hands.
Which brings us to this...
Scott Adams, author of Dilbert, recently wrote a blog entry that was supposed to be an article about "men's rights." But he came across as a sexist asshole, thus infuriating every feminist on the internet. His ultimate advice to men was "Don't be pussies!"... or, at least it would have been if he hadn't turned around and deleted his post.
Gee, Mr. Adams, why not take your own fucking advice?
In the end, I don't necessarily disagree with some of the things that Scott Adams wrote. He actually had some insightful commentary about what it's like for us. He goes completely off the rails several times and makes absolutely no effort to look at anything from any viewpoint except his own, but the end-summary of his rant is not without merit in some instances.
And yet...
While his treatment of women was pretty shitty, it's his characterization of us men that ended up offending me most.
Because his perspective on things is from that of a famous millionaire. Sure he may be a geeky dweeb (like me!), but he's a geeky dweeb with a lot of money (not like me!). He's also married to a hottie, but it's worth noting that he married her well into his meteoric success as a cartoonist...

Photo by Drew Kristal, taken from People Magazine
Now, before I start getting hate-mail of my own, I should say that I'm sure he's a wonderful guy and she didn't marry him for his money. I'm sure she totally fell in love with him for his... err... charming demeanor and sense of humor. Or something. I mean, I don't know her, but just looking at this photo I can tell she's absolutely the type of person who would totally give a 49-year-old dweeb like Scott Adams the time of day even if he didn't have a bajillion dollars and world-wide fame. So there. I said it. She's totally not a gold-digging opportunist, okay? No need to attack me for being a misogynistic asshole who believes that beautiful, intelligent women are only capable of having millions of dollars if they marry into it. I am so not that guy.
Indeed, it's my fervent belief in this very ideal that allows me to get out of bed in the morning.
Anyway, if you care to read it, I've gone through Scott Adam's rant line by line in an extended entry. Not because I feel women need defending in any way, but because Adams turned out to be such a total dick that I feel the need to defend my gender.
And because stupidity makes me crazy.
→ Click here to continue reading this entry...