"Women. Can't live with 'em. Can't kill 'em!"
— Albert "Gib" Gibson, True Lies
I have every reason to despise, distrust, and demonize women for being the heartbreaking angels of despair they sometimes turn out to be. But I don't. I simply know too many women who are remarkable and amazing people to believe in such lame generalities... despite my extreme bad luck in holding on to any kind of long-term relationship with any of them. Like most guys, I've had my share of women troubles. I've been taken advantage of. Cheated on. Lied to. Mistreated. Wronged. Abandoned. Abused. Lead on. Left out. Shafted. Screwed... well, you get the picture. The list goes on and on.
But I've also been in love with women, which somehow offsets all the pain and heartache I've suffered at their hands.
Which brings us to this...
Scott Adams, author of Dilbert, recently wrote a blog entry that was supposed to be an article about "men's rights." But he came across as a sexist asshole, thus infuriating every feminist on the internet. His ultimate advice to men was "Don't be pussies!"... or, at least it would have been if he hadn't turned around and deleted his post.
Gee, Mr. Adams, why not take your own fucking advice?
In the end, I don't necessarily disagree with some of the things that Scott Adams wrote. He actually had some insightful commentary about what it's like for us. He goes completely off the rails several times and makes absolutely no effort to look at anything from any viewpoint except his own, but the end-summary of his rant is not without merit in some instances.
And yet...
While his treatment of women was pretty shitty, it's his characterization of us men that ended up offending me most.
Because his perspective on things is from that of a famous millionaire. Sure he may be a geeky dweeb (like me!), but he's a geeky dweeb with a lot of money (not like me!). He's also married to a hottie, but it's worth noting that he married her well into his meteoric success as a cartoonist...

Photo by Drew Kristal, taken from People Magazine
Now, before I start getting hate-mail of my own, I should say that I'm sure he's a wonderful guy and she didn't marry him for his money. I'm sure she totally fell in love with him for his... err... charming demeanor and sense of humor. Or something. I mean, I don't know her, but just looking at this photo I can tell she's absolutely the type of person who would totally give a 49-year-old dweeb like Scott Adams the time of day even if he didn't have a bajillion dollars and world-wide fame. So there. I said it. She's totally not a gold-digging opportunist, okay? No need to attack me for being a misogynistic asshole who believes that beautiful, intelligent women are only capable of having millions of dollars if they marry into it. I am so not that guy.
Indeed, it's my fervent belief in this very ideal that allows me to get out of bed in the morning.
Anyway, if you care to read it, I've gone through Scott Adam's rant line by line in an extended entry. Not because I feel women need defending in any way, but because Adams turned out to be such a total dick that I feel the need to defend my gender.
And because stupidity makes me crazy.
SCOTT ADAMS, MARCH 7th, 2011 (since removed).
The topic my readers most want me to address is something called men's rights. (See previous post.) This is a surprisingly good topic. It's dangerous. It's relevant. It isn't overdone. And apparently you care.
— Dangerous? Really? I'd admire Adams for laughing in the face of "danger" here, but he eventually removed this post. Perhaps it's more appropriate to say that he farted in the face of "danger" then hid under the couch and blamed the dog.
Let's start with the laundry list.
— Because nothing gets your point across faster than tossing out a "laundry list"... of six items.
According to my readers, examples of unfair treatment of men include many elements of the legal system, the military draft in some cases, the lower life expectancies of men, the higher suicide rates for men, circumcision, and the growing number of government agencies that are primarily for women.
— Already we're off to a shaky start. I'll give you that the legal system can be unfairly skewed towards women in the case of parental rights and some other situations... but MANY elements of the legal system? This seems like a gross overstatement. How many times have women who have been raped been subsequently treated like the cause of the attack rather than a victim of violence by the courts? How many times have powerful women gotten major punishment under the law for doing something that powerful men get away with all the time? Female criminals are held up and vilified to shocking extremes for offenses that men simply get ignored for. A woman kills somebody, it's 24-hour news for months. A man kills somebody under similar circumstances, it's one mention at the top of the second hour. Yes, women get a break compared to men in SOME areas, but it cuts both ways. If you want an unfair divide under the law, try taking a look at poor people vs. rich people! Not that being unfairly treated for being poor is ever going to be a concern for Scott Adams. And things just get crazier from here on out. The draft? Who made that law? Oh... let me see... rich white MEN did! The REALLY unfair part of the draft is all the loopholes that exist so that wealthy white sons are exempt. Where's the outcry from Adams for THAT? Then we get lower life expectancy? Higher suicide rates? Life is so unfair! Of course, wealthy people like Adams have better access to healthcare, so his lot in life is a little more fair than most. But hey, pregnant women have to watch their bodies blow up and go through the pain of childbirth because life is unfair, so whatcha gonna do? And then Adams drops the circumcision bomb... as if fathers have nothing to do with this decision whatsoever. Since Adams is an atheist, I guess you just have to outright dismiss religion as a reason for circumcision, but this happens to be a big part of some people's lives (and try taking a look at religion from a female perspective sometime, assuming you've got the stones for it). Also... one would assume that Scott Adams is fairly well-informed, but obviously not so much that he's heard of the sheer brutality of FEMALE circumcision. As for government agencies primarily for women... we have government agencies for EVERYTHING. I see nothing wrong with the unique health issues and challenges faced by women getting government agencies when we have a shit-load of agencies for anything else you can think of. And does women getting government agencies preclude men from getting agencies if they really wanted them? Take a quick poll of the number of men serving in government vs. the number of women serving in government and get back to me on that. And what agency would they form? An agency to study how we can get more men involved in government?
You might add to this list the entire area of manners. We take for granted that men should hold doors for women, and women should be served first in restaurants. Can you even imagine that situation in reverse?
— Again, Scott Adams is forgetting who created a society where men open doors for women... MEN DID! Apparently there was a time when men wanted to feel gallant by opening a door for a poor, frail, weak, hysterical woman. "Let's unburden these lesser creatures of the difficulty of opening doors, as that will surely compensate for them not having the right to vote while they cook our meals and wash our clothes!" Back when this tradition was invented, were women really in a position to dictate anything to a man? Maybe if she were the Queen. But for all we know, women wanted to open their own fucking doors, but men decided they couldn't. Yet, sadly, the days of men wanting to feel gallant seem to have passed, as a shocking number of men now-a-days won't even bother to open a door for a woman who's pregnant. I mean, seriously... doors and restaurants? That's all you've got to add to your argument?
Generally speaking, society discourages male behavior whereas female behavior is celebrated. Exceptions are the fields of sports, humor, and war. Men are allowed to do what they want in those areas.
— Okay then... male behavior is acceptable in SPORTS (because top male players get paid millions to play basketball, where top female players are lucky to get thousands?)... HUMOR (because everybody knows only men can be funny, women who try to be funny are just vulgar?)... and WAR (because it's just such a darn good excuse for men who think they rule the world to actually attempt it?). I know Scott Adams is trying to be funny here, but this "list" is laughable for numerous unfunny reasons. Primarily because it's so painfully incomplete. What about SEX? Men who like sex and fuck everything in sight are studs. Women who like sex and fuck everything in sight are whores. Hell, what about FARTING? Men let one rip and it's a funny story you can tell for years. If women were to fart like that, they'd be branded disgusting dregs of society. I don't know whether to pity Scott Adams because he's just so stupid as to believe that we don't live in a male-dominated society where just about ANYTHING men do is accepted... or instead pity him because he tries for an easy joke which isn't even remotely funny.
Add to our list of inequities the fact that women have overtaken men in college attendance. If the situation were reversed it would be considered a national emergency.
— Or the status quo. One of those two. I mean, who wants to spend money to send a silly GIRL to college? What good is higher education to somebody who belongs in the kitchen barefoot and pregnant, right?
How about the higher rates for car insurance that young men pay compared to young women? Statistics support this inequity, but I don't think anyone believes the situation would be legal if women were charged more for car insurance, no matter what the statistics said.
— Actually, I do believe it. Statistics have historically been used to support all kinds of abhorrent shit in our laws. To claim otherwise is to be ignorant of our history which, for Scott Adams seems to begin in the 1920's. And if abhorrent shit is acceptable in our laws, why not insurance? If statistics showed that women were crappier drivers, the insurance agencies would absolutely be able to justify charging them more. Hell, women are already charged more for health insurance thanks to statistics, why should car insurance be any different?
Women will counter with their own list of wrongs, starting with the well-known statistic that women earn only 80 cents on the dollar, on average, compared to what men earn for the same jobs. My readers will argue that if any two groups of people act differently, on average, one group is likely to get better results. On average, men negotiate pay differently and approach risk differently than women.
— Which is a piece of cake when it's men who own the playing field. If a woman tries to negotiate for higher pay, she'll probably lose out to a male candidate asking for that same money. But, regardless, what Adams is saying here is that men succeed in the workplace because they have the guts to take risks to get ahead which women simply do not possess. Which is absolutely true. And understandable when you consider that the consequences of taking such risks are far greater for women than men. If a woman in business takes a big risk and fails, she doesn't just fail for herself... she fails for all women in business everywhere. Her failure will be elevated to a shining example of why women don't belong in corporate America. Which is crazy unfair, of course. But I'll tell you what... put a woman in business where the consequences for failure are equal to a man and just see who has the balls to take risks and go the distance. To say women don't have the guts to make the tough decisions would be a laughable statement when applied to a lot of the women I know. Of course, I'm a dweeb who doesn't have millions of dollars and worldwide fame, so I'm guessing that women (and men, for that matter) act a bit differently around me than they do Scott Adams.
Women will point out that few females are in top management jobs. Men will argue that if you ask a sample group of young men and young women if they would be willing to take the personal sacrifices needed to someday achieve such power, men are far more likely to say yes. In my personal non-scientific polling, men are about ten times more likely than women to trade family time for the highest level of career success.
— Absolutely. But you don't think that if a woman had the option of letting the men bear the children so they could go off and have a career that they wouldn't leap at the chance? Well, not all of them would... just like some men want nothing more than to be fathers, there are women who want nothing more than to be mothers. But lets get real here. If a couple wants to start a family, the one with the uterus is getting the job. She gets to take nine months out of her life to have a baby because she's got the proper tools for the task at hand. You want to talk about how society is unfair to men... let's at least not be stupid about it. If instead of having babies, a couple decides to adopt kids and have the man stay home and take care of the children... what about the stigma he has to face for "doing a woman's job?" Oh... that's right... it's the MEN of society which would make him feel like a failure for that!
Now I would like to speak directly to my male readers who feel unjustly treated by the widespread suppression of men's rights:
— Or the delusion that this male dominated society affords them no rights to begin with.
Get over it, you bunch of pussies.
— Which is easy for him to say... Scott Adams has millions of dollars! He can be the biggest pussy on earth and his money still affords him power over the huddled masses.
The reality is that women are treated differently by society for exactly the same reason that children and the mentally handicapped are treated differently. It's just easier this way for everyone. You don't argue with a four-year old about why he shouldn't eat candy for dinner. You don't punch a mentally handicapped guy even if he punches you first. And you don't argue when a women tells you she's only making 80 cents to your dollar. It's the path of least resistance. You save your energy for more important battles.
— See? What a fucking pussy! Note that he's not saying "WE"... he's saying YOU save YOUR energy. He doesn't have to save shit because he makes a THOUSAND DOLLARS to your one dollar! This right here is the most offensive part of his entire stupid manifesto. The same rules which apply to those of us in typical American society don't even remotely apply to Scott Adams, and yet he's acting as if they do. So go ahead, Scott, punch that handicapped guy... you can hire a team of lawyers to take care of it. I'm sure he'd argue "just because the rules don't apply to me doesn't mean this isn't true for others!" Which is absolutely correct. Except I don't punch the handicapped guy NOT because it's the path of least resistance, but because I have a lick of fucking sense in my head to realize that there are extenuating circumstances in play. Sometimes being a man is resisting the urge to punch that handicapped guy* specifically because it's the path of MOST resistance. So why don't you save your pussy ramblings about manhood for your fellow pussies, you pussy.

*You do know this has evolved into a metaphor, right? I'm not talking about an actual handicapped guy here.
How many times do we men suppress our natural instincts for sex and aggression just to get something better in the long run? It's called a strategy. Sometimes you sacrifice a pawn to nail the queen. If you're still crying about your pawn when you're having your way with the queen, there's something wrong with you and it isn't men's rights.
— Yes. Way to point out the obvious you stud-muffin, you. This is indeed a "strategy" employed by most males because it's the only shot they've got. I fully admit to putting up with all kinds of stuff from women because even the slightest hint of a sexual payoff is enough to "curtail my aggression" from telling her to piss off. But YOU don't have to curtail shit. YOU get to write rants like this bashing women and still nail the queen because of the slightest hint of a MONETARY payoff! Enter exhibit A...
I mean, if Scott Adams is some kind of maniac in the sack with a 12-inch penis and the stamina of a wildebeest, then I have to apologize here. But guys like this (like me!) don't generally get to be a douche towards women and still get to "nail the queen." Instead they end up sitting in a house with a bunch of cats or something.*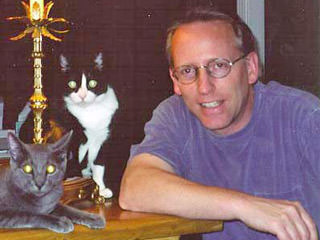 *Cat-lovers, unleash your hate-mail!
Fairness is an illusion. It's unobtainable in the real world. I'm happy that I can open jars with my bare hands. I like being able to lift heavy objects. And I don't mind that women get served first in restaurants because I don't like staring at food that I can't yet eat.
— Your ability to open a jar notwithstanding, I'm sure women know nothing about this "Fairness Illusion" of which you speak (he says rolling his eyes into the back of his head).
If you're feeling unfairly treated because women outlive men, try visiting an Assisted Living facility and see how delighted the old ladies are about the extra ten years of pushing the walker around. It makes dying look like a bargain.
— Yes. Fair is fair. Obviously women are just getting what they deserve here. THAT will teach them to outlive men! (P.S. If I am lucky enough to get married, I seriously hope that it doesn't end up being so bad that I go to my grave grateful that my wife has ten years of pain and suffering ahead of her. You're a lucky woman, Mrs. Scott Adams!)
I don't like the fact that the legal system treats men more harshly than women. But part of being male is the automatic feeling of team. If someone on the team screws up, we all take the hit. Don't kid yourself that men haven't earned some harsh treatment from the legal system. On the plus side, if I'm trapped in a burning car someday, a man will be the one pulling me out. That's the team I want to be on.
— The only reason I'd pull your egotistical ass out of a burning car is the hint of a monetary payoff (and here you thought only women got to play that game... shame on you!). Though I have to wonder if letting you go up in flames would net me the bigger payday from your grateful wife's inheritance. Look, I am the first to admit that men get shitted on by our legal system. If THAT were your argument, I'd take one look at my friend killing himself with two jobs just so he can pay child support for kids he rarely gets to see (after his ex-wife cheated on him)... and then agree with you. It's not fair. It's not right. But don't play the fucking martyr on behalf of men everywhere and act as if the legal system is some kind of utopia for women. Especially for poor, minority women when compared to wealthy, white assholes such as yourself.
I realize I might take some heat for lumping women, children and the mentally handicapped in the same group. So I want to be perfectly clear. I'm not saying women are similar to either group. I'm saying that a man's best strategy for dealing with each group is disturbingly similar. If he's smart, he takes the path of least resistance most of the time, which involves considering the emotional realities of other people. A man only digs in for a good fight on the few issues that matter to him, and for which he has some chance of winning. This is a strategy that men are uniquely suited for because, on average, we genuinely don't care about 90% of what is happening around us.
— And this is why you will continue to be a pussy for the rest of your life. You have the luxury of not caring about 90% of what is happening around you because you're a millionaire and famous. Such a ridiculous observation from your perspective is totally valid. But don't even pretend to be speaking for all men with that horse shit. Real men pay attention to a lot more than 10% of what's going on around them. Not because they want to, but because they HAVE to. They pay attention or else they get fired. They pay attention or else they get divorced. They pay attention or else their kids go hungry. In your mind, this makes them stupid. But reality dictates they're actually just being smart. They pay attention because they don't have a million dollars in the bank which says that they don't have to pay attention.

What's most disturbing here is how Scott Adams says men should just roll over and give in to silly women's emotional demands because it's easier that way. Wrong. It's far, far easier to just walk away and not deal with women at all. But not all of us have unlimited funds for hookers and the money necessary for attracting a wife who will overlook our being an asshole. We can't all be Charlie Sheen. So we play the game. We do shit we don't want to do... we go places we don't want to go... we hang out with people we don't want to hang out with. We do it because it's what we have to do to get what we want out of a relationship (which is not always sex... sometimes we are just happy knowing we are making our women happy). But it's the height of hypocrisy to suggest that women don't end up doing the same damn thing so they can get what they want out of a relationship. You want to talk about taking the path of least resistance? Talk to a woman having to deal with some horny bastard she's dating. I'd love to think that women I date give in and have sex with me because they just can't get enough of my sweet, sweet, loving... but I'm not so delusional as to believe that sometimes they give in just because it's easier than saying no to the never-ending badgering.

In the end, it's not that women are disturbingly similar to children and the mentally handicapped, it's that they're becoming disturbingly similar to us. To men. That we have such a problem with this and end up making arguments for "men's rights" when all women really want is to be treated equally... well, that pretty much says it all. The question becomes whether you're man enough to deal with it, or whether you're Scott Adams.
• • •
What pisses me off most about this stupid rant is how it undermines the very real struggles than men have in modern society. It sacrifices the important stuff so it can inflate the ridiculous. As I mentioned, I think men are treated grossly unfairly when it comes to parental rights. I think men are more often than not totally fucked by the legal system when it comes to divorce. Those are very real specific issues. But by generalizing that men are victims of oh so many sexist laws that strip us of our rights, we lose. You end up implying that women don't have to pay as many parking tickets (or whatever), thus the seriousness of the situation is lost. Arguments like this make it so that men are even more screwed because it paints us as lamenting the fact that we can't punch handicapped people when all we really want is not to be hopelessly fucked financially if our wives cheat on us and we want a divorce because of it.
Men have overwhelming expectations put upon them every single day. It's a condition which has been built up over generations of our society's customs and traditions. It's so bad that the pressure of it all can be almost impossible to bear at times. Failure, after all, is not just an outcome, it's a reflection on your manhood. But we're not allowed to let women try and understand that, so they don't really understand us. Instead all women have to go on is stupid shit like Scott Adams comparing them to dealing with children and the handicapped for daring to want equal pay.
And I'm sick of it. So fucking sick of it.
And it's not because I'm jealous of Scott Adam's success. No. He worked very hard for everything he has and overcame a lot of crap to get where he's at. More power to him. But he does, in fact, have a fuck-ton of money and regular circumstances do not apply. He can write crazy shit without consequences, and that's great. For him. But don't presume to lump me in with your bullshit, because I don't have that luxury. I still have to play the game.
And here's the hard truth of it all... I don't mind playing the game.
At this point in my life, I'm not wanting a woman whose only interest is what I can buy her. I'm not looking for a woman who I have to keep entertained 24/7. I'm not seeking out a woman who wants me to make all the decisions. I'm not interested in a woman who's totally passive in a relationship and can't hold an opinion of her own.
I want a partner.
I want someone who will share in the joy and hurt of it all.
I want someone who will excite me with their ideas and challenge me with their opinions.
I want someone who will make me a better man.
And I'm not going to get there by sitting around whining because life is so unfair for men because women live longer or get served first in some fucking restaurant. What man does this? If playing the victim in an arena where I have so many advantages is what constitutes this "team" Scott Adams is thrilled to be a part of, then count me out. I'm much happier being a free agent.
Not to say that I would pass up a million-dollar contract to be on a team.
I may be a stupid man, but I'm not crazy.