I worked so hard for so long to make relationships work, but eventually came to realize that being in a relationship isn't for me. That was a tough realization to come to after spending my entire life convinced I couldn't be complete without somebody else in my life. But I've made my peace with it. Relationships make me happy in the short run, but being single has made me happier in the long run.
Except when grocery shopping.
After my dentist appointment today I went to Petco for kitty litter... to Burger King for an Impossible Whopper... and to Safeway for food.
The problem with shopping for food while single is that it's more expensive than shopping for food with a family (per person). As an example? I need hamburger buns to go with my veggie burgers. Unless I eat veggie burgers every day, I can eat maybe four buns before they go stale. They come in packages of eight. Which means I have to freeze four and they never taste as good after being frozen. Cost for eight buns? $3.49. Or on sale at two for $5. Some stores will let you buy one for $2.50, but most won't. So do I spend an extra $1.50 for a bunch of buns I'll just have to freeze? That's the question I face every time I go shopping. At least buns can be frozen if I decide to go that route... some things cannot.
Like buns for veggie burgers, cream cheese for bagels is another thing that drives me nuts. They are never on sale at the same time. Fortunately cream cheese usually has an expiry date for 6 months, so I can stock up and wait for bagel prices to drop.
But it's not all bad news.
Because of the way my blood sugar spikes, I need to limit carbs. That's tough for a vegetarian, but I do my best and try to plan around it. It's just making choices. Do I want to spread my carbs throughout the day so I can have bread and fruit? Or do I want to splurge on carbs at one meal and go low-carb the rest of the day? If I have pasta for an early dinner (must be eaten before 6 so I have time to burn it off before bed), that means I am having eggs for breakfast and cheese sticks with hummus and veggies for lunch. It's not science, but it works. My doctor is please with my A1C levels, and that's all I need to know.
And while I have gotten rid of a lot of sugar in my diet, I can still enjoy sweets a couple times a week. My favorite is cake, but if I were to make or buy a cake, it would perish long before I got around to eating even a fraction of it.
Fortunately, there are several companies making microwavable "desserts for one" and they're pretty great (also great are break-and-bake cookies, but I wrote about them last week).
And even more fortunately, Safeway had a bunch of them on sale and on closeout...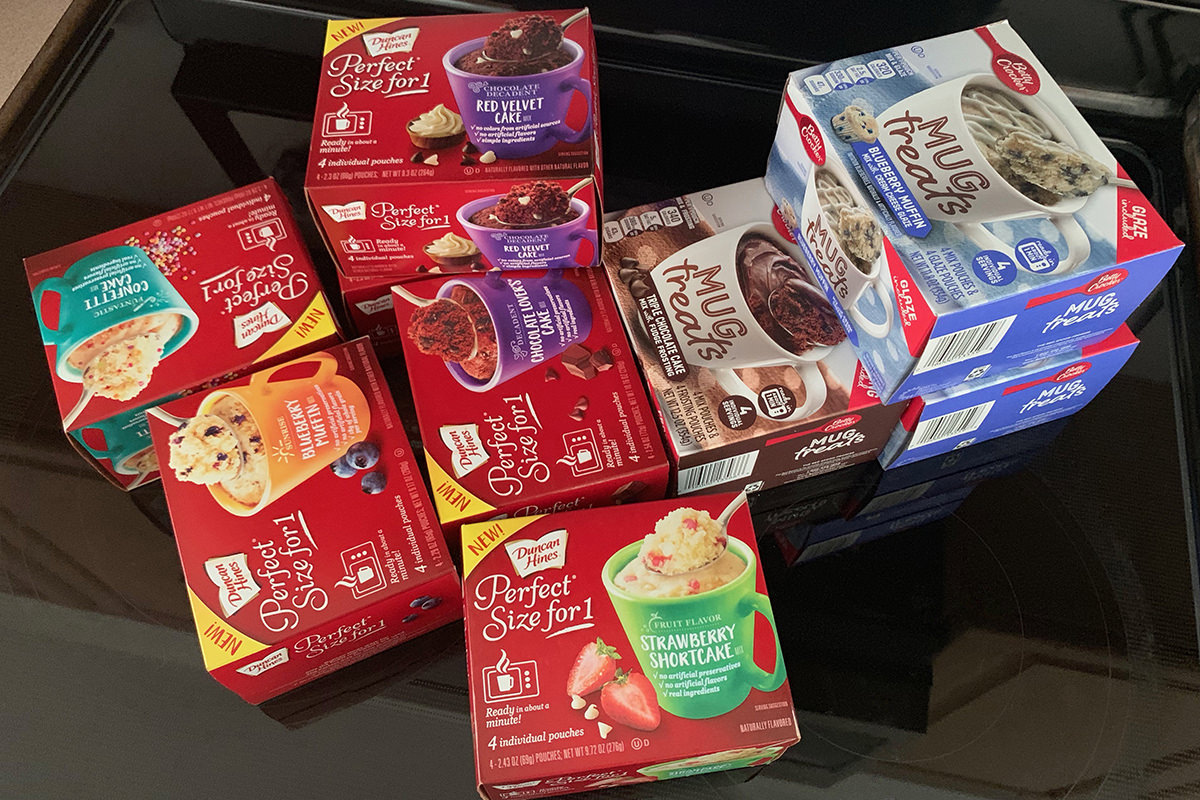 That's enough to last me for the rest of the year (there's 4 per box), and most of them were under $3.00! I prefer the Duncan Hines treats (in the red boxes) because they don't have icing. The Betty Crocker "Mug Treats" do have icing, but I always have to toss it out to save carbs.
No, they're not as fantastic as a real oven-baked cake or muffin, but not having to worry about food waste goes a long way for me.
How sweet.
And another thing that's pretty sweet? The upcoming Disney+ streaming service I've been writing about for weeks!
I don't know if this will help anybody out there, but... if you are planning on signing up for Disney+ and don't care about a bundle with ESPN and Hulu, there's a deal to be had by pre-ordering a membership NOW for when it begins in November.
Disney's official fan club is D23.com and basic membership is free. There are higher tiers with more benefits, but they are not necessary to get this offer. So if you are NOT a member, go sign up for a free membership. If you ARE a member, login and go to the My Account drop-down and choose "View My Account." There you will have the option to buy a 3-year Disney+ membership for $140. That's 33% off the "regular" price...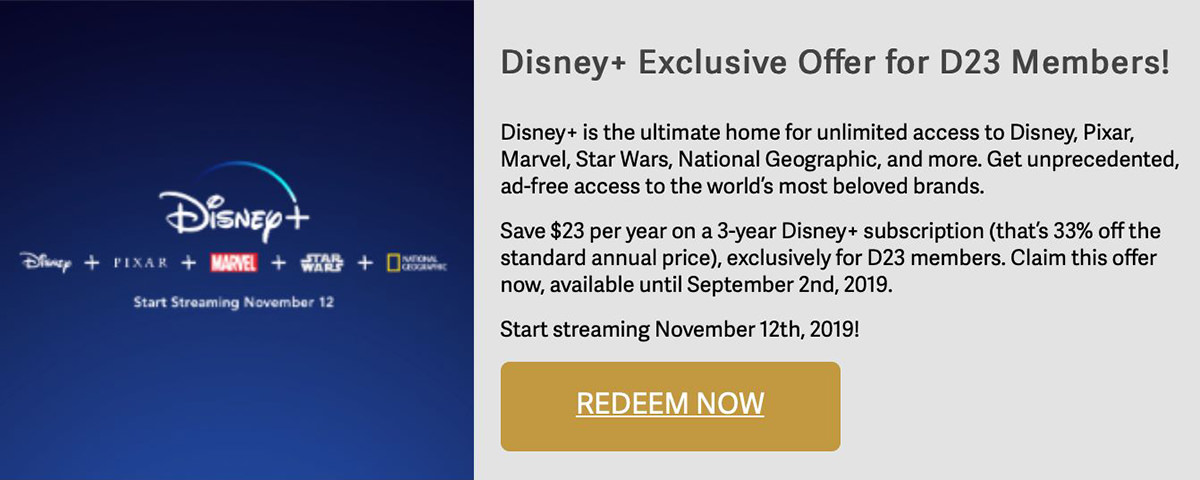 I know three years is a big commitment but, for me, it was a no-brainer. Considering there's exclusive Marvel Studios, Star Wars, Disney, Pixar, and National Geographic content... all of which I love... I was all over it. Sure I don't have $140 to be spending just now, but the offer expires after the weekend and I wasn't going to miss it (that's less than $4 a month!). Hello credit card debt, it's been a long time!
Despite having a bill to pay off, it's nice knowing that I don't have to worry about paying for Disney+ until November of 2022!