"My little children, let us not love in word, neither in tongue; but in deed and in truth."
— 1 John 3:18, King James Bible
I do not often speak of my religious and philosophical beliefs because they are deeply personal to me, and not open for debate on this blog (as most everything I write here ends up being). Suffice to say that I try to lead my life according to Buddhist precepts of doing no harm but don't actually consider myself a Buddhist because I do not follow these precepts as completely as a "true" Buddhist would. That being said, I have studied several different religions in an effort to understand my fellow humans better. Needless to say this includes the many flavors of Christianity.
In my pursuit of comprehending Christians, I have studied The Bible (both Old and New Testament) from several different approaches... including the placement of the Holy Texts in their historical context. From this respect, I am probably better-informed as to their faith than most self-professed Christians are. Especially those who would take some random piece of Scripture... put it in a 20th century context based on modern-day vernacular, customs, and thinking... and then use said Scripture to attack or persecute people. That always drives me nuts because of the sublime ignorance it takes to use the Word of their God as a weapon when, more often than not, the people doing so have no clue as to what that passage actually means. Instead they are using their personal interpretation of a translation of an accounting of texts taken out of context to promote a personal agenda, often in ways that would have originally been impossible... either due to the mores of the time period, or the constructs of the original Hebrew, Aramaic, or Koine Greek language in which The Bible was written.
I can best explain this by using an example: "Awful" originally meant "full of awe" and was used to describe something spectacular instead of something horrible. And that's a relatively RECENT AND UNTRANSLATED example, which was still showing up in English texts under the original meaning just two hundred years ago. Can you imagine how the meaning of words could have changed with translation to another language over the span of two thousand years or more?
In defense of Christians, however, I believe that many of them understand that The Bible is not something that can be taken literally all the time. The ideals within The Bible are immutable to their faith, but certain allowances have to be made for the era in which the Holy Texts were written, and the creative allegory which the authors used to illustrate concepts of Christianity to the people living during those times. Certainly directives such as "Thou Shalt Not Kill" are as true in meaning now as they were back then... but you simply cannot say the same for everything that's in The Bible, or else modern-day Christians would have some very messed-up ways of practicing their faith.
Not to say that there aren't some Christians out there who are doing their best to prove me wrong.
And though the remainder of this entry will be in response to actions of the Westboro Baptist Church, I want to be very clear that I do not consider them unique in their ability to use The Word of their God to do things I consider to be reprehensible. Obviously, the world is replete with examples of peoples of all faiths doing exactly that. It just so happens that this time it's the Westboro Baptist Church who are the ones that caught my attention.
But before I start my little tirade, I should also mention that I fully support members of the Westboro Baptist Church exercising their right to free speech in a manner that complies with the freedoms allowed by that right. I may not agree with the things they say, but I'm sure there are people out there who would say the same thing about me, so more power to them. From their perspective, they are actually trying to help people by raising awareness of their particular interpretation of The Bible, and since they are not using guns or explosives to do it, well... this is The United States of America. If you can't take people expressing themselves and their beliefs, then you really need to find a different country.
Except...
There has to be limits.
There has to be limits because a healthy democratic society not only allows for personal freedoms, but also allows for protection from harm and cruelty that might arise from such freedoms. As an example, your personal freedom of speech does not allow you to scream "HEY! THERE'S A FIRE!" in the middle of a crowded building. Doing so could result in people getting hurt, not to mention being a really mean thing to do. Likewise, you can't sacrifice a virgin to Zuul in the middle of Central Park and cry "freedom of religion" because you've just grossly violated the rights and freedoms of the virgin you just killed... even if they were a willing participant (especially if they were a willing participant). Some would say that freedom with limits is not really freedom at all, but "freedom" is a pretty open-ended word and could easily be perverted to allow persecution of people whose own freedom would be violated in the process of enacting it. Thus, limits.
So, while I support the Westboro Baptist Church for their hate-speech fueled picketing of whatever their latest target might be (as well as those awesome people who picket in response) I also support the idea that their actions should be limited.
Because it's one thing to say "homosexuality is wrong" in the most disgusting way possible... but it's another thing entirely to cause serious emotional cruelty with intent to harm, such as when they picket a funeral. And though I consider the death of a soldier no more tragic than the death of any person, I have to say that picketing the funeral of a fallen soldier who died in service of this country is particularly heinous considering it was soldiers who died for their right to have free speech in the first place...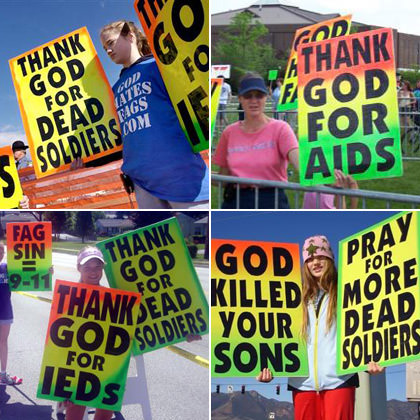 The Bible is relatively quiet about funerals and how Christians should treat the dead. Probably because the core concept of Christianity is the idea of eternal life. To Christians death is just a beginning, so whatever ceremony people want to have for those departed (not to mention the method they use for disposing of the remains) is up to them and whatever traditions they hold.
And so even though the Westboro Baptist Church can toss out whatever context-deprived and misrepresented snippets of The Bible they wish to support their actions, their ruthless persecution of people who are grieving over the death of friends or family is a truly indefensible position to take. Because while The Bible is not so explicit with how one should treat the dead, it is overflowing with passages as to how you should treat the living. Thus, to say that the Westboro Baptist Church violates the very ideals of The Bible they profess to live by, truly is an understatement of biblical proportions.
Which is why I am understandably outraged when I read that Al Snyder, the father of a Marine whose funeral was picketed by the Westboro Baptist Church, has been ordered to pay them $16,000 as compensation for their court costs. The father had (rightfully) won an earlier judgement on the grounds that privacy and religious rights were violated by the church's protest but, since the church won on appeal to the Fourth Circuit, a grieving father gets screwed... again... this time financially.
And now I sit here dumbfounded, trying to figure out exactly how our Founding Fathers could have possibly anticipated such a grotesque application of The Bill of Rights as they were writing them.
Probably because there is no way they could have anticipated something as wholly fucked up as this when The First Amendment was drafted.
I find it sickening on every possible level that we have a legal system which not only actively supports people's "right" to inflict such reprehensible cruelty, but also dictates that victims of such cruelty are responsible for paying for their own deplorable treatment at the hands of the law. THIS is justice? How? There is no justice for the father who was ruthlessly abused in a time of sorrow. There sure as hell is no justice for a dead Marine who is unable to speak out against the abuse of friends and loved-ones at HIS funeral. By the courts saying that there are no limits to the freedoms of the Westboro Baptist Church to persecute people, how can the rest of us be free?
Exploiting the tragedy of somebody's death for glorification of their church and self-promotion of their hate makes members of the Westboro Baptist Church about the least "Christian" people on earth. It also makes them fucking assholes. I honestly believe that a time is coming when citizens of the United States of America are going to put aside their petty political bitching and focus on the big-picture items upon which all of us should be able to agree. Very high on that list is not allowing fucking assholes to picket a funeral and deprive a grieving father HIS freedom to mourn in peace.
Mutual respect for your fellow humans is the only way this whole "freedom" thing is ever going to work out. Those who have no respect, don't deserve the freedom.
If you want to show your support for Al Snyder, you can join the Facebook group he made to support his son and legal battles.
You can also help by donating money to Mr. Snyder to pay the court-mandated fees associated with Westboro Baptist Church's appeal. Any monies collected in excess of the costs will be donated to scholarship funds for returning veterans.