I was an hour late getting to work because I was having a bit of a waffle crisis this morning.
Once I finally got there, it started dumping down rain. This was very bad timing on the weather's part because there's a parade going on downtown this evening. Apparently the rain eventually realized its mistake, as it retreated before the festivities began. Since I had no plans to attend the parade I shouldn't have cared about the weather one way or another, but was kind of glad I didn't get drenched going out to my car when it was time to go home.
I live just five minutes from work. But Since I had three errands along the way, it took me two hours to get home.
I should say that usually I live five minutes from home. Thanks to half the town being closed off for the parade, tonight I lived fifteen minutes from work. I guess this means my errands lasted only an hour-and-forty-five minutes, but it sure seemed like two hours.
Now that I'm home, it was time for inevitable frozen pizza dinner.
I say "inevitable" because frozen pizza takes no thought or effort. It's the microwave popcorn of Saturday-night dinner. Or it would be if microwave popcorn wasn't already the microwave popcorn of Saturday night dinners. If only I had microwave popcorn I wouldn't have had to settle. But the idea of fighting parade traffic for a trip to the grocery store was more than I could bear after the nearly two hours I spent just getting home.
It's at times like this when I'm safe at home while people are fighting for their lives in a parade that I think about how Katy Perry totally ripped off her Fireworks super-powers from the X-man formerly known as "Jubilee." Somebody at Marvel Comics should sue...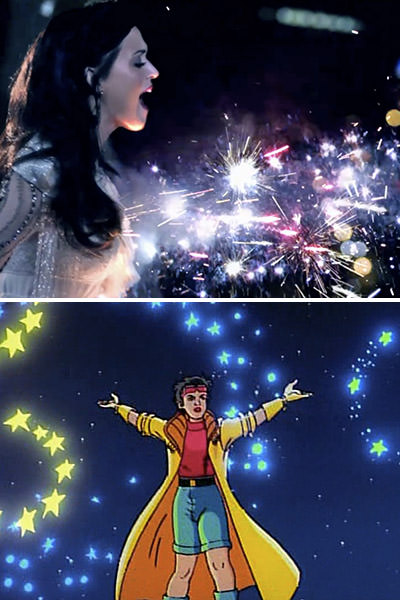 And by "sue" I mean "ask Katy Perry to appear in the next Avengers movie." Because, seriously, everything that Katy Perry touches turns to gold!
And now I suppose I should finish polishing all those imaginary trophies I won in that desert submarine competition. Tomorrow I have to do this all over again (sans parade) and that tarnish isn't going to remove itself.
Please remind me to pick up some microwave popcorn so I can have a decent dinner tomorrow night.