Posted on November 16th, 2015

"One Million Moms" is an action group created by "The American Family Association"... an organization dedicated to bringing "traditional moral values" back to the media. At first blush, this is not such a bad idea... over-sexualization of the media has reached epic proportions, inundating young kids with sexual content and adult situations at earlier and earlier ages. And while I think it's the job of parents to regulate what their kids are exposed to... not society... I certainly sympathize with the struggle to do so, and think advocating for media being more careful about what gets dumped on children 24/7 is not a bad thing.
Unfortunately the people at the AFA's soccer mom offshoot, "One Million Moms," are a bunch of bigoted, racist, homophobic assholes, and one of their more popular activities is ruthlessly persecuting gays via campaigns of hatred anytime homosexuality is portrayed as "normal" or seen in a positive light.
An example... they called for a boycott of JC Penney because they dared to have Ellen DeGeneres as a spokesperson: "Funny that JC Penney thinks hiring an open homosexual spokesperson will help their business when most of their customers are traditional families. By jumping on the pro-gay bandwagon, JC Penney is attempting to gain a new target market and in the process will lose customers with traditional values that have been faithful to them over all these years."
What the fuck?
You'd think JC Penney had aired an ad where Ellen was eating out her wife Portia de Rossi while spread-eagle on top of JC Penney Home bed linens or something.
But, no... One Million Moms just hated the idea that JC Penney would dare to allow a homosexual to be on television. Not that a kid would ever know that Ellen was gay from watching one of her ads...
No. The only damage done to kids by this commercial is when their parents make a big fucking deal over it for no damn reason at all.
You'd think as more and more people point out what fucking assholes they are, that One Million Moms would have mellowed a bit over the years.
Not a chance.
If anything, they've only become even bigger homophobic assholes.
Earlier this month One Million Moms went ape-shit because American Girl magazine had a story that featured an 11-year-old girl... along with her two dads. They condemned the story as "sin" and called for a boycott of the publication just because families like this exist.
Like I said, fucking assholes.
But the family in question has a fantastic response...
One Million Moms can go suck a bag of dicks. How dare they attack a family which is built around providing a loving home to kids in foster care? What have they done to help foster kids?
Nothing.
Instead all they've done is make it so that kids lucky enough to have two dads that love them (not to mention a home to live in) are looked down upon by zombified homophobes.
Congratulations, assholes. Way to protect kids.
Guess your mission only applies to the right kids.
Want to know if you're doing good in the world? Having One Million Bigoted Douchebags calling for people to boycott you is a pretty good sign.
Posted on July 23rd, 2012

Yeah!
There's a moment at the end of every episode of the Perry Mason television show where defense attorney Perry has the real killer on the witness stand and starts hammering away with the Horrible Truth of what actually happened. With unrelenting escalation, he details the murderer's dirty deeds step by step and concludes with angry words that lash out at their lies like a bullwhip... "Isn't it true? Isn't it all true?"
Then the murderer breaks down as Perry thunders "I have no more questions! The defense rests!"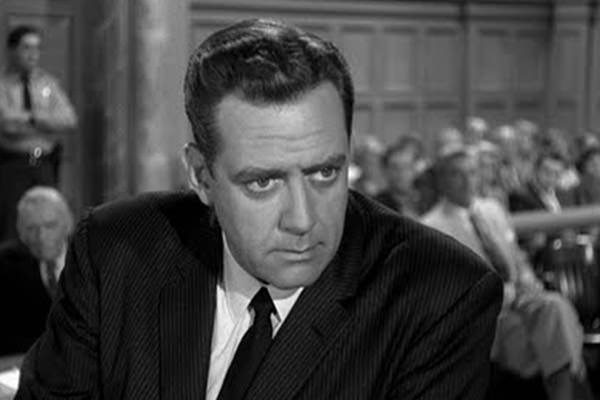 I am so sick and frickin' tired of the non-stop LYING that I am being bombarded with in all these damn political attack ads that I'm about ready to vomit.
I honestly feel that every time that a candidate LIES in one of their ads, they should have to defend their bullshit to a Perry-Mason-type-honesty-advocate so he can can get to the truth. Then, after they are exposed as being filthy LIARS, the polticians have to issue a new ad with a full retraction that airs on every channel the lie was told on, and double the number of times that the original LIE had aired.
Maybe with a punishment that severe, all these filthy, disgusting, scumbag, asshole LYING politicians would think twice about running ads they know to be false.
Then we should then move on to doing the same thing for LIES told in interviews and at campaign stops. Every damn time a politician goes somewhere and tells a LIE, they have to go back to that place, apologize, then admit to everybody that they are nothing but a piece of shit LIAR.
Of course, if Perry Mason was chasing down these LYING LIARS, we'd be hip-deep in apology ads well into October.
But, alas, there don't seem to be any consequences for being a douchebag LIAR politician, so I guess that's what we're stuck with from here on out. Oh happy day.
UPDATE! And here, two days later, is exactly what I was talking about...
Genius. And right on the money.
Posted on July 26th, 2011

There are four streets I drive on to get to work.
Two of them are closed for construction. This basically means that I have to take two detours twice a day. For the most part, I don't mind, because it's (supposedly) going to make it easier to get from Point A to Point B. At least it will in three months or so when they finish. I don't pretend to understand why they can't WORK EVERY DAY AND GET THE SHIT DONE (instead of showing up seemingly at random whenever they feel like it)... but I guess that's how it works.
As inconvenient as the detours were this morning, that wasn't the most irritating thing about my commute. That would be the mommy-jogger-walkers.
These inconsiderate morons jog down the street THREE-WIDE pushing GIANT STROLLERS. One of them on the sidewalk, two on the street. This alone blocks both foot and auto traffic in one direction... but they don't stop there. They are also WALKING THEIR DOGS, which are wandering all over the place, making them even more of an obstruction.
I didn't have my phone handy as I was forced to follow them down the road. Instead I had to take a picture of them down the street after I parked...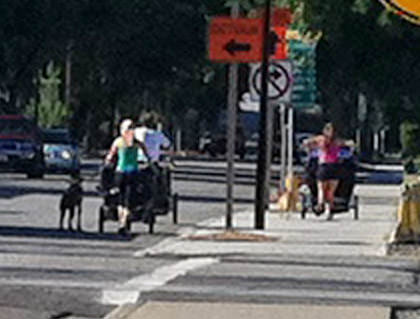 Now, in this photo, the two on the left are jogging single-file because a car was revving up behind them wanting to pass. But when I was behind them, they were side-by-side, effectively blocking the entire lane and not even attempting to share the road. I ended up having to wait for a break in oncoming traffic so I could go around them.
Far be it for me to berate somebody for trying to stay fit... but what a bunch of assholes.
It wouldn't be so bad if they were all jogging single-file on the side of the road... or if they were JOGGING THE SPEED LIMIT... but oh no! They totally don't give a shit that they are taking over THE ENTIRE STREET and causing a backlog of traffic. They're more important than people trying to get to work in the morning, so they just say a big FUCK YOU to motorists and do whatever the hell they want.
Which makes me wonder how long it will be before some pissed off person who's late for work runs them all down in the street.
Hopefully it won't end up being me.
Posted on June 1st, 2011

When the person accusing someone of inappropriate behavior has a history of being wrong (and is a total douchebag), why do people continue to listen to them?
Perhaps because the evening news has to compete with Jersey Shore, so propagating lies, fabrications, exaggerations, and bullshit is considered "journalism" now-a-days. I honestly don't know.
What I do know is that Bad Monkey's favorite feature of the iPhone 4 is its front-facing camera. This makes it easier than ever to get your junk perfectly centered within the frame...
Adding a 3-D camera to mobile phones seems like a natural.
I fear the future.
Posted on December 18th, 2010

When it comes to repealing Don't Ask Don't Tell, my personal opinion is that this is a good thing. People who do us the honor of serving in this country's military deserve to serve as who they are. But I'm not in the military, have never been in the military, and don't plan on serving in the military in the future, so my opinion has always been based on my personal belief of "respect an equality for all" rather than any kind of practical knowledge. And yet... all the people I've talked to who are in the military seem to feel the same way. So, yay, it's time to move on.
And yet the opinion of those serving in the military TODAY has been shoved aside by opportunist politicians catering to their homophobic voter base...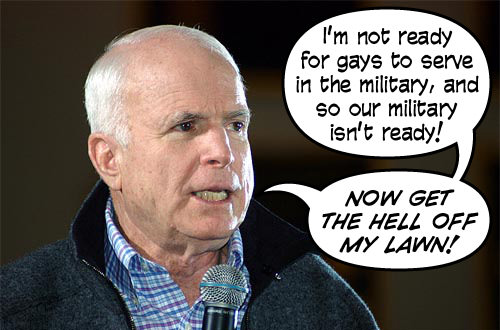 Original Senator John McCain photo by Wigwam Jones via Flickr
Which is disheartening because the attitudes of crotchety old men like John McCain isn't keeping up with the progressive attitudes of modern society...
Brian Tims - True Gay Stories
Fortunately, this country is moving forward despite those who would hold us back.
Sometimes.
Unfortunately this is not always the case. This country seems to have a history of shitting all over those who would serve to protect us... and, just when you think things are changing, something comes along to prove you wrong. Like the politician assholes who are currently working to filibuster the Ground Zero First Responder Health Bill. Or assholes like (surprise!) Senator John McCain who thinks the lives of our heroes is some kind of game.
I am trying... desperately trying... to understand the mindset that would cause somebody to deny much-needed monies for health care to those who risked their lives to save others when this country was attacked. The most common complaint was something like: "Well, that's what they're paid to do! They signed up for a dangerous job and are now crying for more money TO DO THEIR JOB? We shouldn't have to pay for that! I wish somebody would give ME a bonus for doing MY job!"
Give me a fucking break.
YOU TAKE CARE OF THOSE WHO TAKE CARE OF YOU!
There's nothing more to be said. Because if you don't take care of those whose job is to selflessly save lives, GUESS WHAT? Nobody is going to save lives! These heroes accept that they could die doing their job. They know that what they do is dangerous, yet choose do it any way. The least we can do is make sure their sacrifice doesn't ruin the rest of their lives if they should be fortunate enough to survive their service.
And now that first responders continue to suffer horrendous long-term respiratory problems and other health issues from being exposed to the wreckage of Ground Zero, they need to be taken care of when their insurance and worker's comp runs out. Again, it's the least... the very least... we can do for those who boldly go where angels fear to tread. So a bill was drafted, money was found by closing a tax loophole on foreign companies with U.S. subsidiaries, and all we needed to do was pass it. Sure it's expensive, but you do what you gotta do when it comes time to take a stand for what is right. You find a way and you do the right thing.
Except a bunch of asshole politicians think the lives of our heroes really is a game and decided that filibustering for political gain was more important than doing what is right. Despite an impassioned plea for them to do just that...
And so heroic first-responders are left hanging for no other reason except they're apparently not politically important enough to be worth saving. At least until it's politically advantageous to do so. Or some unfathomable tragedy befalls us and it comes time for them to have to run in and save our ungrateful asses.
Typical. So mind-bogglingly typical. Just politics as usual in Washington DC.
If only there was a way to mark all these politicians as "not worth saving" when tragedy pays a visit to their house...
Alexander (R-TN), Barrasso (R-WY), Bennett (R-UT), Bond (R-MO), Brown (R-MA), Bunning (R-KY), Burr (R-NC), Chambliss (R-GA), Coburn (R-OK), Cochran (R-MS), Collins (R-ME), Corker (R-TN), Cornyn (R-TX), Crapo (R-ID), DeMint (R-SC), Ensign (R-NV), Enzi (R-WY), Graham (R-SC), Grassley (R-IA), Gregg (R-NH), Hatch (R-UT), Hutchison (R-TX), Inhofe (R-OK), Isakson (R-GA), Johanns (R-NE), Kirk (R-IL), Kyl (R-AZ), LeMieux (R-FL), Lugar (R-IN), McCain (R-AZ), McConnell (R-KY), Murkowski (R-AK), Reid (D-NV), Risch (R-ID), Roberts (R-KS), Sessions (R-AL), Shelby (R-AL), Snowe (R-ME), Thune (R-SD), Vitter (R-LA), Voinovich (R-OH), Wicker (R-MS).
What repugnant pieces of shit.
Without regard to their own safety, there were people who worked tirelessly to search for survivors and help where needed when America was in its darkest hour. Now it's their turn. Their darkest hour has arrived. These people are facing health crises and financial ruin as a direct result of their service. It's time to return the favor and help them now that they need us. It's time to do what's right.
Posted on August 26th, 2010

The internet is all abuzz over Taylor Lautner filing a lawsuit against an RV dealership because they didn't deliver a $300,000 custom trailer to his movie set on time. For people (like me) who don't give a crap about the Twilight movies, Taylor Lautner is the "Jacob" of that whole "Team Edward vs. Team Jacob" debate that has every teenage girl's panties in a bunch. Apparently he's like a werewolf but he can change anytime, not just when the moon is full. Or something like that. I dunno. All I do know is that in those movie ads he hangs out with a bunch of other guys and they all take their shirts off a lot...
Now, on one hand, breach of contract is a breach of contract. If the RV dealership said they would deliver something on time and didn't, well, they're in breach of contract. Legally, Taylor Lautner has every right to sue.
On the other hand, shit happens. Maybe the gold-plated toilet Taylor wanted wasn't delivered to the dealership on time, and it's not their fault they're late. Maybe the person installing the diamond-studded bumper on the trailer got sick and had to go to the hospital. Maybe the platinum coating on the hubcaps needed to be polished up before they could deliver the thing. We just don't know. Because shit happens.
But surely the movie studio could get Lautner a substitute trailer for a few days until his $300,000 dream-home-on-wheels arrives. It's not like the guy wasn't going to have a place to stay. And it's not like the RV dealership was grossly negligent and gave him a motorhome with exposed wiring in the crystal chandelier hanging in the shower so he got electrocuted or something horrible like that... they're just late.
Which makes Taylor Lautner kind of a douchebag diva here.
Apparently now that he's a big-ass star, the universe is supposed to bow to his whims. Shit happens, but it doesn't get to happen to him. He's too important. He's too special. He's too deserving. You don't fuck with Taylor Lautner or you get your ass sued.
Whatever.
Something tells me that Taylor Lautner has forgotten who he is. Where he came from. What it's like to be merely human.
He's gone full-on Hollywood douchebag.
But...
Taylor, dude, you were fucking "Shark Boy" in The Adventures of Sharkboy and Lavagirl in 3-D!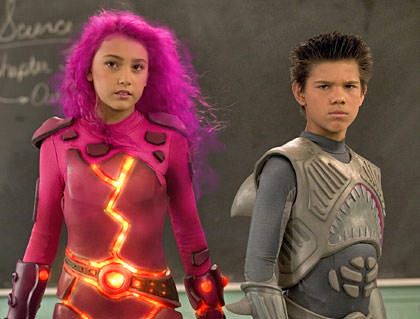 You don't go from being "Shark Boy" to suing people for "emotional distress" because your $300,000 RV is late to your movie set... unless your intention is to make people hate your spoiled ass. The internet is cruel and unforgiving that way.
Something also tells me we won't be seeing a sequel... a Shark Man and Lava Woman, if you will... any time soon. Taylor Lautner is just too big a star for something like that now.
What a darn shame.
Posted on June 18th, 2010

Irony. It can be so ironic sometimes.
Yesterday I waxed poetic about suffering withdrawals from my beloved Patatjes Met (Dutch Fries with Mayo) and my never-ending quest to find something to satisfy the cravings now that I can't have them anymore.
Then today I was forwarded a positively reprehensible rant on how hungry children should just just eat from a dumpster, and had to seriously restrain my rage to keep from typing "FUCK YOU, RUSH LIMBAUGH, YOU VILE PIECE OF SHIT!" in huge letters on a blog post and clicking "publish." Which would have been bad because I accept he represents a point of view for a large segment of the American population, and has a right to spew his crazy-ass shit just as much as the next guy...
Except... not this time.
I am extremely fortunate that I've never had to go hungry. It's something I try to be thankful for every day. But I have worked with an organization that helps people who do go hungry, and it's from this perspective that I can say Rush Limbaugh doesn't know what the fuck he is talking about. He is so far beyond stupid... beyond ignorant... beyond crazy... that my mind just boggles that anybody could be this depraved when it comes to children.
Let's break it down, shall we?
RUSH LIMBAUGH:
A companion story from AOL News: "Record Number of US Kids Facing Summer of Hunger. With the sc-rewl (school?) year ending in communities across America, more than 16 million children face a summer of hunger." Now, Michelle Obama told us they're all so fat and out of shape and overweight that a summer off from government eating might be just the ticket.
Kids are fat and overweight because A) Society has transitioned to a sedentary lifestyle of video games and other "activities" which lack physical exercise, and B) Healthy foods are hideously expensive, but government subsidies make shitty unhealthy food cheap, so this is what people buy. But this is neither here nor there, because there are kids in poverty who don't even get the shitty unhealthy food to eat.
But, even if this weren't the case, this is still a horrible thing to say. Kids... WHETHER THEY ARE FAT OR NOT... should not have to go hungry in the wealthiest nation on earth. Put on a healthier diet? Sure! Taught to exercise? Absolutely! That's what Michelle Obama was talking about. But starve? Are you fucking kidding me? Jeez what an asshole.
RUSH LIMBAUGH:
This, of course, takes into no account that the parents, I guess, just can sit around and let their kids starve. Why if the kids don't do it, they're gonna starve -- if the schools don't do it, the kids are going to starve.

RUSH LIMBAUGH:
God, this is just -- we can't escape these people. We just can't escape them. They live in the utter deniability of basic human nature. They actually have it in their heads somehow that parents are so rotten that they will let their kids go hungry and starve, unless the schools take care of it.
And here is where Rush Limbaugh proves he's a fucking moron. THERE ARE INDEED PARENTS WHO SIT AROUND AND LET THEIR KIDS STARVE! Perhaps they are drug addicts or alcoholics in no condition to realize or care their kids are hungry... or maybe they're never around to notice... or maybe they are just so poor that they can only afford one meal a day, and that school lunch is what keeps their children from going hungry. Regardless, whether by design or choice, parents are letting their kids starve every day. I've seen it. And even if Rush can't get off his bloated, self-righteous ass and see for himself, he can certainly do some research at child shelters, talk to child welfare workers at our schools, or ring up some children's charities to get his fucking facts straight. But experience has taught him that he doesn't have to. His listeners will believe his fucked-up bullshit whether it's true or not, so why bother with actual facts? Fiction is more inflammatory anyway.
RUSH LIMBAUGH:
I think, you know what we're going to do here, we're going to start a feature on this program: "Where to find food." For young demographics, where to find food. Now that school is out, where to find food. We can have a daily feature on this. And this will take us all the way through the summer. Where to find food. And, of course, the first will be: "Try your house." It's a thing called the refrigerator. You probably already know about it. Try looking there. There are also things in what's called the kitchen of your house called cupboards. And in those cupboards, most likely you're going to find Ding-Dongs, Twinkies, Lays ridgy potato chips, all kinds of dips and maybe a can of corn that you don't want, but it will be there.
Except when it isn't there. Because your parent or guardian is out getting stoned or drunk (or whatever) and hasn't bothered to buy food in a month and you've already eaten everything... everything... you manage to find in the house (assuming you still have a house because nobody's around to pay the rent). And since school is out and there's no lunch for you, the one meal you get is now gone. And since you're just a kid, what options do you have but to beg a neighbor (or even strangers) for something to eat? Or try to steal food. Or just go hungry because you don't know what else to do. You're a kid, after all. But even in houses where the parents are around, poverty can result in food being scarce at times... even with food stamps and government assistance. The reality is that hunger is all around us. Maybe the windows in Mr. Limbaugh's limousine are tinted so dark that he can't see families living in hunger on the street, but they exist... whether he chooses to acknowledge it or not.
RUSH LIMBAUGH:
If that doesn't work, try a Happy Meal at McDonald's. You know where McDonald's is. There's the Dollar Menu at McDonald's and if they don't have Chicken McNuggets, dial 911 and ask for Obama.
And if you don't have a dollar... how the fuck can you buy something off the dollar menu? Again, THESE ARE KIDS WE'RE TALKING ABOUT! And the parting shot at Obama? Hey, at least he's trying to do something to help hungry kids... what the fuck are you doing, you worthless piece of shit excuse for a human being? Where's your solution?
RUSH LIMBAUGH:
There's another place if none of these options work to find food; there's always the neighborhood dumpster. Now, you might find competition with homeless people there, but there are videos that have been produced to show you how to healthfully dine and how to dumpster dive and survive until school kicks back up in August. Can you imagine the benefit we would provide people?
So... hungry kids should just eat out of dumpsters. Got it.
You know, I try very hard not to allow hatred into my life, and my entire belief system is based on doing no harm or wishing no harm upon others. But Rush Limbaugh can just fuck off and die. And I mean literally die. Have another heart attack and just DIE. Slowly. With as much pain as possible. Somebody so hateful that they have no pity for a hungry child has no place on this earth, and I just don't care how that sounds.
Because people like Rush Limbaugh simply cannot win.
They just can't.
If the most innocent of us... the children... have no consideration by the adults who dictate how they are forced to live their lives, then we all lose. Because kids are victims of circumstance. They don't have any choice whether or not their parents are poor... or drug addicts... or don't care for them. And if the best the United States of America has to offer these kids is eating out of a dumpster when they have no food, then we don't deserve the many riches we are blessed with. We don't deserve anything at all... except the cold future that uncaring, heartless, reprehensible assholes like Rush Limbaugh are building for us.
Heaven help us all.