The internet is all abuzz over Taylor Lautner filing a lawsuit against an RV dealership because they didn't deliver a $300,000 custom trailer to his movie set on time. For people (like me) who don't give a crap about the Twilight movies, Taylor Lautner is the "Jacob" of that whole "Team Edward vs. Team Jacob" debate that has every teenage girl's panties in a bunch. Apparently he's like a werewolf but he can change anytime, not just when the moon is full. Or something like that. I dunno. All I do know is that in those movie ads he hangs out with a bunch of other guys and they all take their shirts off a lot...
Now, on one hand, breach of contract is a breach of contract. If the RV dealership said they would deliver something on time and didn't, well, they're in breach of contract. Legally, Taylor Lautner has every right to sue.
On the other hand, shit happens. Maybe the gold-plated toilet Taylor wanted wasn't delivered to the dealership on time, and it's not their fault they're late. Maybe the person installing the diamond-studded bumper on the trailer got sick and had to go to the hospital. Maybe the platinum coating on the hubcaps needed to be polished up before they could deliver the thing. We just don't know. Because shit happens.
But surely the movie studio could get Lautner a substitute trailer for a few days until his $300,000 dream-home-on-wheels arrives. It's not like the guy wasn't going to have a place to stay. And it's not like the RV dealership was grossly negligent and gave him a motorhome with exposed wiring in the crystal chandelier hanging in the shower so he got electrocuted or something horrible like that... they're just late.
Which makes Taylor Lautner kind of a douchebag diva here.
Apparently now that he's a big-ass star, the universe is supposed to bow to his whims. Shit happens, but it doesn't get to happen to him. He's too important. He's too special. He's too deserving. You don't fuck with Taylor Lautner or you get your ass sued.
Whatever.
Something tells me that Taylor Lautner has forgotten who he is. Where he came from. What it's like to be merely human.
He's gone full-on Hollywood douchebag.
But...
Taylor, dude, you were fucking "Shark Boy" in The Adventures of Sharkboy and Lavagirl in 3-D!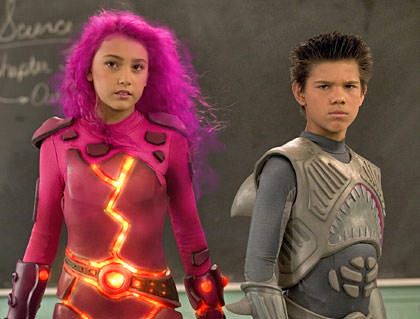 You don't go from being "Shark Boy" to suing people for "emotional distress" because your $300,000 RV is late to your movie set... unless your intention is to make people hate your spoiled ass. The internet is cruel and unforgiving that way.
Something also tells me we won't be seeing a sequel... a Shark Man and Lava Woman, if you will... any time soon. Taylor Lautner is just too big a star for something like that now.
What a darn shame.