Prepare yourself, because a Very Special BLACK PANTHER EDITION of Bullet Sunday starts... now...

• Art! One of the best things about Black Panther is the production design. A lot of what went into that is explored in yet another wonderful edition of Marvel Studio's Art of the Movie books, which somebody on YouTube was kind enough to thumb through...
There's very little of the book that's not fascinating... or gorgeous...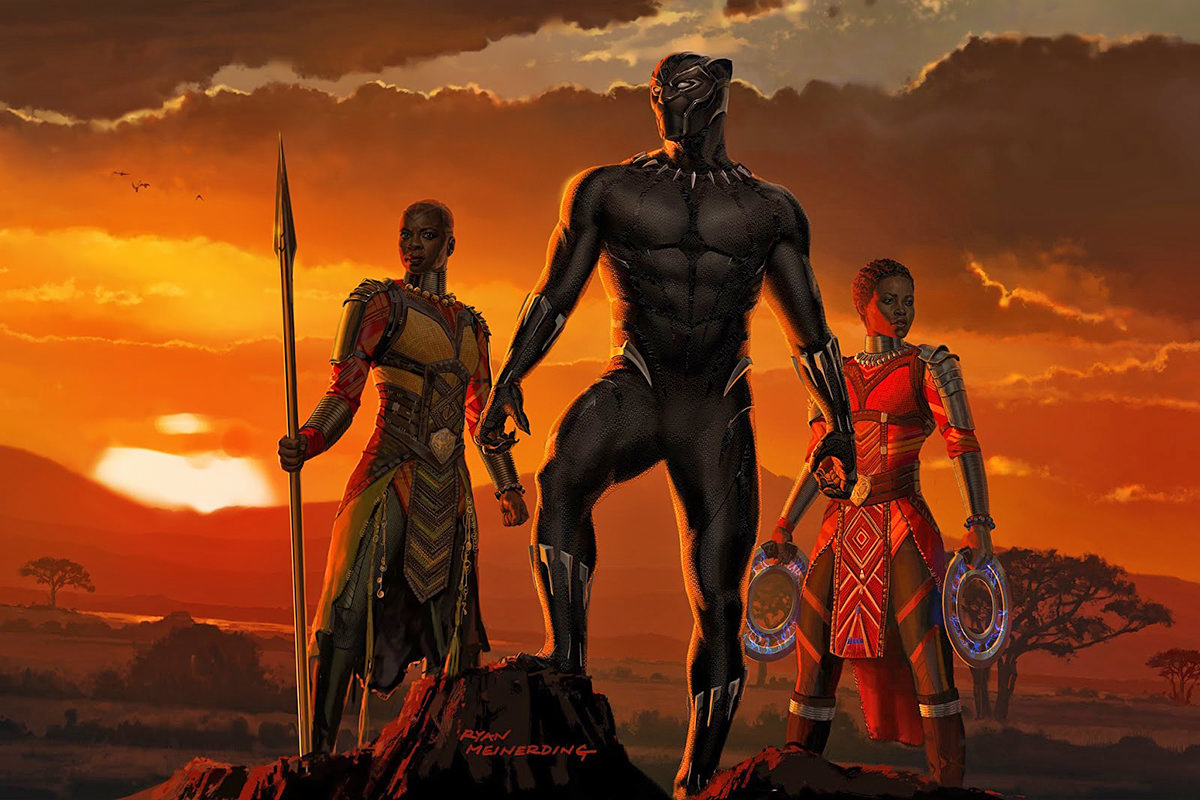 I own the entire series and love them. You can pick up the absolutely beautiful Black Panther edition from Amazon.

• Trevor! The detractors for Black Panther have been pretty stupid about it. I mean, if you don't like the movie, fine... to each their own. But the whole "This movie is racist because it's mostly Black people" is laughably stupid. My favorite commentary on this was by Trevor Noah from The Daily Show...
Speaking of Trevor Noah, if you haven't read or, better yet, listened to the audiobook of his Born a Crime, then it is absolutely worth your valuable time to do so. While interviewing Lupita Nyong'o for Black Panther, it was revealed that she will be producing and playing his mother in the movie adaptation...
Can't wait!

• Mother! Speaking of audiobooks, a momentary aside... I am just now finding out that Jenifer Lewis released a book last month called The Mother of Black Hollywood. Whether you know her as Ruby from Blackish or one of her many roles over nearly 30 years in Hollywood, it is so good...
Here is Jenifer Lewis being Jenifer Lewis... while plugging her book (and other things)...
If you want to be entertained for hours, search for "Jenifer Lewis" on YouTube and prepare yourself. This video is an hour of amazing...
I have only just started listening to the audiobook, but it is fantastic already. If you are a member of Audible, it's worth a credit. If you are not a member of Audible, you get a FREE credit when you sign up! Go do that and get this book!

• Comics! If you've seen the movie (and I'm assuming you have), there's a lot more to the story in the original comic books. Here's my four favorite series...
I would be remiss if I didn't add Jack Kirby's work on the Black Panther, which is also an important read.

• Wrong Panther! It'll be reiterated below, but I think it important to state it here: There is NO relation between the Black Panther of the comic books and the Black Panther Party. And yet... I've seen this pop up more times than I can count online.

• Panther Facts! Let's wrap up this Bullet Sunday with a list of interesting Black Panther bullets, courtesy of Kevin E. Ross, who has asked that people share it...
The Black Panther (real name: T'Challa) is the first mainstream black superhero ever. He was created by Marvel Comics and the team of Stan Lee and Jack Kirby, the same two responsible for heroes like Thor, the Fantastic Four, and Captain America.
Created in 1966 during the turbulent Civil Rights era, he is the first black superhero not created as an "token," a dependent, or a sidekick. This was considered extremely controversial for the time period. He predates Captain America's Falcon (1969) and Luke Cage (1971). He also preceded the revolutionary activist group the Black Panther Party by 3 months (he was introduced in July of 1966, and the Black Panther Party in October of 1966. They were not connected).
T'Challa (his real name), is also the ruler of a fictional African kingdom called Wakanda (population 6,000,000). Wakanda is considered one of the wealthiest nations on Earth as well as one of the most technologically-advanced. Imagine if Disney World's Tomorrowland and the Rainforest Cafe merged.
Wakanda's wealth is the result of a meteorite that crashed on to the continent 10,000 years ago. Composed of a rare alien material called Vibranium, the metal is sought by many in the world for its scientific applications and its military capabilities. It is only available in Wakanda, thus the country keeps itself closed and shielded from the outside world. Vibranium basically absorbs any energy directed towards it and holds it like a sponge. Imagine buildings that wouldn't crumble under the force of an earthquake, or soldiers protected against explosions from grenades and other explosive devices. Wakanda does export other commodities such as coal, diamonds, and technology, which contributes to its worth.
Wakanda has tons of vibranium in underground storage. One gram of vibranium is worth $10,000. That means Captain America's 12-pound shield, which is composed of the material, is worth just over $54 million dollars.
Being the monarch of the world's richest nation also makes you rich. T'Challa's net worth is $90.7 trillion dollars, which makes him richer than Batman's Bruce Wayne (9.2 billion) or fellow Marvel running mate Tony "Iron Man" Stark (12.4 billion). By a lot.
In the comics, the Black Panther is also one of the most well-respected men in the world. He is a combination of nobility (Thor), patriotism (Captain America), and superior intellect (Iron Man). He is also an Oxford graduate with a PhD in physics and is considered one of the top-5 minds on the planet.
The Black Panther is more than the special costume he wears. He is also a world-class athlete who was trained in martial arts, judo, wrestling (a popular Wakandan sport), and all forms of hand-to-hand combat. He also has enhanced healing properties, strength, speed, agility, and tracking senses. This is the result of ingesting a special heart-shaped herb that grows only around the site of the crashed vibranium meteorite. The radiation from the meteorite produces the plant which, once ingested, gives the recipient the aforementioned special abilities. Only those in the royal hierarchy and heirs to the panther mantle are eligible to use it. This means that the Black Panther has absolutely no problem going toe-to-toe with Captain America, who is considered the world's best hand-to-hand combatant and fighter.
Steeped deep in African tradition, Wakandans worship Bast, a female deity known also as the Panther God. The symbolic mythology here is also directly connected to ancient Egypt. She is revered as a protector and defender of the nation. This makes the Black Panther her agent outside the spirit realm, and thus more than a hero, but a true mythical figure. Imagine if the Pope wore a costume, had superhuman abilities, and defended the Vatican from its enemies both foreign and domestic.
Because of Bast, Wakandan women are highly-respected. The king's personal guard, the Dora Milaje, are an elite female fighting force. T'Challa's younger sister Shuri is a genius level intellect and considered one of the smartest women on the planet. Not only does she give the Black Panthers technologically-advanced suit & tech superior upgrades, but also other inventions to help further her country's technological dominance. While Tony Stark, who is considered one of the smartest men on the planet, graduated from MIT at age 17, he did not invent the Iron Man suit until age 42. By contrast, Shuri is only 16 years old.
In the comic books, the Black Panther was briefly married to Storm of the X-Men (remember Halle Berry?). Storm was from Wakanda's African neighbor Kenya (but grew up in Cairo, Egypt).

Until next week... WAKANDA FOREVER!