Posted on May 20th, 2012

Put down those eclipse specs, because Bullet Sunday starts... now...

• Goodbye. I was sad to learn that Robin Gibb passed away. Make fun of me all you want, but I always thought The BeeGees were musical geniuses. So many of their unique songs couldn't have been made by anybody else, and it's a testament to this talent that they were so successful for so long. And as if the idea of not getting any more BeeGees music wasn't bad enough, I'm betting we won't be seeing any more Barry Gibb Talk Show skits on Saturday Night Live either...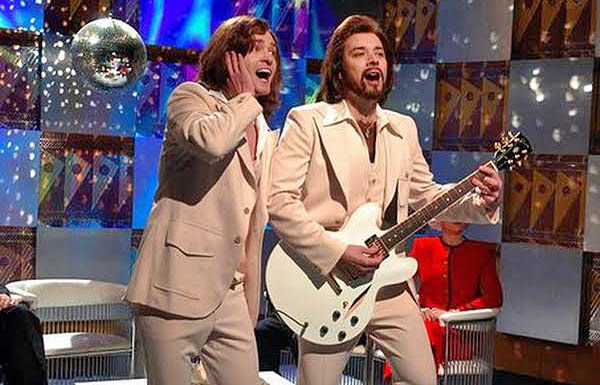 Rest in peace, Mr. Gibb, and thanks for the music.

• SNL. Surprisingly, Mick Jagger made for a funny guest-host on the season finale of Saturday Night Live. The episode itself was a farewell to Kristen Wiig and her seven seasons with the show. I had read somewhere that Andy Samberg and Jason Sudeikis were also leaving, but you'd never know it, because it wasn't even hinted at. What's most disappointing is that we didn't get a final "Two A-Holes..." sketch with Wiig and Sudeikis, which I was absolutely expecting. As close as we got was them dancing together while everybody sang their goodbyes...
Oh well. I suppose it could happen upon Kristen Wiig's inevitable return hosting engagement. Until then, I guess there's always Hulu clips...

• TED. Despite being almost painfully obvious, I've never heard this argument presented in such a compelling way...
Apparently there was some controversy over this clip. TED originally thought it too partisan to unleash upon an unsuspecting world... or something like that... but I'm not seeing it. Furthermore, how can you hope to solve a problem without approaching it from every conceivable angle? Even if Hanauer's belief is entirely wrong, discussing it may lead to worthwhile conversation. When you're desperate, nothing should be off the table, and I hope to see more of this kind of talk from all sides in the future.

• Avengers. I had purchased The Art of Marvel's Thor after seeing the movie. Production design on the Asgard sets and costumes were really well done, and I wanted to see how they were developed. The book was pretty amazing, which made me regret that I hadn't purchased the two Iron Man books. They were out of print and cost a fortune on the secondary market, so I gave up on getting them. Fast forward to the The Avengers, which was production design on an entirely new level, and I simply had to own The Art of Marvel's The Avengers. It did not disappoint. The book is a stunning chronicle of bringing the comic book to the big screen. Then I discovered something very cool... Marvel had assembled books for the previous four Avengers movies (Iron Man, Iron Man 2, Captain America, and Thor) in a boxed set... The Art of Marvel Studios. SCORE! All the books are fantastic...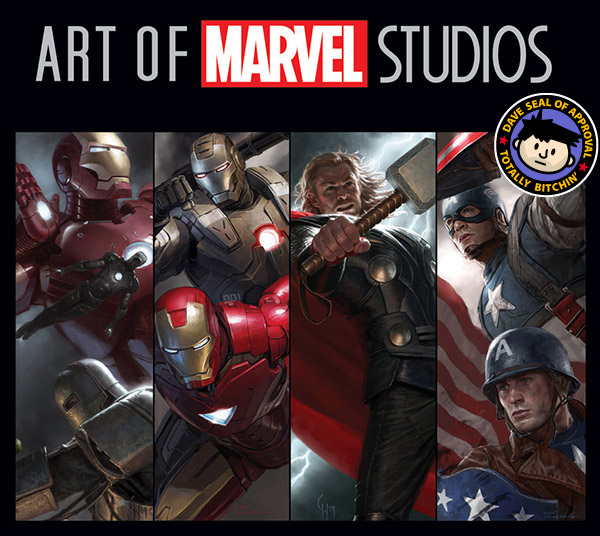 If you wanna take a look inside, JamesTalkALot has a video on YouTube for the Art of Marvel Studios set. He also has a separate video for The Art of Marvel's The Avengers. If you have even a passing interest in these movies, all the books are highly recommended.

Annnnnd... I'm spent. Did I black out some time this weekend? Because it doesn't really feel like I got a weekend at all. Such a bummer. I should probably get my crap together so I can go to work in the morning. If there's any justice, I'll black out again through the entire work week so I can have a real weekend.
Posted on May 22nd, 2011

ZOMG! IT'S BULLET SUNDAY!

• Stars. I swear, if there is a single thing in this world you can count on outside of death and taxes, it's that any time Justin Timberlake hosts Saturday Night Live you're in for one hell of a show. The May 21st season finale was no exception. Not surprisingly, I haven't laughed this much at an SNL episode since the last time he hosted. What was surprising is that musical guest Lady Gaga made a couple very funny appearances throughout the show. I may not be the biggest fan of her music, but she killed it last night in the sketches. As if that weren't enough, we got another The Barry Gibb Talk Show installment too...

Your eyes do not deceive you... that's Susan Sarandon and Patricia Clarkson
making cameos on the funniest SNL Digital Short since Dick in a Box!
Can I just say that I long for the day that the real Barry and Robin Gibb make an appearance on The Barry Gibb Talk Show? I think the universe would probably explode from so much awesomeness.

• Dogs. As I was spending my entire paycheck on a bag of groceries last week, I noticed that MorningStar Farms Veggie Corn Dogs were back. I used to love them, but they were recalled and discontinued a couple years back because of of a heinous contamination at the manufacturing facility. Apparently that's (hopefully) been all sorted out, because I've discovered a new magical formula...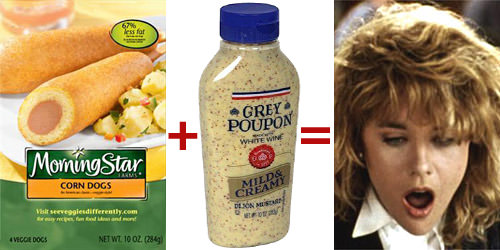 Is there anything that Grey Poupon Mild & Creamy Mustard doesn't taste good on?

• Bears. One of the single coolest people on earth would have to be Bear Grylls. The guy has racked up so many amazing feats that he makes ordinary men look like hamsters by comparison. It all started when he was the youngest person to climb Mount Everest at age 23. Since then he's continued to make awesome expeditions, and even went on to become a best-selling author and (somewhat controversial) television star...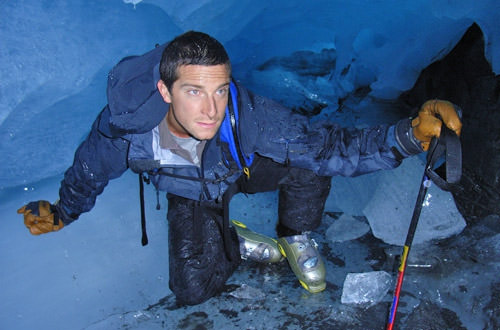 And yet, this morning as I was watching television, I heard something which puts all of Bear Gryll's astounding adventures to shame. His ultimate feat of coolness has to be naming his three kids Jesse, Marmaduke and Huckleberry...

"Holy shit, dude! My name is MARMADUKE!" (Photo by Rob Loud - Getty Images)
I don't know how to feel about Jesse. On one hand, he side-stepped a landmine by not being saddled with a name like Marmaduke or Huckleberry. On the other hand, he doesn't have a kick-ass moniker that guarantees him a reality TV show. Oh well. Goes to show that just when you think Bear Grylls can't possibly be cooler than he already is, something comes along to prove you wrong.

• Trains. Dear iOS developers... I DON'T HAVE TIME FOR GAMES, SO STOP MAKING AWESOME NEW APPS I WANT TO PLAY! Especially all these terrific new board game apps for iPad. As a board game addict, it is really cool to see great games like Neuroshima Hex and Carcassonne being released, but now Days of Wonder has gone and dropped the awesome Ticket to Ride game for a mere $6.99 (my board game version cost $25!)... and it is stellar. It's better than stellar. It actually improves on the original by making it easier and more straightforward to play. But they didn't stop there, they made it Game Center aware, so you can play against other people anywhere in the world...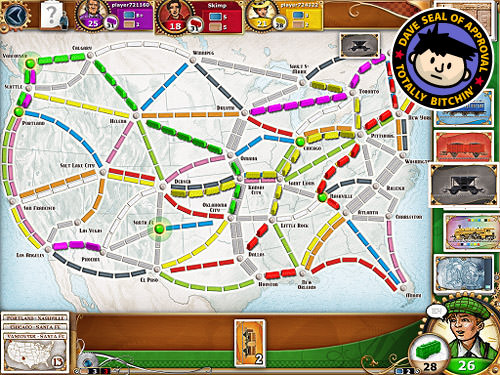 The object of the game is to build railroads. You do this by drawing Destination Tickets which give you two cities to connect. You then play colored Train Cards to build your routes, with longer routes being worth bigger points. It's easy to learn, but the strategy is where the fun is. Do you complete your own route, or block your opponent from completing theirs? Do you risk drawing another Destination Card to increase your score, or do you play it safe because you're running low on train cars? The variations on play are endless but, just in case you get bored, you can add expansion sets with an in-game purchase.
This is the future of board games right here. You can play against your friends no matter where you are, or connect with other players online when you don't have somebody to play with! Granted, it can be tricky to get a Game Center game started up, but other than that it's a flawless app. About the only thing I miss is the socializing that happens when playing a "real" game in person (talking smack over chat isn't the same!), but that's a minor detail when you consider how hard it is to get people together to play in "Real Life." For iPad users, Ticket to Ride gets my highest possible recommendation!

• Trolls. This past week my blog was linked to by some kind of newsletter from a wacky organization seeking to "protect marriage." Since the post they linked to has me supporting marriage equality and calling equality opponents "weak," I suppose it was only a matter of time. I got around a dozen comments, all of which were deleted because they were nasty or didn't contribute to the conversation in any meaningful way. Apparently, their only argument against marriage equality was to bad-mouth me, which is not commenting. It's just name-calling. Somehow I am not surprised that this is all they have left, considering a recent Gallup poll now has the majority of Americans supporting gay marriage for the first time...
This has me envisioning a future where Americans look back at this point in time and think "What the fuck was that all about?" Which will be nice, because I can't for the life of me understand what the big deal is over a person's sexuality not restricting their rights. If somebody writes left-handed, you don't see right-handed people demanding lefties can't get married... so who gives a fuck about two consenting gay adults getting married?
A lot of very insecure people who are worried that they are going to be tempting into getting gay-married, apparently. Which brings me to something of sheer awesomeness tweeted to me by @Galaxyfighter (Not Safe for Work)...

And on that note, I suppose I should be getting back to work.
Posted on May 11th, 2010

It should come as a shock to nobody that I'm writing up a review of the Betty White episode of Saturday Night Live which aired this past weekend. As a massive Betty fan for decades, it's an event too big to ignore. I actually wrote it as I watched from my New York City hotel room, but decided to wait on posting it until I could be sure people who recorded on their DVR had seen it.
In spoiler-free generalities, Betty exceeded my every expectation and turned in a performance so amazing that it's set a new benchmark in greatness for every guest host that comes after (I feel badly for Alec Baldwin having to follow her in this week's season finale). She was funny, timely, genuine, and showed the world exactly how it should be done.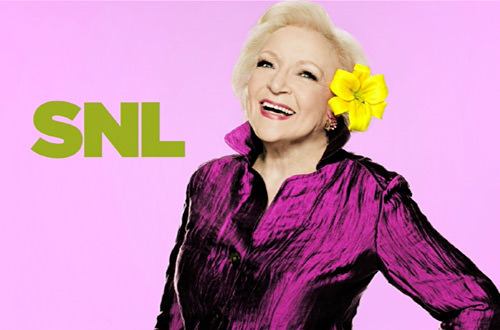 The overwhelming praise for the show by just about everybody on the entire internet is sweet validation that her appeal is universal, and not just something fans like me are blinded to. And while I am sure there are people who didn't care for Betty ditching her innocent and naive "Golden Girl" character for a much edgier turn, I think most everybody can agree that her comedy skills are above reproach. Any time I've found somebody critical of Betty's hosting duties, they either have no knowledge of Betty or are ignorant of Saturday Night Live's history. And since I won't have any of that ugliness tarnishing Blogography, I've addressed that in my "Blogography Bits" Tumblr Blog (warning... naughty language ensues!).
For those who still haven't seen the show and live here in the USA, you might check and see if it's still available on hulu... or you can buy a butchered version from iTunes. If you live outside the USA... well, I'm sure you can get it wherever you usually get your American television shows (sorry stupid-ass network licensing is screwing that up for you!).
So... if you have watched the show and want a run-down of my thoughts, I've put that in an extended entry...
→ Click here to continue reading this entry...
Posted on May 8th, 2010

What better way to spend my last night in New York City than to meet up with good friends for dinner? After a visit to Pinkberry... Dawg, Poppy, Robyn, and I took a look at the Museum of Comic and Cartoon Art then wandered around the Village for a while trying not to get blown off the sidewalks by gusting winds. I don't know if the wind was better or worse than the rain that was forecast, but it certainly made the little things... like walking... an adventure.
Eventually we all ended up at Cowgirl Hall of Fame where we met up with ETinNY for Dave York 3. It was also an opportunity to hand over ETinNY's winnings from his sponsorship of "Team Therapy In The Making" for Blogathon 2009. His prize was to name a topic for a custom DaveToon print, which was "Bad Monkey on the Empire State Building," and it turned out like this...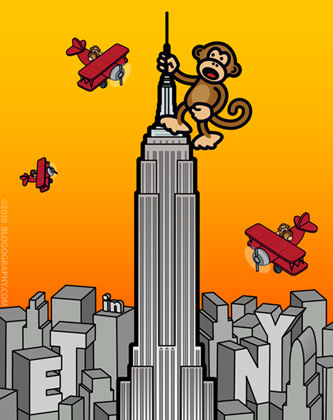 After dinner, we moved on to a bar for drinks before saying our goodnights. I may have flown to New York City for an a-ha concert, but getting to spend time with these fantastic people is what makes me want to stay.
And then...
Betty White on Saturday Night Live.
From the minute I heard that Betty would be hosting and it coincided with my trip, I've been trying everything I can to get tickets. I called in every favor. I wrote dozens of emails. I contacted everybody with even a hint of a possibility of helping me out with my Betty White fixation. All for not. Tickets were practically impossible for mere mortals with no connections to get. And people here in NYC had been lining up since Thursday for a chance at any extras that might be released. Betty was the ticket in town, and the huge popularity of musical guest Jay-Z assured that it would be nigh impossible...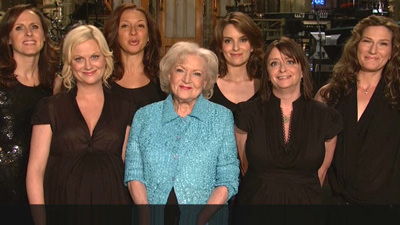 So I made due watching it live in New York, where Betty White killed on the show. She was genius from start to finish. At first I thought the addition of Amy Poehler, Maya Rudolph, Rachel Dratch, Ana Gasteyer, Molly Shannon, and Tina Fey would be to lighten the load on Betty, and have her appear in less sketches. Not so! Betty appeared in every sketch plus the cold open, plus Weekend Update, plus an SNL Short. And at every turn, she stole the show... saving mediocre sketches from themselves, and elevating them to something that was actually funny! Genius. I sure hope she gets an Emmy for this, as she's certainly earned it.
For years I've been saying that every television show should feature a guest-appearance by Betty White because "everything's better with Betty" and she has totally proven it tonight. Congratulations to Betty White... and SNL for exploiting her genius to the max.
And now I will try to come down off the high of two fantastic days in New York City so I can get some sleep.
Like that's going to happen.