What better way to spend my last night in New York City than to meet up with good friends for dinner? After a visit to Pinkberry... Dawg, Poppy, Robyn, and I took a look at the Museum of Comic and Cartoon Art then wandered around the Village for a while trying not to get blown off the sidewalks by gusting winds. I don't know if the wind was better or worse than the rain that was forecast, but it certainly made the little things... like walking... an adventure.
Eventually we all ended up at Cowgirl Hall of Fame where we met up with ETinNY for Dave York 3. It was also an opportunity to hand over ETinNY's winnings from his sponsorship of "Team Therapy In The Making" for Blogathon 2009. His prize was to name a topic for a custom DaveToon print, which was "Bad Monkey on the Empire State Building," and it turned out like this...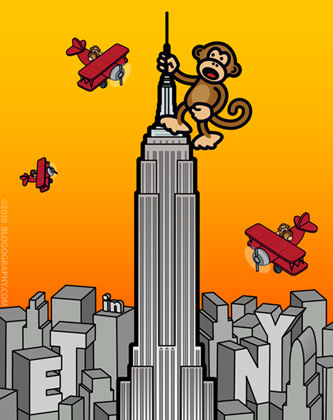 After dinner, we moved on to a bar for drinks before saying our goodnights. I may have flown to New York City for an a-ha concert, but getting to spend time with these fantastic people is what makes me want to stay.
And then...
Betty White on Saturday Night Live.
From the minute I heard that Betty would be hosting and it coincided with my trip, I've been trying everything I can to get tickets. I called in every favor. I wrote dozens of emails. I contacted everybody with even a hint of a possibility of helping me out with my Betty White fixation. All for not. Tickets were practically impossible for mere mortals with no connections to get. And people here in NYC had been lining up since Thursday for a chance at any extras that might be released. Betty was the ticket in town, and the huge popularity of musical guest Jay-Z assured that it would be nigh impossible...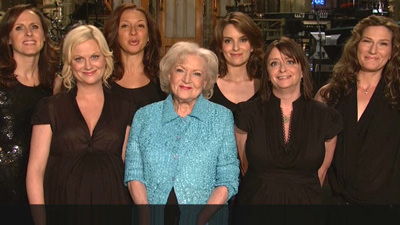 So I made due watching it live in New York, where Betty White killed on the show. She was genius from start to finish. At first I thought the addition of Amy Poehler, Maya Rudolph, Rachel Dratch, Ana Gasteyer, Molly Shannon, and Tina Fey would be to lighten the load on Betty, and have her appear in less sketches. Not so! Betty appeared in every sketch plus the cold open, plus Weekend Update, plus an SNL Short. And at every turn, she stole the show... saving mediocre sketches from themselves, and elevating them to something that was actually funny! Genius. I sure hope she gets an Emmy for this, as she's certainly earned it.
For years I've been saying that every television show should feature a guest-appearance by Betty White because "everything's better with Betty" and she has totally proven it tonight. Congratulations to Betty White... and SNL for exploiting her genius to the max.
And now I will try to come down off the high of two fantastic days in New York City so I can get some sleep.
Like that's going to happen.