It should come as a shock to nobody that I'm writing up a review of the Betty White episode of Saturday Night Live which aired this past weekend. As a massive Betty fan for decades, it's an event too big to ignore. I actually wrote it as I watched from my New York City hotel room, but decided to wait on posting it until I could be sure people who recorded on their DVR had seen it.
In spoiler-free generalities, Betty exceeded my every expectation and turned in a performance so amazing that it's set a new benchmark in greatness for every guest host that comes after (I feel badly for Alec Baldwin having to follow her in this week's season finale). She was funny, timely, genuine, and showed the world exactly how it should be done.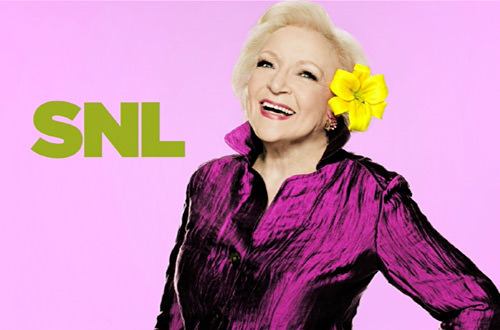 The overwhelming praise for the show by just about everybody on the entire internet is sweet validation that her appeal is universal, and not just something fans like me are blinded to. And while I am sure there are people who didn't care for Betty ditching her innocent and naive "Golden Girl" character for a much edgier turn, I think most everybody can agree that her comedy skills are above reproach. Any time I've found somebody critical of Betty's hosting duties, they either have no knowledge of Betty or are ignorant of Saturday Night Live's history. And since I won't have any of that ugliness tarnishing Blogography, I've addressed that in my "Blogography Bits" Tumblr Blog (warning... naughty language ensues!).
For those who still haven't seen the show and live here in the USA, you might check and see if it's still available on hulu... or you can buy a butchered version from iTunes. If you live outside the USA... well, I'm sure you can get it wherever you usually get your American television shows (sorry stupid-ass network licensing is screwing that up for you!).
So... if you have watched the show and want a run-down of my thoughts, I've put that in an extended entry...


Saturday Night Live - May 8th, 2010 - Hosted by Betty White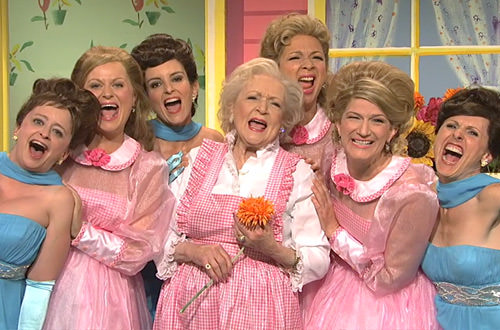 COLD OPEN: THE LAWRENCE WELK SHOW
Betty White is the mother of four singing daughters (including Kristen Wiig's freaky tiny-handed "Dooneese") appearing on The Lawrence Welk Show for a Mother's Day special. I didn't find the sketch particularly funny, and Betty wasn't given much to do, but I always like it when SNL manages to write a cold open where the guest-host gets to scream that famous phrase "LIVE FROM NEW YORK, IT'S SATURDAY NIGHT!" Fortunately, my wish was granted, and it was a great way to get Betty fans excited for the show. MY RATING: B-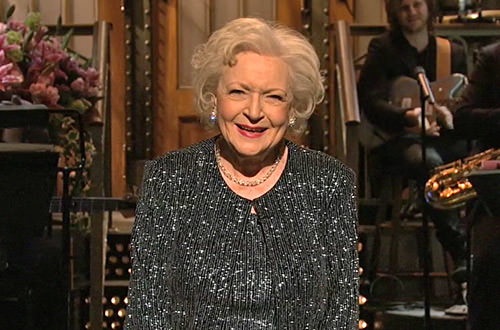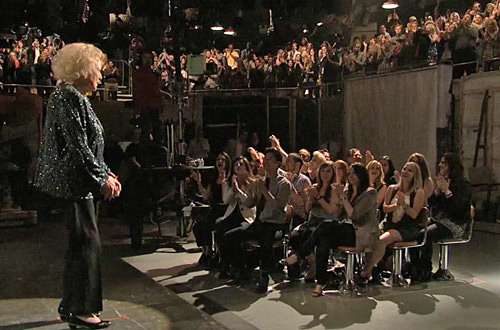 "We had poking, but it wasn't something you did on a computer..."
MONOLOGUE: BETTY WHITE
And here's the moment everybody's been waiting for. Betty hits the stage looking like a million bucks and absolutely kills with her monologue. The writers managed to give her material that ribs on her age, Facebook, poking, hay rides, and her long history in entertainment. MY RATING: A+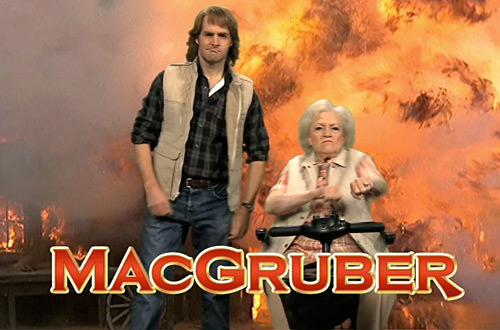 "It's called micro-penis!"
MACGRUBER: EPISODE 1
Even though I am very much looking for ward to the MacGruber movie, I admit to being a little tired of the skits on SNL. But with the movie dropping any day now, it would be odd if they didn't work in a new MacGruber so here we are. Fortunately, Betty was used to maximum effect by expanding on MacGruber's family. Just like when they introduced his gay son Merrill (Shia LeBeouf in the only role I've ever liked him in) and father MacGyver (Richard Dean Anderson!), the addition of Grandma MacGruber is a shot in the arm for the tired sketch. Betty delivers a number of embarrassing facts about MacGruber that only a grandmother could know, and it's perfect. MY RATING: A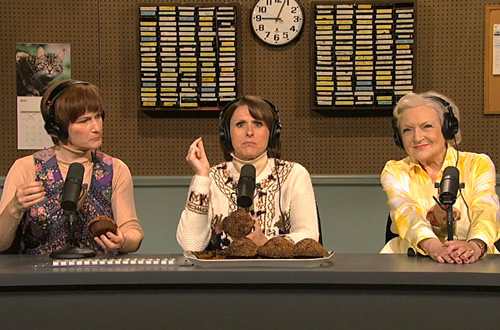 "My muffin hasn't had a cherry since 1939..."
NPR DELICIOUS DISH: FLORENCE DUSTY'S MUFFIN
One of the funniest sketches to air in recent SNL history would be Alec Baldwin's appearance on "Delicious Dish" as Pete Schweddy with his Schweddy Balls. Well now we have the inevitable follow-up, Florence Dusty and her Dusty Muffin. While it would be impossible to approach the shock-value of Schweddy Balls... Ana Gasteyer, Molly Shannon, and Betty White deliver a worthy follow-up. Betty's velvety, moist, delicious, cherry-free muffin makes for a hysterical sketch. MY RATING: A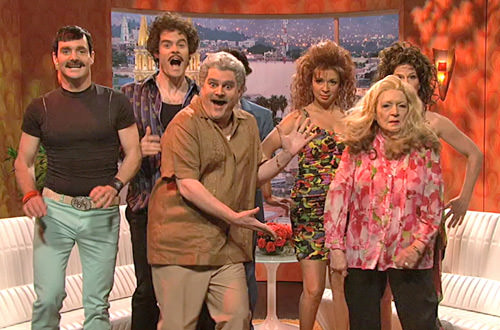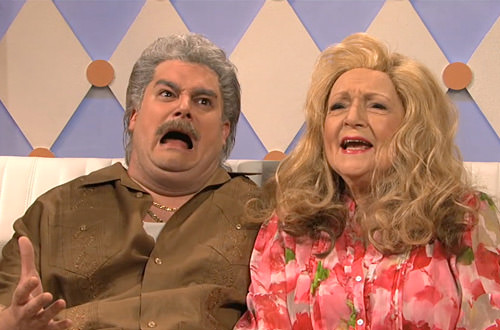 "Ai yi yi... that explains why he doesn't like tacos!"
THE MANUEL ORTIZ SHOW
I am definitely not a fan of The Manuel Ortiz Show. There's nothing about a sketch with nonsensical dancing and escalating talk-show drama delivered in Spanish accents that could be considered funny, and I'm kind of embarrassed that they keep making the talented Fred Armisen go back to this well. That being said, Betty does deliver the laughs with her attempt at nonsensical dancing, jibes at her newly outed son, and infidelity. If it weren't for her (and a hysterical Will Forte) this sketch would be a zero. MY RATING: C+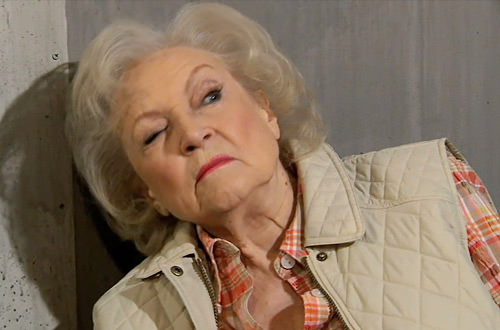 "She's just playing dead... she does this all the time for attention."
MACGRUBER: EPISODE 2
Once again, Betty adds a much-needed lift to a dying sketch with even more embarrassing details of MacGruber's past. Total genius! MY RATING: A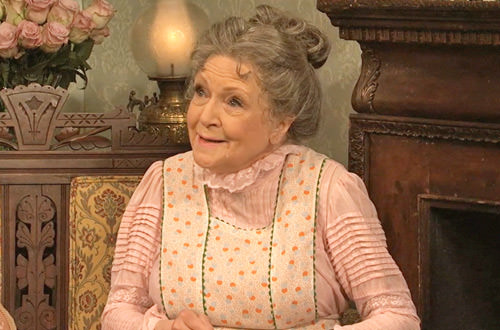 "You're barking up the wrong lesbian."
GINGEY
The writers took an easy out by having a sweet old lady say "lesbian" over and over for comedic effect, but she totally sells it each and every time. It's shocking how such a bland concept manages to absolutely sparkle when Betty White gets ahold of it. Not to be overlooked is Amy Poehler, who's feisty appearance as "Gingey" shows exactly how much the show lost when she left it. MY RATING: B+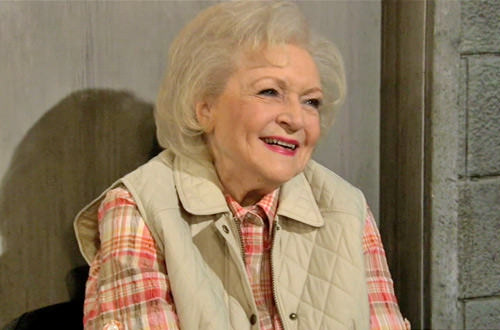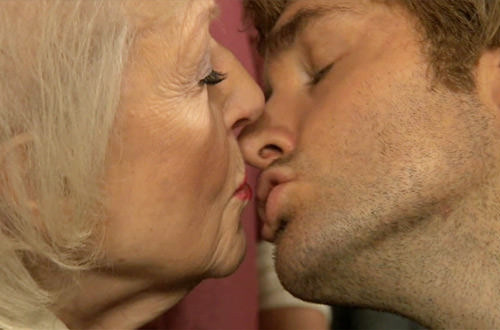 "Are you out of your fucking mind?"
MACGRUBER: EPISODE 3
Will Forte is usually funny regardless of how bad the sketch he appears in, but when he's given a moment to sell, he never falters. Proposing to his own grandmother with all the heartfelt emotion he could muster sets Betty White up for one of the best lines in the history of the show. Not to be outdone is Kristin Wiig's hysterical look of shock as MacGruber goes in for the kiss. It's the perfect MacGruber storm, and finishes up the series with a much bigger bang than usual. MY RATING: A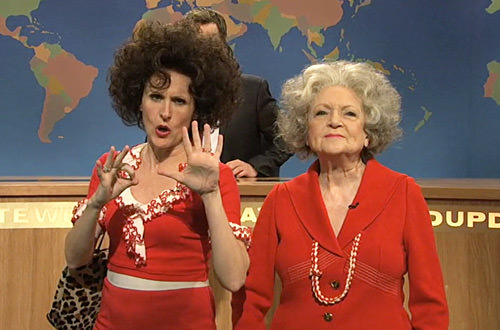 "Not only did my boyfriend wear Trojans, he was one!"
WEEKEND UPDATE: SALLY O'MALLEY & DOTTIE O'DONEGAN
I have never, ever, understood why "Sally O'Malley" is supposed to be funny. She trots out in her camel-toe inducing spandex pants, raves about being 50 years old, then screams about liking to "KICK, STRETCH, AND KICK" every time she appears... and that's pretty much it. Sure Molly Shannon is funny, but it's not enough, and the character has always fallen flat to me. Shoe-horning her into Weekend Update was lame, but then Betty White enters as "Dottie O'Donegan" to one-up Sally with being 90 years old, and suddenly the game changes. I still don't like Sally, but at least this appearance was actually funny for a change. Mad props to Betty White for having the stamina to appear in EVERY SKETCH plus the cold open plus an SNL Digital Short plus Weekend Update. Even I was shocked at just how much she put into her SNL appearance. MY RATING: C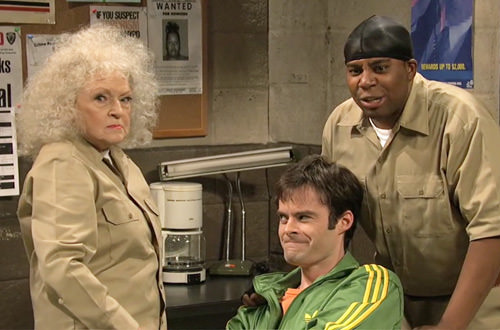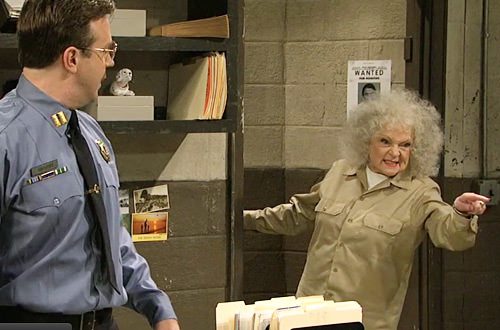 "WIZARD OF ASS!"
SCARED STRAIGHT: GRAND MAMMY MACINTOSH
These "Scared Straight" sketches are usually painfully mediocre, but drop Betty in the mix, and suddenly they bring the funny. Her wild-haired scary prison inmate "Loretta Macintosh" was genius, and watching poor Bill Hader try to keep his composure while getting roughed up by 88-year-old Betty White was classic. Just one more glowing example of how Betty makes everything better! MY RATING: A-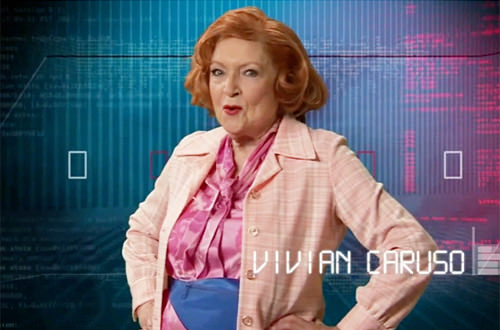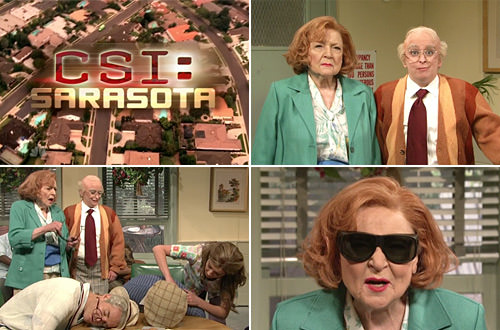 "It's like my underwear... Depends."
CSI: SARASOTA
What happens when you take one of the things I loathe most in this world (David Caruso) and marry it up to one of the things I love most in this world (Betty White)?? GENIUS! David Caruso's embarrassingly stupid one-liners from CSI: Miami are hysterical enough on their own (in a pathetic, annoying kind of way). But when you have Betty White become "Vivian Caruso" and deliver those same crappy one-liners with a geriatric slant? It's hysterically funny because it's actually funny. And every time she dishes out her "Caruso zinger" she slaps on these massive black sunglasses to drive it home in one of the funniest parodies ever to appear on Saturday Night Live. As you can imagine, I was BEYOND ANGRY to discover that this sketch was cut from the show NBC sells on iTunes. I always try to do the honest thing but, thanks to NBC, I guess I have to go to BitTorrent after all. What assholes. On a brighter note, it's nice that Rachel Dratch got to play "Sy Horowitz" here since her "Debbie Downer" sketch was cut after dress rehersal. MY RATING: A+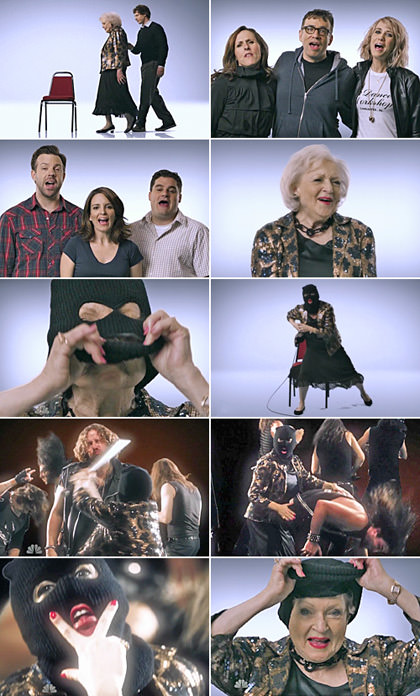 "Oh that was just lovely! But I think I prefer my version..."
SNL DIGITAL SHORT: THANK YOU FOR BEING A FRIEND
Well, if the f-bombs and crass humor weren't shocking enough for people who only know Betty White from her role as naive and sweet "Rose Nylund" on The Golden Girls, here was the sketch that would do it. Betty is sat down while the SNL cast sings her a touching rendition of The Golden Girls them song. After which she feels compelled to tell them that she thinks she likes her version of the song better. But her version is a scorching death-metal extravaganza with a black mask, sex, blood, and violence. To top it off, she wishes everybody a "Happy Mother's Day, mother-fuckers!" To true Betty White fans, however, this was not shocking at all. It was just the comedian Betty White being Betty White and being funny as hell. MY RATING: A+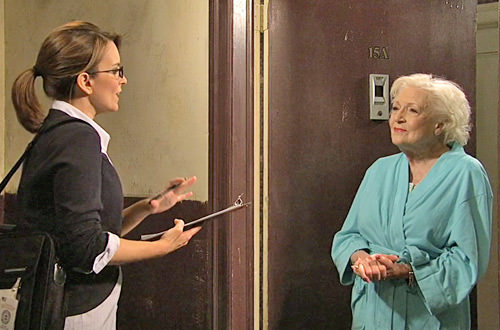 "BLARRFENGARR!"
2010 CENSUS
It is not easy to hold your own when you're in a scene with Tina Fey. I don't care what they have her do, Tina Fey always manages to dominate anybody she's paired with, and that has included an impressive list of actors. So here we have my ultimate dream-team pairing of comedy gold... Tina Fey vs. Betty White. I suppose I shouldn't be surprised, but Betty managed to match Tina shot-for-shot as a bizarre old lady being questioned for the census. While the material was funny, it wasn't off-the-charts funny... but the performances elevated this short sketch to brilliance. MY RATING: A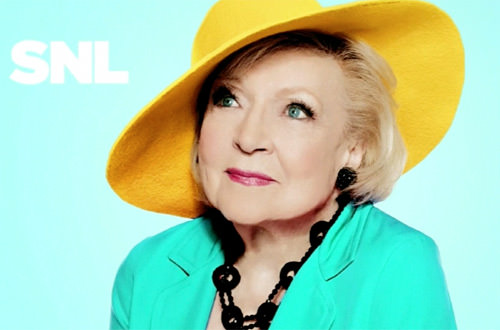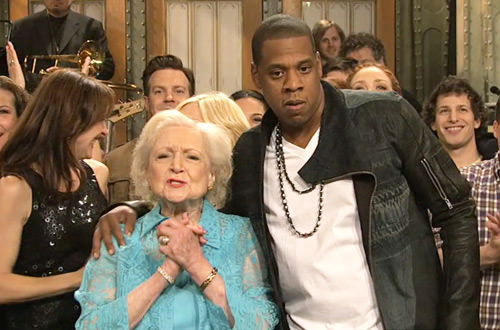 "Thanks to all those who were so dear to a scared but happy host."
CLOSING
As much as I appreciated Betty's many wonderful performances in this episode of Saturday Night Live, the thing that will stick in my memory forever is the ending. There's Betty White, standing in the middle of the cast after a great show and having Jay-Z dedicate his song "Young Forever" to her. The crowd is going nuts as she tries to thank everybody for being so kind, then Kenan Thompson and Kristen Wiig hand her two giant bouquets of white roses. The look on her face says everything. She's all at once relieved that such a scary moment is over... happy that she managed to get through it... thrilled at the enthusiastic response from the crowd... touched by the kindness of the cast and crew... and overwhelmed by the entire experience. It was everything she deserved, and I couldn't stop smiling as I sat through the credits again and again, just looking at her face. She earned every bit of that moment, and I was happy to see her get it...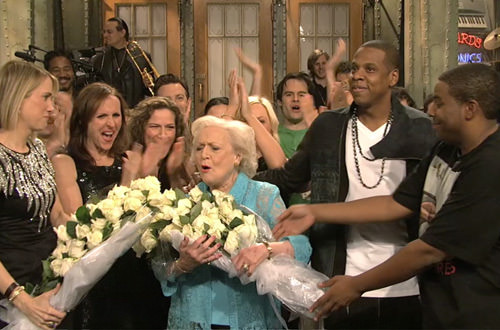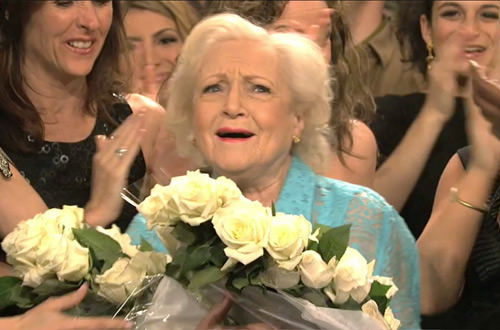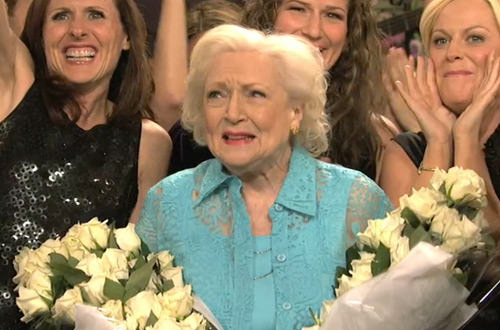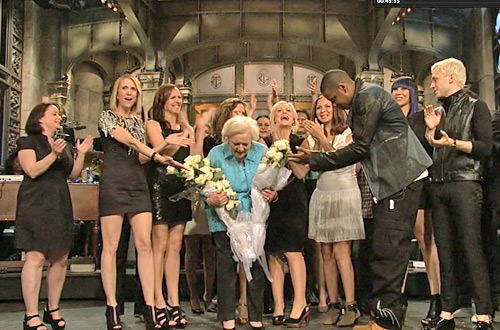 Just when I thought I couldn't possibly love Betty White any more than I already do... she goes and proves me wrong. Again. What a fantastic show. Hands-down my favorite episode of SNL in a very, very long time. Hulu is currently showing sketches that were cut from the show so, if like me, you couldn't get enough of Betty, you can see if they're still playing.
On a side note... when did Kristen Wiig get so hot? I mean, legs forever and that blonde hair are seriously working for her here!