Fred Armisen and Bill Hader will be sorely missed now that they are departing from Saturday Night Live. And, given their incredible body of work and the dozens of characters they inhabited, it's hard to see anybody stepping into their shoes any time soon.
But the real damage in Armisen and Hader leaving comes from the astounding number of imperessions they contributed. According to the SNL Archives, Armisen had 98 celebrities in his arsenal, and Hader added another 82. That kind of versatility is tough to come by and a part of me wonders how the current cast is going to fill the massive hole left now that they're off the show.
On the plus-side, appearances by Hader's "Stefon" will hopefully be rare from here on out...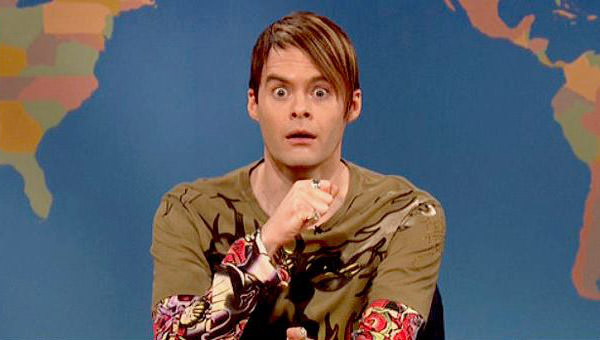 I fucking hate Stefon.
Every time he appears, it's the SAME DAMN SKIT OVER AND OVER AGAIN! Maybe I found it mildly amusing when he appeared the first time, but each subsequent appearance was awful.
And yet, for reasons I cannot fathom, I know people who just love Stefon. To each their own, I guess... but I just don't get it.
Of course, Armisen and Hader aren't the only members of the cast moving on.
Odds are running high that Jason Sudekis won't be returning. That's going to really hurt.
And come next January, Seth Meyers will leave to replace Jimmy Fallon on Late Night when Jimmy replaces Jay Leno on The Tonight Show. It's going to be really interesting to see who takes over the SNL News desk when that happens. There's a peculiar kind of talent needed to pull it off, and I'm not seeing that in anybody left.
In other words, it's not looking very good for Saturday Night Live. Kenan Thompson is the only long-time player left and, while I like some of the newer people, you kinda have to wonder how much longer the show will go on if something big doesn't break soon.
Like Eddie Murphy coming back.
Anyway, farewell to Mr. Armisen and Mr. Hader.
And thanks for the laughs.