Posted on July 16th, 2017

The Mother of Dragons has come home to roost at long last, but the bigger news is that an all-new Bullet Sunday starts... now...

• Square? Amazon is thrilling their customers with new #BoxFacts on their packaging now. Except they aren't really "facts" when they're wrong...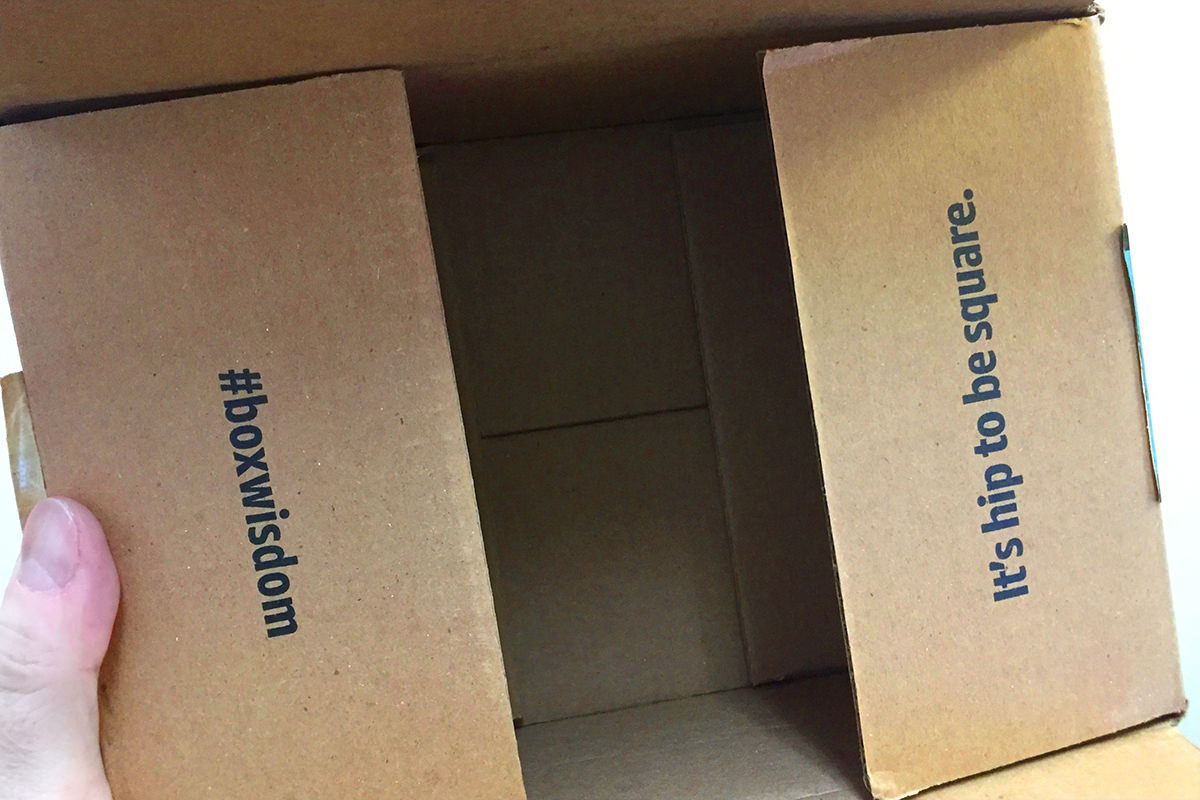 NOT A SQUARE!! Somebody at Amazon should have remembered the Square Song from Close Encounters of the Third Kind, because a square has ALL FOUR SIDES THE SAME SIZE!
Amazing how that song has stuck in my head all these years. Handy too... for exactly these kind of occasions.

• WHO?!? And it's been announced that the next Doctor Who will be Jodie Whittaker...
Who happens to be a woman.
As you can probably imagine... the internet is losing its collective shit. Some of it in a good way... I mean, come on... this has been a long time coming. But a goodly chunk of it in a bad way, refusing to accept a woman as Doctor Who. Because women can't be doctors? Fuck that. Best of luck, Jodie Whittaker, I'm looking forward to seeing you in the role!

• Dental! This is the questionnaire that I was given to fill out at the dentist office this past week...
I had to go up and confirm with the receptionist that I was there for a teeth cleaning, right? And, if that's the case, exactly what position would that be happening from? I mean, yeah, I get it... your dentist probably needs to know some medical facts so they can best treat you... but genital herpes?!?

• TransVisible! As somebody who had a trans friend get the crap beaten out of her this past March for no reason other than being who she is... a friend who has done nothing but be an exemplary tax-paying citizen who dedicates more time towards helping others than most people would ever dream of... I have to say what a load of horse shit it is that anybody should have to be forced to stand up and defend their child's right to be who they are. Thank God that men like this exist who do exactly that. ..
All the misinformation and outright lies being propagated by bigots about trans persons... WHO WANT NOTHING MORE THAN TO LIVE THEIR LIVES IN PEACE... speak volumes as to the ass-backwards society of ignorance we've created. TRANS PEOPLE EXIST NOW AND HAVE EXISTED SINCE THE DAWN OF TIME! GET OVER IT!

• Impossible! I am a huge, huge, massively huge fan of the original Mission: Impossible television series. A big part of that was the cast, which was always firing on all cylinders. My favorite was Barbara Bain as Cinnamon Carter... but her real-life husband, Martin Landau (who played Rollin Hand), was also great. They both went on to be equally great in the bizarre SPACE: 1999.
I was sad to learn that Martin Landau had passed this past week...
I used to watch both shows obsessively, and always held out hope that Landau would one day make a guest appearance on the Tom Cruise infused Mission: Impossible movies. Rest in peace, sir.

• FRESH! And lastly, just because I can, I present the incomparable Elizabeth Hurley. Gardening...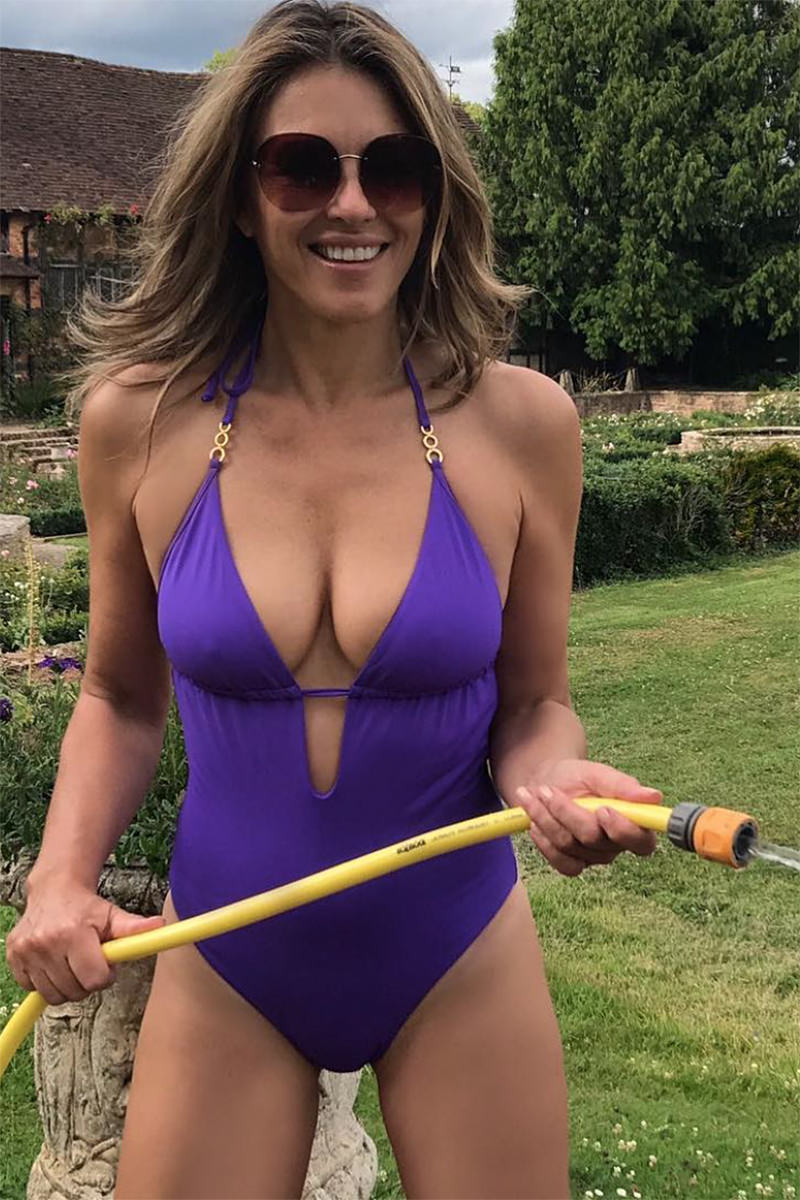 SHE'S FIFTY-TWO YEARS OLD! Obviously she's made some kind of deal with the Devil to stay looking that incredible.

Annnd... that's enough bullshit for one Sunday. Maybe two Sundays.
Posted on July 3rd, 2014

My obsession with Elizabeth Hurley is well documented.
Which is why I was chuffed to bits too get a personal non-apology apology from her and Newcastle over the idiotic reaction to their truly funny "If We Had Won" campaign that surfaced when moronic "patriots" couldn't take a fucking joke. I mean, seriously, if obviously tongue-and-cheek ads by a BEER COMPANY from one of this country's strongest allies is offending you, maybe it's time to pull the flag pole out of your ass and just throw yourself off a cliff you miserable bastards.
Or just have a beer and relax maybe.
Anyway, here is Elizabeth Hurley in all her brutally hot glory...
And, in case you hadn't seen the original "terribly offensive ads," here's an example...
ZOMFG! SO OFFENSIVE! BUT NOT AS OFFENSIVE AS THIS!!!...
And, be still my heart, Elizabeth Hurley getting filthy...
The whole campaign can be found here.
Geez. Now I could really use a Newcastle.
If Americans want a real reason to get mad at the Brits, HERE IT IS...
HOW CAN HOT TAMALES MAKE YOU SAD? What a complete wanker!
Posted on March 6th, 2011

After the sheer awesomeness of my Saturday, I did the best I could to get through Bullet Sunday.
Meh.

• She's a Wonder. And so the most perfect woman on earth, Elizabeth Hurley, has been tapped for a role in David E. Kelly's Wonder Woman project. Apparently she'll be playing Wonder Woman's far more beautiful and classy arch-nemesis, Veronica Cale. I, of course, think she would be perfect as Wonder Woman herself, hard as it will be for anyone to fill Linda Carter's red boots. She was Wonder Woman. Even with Elizabeth Hurley, I have to say I am still very, very nervous about the show. If David E. Kelly can resist the urge to add his stupid-ass Allie McBeal craziness to the mix, it might have a chance...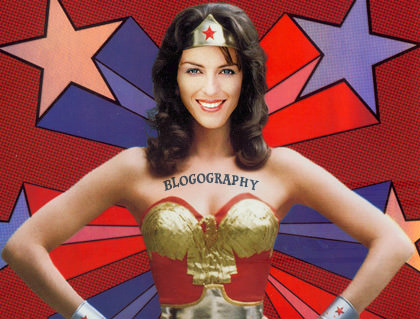 • Pretty Cool. Gotta hand it to Miley Cyrus, she handled her guest-hosting on Saturday Night Live like a champ last night. She not only managed to get in a few digs on Lindsay Lohan, but spent a lot of time poking fun at herself as well. Of course, what every SNL fan was waiting for was seeing if she would make an appearance on Vanessa Bayer's ongoing "Miley Cyrus Show" skit. Surprisingly, she did... as Justin Bieber!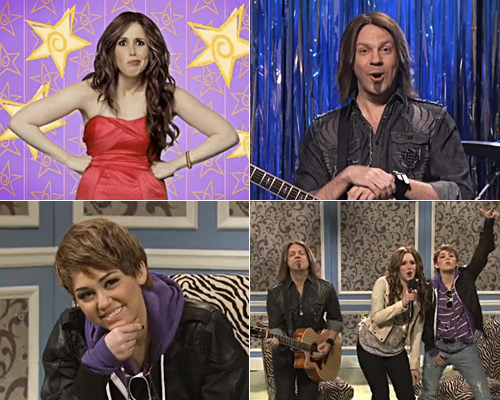 I was secretly hoping that Billy Ray Cyrus would make an appearance as himself here, but Jason Sudeikis did his usual hysterical impersonation. A couple sketches fell flat for me (The Sound of Music, really?)... but overall it was a pretty funny episode and Miley did a great job. I still miss Hannah Montana.

• Upgrade. Microsoft has an entire website devoted to killing off their piece of shit web browser, Internet Explorer 6...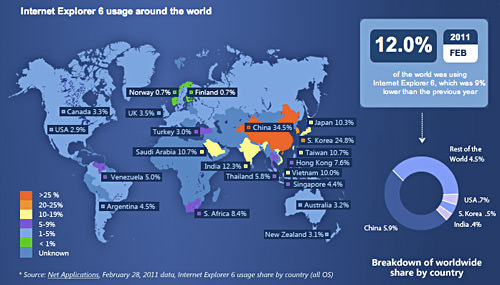 Their suggestion is to have you upgrade to Internet Explorer 8.
If I may be so bold, a suggestion: bypass Internet Explorer 8 and upgrade directly to an even better browser...
Or, don't stop upgrading there... get rid of Windows and step up to Macintosh! It's so much nicer up here!

• Downgrade. Meeee-ow! My review of the latest "upgrade" to Twitter for iPhone...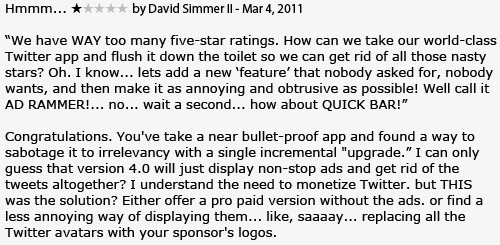 Developers always seem to play the victim by saying things like "Well, nobody wants to pay for apps anymore, so we use ads. SOMEBODY has to pay, so cut us a break!" — And that's a very good point... except you can't expect people to be happy when the app's functionality is impaired by the ads. Either find a way to insert ads in a way that's not going to shit all over your app, or just charge for the damn thing.

• Go for the Gold. One last thing before I go... this morning I discovered Rold Gold "Everything Bagel" Pretzels. Deeeelicious. They kind of reminds me of Chex Mix, but more subtle and without the fishy Worcestershire sauce to mess things up. Still really good flavor though. This is a great find because it's really tough to find the Snyders of Hanover flavors I like around here...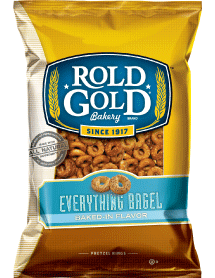 And there's Bullet Sunday for you. Until next week... stay classy, blogosphere.
Posted on December 12th, 2010

It's Bullet Sunday off the rails, baby! OFF THE RAILS!

• 'Tis the Season... for GOOD! So many potentially wonderful things are happening all the time all around us. Even when we least expect it. Even when we receive terribly sad news that makes it impossible for us to believe it. At least I hope so. Clinging to that is about all that's keeping me sane right now.

• 'Tis the Season... for PAIN! Heaven only knows that there is some truly awful people out there... and, unfortunately, sometimes you marry them. Yes, it sucks. Yes, you need to get yourself a dang good lawyer to take care of business. Yes, there is going to be hard feelings and resentment. But having shit-bag lawyers add to a terrible situation is disgusting on levels so heinous that it should be grounds for getting your slimy ass disbarred...
I've been seeing this local television ad run every holiday season for years, and I get more pissed off every time it airs. Nothing quite like taking a season of good will and good cheer... then shitting all over it by encouraging people to solve their problems by becoming bitter, vindictive douchebags like this bitch. For all we know, SHE was the problem. A total whore that cheated on her hard-working, faithful husband by fucking anything with a penis. Thanks a lot, asshole lawyer.

• 'Tis the Season... for CONFLICT! Speaking of divorce... my eternal love and devotion for Elizabeth Hurley has been well-documented on this blog. Which is why I was so horribly conflicted when I saw the following on her twitter feed this morning...
I am genuinely sad that things didn't work out for Elizabeth Hurley's marriage. Not just for her, but for her husband Arun Nayar and her son Damian. As somebody who has been mildly obsessed with Elizabeth Hurley for fifteen years, of course I am upset for her. How could I ever want anything except for her to be happy? But... on the other hand... as somebody who has been mildly obsessed with Elizabeth Hurley for fifteen years... I've felt equally awful over having coveted another man's wife. But it's not like I can help myself here...
I totally have a chance here. Right? Right?

• 'Tis the Season... for TOAST! Google is starting to really push their browser-based operating system (called "Chrome OS") with rather shocking videos like this one...
WTF?!? NO! OH GOD, NO! NOT THE TOAST!!!
What a sad, terrible waste of perfectly good toast. I could watch crappy Chrome netbooks being smashed all day long, but did they really have to sacrifice innocent slices of toast to make their point? Toast has never done anything to us but taste great with butter and jam... surely they could have used some useless food product like broccoli or cauliflower in the making of this video? I mean, sure, we can always make more toast. It only takes a few minutes in a toaster. But is this kind of violence against helpless bread products really necessary? This is sad. Sad and wrong. Why does Google hate toast?

And now it's time to get back on track. There's only so long you can go off the rails before Real Life calls you back.
Posted on October 17th, 2010

It's bullets over broken promises on Bullet Sunday!

• Tweet! Did you know the incomparable Elizabeth Hurley is on Twitter? It's true! She tweets fairly regularly about all kinds of stuff... but mostly about being Elizabeth Hurley, which is reason enough to follow her...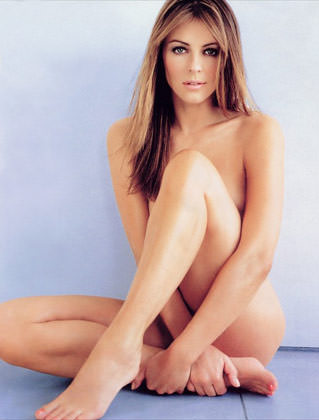 No tweets yet on the burden of being the most beautiful woman on the planet, but give her time.

• Better! I saw this video on Blair's Corner this past Wednesday, and it won't leave my head. Of all the inspiring "It Gets Better" videos floating around, this one sums it all up beautifully...
How can anybody watch this and be okay with a society that fosters such senseless hatred? As councilman Joel Burns says, it's not just about gay kids... it's about any kid that gets bullied just for being different. Six years ago somebody wrote to me from a life of pain and non-stop harassment. It broke my heart then, and the recent rash of teen suicides has brought it all back again.
Things have to change. Things have to get better. But it's not going to happen magically. We have to work for it by rejecting hatred and intolerance wherever we find it, and creating a world that embraces compassion and understanding. Though not always. I am quickly losing my compassion and understand for people who use religion and politics as an excuse to enforce a culture where kids are driven to kill themselves. They can just go fuck themselves.

• Beaver! Even though Leave It To Beaver was before my time, I remember it very well from reruns. "June Cleaver" is an American institution, a national treasure, and the epitome of television moms...
So when I heard that Barbara Billingsly had died I was understandably upset. Oddly enough, it's not June Cleaver that I most remember her for...
Go cups cut out to da Big Man, Big Momma. We fallin' out now you got your boots on an have a ball.

Huh. Feels like Monday.
Posted on January 5th, 2010

I'm a firm believer in using the right tool for the job. Or, if you're Tiger Woods, using a firm tool for everything.
The problem is that entirely too many people are taking a Darwinian slide towards gene pool elimination because they can't understand this simple concept. Not a day goes by that I don't read about some moron using the wrong tool for a job and then acting all surprised when things go terribly wrong. My current favorite being the guy who decided to clear a pile of leaves off his lawn by blasting a shotgun into them at point-blank range. It's a perfectly good idea... unless the leaves in question are piled on top of an industrial strength metal well cover.
Oops.
Certainly a shotgun is a lot more fun than using a rake. And I'm sure there are a lot of great uses for a shotgun that I'm simply not imaginative enough to think of. I'm just saying that, in this particular case, it's the wrong tool for the job. My microwave can boil the fuck out of a cup of water, but that doesn't mean I'm going to start smelting steel in there.
Anyway... as far as examples go, it couldn't be made much clearer than this ad I ran across this morning...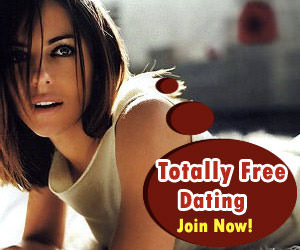 Yes, that's the incomparable Elizabeth Hurley... most beautiful woman on earth and goddess of all things good and decent in the world. Some shitty dating site saw her glorious visage after running a Google Image Search, rightfully determined that her ravishing aesthetic would be perfect for attracting lonely computer nerds, and stole her exquisite form to make a crappy (but very, very sexy) web ad.
And, while this may indeed be a good tool for the job at hand once legalities have been forgotten, it's not entirely realistic.
Elizabeth Hurley has about as much interest in helping computer nerds get a date as George Lucas has in making a decent Star Wars film after Empire Strikes Back. You'd have a better chance of getting struck by lightning while bananas spontaneously shoot out of your ass then miraculously transform into kittens in mid-air. Though, if Elizabeth Hurley's lawyers get ahold of the people who are illegally using her to endorse TOTALLY FREE DATING, the resulting prison experience would probably make the whole lightning-banana-kitten-out-your-ass scenario seem like a picnic with the cast of Sesame Street.
So... not so much the right tool for the job after all, once legalities are factored in.
And now, if you'll excuse me, I've got to try and get some sleep while I've got Elizabeth Hurley and bananas running around in my head.
Damn.
I wonder if that TOTALLY FREE DATING site really works?