I can just tell that this is going to be a difficult day because the morning has already gone all pear-shaped. Getting out of bed I stubbed my toe. Starting the shower I splashed water all over the floor. Then I went to brush my teeth and found that I was out of toothpaste. Usually this would not be a big deal... I keep a complete travel kit in my luggage, so I figured I would just take the toothpaste I keep there. Unfortunately, I forgot that I had already taken the toothpaste from my luggage when I ran out the last time. So now there is no toothpaste to be found.
First I try brushing my teeth with a Listerine FreshBurst strip. But that just makes a mess. That's when I remember reading somewhere that you can brush your teeth with baking soda. Fortunately, I had once made a grievous error at the market and purchased baking soda instead of baking powder to make biscuits... so I knew that there was a box in my cupboard.
For those of you who have never made the mistake of attempting to brush your teeth with baking soda, here is pretty much how it goes...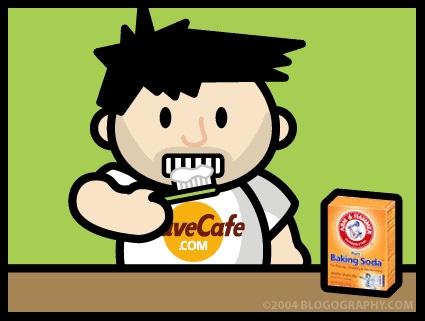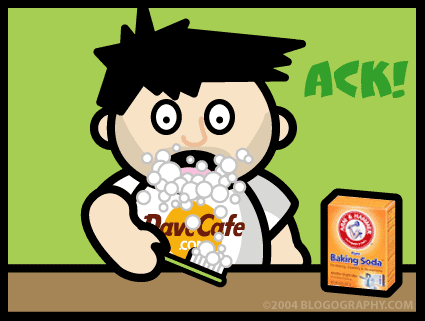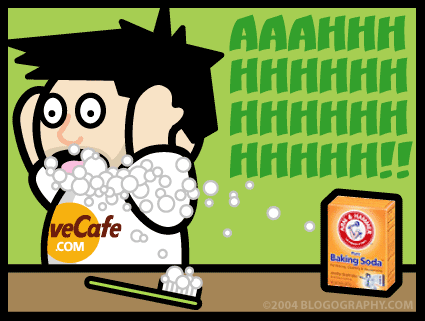 Now I know what evil must taste like. The bit they forget to tell you about using baking soda to brush your teeth is that it tastes like ass. It's kind of a strange bitter/salty chemical taste that will burn through your skull and drive you insane. Even worse, the taste does not go away... it lingers like horrifying memory that you are forced to relive again and again.
I think I will buy a dozen tubes of toothpaste after work so that I never make a mistake like this again.