Don't let life distract your from what's truly important... because an all new Bullet Sunday starts... now...

• Homemade! The last French rolls I bought were $4.80 for six, were small, gummy, and didn't taste that great. So this time when I wanted an Old Amsterdam Old Cheese sandwich roll I made my own big, beautiful, fluffy rolls...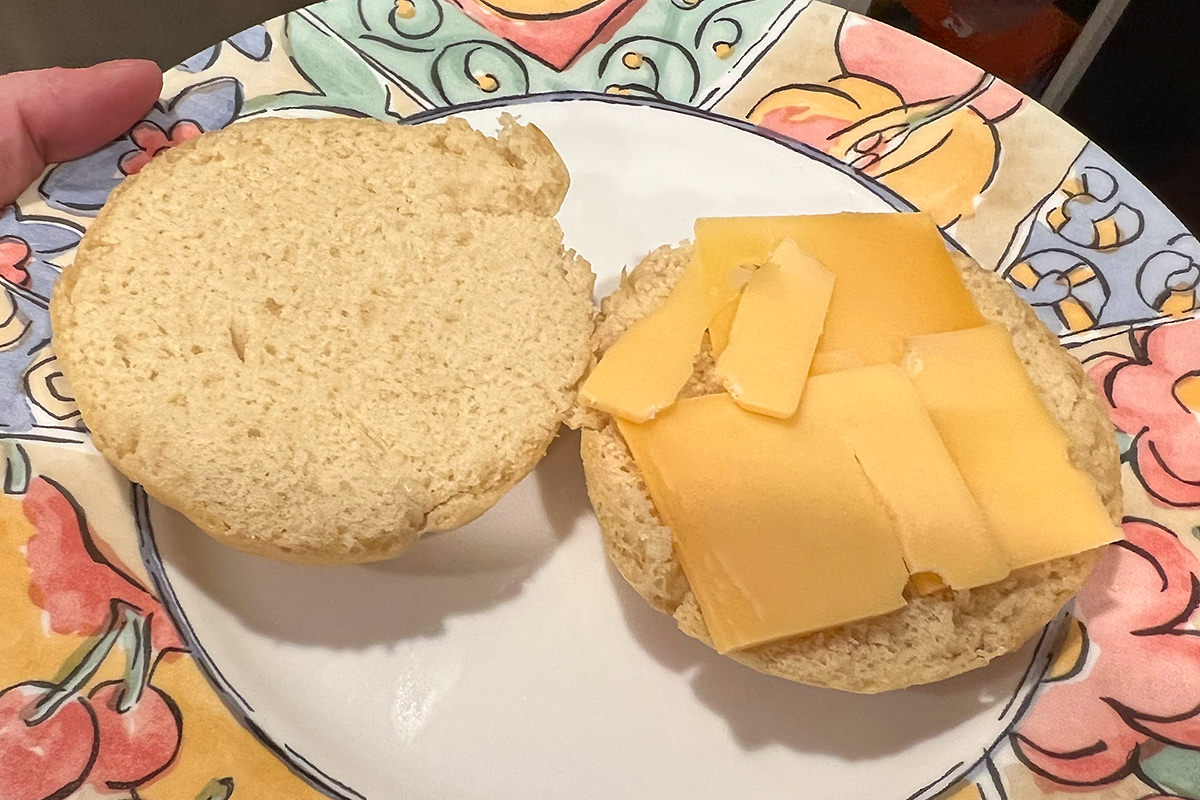 Cost me less than $1... and they are unbelievably good. So good that I can't stop eating them. I've had three. It will take all my effort to not to eat a fourth.

• Welcome to My Nightmare! Had I seen Nightmare Alley in 2021, it would have made my best-of list for sure. The story is interesting enough, but it's the visuals and atmosphere that makes the film so special. It's a work of art. Its every scene is gorgeously and meticulously constructed...
And the performances! Bradley Cooper can act, sure... but it's Cate Blanchett who drives this bus home. Then you get Willem DaFoe, Rooney Mara, Toni Collette, Ron Perlman, Mary Steenburgen, and an utterly brilliant and pivotal character by David Strathairn. It's too good. The fatalistic destiny which haunts everybody is palpable.

• Good Bye. Dang. Dieter Bohn is leaving The Verge. He and Marques Brownlee are the only two tech reviewers that I actively seek out because they are just so good at their job. In his farewell video, Dieter talks about his online handle, "Backlon," which is something I can very much relate to. Online I'm "Blogography" for everything because it's my blog name and how everybody knew me. So it became my handle everywhere. As Dieter says, "The choice causes a cascade of associations for whoever sees that handle." And it's 100% true. This is a fascinating video about our online identity... and everything I will miss about Dieter Bohn...
Best of luck at Google, sir.

• Dave! There have been a lot of great guests on Hot Ones, and Dave Growl is right up there...
And here's a bonus bit of Dave for you...
He is hands-down one of the most fascinating people on the planet.

• Depot-Free! It only took three months, four phone calls, and a dozen messages to get The Home Depot and Citi to credit me the $50 I was promised when I opened my account... but here it is! CAN YOU BELIEVE IT? I can't believe it. I just made the full balance payment, so I'll believe it when it's posted, I have a zero balance, AND I CAN CLOSE THIS FUCKING ACCOUNT. I wish to God I had never messed with the Home Depot Credit Card which has been a complete nightmare from the very beginning. If you are going to promise a customer "Up to $100 Off" if they open account... and their purchases qualify for a $50 credit... THEN GIVE THEM THE FUCKING MONEY! How difficult is this? Apparently very difficult, given what I've been through. Do they expect people to just give up so they never have to pay what was promised? Well, you got the wrong guy for that.

• Say Human! Florida's "Don't Say Gay" bill is disgusting. The inhumanity of this horrific decision sickens me to my very core. And all I can think about is what happens to those kids in school who have two moms or two dads or a trans parent or a sibling who identifies outside the absurd artificial construct of binary sexuality. Their family members no longer exist while they're being "educated." Which is to say that they're not being educated at all. They're being discriminated against. Fuck those grotesque mockeries of humanity who would be so overtly bigoted and cruel. I've long since given up hope that our lawmakers will be decent human beings who want to represent all of us... but I do kinda cling to the hope that I can count on them to be selfish. That they'll look at friends... family... neighbors... and other people they know... even actors, musicians, writers, and such... and say "I can't possibly legislate against these people who mean something to me." But of course they can. Because they're absolute garbage who don't care who is hurt no matter who those affected may be to them. Appealing to bigotry is how they stay in government, and the money and power they get for that means more to them than anybody or anything. And also? Fuck the heinous assholes who vote for these repugnant pieces of shit. Fuck them twice.

• Just Die Already. And speaking of fucking assholes... this decrepit piece of shit wouldn't know the Bible if it sat on his face...
It defies belief that people believe his idiocy. Has he even actually studied the Bible? I sincerely have my doubts, because most everything he has ever said is not supported by Scripture. These are just his unhinged, demented fantasies. Counting the days until he's sent to hell for his shameless false prophet money-grabbing.

See you in seven days, true bullet believers.