I don't even know what to say... but here's a new Bullet Sunday anyway...

• BLM! Despite being so crestfallen about the state of politics in this country that I'm trying not to blog my rage on a daily basis... something needs to be said. I fully believe that an unarmed citizen should not be dragged from their car by the police and get choked out on the street... all while crying out because they can't breathe as other citizens are telling the officers they they're killing somebody. For nine minutes. That's not law enforcement, it's murder. And when the murder disproportionately targets Black Americans? Well, that's why people are protesting. And I support the protesters 1000%, because this shit has got to stop. And, quite honestly, I don't understand why everybody can't support the protesters. I mean, my God, Black Americans have been trying to get attention to their plight via peaceful protest forever now. And no matter how they try to protest and bring awareness, they get criticized for it. Can't kneel at a football game (even though a veteran advised you it was a respectful way to protest) because people don't like it. Can't try to mention what's happening in an award speech because people don't like it. Can't have a sit-in. Can't have a march. Can't hold a rally. Can't carry a sign. Can't write an article. Can't make a movie. Can't do anything without pissing people off who don't want to be reminded of the horrific systemic racism which plagues us (and from which they likely benefit). Well, too fucking bad. Your "inconvenience" is what's going to lead to change. That's how shit gets done in this country. Just ask those who took part in the Boston Tea Party.
And, lastly, for the love of everything holy, STOP EQUATING PEACEFUL PROTEST TO LOOTING! The vast, vast number of people protesting are not looting a damn thing. As more and more information comes to light, the looting and violence are being started not by protesters, but by others for their own ends. Which include Far Left Anarchists, Far Right White Supremacists, and The President of the United States of America. They want to watch the world burn so they can start something new. Black Americans just want to be able to walk down the street and not get shot by the people sworn to protect them. Don't get me wrong... I support the idea of a police force. And I believe that officers on the front lines should have the tools they need to do their job and stay safe. But the grotesque militarization of our police has only served to escalate violence, and the lack of training for de-escalating situations before they turn violent is woefully inadequate. Instead we've got rogue police officers acting like judge, jury, and executioner. That's heinous. That's wrong. That needs to stop. Today. And a lot of police officers agree, which is why they are joining up with the protesters. It's their community too, and any officer true to their mission should be supporting peaceful protest of law enforcement abuses.
And now I'm going to go scream for a half-hour.

• Predictable! And meanwhile, this is happening...
Holy shit.

• Misbehavin'! One of my favorite TV shows from 2019 took me completely by surprise... it was The Righteous Gemstones starring John Goodman as a mega-church televangelist pastor. And one of the best bits to come out of that show was the performance of a song called Misbehavin' by the wife of John Goodman's character and her scheming brother...
I've watched that video at least a dozen times. And if your curious about how the song came about, here's an article for you.

• From My Ranch To Your Kitchen! I've not been cooking much lately because I just haven't felt up to it. But yesterday I decided that I really need to start using the ingredients I've purchased while they're still good, so I started looking for ideas. Then somebody on Facebook reminded me of one of my favorite cooking channels on YouTube... De mi Rancho a Tu Cocina. Sure, she cooks most everything with meat, but it's fascinating. And, thanks to Google's auto-translation subtitles, you can actually follow along fairly well when you turn them on (CC button) and select "auto-translate" in the settings (gear button)...
Great stuff. Love her. It was this channel that convinced me to give a recipe with tomatillos a try with my Martha Stewart recipe box subscription.

• Armchair Traveler! So many museums and cool places are putting up virtual tours and I'm absolutely loving it. But the best one I've seen so far is the Statue of Liberty, which is sensational. You can go around and inside of it and look around 360°. Here's just a sampling of what I saw when I virtually-visited...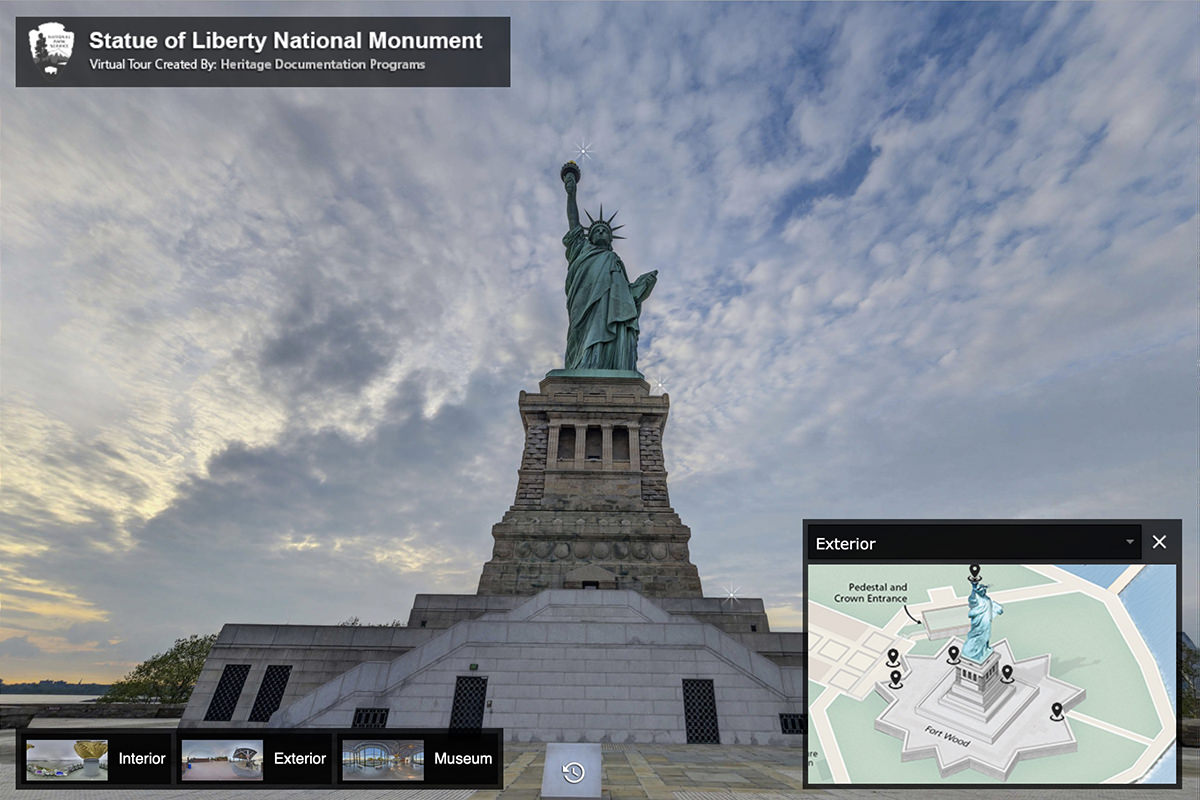 In the day time. But there's also night views from the exterior...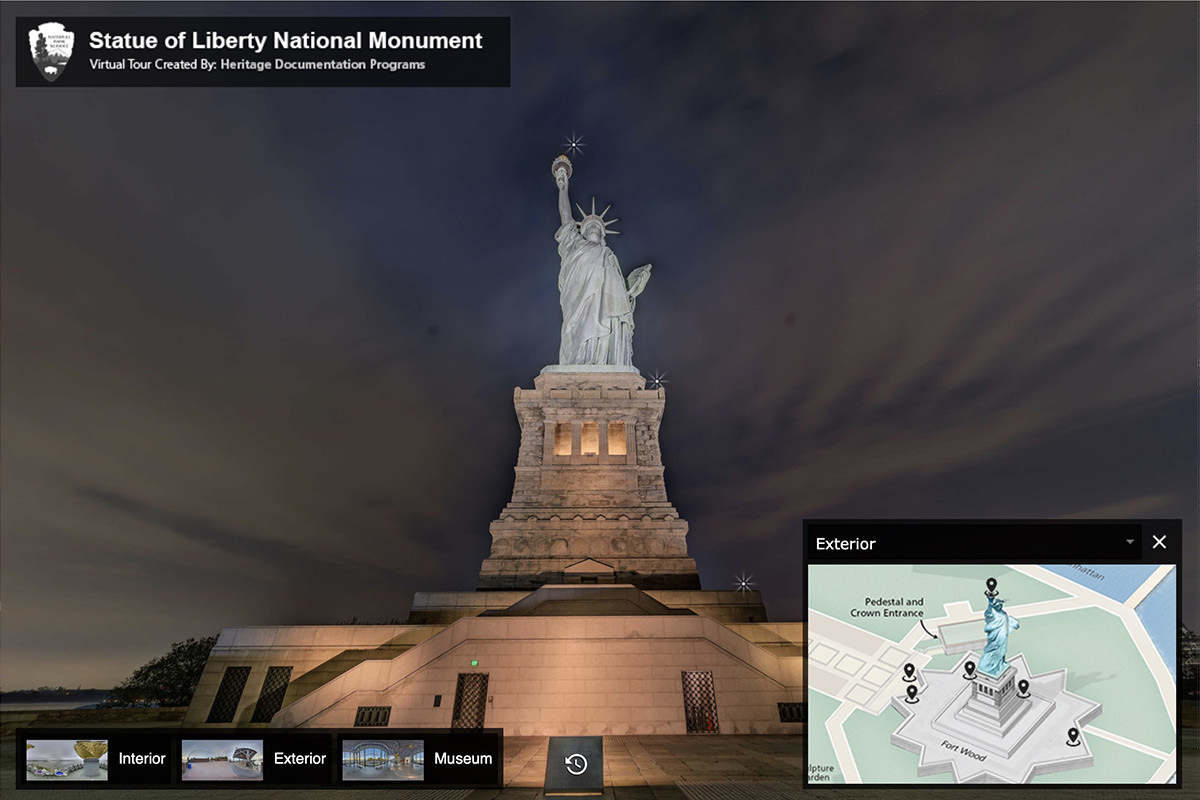 Having been up the Statue of Liberty a couple times, I fully admit that the dizzying heights and cramped quarters aren't something you can reproduce virtually, but at least you can get a taste of it. This is a view inside the crown...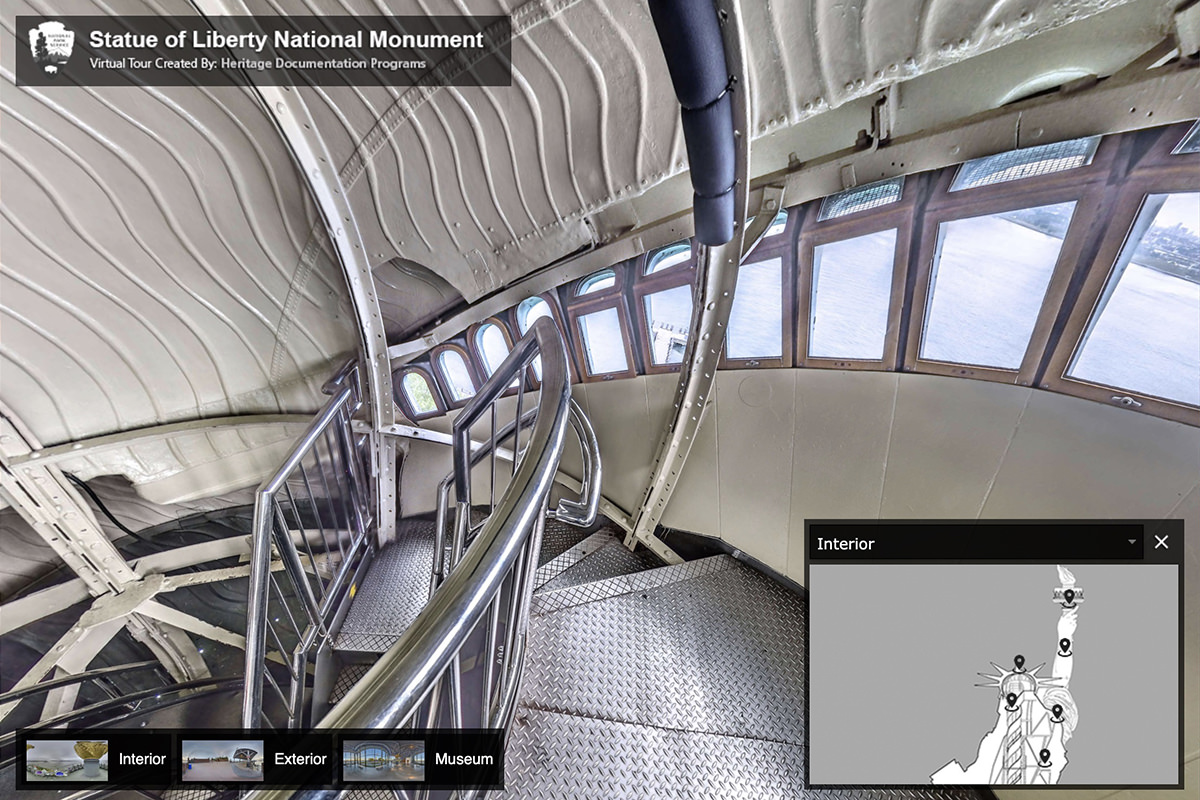 Looking down...
The photos I just posted (courtesy of the National Parks Service) really don't do the experience justice. Head over to their site to see for yourself.

• Dates! One of my favorite vloggers, Johnny Harris, has yet another cool video up. This time he's exploring the International Date Line and why it's the way it is...
This wouldn't be the first time Google Maps has screwed up. A decade ago there was an error which caused Nicaragua to invade Costa Rica. So even though Google Maps is often viewed as a definitive source of information because it's so heavily used, it really shouldn't be. Always check your sources. And if you can't get enough Johnny Harris, check out this fascinating video about Swiss neutrality.

Stay safe, everybody.