And it's time once again for my annual wrap-up of TV shows that came out this year.
Or, more accurately, a "wrap-up of TV shows I saw that came out this year." As always, there's a bunch of shows I never got around to watching that might have ended up on my list. And here we go...
THE EIGHTEEN BEST...
These are my favorite television shows from this year that I actually saw.
#1 Watchmen (HBO)
Wonderfully faithful to the comic book in a way that the movie adaptation wasn't, Damon Lindelof's "Don't-Call-It-A-Sequel" sequel is sublimely complex and worthwhile. Absolutely everything comes together at the end like a puzzle which has defined a complete story instead of something incomplete because it's setting up pointless sequels. Which is how all television should be handled. Story? Perfect. Cast? Perfect. Cinematography? Perfect. Special effects? Perfect. Music (by Trent Reznor and Atticus Ross)? Perfect. Television doesn't get much better than this. But, then again, this isn't television... it's HBO.
#2 The Mandalorian (Disney+)
The best thing to happen to Star Wars since Rogue One, this was a launch title for Disney+, and the only excuse you need to subscribe to the service. Taking a member of the elite corps that spawned Boba Fest, pairing him with a "Baby Yoda" and other interesting characters, then treating the whole thing like a lone gunman Western in space is sheer genius... and I am esthetic that Disney let Jon Favreau play in their sandbox like this because it absolutely paid off... especially at the end. Here's hoping Season 2 is just as good.
#3 Barry (HBO)
I liked the first season of Bill Hader's dark comedy about an assassin trying to go straight... but I loved the second season. So many delicious moments, and a cast that knows exactly what to do with them. This show is absolutely nuts and willing to take risks that other shows wouldn't touch. The ronny/lily episode was entirely too good and could only happen here.
#4 Bob (Hearts) Abishola (CBS)
I had absolutely no hope for this show. I am not a fan of Billy Gardell and the idea of Chuck Lorre being adept enough to handle a comedy featuring cultural differences between the US and Nigeria was dicey at best. But... it has Christine Ebersole in it and had Gina Yashere writing (and appearing) for the show to add some authenticity... so I gave it a shot. Surprisingly, it all works really well. It's funny, smart, and doesn't rely on stereotypes for the bulk of its comedy. Folake Olowofoyeku as Abishola completely owns the role and it feels more authentic than half the crap on television. Go figure.
#5 Magnum P.I. (CBS)
This is just a fun show with a great cast telling (usually) entertaining stories in a pretty location. I was hugely resistant to the show when it debuted, but warmed up to it pretty quickly given the dynamic between Magnum and Higgins... and the critical role of Detective Katsumoto. Toss in Amy Hill and I'm all in. The second season is not as tight as the first, saddling us with truly terrible "theme" episodes foe Halloween and Christmas that absolutely did not work, but most of the episodes so far have been darn good and something I look forward to week after week.
#6 After Life (Netflix)
Ricky Gervais is an incredibly polarizing talent (currently involved in some social media conflict which does not look good on him at all) and I can pretty much take or leave his entire body of work. But then along comes After Life which manages to be funny, sad, heartwarming, and life affirming all at the same time... all the while exploring what it means to be alive with an interesting bunch of characters. Easily my favorite thing by Gervais, I hope for even more good things out of Season 2.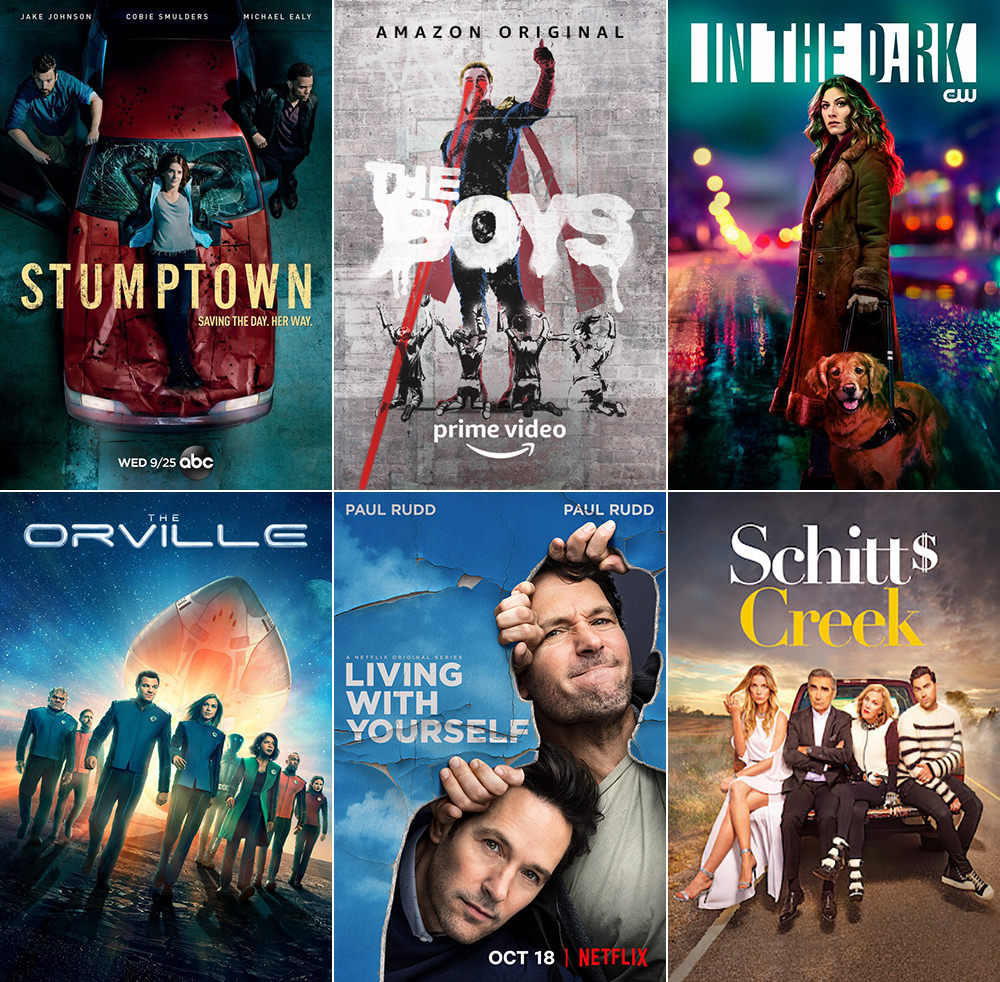 #7 Stumptown (ABC)
After one of the strongest series opener I've ever seen, there was an adjustment period where things dropped several stories in my opinion of the show. Now I'm comfortably settled and enjoying it for what it is... an opportunity for Cobie Smulders to be one of the biggest badasses on television in stories that are generally a lot of fun to watch. And while usually I like over-reaching show arcs that let each show build to an interesting finale, that isn't really working here and I'm not sure why. It's almost like it's distracting from the "story-of-the-week" in a way that sabotages them both. It's likely that the writers are still trying to find a balance, and they just need time to get it right. A second season should help with that immensely.
#8 The Boys (Amazon)
The hyper-violent comic book world of The Boys seems like something that would be impossible to adapt. But Amazon went ahead and gave it a shot and was mostly successful. Some of the changes from the source material were smart moves... some of them were just plain weird... and their idea for closing out the first season was something I'm not entirely sure worked all that well. And yet... I was thoroughly entertained from start to finish and anxious to see how they forge into new territory when it debuts next year.
#9 In The Dark (The CW)
I did not see this show when it first aired since I had been ignoring The CW once I ditched all their DC Heroes shows. But eventually Netflix picked it up and the show landed on my radar pretty quick. A blind woman who stays intentionally distant from people manages to make friends with a young drug-dealer who saved her life. Everything else is just a blur of one-night stands and alcohol abuse. Until her young friend is murdered and she makes it her mission in life to track down his killer. It's compelling, compelling stuff that's brilliantly realized right up until the end. I have no idea how they are going to approach a second season, but I will absolutely be tuning in to find out (even if I end up having to buy it to watch).
#10 The Orville (FOX/Hulu)
This remains nothing more than a classy reimagining of Star Trek: The Next Generation with jokes, but it's done really, really well. The second season wasn't as strong as the first, but still had some really good stories to tell. Next year the show switches from FOX to Hulu which is likely its death-knell. I hope that Seth MacFarlane realizes this and goes for broke... because that is a show I'd like to see.
#11 Living with Yourself (Netflix)
Despite my love of all things Paul Rudd, I did not go rushing to watch this one. I honestly thought it would be yet another clone effort that relied more on special effects than story. And... I was 100% wrong. This was a smart and insightful show that took full advantage of Paul Rudd's talents to turn in a really good show. Wisely, they didn't go full-on crackpot and ruin things... choosing instead to go more of an Arnold Schwarzenegger's The 6th Day route, but with less guns. It totally works and might have ranked higher on my list if they had edited it to be more moment-to-moment for the perspective flashbacks instead of episode-to-episode which got a bit tiring after the first time.
#12 Schitt's Creek (Pop TV)
I don't have access to Pop TV, so I always miss getting Schitt's Creek on my list. This time I ended up buying the series so I could watch in real-time with the rest of the world. Sadly, the fourth season was a pretty big step down from the third... but still wholly entertaining. As we head towards the fifth and final season, I can't help but wonder if they will mire the characters in the same-old same-old... or if they will really take a chance and try to do something new and interesting. We've seen what the same-old got us last season, so here's hoping for the latter.
#13 Young Sheldon (CBS)
I loved the first season, was tired of it all the second, but have fallen in love with it again this third season. It's like they decided to take real advantage of the times that Sheldon and his family are living so they have a unique take on the stories they can tell... instead of just deciding to make Young Sheldon do all the same stuff they had Original Sheldon do when he was on the Big Bang Theory. This makes for a far stronger show, and allows Zoe Perry to have more interesting places to goo with her character than yet another "I'm exasperated because Sheldon is so trying" episode.
#14 The Umbrella Academy (Netflix)
As an adaptation of the comic book, I wasn't entirely thrilled with how The Umbrella Academy turned out. As an entertaining show in its own right, however? I think they did a really good job with it all. Smartly cast and written, there are a few too many wasted moments that make for an uneven first season, but I was entertained for most of it. You certainly can't say that about most television now-a-days.
#15 The Righteous Gemstones (HBO)
The series went out of its way to show that hypocrisy and corruption by churches ultimately ends with punishment, so why are so many Christians going bonkers over it? Unless they feel their church is hypocritical and corrupt and they don't like being called out on it? You got me. All I know is that John Goodman and crew made an entertaining show with some truly hilarious and priceless moments to savor.
#16 The Imagineering Story (Disney+)
As a kid, I was far more fascinated with how Disneyland works more than anything else. The magic of the place for me was not in the characters and the stories but in the miraculous way that Disney made it all work. And here comes a series which celebrates exactly that! My only complaint? It didn't last long enough. While they did a fine job of presenting a scattershot view of a number of things, so many avenues were glossed over or ignored entirely. I have no idea if Disney is planning on another set of episodes, but they really should. For people such as myself, that's the magic.
#17 Star Trek: Discovery (CBS All Access)
The first series of the past-future Star Trek series was fantastic. The story was shocking, smart, and superbly handled. There were some confusing aspects to how this fit in with the continuity of the bigger picture, but it was so good I didn't ask too many questions. Then the second season comes along and tries to answer those questions and all of a sudden we're shitting the bed with a massively convoluted storyline that had me lose interest in the show. Except... we also got an appearance by Spock, Pike, and the gang from the original Enterprise which was sublime. So good that it covered for a multitude of sins that made me dislike everything else so strongly. And now I really, really want a new Star Trek featuring the Enterprise crew... even more than I want a third season of Discovery. Here's hoping that Michelle Yeoh's spin-off is more interesting that what we had here.
#18 The Conners (ABC)
If you had asked me if Rosanne could continue on without Rosanne, I'd have said "no." But then it arrived and worked just fine. Then a second season came and seemed to be even better. Now I'm convinced that what we're seeing is better than the rebooted series ever was. If there's a flaw, it's focusing way too much on Harris and her annoying problems. Yes, I know she's supposed to be the payback for Darlene being Darlene back in the original series... but Sara Gilbert always managed to play her character with a sense of heart and honesty that made her endearing. Harris is just overt awfulness and a drag on absolutely everything else being done so well. My hope is that she will either mellow the hell out or disappear entirely, because I'd love to enjoy another season.

MUST SEE COMEDY...

#1 Nate Bargatze: The Tennessee Kid (Netflix)
The fact that Nate Bargatze is this dang funny is remarkable. The fact that he manages to be that funny without using any swear words is bordering on a miracle. Trading on expectations for The South, this is a far, far smarter and funnier than anything you'll see come from Larry the Cable Guy. Or, dare I say, Jeff Foxworthy. Not only my favorite standup special of 2019, probably my favorite in years.
#2 Ellen Degeneres: Relatable (Netflix)
Thank heavens for Netflix backing up a dumptruck full of cash to Ellen's house so she'd bless us with yet another hilarious bit of standup. It's been far too long, and seeing this just makes me regret that her daytime talk show occupies such a major portion of her time. Ellen really needs to be doing more standup, and all the reasons why are right here.
#3 Anthony Jeselnik: Fire in the Maternity Ward (Netflix)
Look, not everybody is going to "get" Anthony's comedy. He works overtime to be offensive, owns that he's offensive, and builds his entire routine around being offensive. This time he's bringing it just as hard as he always does, but I have to admit it's getting a little tired. But I will gladly keep watching everything he does because I know I'm sick enough to find it hilarious.
#4 Ramy Youssef: Feelings (HBO)
Ramy, AKA "That Muslim comedian that's not Hasan Minhaj" has a show on Hulu that's darn good. But I had never heard any of his stand-up until Feelings. As expected, it's darn good. Really smart, blisteringly funny, and wonderfully relatable. The ever expanding diversity of voices which make us laugh is no small thing. Our humanity is what binds us together despite our differences. What's more human than to laugh? And feel how you want to feel about it, but his final thought in his special is the most powerful thing to happen on your television this year.
#5 Wanda Sykes: Not Normal (Netflix)
Wanda's earliest specials were like dynamite and quickly propelled her to one of my favorite comedians working. I bought every special she released and laughed over them again and again. As time has marched on she hasn't gotten any less funny, but I am not as enamored with her material. Motherhood and marriage are just not as funny to me. And yet there's a whole lot of hilarity to be found in Not Normal.
#6 Dave Chappelle: Sticks & Stones (Netflix)
Yeah, I put it on my list. No, it's not as smart or insightful as his previous works. Yeah, a lot of people were offended. No, I don't think the material was as horrific as people were saying. Yeah, I respect people's opinion and 100% believe in their right to express their opinion. No, I still found it funny.

TELEVISION HONORABLE MENTION...

Russian Doll (Netflix)
Natasha Lyonne? I had no idea. She is positively brilliant in this show which has time travel and alternate realities but isn't about being hardcore sci-fi. I do think that they were a little too obtuse on some points, which is probably by design... but the show took a hit because of it for me.
Taco Chronicles (Netflix)
The history a lives around six different types of tacos in Mexico. It's fascinating, entertaining, educational, and really good television.
New Amsterdam. (NBC)
This started out as the most laughable, ridiculous show. Then quickly became good television. Now in its second season, it's better than ever as it comes up with interesting stories and great ways of telling them.
When They See Us. (Netflix)
I was pulling really hard for Ava DuVernay when A Wrinkle in Time came out. She's a truly talented filmmaker and I'd love for her to have mainstream success with a Disney movie. That didn't work out. At all. But here she is with a show that is brilliant and powerful and I am absolutely not surprised. Detailing the lives around the "Central Park Five" who were wrongly accused of rape in 1989, you will either see this and be upset... then outraged. Or you won't. But I have to say that if you're not, that's on you.
Chernobyl (HBO)
This was disturbing in a way that most fictional television programs can't approach. Based (for the most part) on real life events Retelling the events of the 1986 Chernobyl disaster and the cleanup efforts that followed.
Good Omens (Amazon)
After a demon and an angel have become happy with their lives on earth, they decide to prevent Armageddon and the end of the world so they don't have to leave. This is a darn good adaptation of the Terry Pratchett and Neil Gaiman novel (probably because Gaiman adapted it) which actually adds to the story in ways that are important and entertaining.
Grand Hotel (ABC)
This American adaptation of a Spanish drama had a lot of twists and turns and was always introducing something new to keep things interesting... right up until the end when it was canceled on a cliffhanger. Why oh why don't shows wrap up their storylines when they don't know if they are getting another season?

DISAPPOINTMENT...

The Good Place (NBC)
What the fork happened? This final season has been so absurdly boring and uninteresting that I honestly don't care if it's all leading to something. I stopped watching half-way through, and will just tune in to the final episode to see how it all ends.
Reef Break (ABC)
Started out okay... got real good... then became tedious and uninteresting.
The Rookie (ABC)
Completely lost its way after the departure of Afton Williamson... which is not surprising considering why she left.
God Friended Me (CBS)
If I have to hear lazy writers making characters say "THE GOD ACCOUNT" one more fucking time I will absolutely lose it. I really liked this story in the earlier episodes of the first season, but they had completely gone off the rails by the end of the series and there was no way I was giving the show any more of my valuable time in a second series.

SHITTING THE BED...

Game of Thrones (HBO)
Absolutely humiliating final season for HBO. One of the most beloved series of all times goes steadily downhill until this final season which was rushed to completion by writers who didn't give a fuck and just wanted it all to end. I feel mortified for the cast who devoted nearly a decade of their life to a show that went out so badly.

GONE BUT NOT FORGOTTEN...

Wrecked (TBS)
For the life of me I don't understand how this wasn't one of the most popular shows on television. Funny, dark, and 100% entertaining in a way that so many shows are afraid to try. I will really miss this series.
Whiskey Cavalier (ABC)
The cast made this show absolutely unmissable, and the stories they had were never terrible but didn't quite achieve greatness either. I honestly think that everything would have come together beautifully in a second season but, alas, it was not to be.
And, on that note, here's to all the crap shows that will end up replacing good shows in the new year.