Attempting to battle my way through the smoke... because an all new Bullet Sunday starts now...

• Fires! The weather over the mountains was a bit hazy, but the skies were clear much of the time which was a nice change. Looking towards home this morning revealed what was awaiting me. At the top of the pass it was socked in and it never let up all the way home...
Supply trucks are on the road, headed towards the fire front...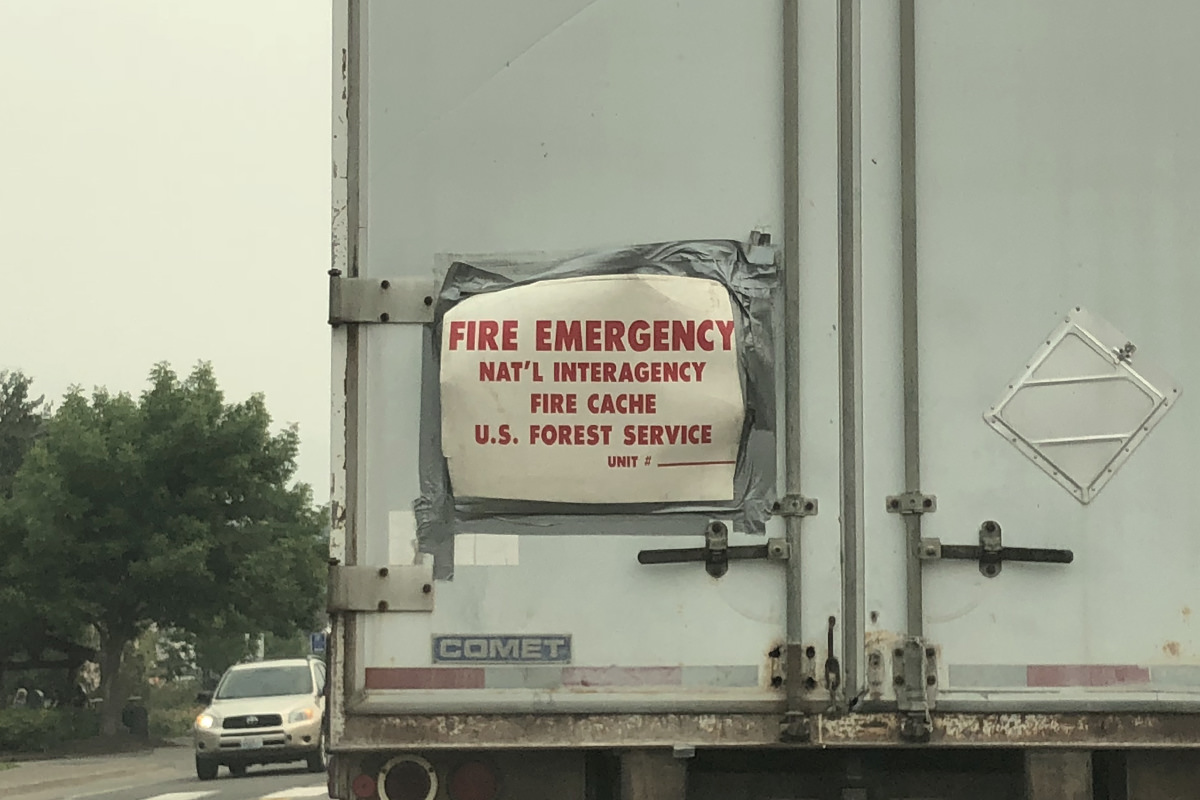 And... I'm home. Such as it is...
The largest of the fires, Cougar Creek (currently 36719 acres), is just 16 miles north of me. It's spread a bit since I last checked, but is now 35% contained, which is pretty impressive work by our firefighters considering it was just 5% contained on Monday...
I guess now is the time we pray for rain. But no lightning, which is what started this fire in the first place.

• Entertainment! Turns out the best toy for a cat is still a cardboard box...
Anything I can do to keep the cats entertained inside the house instead of out in a smokey catio is a good thing.

• Soul. Aretha Franklin passed away which means the Queen of Soul has left us. There are many songs she's given us which put her on the throne... but my favorite is her duet with George Michael for I knew You Were Waiting...
Too many classic artists are leaving us too soon. Rest in peace, Miss Franklin.

• Bears! This video came across my newsfeed and I had to watch it multiple times...
I always feel bad for animals who have their territory encroached on by humans. The least we can do is let them take a dip in our pools from time to time.

• Outrage! Oh... I am outraged alright, Pat. Don't you worry your foolish old head about that.
Lock children in cages and separate them from their parents perhaps never to return because of a line on a map = God's work.
Reading to children = Work of the devil and the end of all humanity.
Just die already you vile, worthless, repugnant piece of shit.

• EnChroma! Instead of spending billions on a stupid wall that won't work... and a military parade to compensate for a tiny, tiny penis on a fucking lunatic... why not buy these EnChroma glasses for everybody who needs them? There are literally thousands of things that are a better use for money this country doesn't have...
And yet... here we are. Getting exactly what we deserve.

And that's a wrap on bullets for this week. Tune in again in a mere seven days...
---
Continuing on with my revisiting of every Marvel Studios movie...
MARVEL STUDIOS MOVIE OF THE DAY, No. 18: Black Panther
Original Grade: A+ • Today's Grade: A+
"Hey Auntie." =sigh= As I had mentioned, My favorite Marvel heroes have always been Doctor Strange and Black Panther. To get movies this amazing for both characters was a dream come true. Though calling Black Panther "good" is an epic understatement. This film was sublime. Steeped in African culture, we got something truly different than the Western super-hero fare which had come before. The fact that they were so painfully faithful to the source material is just a bonus. It was all here. The vast hidden wealth and mind-boggling technical superiority of Wakanda. The Dora Milaje. Character references old and new. And then they went and made T'Challa into a super-hero James Bond!

SCENE TO BEAT: That casino fight and subsequent car chase in South Korea was pretty spectacular.

COULD HAVE BEEN BETTER: Not a dang thing.

SIDENOTE: I want sequels to all the Marvel movies. All of them. There is not a single film that's left me thinking "Well, that's enough of that." But when it comes to the sequel I want to see right this minute... it's Black Panther. Things could head in a hundred different directions and almost all of them are going to be fascinating. And then there's the Wakanda outreach program, which has fascinating implications for the entire Marvel Cinematic Universe. Surely another movie is coming soon, right? The first one made like... a billion dollars!