Posted on April 1st, 2012

Time to grab your bullet-proof vest, because Bullet Sunday starts now...

• Fool. I am not a fan of "April Fools' Day." Most of the pranks are pretty lame, stupid, and usually too obvious to "fool" anybody... especially the ones you find online. But Google has once again hit it out of the park with not one, but two amazingly well thought out and executed joke videos. Sure it's unlikely that anybody is going to be fooled, but they're still genius if you haven't seen them already...

• Leyner. I am not a fan of audio books. If I'm going to invest time in a book, I want to read it myself instead of having somebody read it to me. But I had a friend who was addicted to them, so every time we'd take a road-trip, he'd bring a bunch of them. I was never impressed enough to pay much attention. Except once. That would be the time that he popped in Et Tu, Babe by Mark Leyner into the cassette player and blew my mind. It was the single most awesome and bizarre thing I had ever heard...
After that, I was a diehard Mark Leyner fan, and kept up with all his genius that I could get my hands on... Tooth Imprints On a Corn Dog; I Smell Esther Williams; The Tetherballs of Bougainville; My Cousin, My Gastroenterologist; and now his latest... The Sugar Frosted Nutsack...
It's pretty insane... even for Leyner... but I still liked it. There's just nobody out there doing what he does the way he does it. But here's the thing... YOU HAVE TO GET THE AUDIO BOOK! Leyner reads all his books himself, and half of what makes his stuff so damn funny is his performance of the material. The shame is that Et Tu, Babe, which remains my favorite, is not available anymore. I keep hoping that Audible will add it since I only own it on cassette, but it's never shown up. Leyner is absolutely not for everyone... the guy is crazy-ass bizarre... but if you're looking for something different... really different... then the audio book might be worth a listen at your local library.

• Amazement. The season two debut was everything I was hoping for and more...
And if you're a fan of Tyrion Lannister on the show, you need to read an interview with the actor who portrays him, the amazing Peter Dinklage, in the New York Times.

• Eggo2. For the person who said Eggo Waffles were "gross" after I mentioned them yesterday, I would have to agree. Usually. Except... the NEW "Thick & Fluffy" Eggos that just came out are an entirely different animal. The honest truth? I prefer them to a lot of waffles I've had in restaurants...
So delicious. So not kidding. If you like waffles, give 'em a try.

Annnnnd... SCENE. No more bullets for you!
Posted on November 18th, 2010

Tonight I couldn't decide what to eat for dinner so I made waffles. They were tasty.
That was the most interesting part of my day.
In many ways I'm okay with my total lack of excitement this fine Thursday because tomorrow I'll be traveling all day, and we all know what an adventure that can be.
In the meanwhile, it's just waffles...
Waffles and dreams. Waffles and dreams.
Posted on March 21st, 2010

It's the 175th edition of Bullet Sunday from Casa de DutchBitch! Reading about all the ugliness going on back home over health care reform, I can honestly say that there's no place I'd rather be right now.
Today we decided to grab a train and make the 2-1/2 hour journey down to Brussels in Belgium. Dutchy hadn't been there in 10 years, and the only time I had been to the city was for a 25 minute stop-over during a delivery.

• Cartooning. The first stop on our itinerary was the Belgian Comic Strip Center. I had heard nothing but good things about the place, and so I was a little let down to see that the building itself was kind of boring...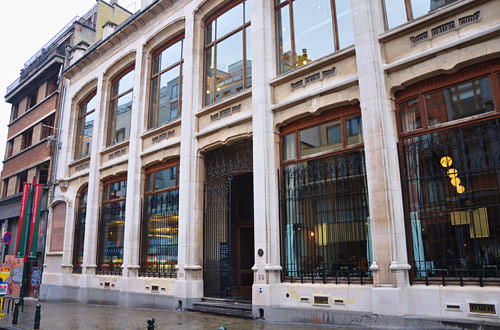 Just goes to show that you can't always judge a (comic) book by its cover, because the inside of the museum is stunning...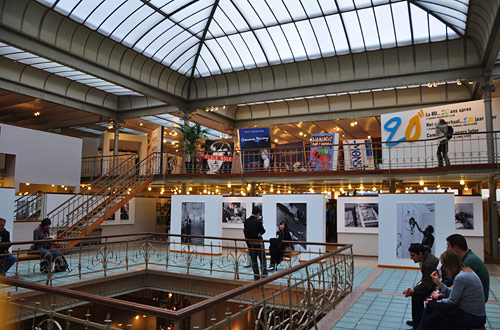 Highest possible recommendation if you have even a small interest in comic books and sequential art. There's precious little mention of any English books, but the pictures tell the story in any language.

• Atomium. After goofing around the museum, we took the subway out to the site of the World Expo 1958. Because this is where the giant Atomium structure can be found. It's pretty cool, well worth the trip outside the city, and will give you some great photos to remember you trip to Brussels...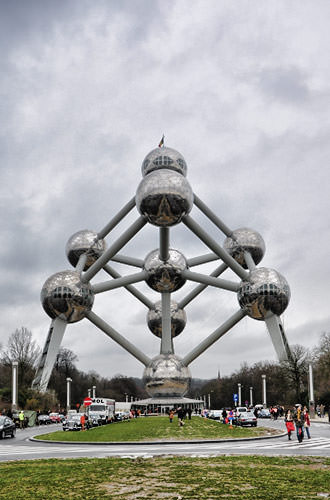 The globes are reached either by a system of stairs and escalators...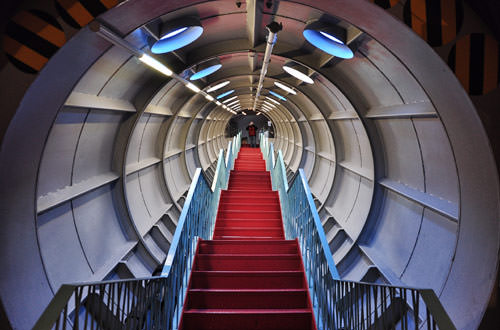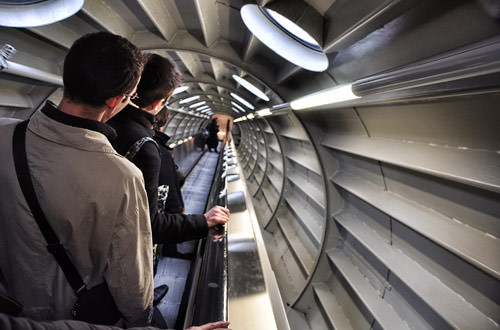 Or an elevator up through the center column...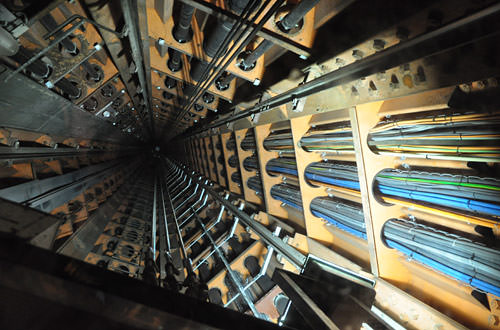 Once you reach a globe, there will either be some kind of exhibit or windows where you can look out...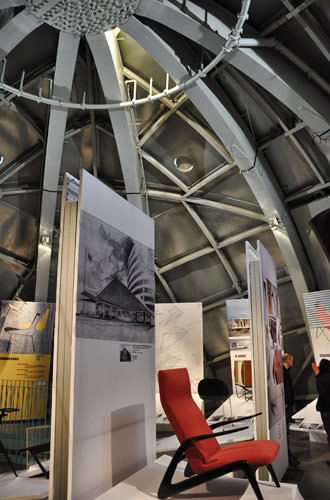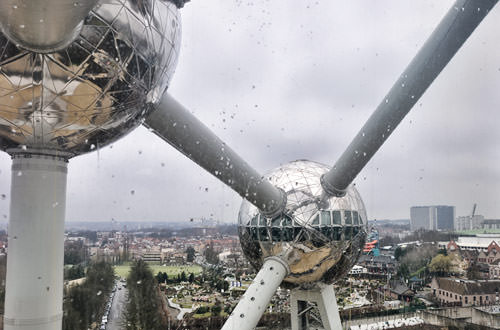 Sweet! Hard to believe this place was built over 50 years ago.

• Food. The DutchBitch tells me that Belgium is also famout for Patatjes Met, which they call "Frites avec Mayo." Naturally, I could not pass them up. They are a bit thicker than Netherlands fries and not quite as crispy, but inevitably delicious, as you can imagine...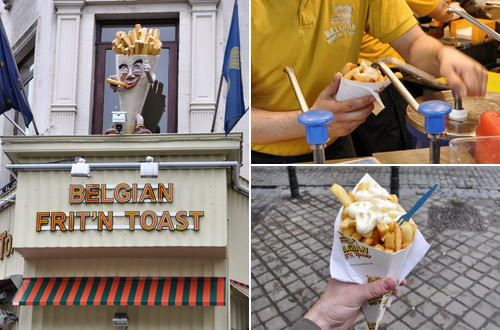 But the one thing that I simply had to eat was a Belgian Waffle, which they call a "Brussels Waffle" here. You can get them topped with a variety of stuff (including Belgian chocolate) but, being a purist, I just got mine with sugar and creme...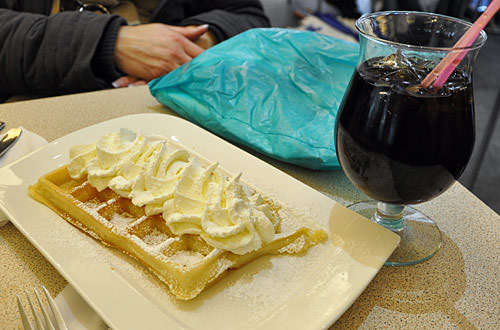 Yeah, orgasm-inducing delicious. Considering it cost $6.75, it had better be. Wish I could say the same for my $7.00 "Super" Coke, which was a watered-down horror story (lesson learned, ALWAYS order from the bottle, even if you have to buy two of them). While I am happy to eat the smaller and more sensible portions in Europe (vs. the massive portions they serve in the USA), I am consistently disappointed in the tiny size and HUGE cost of their Cokes. You always end up getting ripped off for what is essentially sugar-water.

• Square. The Market Square in Brussels is bordered by beautiful architecture on all sides. I could have spent half a day just looking at the buildings here...

• Peed. With some time to kill before our train back to the Netherlands, we decided to visit a famous Brussels attraction... "Manneken Pis" which means "Young Man Peeing." There was quite a crowd, but eventually I managed to get a shot of the little guy...

And thus our one-day invasion of Brussels had ended, and our mission to find something interesting to do for the day was a smashing success! Not bad for my last day in the Netherlands.
Posted on January 20th, 2010

Having a blog can sometimes be a very, very strange thing.
Mostly because of the people who end up reading it. Well, not you, obviously, but you know... those people.
You know, the people who happen across a blog, read ONE entry, then feel that they know absolutely everything about you and have all the information they need to judge you. The people who feel that their opinion is the only one that matters, and if your opinion is contrary to theirs, then you're wrong and evil and stupid and don't deserve to live. Yes, I'm talking about those people.
Usually, I just delete the comments and emails from those people because their abuse just isn't worth it. They've already condemned you, and nothing you say or do will ever change their mind.
Oh, sure, every once in a while I get a comment that is so outrageous that I simply can't stop myself from publishing it... like the crazy-ass pageant mom who trashed me in a comment over something I never said or even hinted at. But that's rare. Most of the time I just don't bother.
Like when I wrote an entry in support of the National Equality March on Washington and got a comment telling me that I am a "condescending fuck" and "demeaning to gays" (or something like that)... for supporting gay marriage. Apparently, only gays can offer words of support and encouragement to gays or else they're just being snobby patronizing elitists. DELETE!
Or when I wrote how much I enjoyed The Holy Land Experience theme park and called it "inspirational, even if you're not a Christian"... only to get a comment telling me that "people like you" (heh) "only go there to mock Christians and ruin the park for everybody with your Godless perversions" (or something like that). Apparently, only Christians are allowed to say nice things about Christian things or else they're just being snobby patronizing elitists. DELETE!
Or when I wrote about my worries over having intestinal distress from my doctor-mandated restrictive diet and got a comment telling me that "real people suffer from intestinal problems and their lives are made worse by ignorant assholes like you who only want to make fun of them" (or someth... no, that was exactly what they said). Apparently, only people with severe intestinal disorders can joke about having diarrhea or else they're just being snobby patronizing elitists. DELETE!
Honestly. You can't make this stuff up.
Tonight while I was watching Food Network's Throwdown with Bobby Flay, the challenge was making Belgian Waffles. This reminded me of a comment I got when I wrote about my favorite thing about visiting Paris...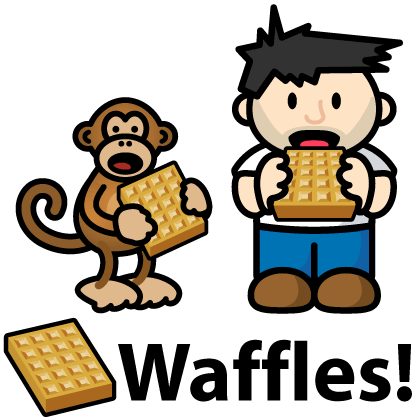 This resulted in a bizarre, profanity-laden comment from some American guy who was tired of "ugly Americans" (such as myself) insulting foreign cultures and making us all look bad.
Because I like waffles.
Well, damn. Apparently I am just a snobby patronizing elitist no matter what I do.
DELETE!
That comment still hurts, even after all these years.
Which is why I ended up healing my pain by buying a new Belgian Waffle baker from Amazon tonight. Just to be sure I didn't suffer a relapse, I also ordered some Stonewall Kitchen Waffle Mix.
Don't judge me.
Sometimesa little retail therapy is all we snobby patronizing elitists have to keep us warm at night.