Posted on April 14th, 2015

Huh.
I had a great idea for a post today, but had forgotten what it was by the time I sat down to actually write it.
If that's not an excuse for a meme, I don't know what is...
What's your favorite candle scent? Vanilla.
What female celebrity do you wish was your sister? Sigourney Weaver.
What male celebrity do you wish was your brother? Samuel L. Jackson.
How old do you think you'll be when you get married? One billion.
Do you know a hoarder? Nope.
Can you do a split? Oh hell no.
How old were you when you learned how to ride a bike? I have no idea, but it was fairly young.
How many oceans have you swam in? Pacific, Atlantic, and Indian oceans... so, three I guess.
How many countries have you been to? Fifty-One... including this one.
Is anyone in your family in the army? No.
What would you name your daughter if you had one? Olive.
What would you name your son if you had one? Jake.
What's the worst grade you got on a test? F.
What was your favorite TV show when you were a child? Oooh... that's a toughie. Knight Rider? Or perhaps The Six Million Dollar Man? Oh... I know... MANIMAL! Heh.
What did you dress up as on Halloween when you were eight? No clue. Probably a robot or something.
Have you read any of the Harry Potter, Hunger Games or Twilight series? I tried but couldn't really get into Harry Potter or Hunger Games. And no, I haven't touched the Twilight crap.
Would you rather have an American accent or a British accent? British!
Did your mother go to college? No. She went to the Navy.
Are your grandparents still married? I only have one grandmother left, so... no.
Have you ever taken karate lessons? No.
Do you know who Kermit the frog is? WTF? Of course I do.
What's the first amusement park you've been to? Disneyland.
What language, besides your native language, would you like to be fluent in? Japanese (again) or Italian.
Do you spell the color as grey or gray? I prefer "grey" but switch it up from time to time.
Is your father bald? Completely? No.
Do you know triplets? No.
Do you prefer Titanic or The Notebook? Oh gawd... Titanic, I guess.
Have you ever had Indian food? Many, many times. I love the stuff.
What's the name of your favorite restaurant? Alfredo alla Scrofa in Rome.
Have you ever been to Olive Garden? Yes.
Do you belong to any warehouse stores (Costco, BJ's, etc.)? Just Costco.
What would your parents have named you if you were the opposite gender? I have no idea.
If you have a nickname, what is it? Don't have one.
Who's your favorite person in the world? I couldn't choose between my family and friends, so I'll say Betty White.
Would you rather live in a rural area or in the suburbs? Neither... give me the city.
Can you whistle? No.
Do you sleep with a nightlight? No.
Do you eat breakfast every morning? No. Practically never.
Do you take any pills or medication daily? No.
What medical conditions do you have? That's a bit complicated... though it could best be described as a side-effect to the cure for a side-effect that I got from taking a prescribed drug when I was younger.
How many times have you been to the hospital? For myself? Once that I know of (outside of being born in one). As a vistor? Dozens.
Have you ever seen Finding Nemo? Of course.
Where do you buy your jeans? Online.
What's the last compliment you got? I honestly don't know.
Do you usually remember your dreams in the morning? I don't dream. At least not how I understand other people dream.
What flavor tea do you enjoy? Sleepy-Time Tea.
How many pairs of shoes do you currently own? Eight.
What religion will you raise your children to practice? If I were to ever have kids? None. They can grow up and decide for themselves what religion works for them... if any.
How old were you when you found out that Santa wasn't real? HOLY SHIT! SANTA ISN'T REAL?!?
Why do you have a tumblr? I have no idea. It's not like I ever use it.
Posted on April 9th, 2015

Not much going on but work.
Guess it's meme time...
Do you ever doubt the existence of others than you? All the time.
On a scale of 1-5, how afraid of the dark are you? 2.
The person you would never want to meet? Any piece of shit politician who makes bigoted legislation their life mission.
What is your favorite word? Upgrade.
If you were a type of tree, what would you be? Apple.
When you looked in the mirror this morning what was the first thing you thought? I could use another four hours sleep.
What shirt are you wearing? A Hard Rock Cafe Paris T-shirt.
What do you label yourself as? I don't.
Bright room or dark room? Depends on what I'm doing. I'd prefer a bright room for most things.
What were you doing at midnight last night? Working.
Favorite age you've been so far? 30.
Who told you they loved you last? My grandma.
Your worst enemy? Anger.
What is your current desktop picture? The four desktops on all three of my Macs are the various Apple Yosemite images that came with OS X Yosemite. They are so beautiful that I can't bring myself to change them out... even though I usually always do something custom from my own photos.
Do you like someone? I like many people.
The last song you listened to? Goodbye by Who is Fancy... it was on my DVR from Fallon the other night.
You can press a button that will make any one person explode. Who would you blow up? Sarah Palin. I don't ever want to hear another stupid word from her idiot mouth.
Who would you really like to just punch in the face? Rush Limbaugh.
If anyone could be your slave for a day, who would it be and what would they have to do? Really? This is a question?
What is your best physical attribute? (showing said attribute is optional) My brain.
If you were the opposite sex for one day, what would you look like and what would you do? Elizabeth Hurley. Stare at myself naked in the mirror all day.
Do you have a secret talent? If yes, what is it? Not really.
What is one unique thing you're afraid of? Don't know how unique they are, but clowns and heights.
You can only have one kind of sandwich. Every sandwich ingredient known to humankind is at your disposal. Falafel with hummus, lettuce, tomato, feta cheese, onion, and tzatziki sauce in a wrap.
You just found $100! How are you going to spend it? Buying new bed sheets.
You just got a free plane ticket to anywhere in the world, but you have to leave immediately. Where are you going to go? Maui. Or maybe Krakow, if I'm feeling frisky.
An angel appears out of Heaven and offers you a lifetime supply of the alcoholic beverage of your choice. "Be brand-specific" it says. Man! What are you gonna say about that? Even if you don't drink booze there's something you can figure out... so what's it gonna be? Jägermeister.
You discover a beautiful island upon which you may build your own society. You make the rules. What is the first rule you put into place? THOU SHALT HAVE NO OTHER GODS BEFORE ME!
What is your favorite expletive? Shit.
Your house is on fire! You have just enough time to run in there and grab ONE inanimate object. Don't worry, your loved ones and pets have already made it out safely. So what's the one thing you're going to save from that blazing inferno? Since all my photos are backed up outside my home, I guess my copy of The Hitchhiker's Guide to the Galaxy, anniversary edition, signed by Douglas Adams.
You can erase any horrible experience from your past. What will it be? Something I am not divulging on a blog.
You got kicked out of the country for being a time-traveling heathen who sleeps with celebrities and has super-powers. But check this out... you can move to anywhere else in the world! Edinburgh, Scotland.
The Celestial Gates Of Beyond have opened, much to your surprise because you didn't think such a thing existed. Death appears. As it turns out, Death is actually a pretty cool entity, and happens to be in a fantastic mood. Death offers to return the friend/family-member/person/etc. of your choice to the living world. Who will you bring back? Steve Jobs.
What was your last dream about? I don't really dream. At least not like I understand most people dream.
Are you a good....[ SWIMMER ]? No. And I really wish I was.
Have you ever been admitted to the hospital? Yes. I had my adenoids out when I was a kid.
Have you ever built a snowman? Yes.
What is the color of your socks? White.
What type of music do you like? 80's Synth-Pop.
Do you prefer sunrises or sunsets? Sunsets.
What is your favorite milkshake flavor? Chocolate.
What football team do you support? Could not possibly care less.
Do you have any scars? There's one on my thumb where I cut through it with a hacksaw because I don't feel pain in my hands very well.
What do you want to be when you graduate? ??? Errr... an astronaut?
If you could change one thing about yourself, what would it be? My insomnia.
Are you reliable? I certainly hope so.
If you could ask your future self one question, what would it be? Should I go for this or am I making a huge mistake?
Do you hold grudges? Despite my best efforts... yes. Yes I very much do.
If you could breed two animals together to defy the laws of nature, what new animal would you create? PuppyCat!
What is the most unusual conversation you've ever had? Probably one of the times I've talked to self-proclaimed hardcore Christians who know less about The Bible than I do.
Are you a good liar? Not really.
How long could you go without talking? Forever. Verbal communication is not my favorite. Especially on the telephone which I hate hate hate.
What has been you worst haircut/style? All of them. My hair is terrible.
Have you ever baked your own cake? Sure. I love cake.
Can you do any accents other than your own? I like to think I can.
What do you like on your toast? Loads of butter and seedless strawberry jam.
What is the last thing you drew a picture of? A robot.
What would be you dream car? Porsche 911 Carrera 4S Cabriolet. Or a Corvette Stingray Convertible 3LT with Z51 Performance Package. Latest models.
Do you sing in the shower? Or do anything unusual in the shower? Explain. Nope, not really.
Do you believe in aliens? Yes.
Do you often read your horoscope? Hardly ever.
What is your favorite letter of the alphabet? D.
Which is cooler: dinosaurs or dragons? Dinosaurs.
What do you think about babies? They're okay. But I don't think I'd want one at this point in my life.
Freebie! Ask anything interesting you can think of. How much longer until I've done every meme in existence?
Posted on January 10th, 2015

When Blogography broke down (again) on Monday, I was half-way tempted to just leave it broken.
This was just the excuse I needed to hang up blogging once and for all, as lately it seems more like a chore I have to do rather than an activity I want to do. But I've gone through rough patches like this before and have always cone around, so I thought it best to get things running again. If I'm going to quit, it should be a decision I make instead of a decision I'm forced into.
So here I am.
Still.
Guess there's no better reason to do a meme than that...
There's something about you. What is it? A sense of adventure.
You know the way you do that thing? What is it? It's all in the wrist.
What grey areas of your life scare you the most? None of them. I accepted long ago that things are rarely black & white, and am perfectly content with that.
What is something that you wish you knew the answer to, but would never try to find out? What it feels like to free-solo climb Half Dome in Yosemite.
Everyone has that 'thing'. Their 'it'. What is yours? Not being afraid to step outside my comfort zone.
What is that one thing you just can't seem to put your finger on? How people can hate something so vehemently that they have made no effort to understand.
If you could leave this world discovering one thing, what would it be? Extraterrestrial intelligence.
Why do you love them? They earned it.
Why do they love you? I earned it.
This time of the year makes you... Bored.
The way to your heart is... which way? By showing kindness to others.
It gets under your skin when...? People behave badly or stupidly or rudely in public. By clipping your toenails in a restaurant or letting your kids run ape-shit in a grocery store or talking on your phone during a movie or whatever... you're infringing on other people's peace and making it hard for everybody to just get along.
Why did you leave? It wasn't my choice. I was forced out.
What is something you stopped believing in? American justice.
What is something you'll never give up on? Humanity's ability to eventually sort itself out... as unlikely as that may seem.
You forgot what they said, you forgot what they did, but what feelings do you remember? Rage.
Open up. About anything. I have no desire...none whatsoever... to be in another romantic relationship. Ever. I have been so much happier since I've stopped trying. Friends, family, and occasional kindness of strangers are all I need to feel complete.
Whenever you smell it, what does it remind you of? Maui.
Close your eyes and smile. What memory did you think of? Africa.
You'll never understand why... There are people who have absolutely no regard for others. And usually they are politicians who are supposed to be doing exactly that.
What was the moment when 'it' hit you? Bangkok, Thailand, 1998.
What's keeping you from moving on? Responsibilities.
No one likes to dwell, but if you could go back, what would you change? I would not have wasted my precious time on those who ended up undeserving of it.
If you could predict your future, you'd want it to look like...? Like Back to the Future II... THE FUTURE IS NOW, BITCHES!
If the eyes are the windows to the soul, if I looked in yours, I'd see...? Hope.
See you tomorrow, I guess.
Posted on December 18th, 2014

Ooh! Thursday is Memesday!
This particular set of questions is running through Tumblr, so I thought I'd steal it for my blog since there's not much going on with me today.
If you could have chosen your own birth name, what would it be? My favorite name for a boy is Ellis. But "Ellis Simmer" runs together oddly, so I'd probably go with Jake.
Do you have a piece of jewelry you wear every single day? My MIA/POW bracelet.
Do you collect anything? If so, what? If not, what would you collect if you had the money/resources? I used to collect comic books and still have them despite buying all new comics digitally for the past three years... so I guess I'd have to say "comic books." If I had the money to collect exotic sports cars, that would be my jam.
What's your favorite video game console and your favorite game for that console? Wii. And my favorite game for it would be just about any LEGO game... but probably LEGO Batman 2, if forced to choose.
Yogurt or pudding? Pudding. Duh.
If you could get one tattoo without any pain for free, would you? What would you get and where on your body? Depends on who was doing the tattooing. If it was a good artists, then I'd absolutely get something new and piratey on my left arm. Though I never seem to feel pain when getting tattooed, so that's not a big deal.
Do you still talk to the friends you had when you were a child? Not really.
If you could take over a country, what country would it be? Either my beloved Scotland... or Friesland, since I'm the rightful heir to that country anyway.
Do you prefer your Ramen as a pasta with less broth, or more like a soup with more broth? Less broth. And only if it's vegetarian.
Do you have an accent? If so, what kind? To more easily communicate with people whose native language is not English in my work, I speak with as little accent as possible and enunciate my words as clearly as possible. I'm told that this makes me sound like I have some kind of European accent, but I don't hear it.
How do you pronounce pecan? Peh-Khan.
Did you have a blankie or stuffed animal you carried everywhere as a toddler? Both. The blanket was an old raggedy mint-green thing. The stuffed animal varied. I remembered having a duck and a frog, among others.
Sunrise or sunset? Sunset.
Are you good at card games? Better than some, not as good as most.
Favorite kind of Poptarts? Strawberry.
Rainy weather, snowy weather, or sunny weather? Mostly sunny. Sometimes rainy. Never snowy.
Are/were you in any after school activities in school? If so, what one(s)? 4-H for a while.
At what age did you develop your first crush? Share a story about it if you wish. I have no idea. I was pretty young when I remember having a serious crush on Lynda Carter (Wonder Woman). A little older when I had a serious crush on Lindsay Wagner (The Bionic Woman). And a little older still when I had a serious crush on Erin Gray (Wilma Deering from Buck Rogers).
McDonalds or Burger King? McDonalds. I positively loathe Burger King. Though, being a vegetarian, I'm probably not the best to judge.
White chocolate, milk chocolate, or dark chocolate? MILK CHOCOLATE IS THE ONLY TRUE CHOCOLATE.
Coffee or tea and what kind? English Breakfast Tea (black tea) with milk and sugar. I despise coffee.
Favorite memory from a sleepover with your best friend? While I know I had sleepovers with friends, I have no memory of it.
Favorite brand of chips? (i.e. Doritos, Lays, Tostidos). Bugles. Followed by Chili-Cheese Fritos.
Favorite scented candle fragrance? Vanilla.
What's your favorite place to eat out at? Johnny Rockets.
When you go to the mall, where's the first place you always seem to go to? Uhhhh... I avoid the mall whenever possible, but I'm guessing it would be an art supply store of some kind? Maybe a candy store or a game store? Probably a Johnny Rockets.
Do you enjoy mosh pits? I did at one time. Can't fathom enjoying one of them now.
Favorite sound track from any video game or movie? Probably the movie soundtrack for About a Boy.
Do you prefer to drink out of plastic or glass cups? GLASS! OH HOW I HATE DRINKING FROM PLASTIC!!!
Do you prefer minty gum or fruity gum? What's your favorite brand? Fruity gum. I like Juicy Fruit best... good flavor without being overpowering.
And... I'm spent.
Posted on November 15th, 2014

Back in the olden days there was an activity called blogging. This was where people wanting to share their experiences, knowledge, and observations would create a website and, using a content management system, would post such experiences, knowledge, and observations for all the world to see.
Blogging was not always easy. Especially if you were a blogger that blogged every day. Because, unless you're an astronaut or Hugh Hefner, eventually you run out of blog-worthy things to blog about.
Enter memes.
In order to generate ideas for blog content, bloggers started developing quizzes, challenges, questionnaires, and all kinds of other idea-generating material to blog about. Not everybody appreciated memes... many people downright abhorred them... but when it's 11:55pm and you're desperate for something to blog about, memes could be your best friend.
One of the most popular meme generators on the internet back in the day was The Friday 5. Every Friday they would post five questions for you to answer in a blog post, which was an easy way to get it over with and move on to your weekend. Unfortunately The Friday Five was eventually discontinued, and there were many sad pandas across the blogosphere.
And so I decided to do something about it.
I created a new Friday meme generator and called it FridayQ.
It ran a little over a year from June 4th, 2004 until I got tired of doing it and shut it down on July 22, 2005.
For years after it died, the FridayQ lived on as hand-coded pages here at Blogography. I never deleted them because I had a lot of blog posts that referenced FridayQ and I didn't want to go back and have to change 52+ entries. Alas, when I converted my blog to WordPress back in February all the FridayQ pages were lost and, for reasons unknown, were never backed up. After 8 years, 6 months, and 22 days, the FridayQ was finally dead for good.
Until...
Yesterday I was updating the web code for my blog stats and noticed that somebody was trying to reach FridayQ. This got me curious as to how many other searches it was getting, so I checked. Turns out there were dozens of them throughout the year. Mostly from my own blog, but there were other surviving blogs out there still linking to the site as well.
Maybe I should look into restoring FridayQ then?
And so this morning I did just that.
I visited the Internet Archive Wayback Machine to see what I could recover. None of the graphics were there, but all of the pages had been saved. Sure, the archives were out of date by a few months, but that was an easy fix. All I had to do was go through my Blogography archives and copy the original questions. Easy.
But what about the missing graphics?
Time to pull all my old hard drives out of storage.
Surprisingly, every drive I tried actually worked. And I found a backup of the FridayQ images on my fifth drive...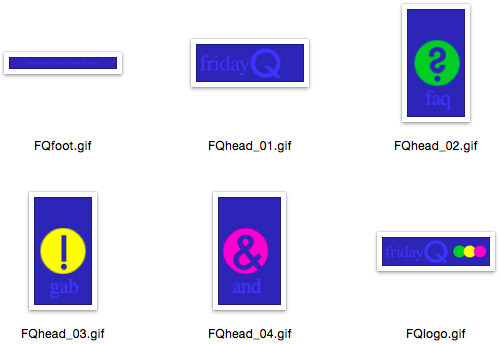 Good thing I'm a packrat who doesn't throw old tech away, huh?
I uploaded the pages to Blogography, updated all the links, and voilà... FridayQ is served!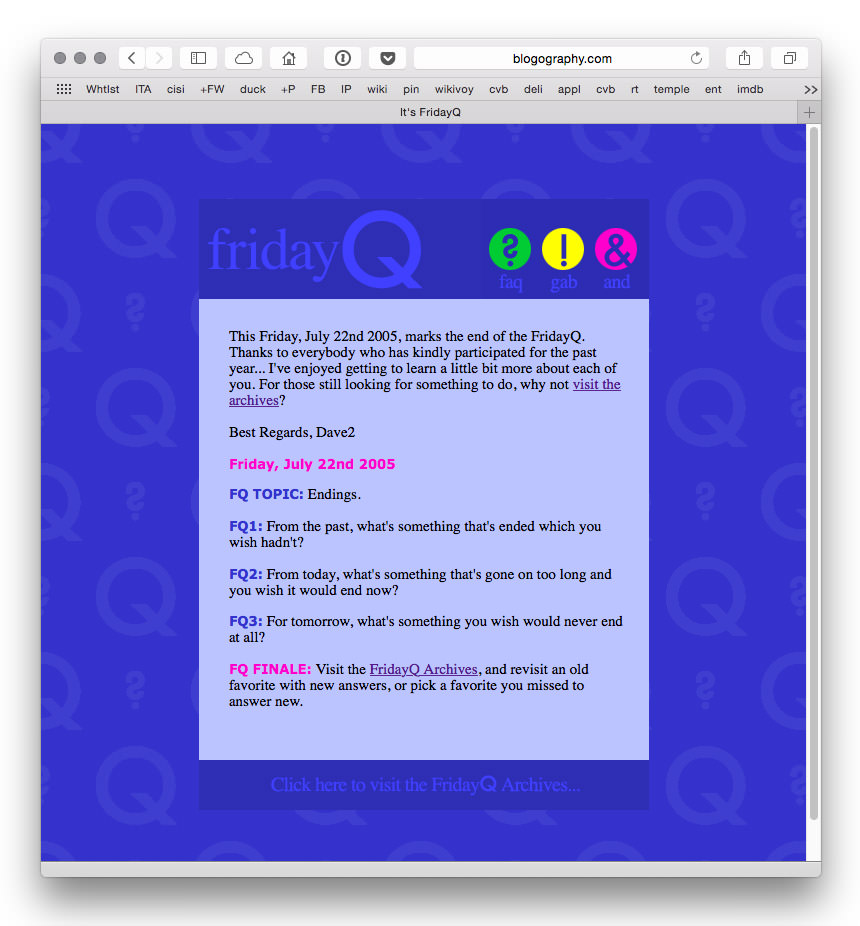 You can visit them for yourself by clicking here.
If you want to read all my crazy answers, you can check out my "meme" archive for 2004 and 2005. They're solid gold, people. Solid gold.
And now I just need to decide what to do with this box of old hard drives. They're probably not going to stay working forever. Hell, half of them require a FireWire port which doesn't even exist anymore (thankfully I have a FireWire to Thunderbolt converter!). Two of them are SCSI drives that would require pulling one of my old Macs with a SCSI interface out of storage to read. Hmmm... perhaps I should back them up to the cloud or transfer them to modern hard drives or something? They're all ridiculously small by today's storage standards... I could probably fit all of them on a single terabyte external drive no problem.
Blergh. One more thing added to my list that I don't have time for.
Like blogging every day. =sigh=
Posted on May 24th, 2014

And here's another one of those meme things.
They really dried up for a while, but now they keep getting sent to me. Lucky break, I guess, considering the only thing I did on this fine Saturday was work.
Who was the last person you held hands with? Grandma.
Are you outgoing or shy? Outgoing, I guess.
Who are you looking forward to seeing? So many people! Next up... Cher... Nis... Becky.
Are you easy to get along with? I think so.
If you were drunk would the person you like take care of you? I'd like to think so.
What kind of people are you attracted to? Exotic.
Do you think you'll be in a relationship two months from now? Doubtful.
Who from the opposite gender is on your mind? Mila Kunis.
Does talking about sex make you uncomfortable? No.
Who was the last person you had a deep conversation with? Naomi.
What does the most recent text that you sent say? "Well that sucks."
What are your 5 favorite songs right now? Hmmm... Hey Jane by Low Millions, Old 45's by Chromeo, Elevate by St. Lucia, Never Give In by Mackintosh Braun, Don't Look Down by Holy Ghost!
Do you like it when people play with your hair? No.
Do you believe in luck and miracles? No. But... I'm pretty lucky and miracles happen every day.
What good thing happened this summer? I lived to see it.
Would you kiss the last person you kissed again? Yes.
Do you think there is life on other planets? Yes.
Do you still talk to your first crush? Nope.
Do you like bubble baths? No.
Do you like your neighbors? I ignore them whenever possible, but don't hate them.
What are you bad habits? Anger.
Where would you like to travel? Antarctica, India, Peru.
Do you have trust issues? Yes.
Favorite part of your daily routine? Dinner.
What part of your body are you most uncomfortable with? Pretty much all parts.
What do you do when you wake up? Check my email.
Do you wish your skin was lighter or darker? Darker. I'm beyond white and boring.
Who are you most comfortable around? Anybody, really.
Have any of your ex's told you they regret breaking up? Not directly.
Do you ever want to get married? Not any more.
If your hair long enough for a pony tail? Not even a little bit.
Which celebrities would you have a threesome with? Elizabeth Hurley. Mila Kunis. Danai Gurira. Oh... wait... I need to be in there too.
Spell your name with your chin. edaqFVE3.
Do you play sports? What sports? Nope.
Would you rather live without TV or music? TV.
Have you ever liked someone and never told them? Oh yes.
What do you say during awkward silences? As little as possible.
Describe your dream girl/guy? Elizabeth Hurley. Mila Kunis. Danai Gurira.
What are your favorite stores to shop in? I loathe shopping. If forced to choose... The Apple Store.
What do you want to do after high school? Become an astronaut. Oops.
Do you believe everyone deserves a second chance? No.
If your being extremely quiet what does it mean? I'm working. Or thinking.
Do you smile at strangers? When I think of it.
Trip to outer space or bottom of the ocean? I wanna do both equally.
What makes you get out of bed in the morning? The alarm clock.
What are you paranoid about? Politicians. And with good reason.
Have you ever been high? Yes.
Have you ever been drunk? BWAH HA HA HA HAAAAA!
Have you done anything recently that you hope nobody finds out about? Not that I can think of.
What was the colour of the last hoodie you wore? Red.
Ever wished you were someone else? Just about every day.
One thing you wish you could change about yourself? Negativity.
Favourite makeup brand? Covergirl.
Favourite store? The Apple Store. Or Costco.
Favourite blog? People still have blogs?
Favourite colour? Blue.
Favourite food? Pizza.
Last thing you ate? Cheese and potato chip sandwich with mayo.
First thing you ate this morning? Toast with butter.
Ever won a competition? Yes For what? Speaking.
Been suspended/expelled? For what? Nope.
Been arrested? For what? Nope.
Ever been in love? Unfortunately.
Tell us the story of your first kiss? I wanted a piece of chocolate.
Are you hungry right now? Not really.
Do you like your tumblr friends more than your real friends? I have so few, so no.
Facebook or Twitter? Facebook.
Twitter or Tumblr? Tumblr.
Are you watching tv right now? No.
Names of your bestfriends? They're in the Witness Protection Program, so I can't.
Craving something? What? Pizza.
What colour are your towels? Steel Blue.
How many pillows do you sleep with? Three.
Do you sleep with stuffed animals? No.
How many stuffed animals do you think you have? Two (Sully from Monsters Inc. and CatBus from My Neighbor Totoro).
Favourite animal? Monkey.
What colour is your underwear? Grey.
Chocolate or Vanilla? Chocolate.
Favourite ice cream flavour? Ice cream? Chocolate-Almond. Gelato? Stracciatella.
What colour shirt are you wearing? Grey.
What colour pants? Denim.
Favourite TV show? Current? The Blacklist. Of all time? Either Veronica Mars or Jeremy Piven's Cupid... followed closely by Wonderfalls.
Favourite movie? Field of Dreams.
Mean Girls or Mean Girls 2? There was a second one?
Mean Girls or 21 Jump Street? I guess Mean Girls since it doesn't have Jonah Hill in it. Unless you're talking about the original television series, in which case it would be Jump Street.
Favourite character from Mean Girls? Ms. Norbury.
Favourite character from Finding Nemo? Wow. That is a surprisingly difficult question. It's probably between Peach and Dory.
First person you talked to today? Mark.
Last person you talked to today? Sarah.
Name a person you hate? Rush.
Name a person you love? Marie.
Is there anyone you want to punch in the face right now? There's always somebody needing a punch in the face.
In a fight with someone? Not that I know of, but probably.
How many sweatpants do you have? One.
How many sweaters/hoodies do you have? Seven?
Last movie you watched? That would be The Avengers for the millionth time.
Favourite actress? Elizabeth Hurley.
Favourite actor? James Earl Jones.
Do you tan a lot? I don't tan at all.
Have any pets? A Bengal Tiger named Felix.
How are you feeling? Okay.
Do you type fast? Yes. But I make mistakes.
Do you regret anything from your past? I try not to... but doesn't everybody?
Can you spell well? Well enough, but still like having spellcheck onboard.
Do you miss anyone from your past? Very much so.
Ever been to a bonfire party? Yes.
Ever broken someone's heart? Unfortunately.
Have you ever been on a horse? Yes.
What should you be doing? Work.
Is something irritating you right now? Something is always irritating me.
Have you ever liked someone so much it hurt? Once.
Do you have trust issues? Again, yes.
Who was the last person you cried in front of? Mary.
What was your childhood nickname? Davy.
Have you ever been out of your province/state? Many, many times.
Do you play the Wii? Not very often, but yeah.
Are you listening to music right now? Yes.
Do you like chicken noodle soup? Not if it has chicken in it.
Do you like Chinese food? If it's vegetarian. And I'm in China.
Favourite book? Richard Bach's Jonathan Livingston Seagull.
Are you afraid of the dark? No.
Are you mean? When I have to be.
Is cheating ever okay? Yes. But it's a lot more complicated than that.
Can you keep white shoes clean? (looks at shoes) Apparently not.
Do you believe in love at first sight? Absolutely.
Do you believe in true love? Sure. But probably not for me.
Are you currently bored? I'm always a little bored.
What makes you happy? Travel to new places.
Would you change your name? And have to go through all that paperwork to change everything? Not really.
What your zodiac sign? Aries.
Do you like subway? The transportation? Very much. The restaurant? Not at all.
Your bestfriend of the opposite sex likes you, what do you do? Not risk it.
Who's the last person you had a deep conversation with? Still Naomi.
Favourite lyrics right now? Low Millions' Hey Jane.
Can you count to one million? I'm sure I could... why would I want to?
Dumbest lie you ever told? "I love you."
Do you sleep with your doors open or closed? Open.
How tall are you? 6' 2" tall.
Curly or Straight hair? My hair? Straight.
Brunette or Blonde? Brunette. Or blonde.
Summer or Winter? Summer.
Night or Day? Day.
Favourite month? March.
Are you a vegetarian? Yes.
Dark, milk or white chocolate? Milk Chocolate.
Tea or Coffee? Tea.
Was today a good day? Every day above ground is a good one.
Mars or Snickers? Mars.
What's your favourite quote? "No matter where you go, there you are.".
Do you believe in ghosts? I believe in something.
Get the closest book next to you, open it to page 42, what's the first line on that page? "Is that true, Sasha?" asked the general, obviously still trying to catch Rex in a lie.
Posted on May 14th, 2014

Blerrrrgh! I feel like crap.
It was a crazy day but none of it is really blogable, so I guess I'll finally answer this list of "Fifty Original Questions For You" that a reader sent to me... which they found at Liz From The Internet.
And here we go...
When you have a container of Neapolitan ice cream, what flavor do you leave for last? Strawberry. Not because I don't like it, but because I don't like it blended with my vanilla and chocolate.
Would you rather be caught in a thunderstorm without an umbrella or a snowstorm without boots? Thunderstorm without an umbrella... I actually enjoy that. The last time it happened was when I was in Vietnam. I got very, very wet from head to toe. But had a great deal of fun taking photos.
Let's say you have access to a time machine, but it can only go either backward or forward. One or the other. Which do you choose and where do you go? Forward. I can only hope that this world eventually develops into something better than it has been throughout human history, and I'd really like to visit Tokyo hundreds of years from now.
If you could choose to have any superpower ever, what would you pick? Flight.
Tomorrow morning, you wake up in the body of a celebrity, like in a '90s body-swap movie. Who is it? Chris Evans... aka Captain America. How do they react to your life? He would be incredibly bored by my life, I'm sure. What do you do when you're "them"? What do I do when I'm young, good-looking, rich, and talented? With women falling at my feet everywhere I go? Where I can afford to do anything I want? Wow... let me think on that for a while. Would you choose to switch back? Hell no.
Any allergies? When I was younger, I had a myriad of allergies, but outgrew them. Now I only seem to have problems when the seasons change. As we move into summer from Spring, I'm feeling a bit allergetic right now.
What would you be more embarrassed to buy: sex toys or adult diapers? I wouldn't be embarrassed by either. I've been the caregiver for an elderly person and didn't even think twice about having to pick up their adult diapers. And of course I've bought sex toys (alas, mostly as gifts) with no embarrassment... it's not like you're shopping for them at Wal-Mart.
Did you get enough sleep last night? Lord, no. I never do. Such is the life of a chronic insomniac.
You're the sole witness to a Mafia murder. Witness protection has to set you up with a whole new life in a totally new country. You have to leave everything behind, but you can pick where you move to. Where do you go? Edinburgh, Scotland.
If you could star in a biopic about any famous person ever, who would it be? Sir Nicholas Winston. Not because I think I'd do the job justice, but because his story is screaming to be told. He should be famous, but oddly isn't for some reason.
What's the biggest animal you've ever killed? Bugs count. I've never killed anything but bugs. And don't even do that any more if I can avoid it.
Would you rather have millions of dollars but always feel nauseous when you go outside, or be dirt poor forever but never get sick again in your life? This is confusing. Would I be nauseous if I were in a plane? In a car? Or is it any time I left my house? If it's the latter, what good is money if you can't use it? I'd take the health, please.
A wizard offers you immortality in exchange for your two front teeth. Do you take it? Hell yeah. Having two fake front teeth in trade for immortality?
Could you win the Hunger Games? No. In fact, I would undoubtedly be killed immediately.
What was your favorite Halloween costume as a kid? How about as a teen/adult? As a kid? Batman. As an adult? Batman.
Do you bite your nails? I couldn't if I wanted to. They are way too tough.
What was the first movie you remember seeing in the theater? Either Pete's Dragon, Blackbeard's Ghost, The Cat from Outer Space or Herbie the Love Bug... it's hard to tell because Disney re-issued movies all the time back before there were VCRs.
Do you prefer music with male or female vocalists? Male.
You and the love of your life are having a baby, and you get to choose the name! There's only one catch: your partner INSISTS that it be the name of a place, real or fictional. What do you name your baby? Lucia for a girl (after St. Lucia) and Ellis for a boy (after Ellis Island).
If you could reboot or remake any movie, what would it be and who would you cast? That would be John Carter... based on the amazing Martian books by Edgar Rice Burroughs. It was completely and totally fucked up by Hollywood and made into one of the worst films ever. As for who I would cast... I honestly don't know. Preferably somebody who can actually act after holding auditions. Hopefully unknowns.
If you could automatically know how to speak any language or play any instrument, which would you choose? Japanese (language) and piano/keyboard (instrument). I actually learned Japanese and played keyboard in the distant past, but have forgotten most everything about them. Use it or lose it.
For you, would getting amnesia be a good thing? Probably not. But I wouldn't be upset at starting over.
If you curse loudly and then realize that there are children nearby, what is your reaction? To not make a big deal out of it so they wouldn't make a big deal of it.
Of what animal are you most afraid? I'm not really afraid of any animals. More bugs than anything else.
Pizza or oral sex? Since eating pizza while having oral sex would be like... the best thing ever... I'm not going to choose between them.
Without looking them up, can you explain the rules of football? The fundamentals, sure. How about Quidditch? Not even a little bit, as I can't stand any of the Harry Potter crap. What do you think that says about you? That I probably shouldn't play football or Quidditch.
You're in the car, switching channels on the radio when you hear a song that makes you go "OH SHIT, THAT'S MY JAM!" What song is it? Wow. People are People by Depeche Mode? I dunno. Probably something by Depeche Mode or The Pet Shop Boys.
Have you ever paid to see a Step Up movie? If not, how much would someone have to pay YOU to see a Step Up movie? No. I don't even know what that is. But I'd probably see any movie if somebody paid me $500.
If you were being executed tonight, what would you choose for your last meal? Fettuccine Alfredo, but ONLY from Alfredo alla Scrofa.
Have you ever bought an item of clothing because it reminded you of something a fictional character would wear? No?
If you were invisible for a day, what would you do? Go to Washington D.C. and get incriminating evidence on as many shitbag politicians as I could so a scandal could erupt and they could be replaced by more shitbag politicians.
Have you ever been punched in the face? Kinda. I was hit in the face while in a tussle... but it wasn't like somebody teed off and punched me square in the face.
How do you take your ramen noodles? With veggie broth and some peas and carrots.
Do you ever rehearse or plan conversations before you actually have them? Not really conversations... but if I'm doing some public speaking I'll absolutely plan out what I'm talking about.
How much black do you wear on a regular basis (not counting funerals)? Not much at all. I'm too pale to pull it off.
Do you have any tattoos? Yes. Five in three places. Do you want any? Any more? Gawd yes. I love my tattoos and need more.
If someone offered you a free pet snake, would you take it? It's not dangerous or really big or anything. They're just moving to a place that doesn't allow pets. If it meant saving the poor thing from being put to death, then sure. But I have no real desire to own a snake. Not that I don't like them, I would just hope for a more interactive pet.
Do you know how to pronounce the word "pinochle"? The card game? Yes. PEE-KNUCKLE.
Can you think of anything more boring than birdwatching? I've been in many meetings that would make birdwatching seem like an action movie.
Are you better with numbers or words? Earlier in my life, I'd absolutely say numbers. Now? Definitely words.
At the movies, do you stay for the credits? Only if I know there's going to be something "extra" there... like in the Marvel films.
Is morality universal or relative? Relative.
Let's say you're getting married to someone you absolutely adore. The only catch is that you met them through a Craigslist hookup ad that was supposed to be just for one night of casual sex. Would you tell your friends how you and your fiancé met? Absolutely. I think that's an awesome story of how you met your spouse.
What's the worst name you've ever been called? "Faggot." Not because I was offended at being mistaken for being gay... but because that's a hateful, awful word designed to torment somebody because of their sexuality, which is repugnant.
Would you eat human flesh if it had been harvested and prepared humanely? (Say, from someone brain-dead who had marked him or herself down as an organ donor - same difference, right?) I'm a vegetarian, so no. But I'd like to think I'd make an exception for some fucking asshole like Pat Robertson or Rush Limbaugh... assuming the flesh was collected as inhumanely as possible.
At what age did you stop believing in Santa? No clue. But I was young. 1st grade maybe? Alternately, if you never believed in Santa, did you ever ruin Santa for anyone else? Not that I know of.
Do you get along better with old people or little kids? I get along equally well with both.
If you had to choose, would you rather become a nun/monk or a drug dealer? Monk.
What's your best bodily feature, objectively speaking? Height?
Who is your favorite late night talk show host? I'd like to appear smart and say Craig Ferguson (who I do like and will miss when Joel McHale replaces him)... but it's Jimmy Fallon. He's clearly just having fun night after night, and that's what I need to wipe away my day.
Posted on April 1st, 2014

I really hate having to leave the Netherlands.
Almost as much as I hate stupid "April Fools Day" pranks that get unleashed everywhere. And since there's always somebody who believes people's outrageous shit, the fools-pranking will never end.
At least Google puts some effort into their pranks each year...
The really cool thing about this year's gag is that this is something that will probably actually happen one day. It's only a matter of time before augmented reality games are this good.
The Virgin America & Nest prank was pretty funny too...
And since YouTube is where most of the pranks live, they decided to get in on the act themselves...
But my favorite? SelfieBot!
And now I guess it's time to climb in a metal tube for ten hours. Then drive in a car for two-and-a-half hours. Then go to the clinic for my smashed ribs for an hour.
Ha! April Fools! You can never get out of the walk-in clinic in under five hours!
See you across the pond.
Posted on February 15th, 2014

I am running out of things to reveal in these "Ten Things You Don't Know About Me" memes, but that doesn't stop people from tagging me!
One of my previous stabs at it can be found here.
And, without further delay, here's the latest...
Despite all the wonderful opportunities I have to travel and all the amazing jobs I am lucky enough to work on and all the cool stuff I've been fortunate enough to see and do... I still think that everybody else has more interesting lives than I do, and often feel like I'm missing out.
I loathe both grapefruit and coffee, but wish I didn't because it seems like it would make for the perfect vegetarian breakfast.
Laziness bothers me and I have a hard time respecting people who don't work hard at something in their life... and it doesn't necessarily have to be a job.
I have a near-pathological hatred of Jonah Hill as an actor, which upsets me because everything I read about him and every interview I've seen paints him as a cool guy that I'd totally like to hang out with.
I have hundreds of Hard Rock Cafe T-shirts I've collected of the years which are piled in plastic storage tubs and have never been worn.
I was once slapped in the face on a date... not because I said or did anything inappropriate, but because she was drunk and I took her car keys. I drove her home while she screamed at me the entire way, returned her keys as she screamed at me some more, and volunteered to drive her to her car in the morning as she continued screaming. Not surprisingly, we ended up going on a second date... because I just never learn.
I've been to Disney World so many times for work-related projects that I thought surely I was sick of the place and didn't care if I ever went back. But, much to my surprise, when my annual trip was cancelled last year, I found myself genuinely upset. I guess Disney is an addiction you can't ever truly shake.
I have the first season of Three's Company on DVD. I have no idea why. Sometimes I buy things just to have them, and this is a flaw I desperately wish I could correct. Games I've never played. Books I've never read. Movies I've never watched. Comic books I've never looked at. Stuff like this drives me nuts. And yet... it still happens from time to time.
I wish I embarrassed more easily and cared more about what people think of me. Alas, I don't embarrass easily and honestly don't give a flying fuck what people think about me. Not even a little bit. Which means I'll sometimes say or do things which, in retrospect, I shouldn't have. And probably wouldn't have... if I worried about how others would perceive me for it.
A lot of great songs have good stories behind them, but I'm kind of obsessed with the tale behind Robbie William's brilliant song, She's Madonna. Apparently the lyrics are based on Guy Ritchie's ex-girlfriend telling him how Guy broke up with her by saying "Look, you know I really love you, but she's Madonna." The first line of the song, "I don't miss you, just who you used to be." is printed out and posted to my wall as a reminder of the Buddhist precept that everything changes. And also to remind me that even a person you consider a close friend can become somebody you don't recognize given enough time.

I was also tagged in a "Ten Things You Don't Know About Me" meme having to do with books, television, and movies, which I didn't quite understand... but here is my attempt anyway...
Now that Veronica Mars has been given a new lease on life with a movie and some novels, I am obsessed with the idea of getting to see more Wonderfalls, a shamefully underrated and wholly amazing television show that I re-watch twice a year.
And when it comes to movie sequels I pine over most, Strange Days is at the top of my list. The universe that Kathryn Bigelow and James Cameron created is begging to be explored.
My "stranded on a desert island" books would be Jonathan Livingston Seagull and Illusions by Richard Bach, Noble House by James Clavell, Dune by Frank Herbert, Lightning by Dean Koontz, Curious George Goes to the Hospital by Margret and H. A. Rey, Watchmen by Alan Moore and Dave Gibbons, and as many Edgar Rice Burroughs books as I could get my hands on. Most of these I have read several times and never get tired of revisiting.
While I love the original Star Trek television series, I hated every Trek TV show that followed, including Star Trek: The Next Generation, Deep Space Nine, Voyager, and Enterprise. This bothers a lot of Star Trek fans I'm friends with.
I will never forgive 20th Century Fox for canceling The Finder. Not just because it was an incredible TV show, but because it deprived the world of seeing more Michael Clarke Duncan before he died.
I have been disappointed by a lot of television shows... but Marvel's Agents of S.H.I.E.L.D. is the biggest by far. I hate the show. This kills me because I positively love the Marvel movies, and think that Clark Gregg and Ming Na Wen are brilliant actors.
I have read Catcher in the Rye twice in an attempt to appreciate it for the literary genius everybody says it is. Didn't work. I still hate the book, though rarely admit it because people chide me with the old "You didn't like it because you didn't understand the symbolism that makes it so powerful!" bullshit. Nope! I just think it's a crappy book. And don't get me started on Steinbeck.
I always put movies on while I work because it masks the outside world. I always choose movies I've seen before so they won't distract me from getting things done. The three movies I play above all others are 1) Marvel's The Avengers, 2) Undercover Blues, and 3) Wimbledon... which I finally bought on iTunes because I got tired of having to load the DVD over and over. I have no idea why these titles win out over others. I guess it's because I never tire of them.
If I had to pick the book I most want to see made into a movie or television series? Isaac Asimov's Foundation. The book I least want to see made into a movie or television series? Isaac Asimov's Foundation. The story has so much potential to be adapted... but my gut tells me it's just not going to be possible. Especially when the latest rumors have Roland Emmerich at the helm, which has to be one of the worst choices possible.
I have seen every feature film Samuel L. Jackson has ever appeared in (of which there are over a hundred!) except his first two... Together for Days and The Displaced Person. Needless to say, I want quite badly to find them so I can finish off my checklist. There have been more than a couple movies I have watched only because Mr. Jackson has appeared in them. And I don't care how bad the film, he is great in all of them, and one of the most versatile and talented actors the world has ever known. Picking my favorite Samuel L. Jackson role is near impossible but, if forced to choose, I'd have to go with Mitch from The Long Kiss Goodnight. Not because it was some kind of Oscar-worthy performance, but because nobody else could have played that role. Period. Nobody.

And... I'm all memed out. Have a great weekend!
Posted on November 18th, 2013

The "Things You Don't Know About Me" meme is going around yet again, and so here's my list.
Hopefully I didn't repeat stuff from the old lists I've made, but there's been so many of them that I make no promises

I trained to become a certified skydiver. A long time ago when we were bored, a friend and I decided to go tandem-skydiving (where a professional is hooked to you for the ride down). My family was pretty freaked out, so I didn't tell them when I went back to take classes so I could become a licensed skydiver... but I did. I went through all the classroom training, did my static-line jumps, then completed my first solo freefall skydive... then decided I was done. I toy with the idea of jumping again from time to time, but never have. Travel is my adventure now.
I have a complete set of INFOCOM "grey box" packaging for every one of their text adventure games. If you don't think this is a big deal, you weren't a computer geek in the 1980's. You also don't know how expensive these games were for a kid in high school.
When I was a kid trying to earn summer spending money, one of my many jobs was mowing the lawn of an elderly couple in town. For the three years I did his yard work, the guy would pay me to accompany him on occasional trips up to the mountains so I could help him collect water for making pickles. He was convinced that you couldn't make pickles with tap water, which was great for me because it was easy money. A couple years after he died, I read of a drowning that took place where we used to go for water. When I mentioned it to somebody at work, they told me that people die or get hurt there all the time because there are undercurrents in the swift water that suck people under when they fall in. If ever there was a shining example of money not being everything, here it is. Lesson learned, and all that.
There are a lot of things that I want to learn to do before I die. Learning how to blow glass is at the top of my list. Learning to create stained glass is a close second. I'm mesmerized whenever I visit a church with beautiful stained glass in it.
I have spent years researching world religions because I find the best way to understand the people I meet around the world is to understand what they believe when it comes to matters of faith. This has led to numerous awkward conversations when it turns out that I am more knowledgeable about somebody's religion than they are. With this in mind I can state with complete confidence that the people who know the least about their religion are the people who are most likely to use it as a tool of bigotry or hate. They may be familiar with the words but the true meaning and historical context of those words are missing.
I have designed graphics for many, many, many things over the years. The one thing missing from my resume that I most want to design is a map for a theme park or museum.
I can add "professional musician" to my resume even though I can't sing worth a crap, can barely read or write music without a computer, and have long-since forgotten how to play an instrument. Despite all that, I compose music for video projects and have been in a band (where I "sang" backup vocals and played keyboard... which I do by smashing on all the keys until I figure out which notes sound closest to what I'm supposed to be playing, then memorize which keys to hit). In my heart, I think I probably have a talent for music... but any hope of making use of it was crushed years ago.
In high school band I wanted to play the saxophone. Bad. But my band teacher said he really needed talented people in the clarinet section, and promised that I could move to saxophone after a year once he got the arrangements figured out. I hated the clarinet, but wanted to be a good student, so I agreed. After a year of clarinet where I was in first-chair more often than not, the band teacher said I was too good in clarinet to give it up, and he'd really appreciate it if I stuck it out one more year. I wasn't going to agree, but he promised that he would spend extra time with me after class to get me caught up with the saxophone the next year. Encouraged, I finished year two on the clarinet, then rented a saxophone and practiced all summer. On the first day of year three, I sat in the saxophone section... only to have the band teacher say "I notice you're in the saxophone section, David... I need you to move back to the clarinet section!" I was going to argue the point, hold him to his promise, and refuse to move... but ultimately decided that I didn't want to spend one more minute in a class run by a lying piece of shit. So I packed up my sax, said "No. I quit" then walked out the door. It is possibly the most angry I have been in my entire life, and yet I'm really proud of myself for handling it so well, which was not typical at the time. The hard lesson I learned about how some people keep their promises was more valuable to me than my desire to learn to play saxophone ever was, and I am really grateful I learned it before I graduated and entered "The Real World." So thank you very much, Mr. Johnson, you lying asshole.
Over the years I have become a much less angry and vengeful person thanks to my study of Buddhism. Sure, I still have my moments (seriously, don't do something to really piss me off), but I can honestly say I am a completely different person than I was fifteen years ago. Looking back, however, I think I was on the path towards Buddhism long before I even knew what it was.
Back in the mid-to-late-80's I volunteered to teach adult computer literacy classes for people in danger of losing their jobs (or unable to get a job) because their work was being computerized. Many of the people I trained had used typewriters and filing cabinets for years, and had never even turned on a computer before. It was a job requiring a great deal of patience and calm because PCs were nowhere near as friendly back then as they are today. Unfortunately for me, I had neither patience or calm, and it was a horrible struggle to endure two hours without screaming at people for being idiots. All that changed when an older woman approached me after class and thanked me for my efforts, but said she was going to have to quit because she felt stupid that everything was going over her head. Without even thinking about it, I said "That's not your fault, it's my fault... please come back for a few more classes and I'll see if I can do a better job, because you're not stupid." She agreed, and I congratulated myself on being so clever. Until I was driving home and suddenly realized what I had said... and how every word was absolutely true. It was my fault. My class wasn't filled with idiots... they were people so desperate to keep their jobs or find work that they were giving up their free time and trying their best to learn something new and challenging. I needed to figure out a different approach to teaching the material that actually worked, and so I did. This was a defining moment in my life, and accepting the truth of it all has paid off again and again... both professionally and personally.

Now, granted, that's probably all stuff you didn't know about me that you didn't want to know about me... but you'll have to blame the people who keep reviving this meme for that!