Back in the olden days there was an activity called blogging. This was where people wanting to share their experiences, knowledge, and observations would create a website and, using a content management system, would post such experiences, knowledge, and observations for all the world to see.
Blogging was not always easy. Especially if you were a blogger that blogged every day. Because, unless you're an astronaut or Hugh Hefner, eventually you run out of blog-worthy things to blog about.
Enter memes.
In order to generate ideas for blog content, bloggers started developing quizzes, challenges, questionnaires, and all kinds of other idea-generating material to blog about. Not everybody appreciated memes... many people downright abhorred them... but when it's 11:55pm and you're desperate for something to blog about, memes could be your best friend.
One of the most popular meme generators on the internet back in the day was The Friday 5. Every Friday they would post five questions for you to answer in a blog post, which was an easy way to get it over with and move on to your weekend. Unfortunately The Friday Five was eventually discontinued, and there were many sad pandas across the blogosphere.
And so I decided to do something about it.
I created a new Friday meme generator and called it FridayQ.
It ran a little over a year from June 4th, 2004 until I got tired of doing it and shut it down on July 22, 2005.
For years after it died, the FridayQ lived on as hand-coded pages here at Blogography. I never deleted them because I had a lot of blog posts that referenced FridayQ and I didn't want to go back and have to change 52+ entries. Alas, when I converted my blog to WordPress back in February all the FridayQ pages were lost and, for reasons unknown, were never backed up. After 8 years, 6 months, and 22 days, the FridayQ was finally dead for good.
Until...
Yesterday I was updating the web code for my blog stats and noticed that somebody was trying to reach FridayQ. This got me curious as to how many other searches it was getting, so I checked. Turns out there were dozens of them throughout the year. Mostly from my own blog, but there were other surviving blogs out there still linking to the site as well.
Maybe I should look into restoring FridayQ then?
And so this morning I did just that.
I visited the Internet Archive Wayback Machine to see what I could recover. None of the graphics were there, but all of the pages had been saved. Sure, the archives were out of date by a few months, but that was an easy fix. All I had to do was go through my Blogography archives and copy the original questions. Easy.
But what about the missing graphics?
Time to pull all my old hard drives out of storage.
Surprisingly, every drive I tried actually worked. And I found a backup of the FridayQ images on my fifth drive...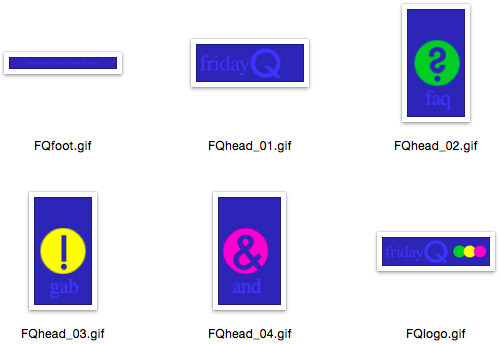 Good thing I'm a packrat who doesn't throw old tech away, huh?
I uploaded the pages to Blogography, updated all the links, and voilà... FridayQ is served!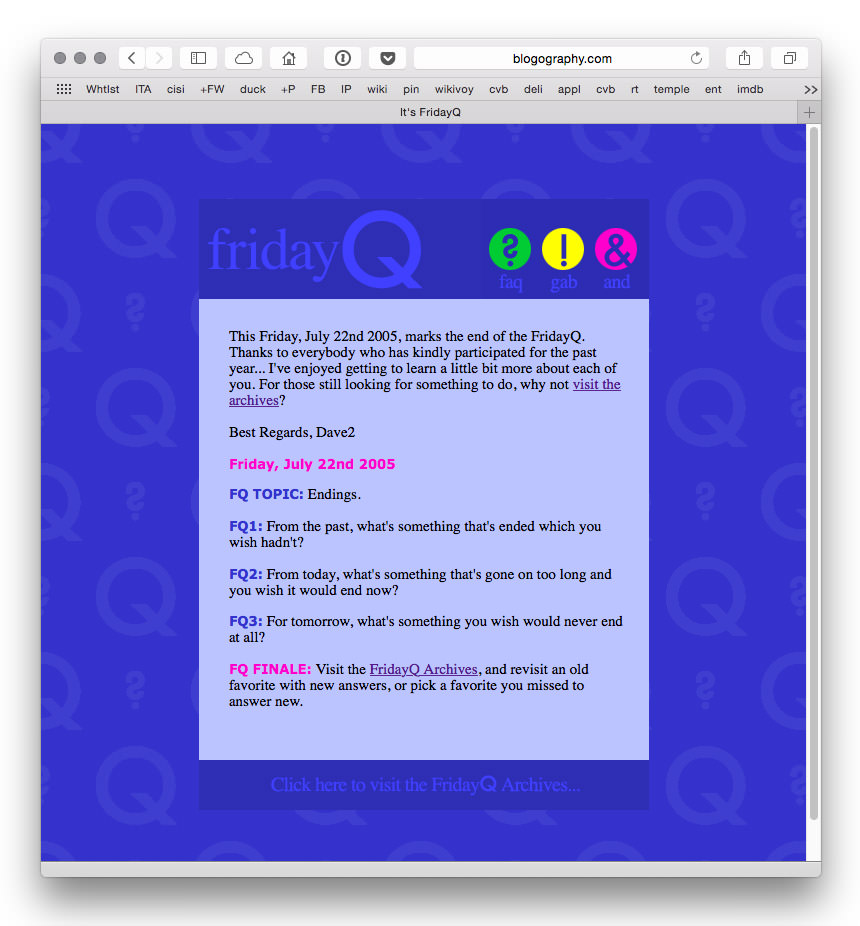 You can visit them for yourself by clicking here.
If you want to read all my crazy answers, you can check out my "meme" archive for 2004 and 2005. They're solid gold, people. Solid gold.
And now I just need to decide what to do with this box of old hard drives. They're probably not going to stay working forever. Hell, half of them require a FireWire port which doesn't even exist anymore (thankfully I have a FireWire to Thunderbolt converter!). Two of them are SCSI drives that would require pulling one of my old Macs with a SCSI interface out of storage to read. Hmmm... perhaps I should back them up to the cloud or transfer them to modern hard drives or something? They're all ridiculously small by today's storage standards... I could probably fit all of them on a single terabyte external drive no problem.
Blergh. One more thing added to my list that I don't have time for.
Like blogging every day. =sigh=