Posted on February 25th, 2015

Jon Stewart finally addressed his departure from The Daily Show and why he's hanging it up.
Surprise surprise...
The 50 Fox News 'lies' in 6 seconds is examined lie by lie here.
Kudos to Stewart and Co. for limiting themselves to only fifty.
Posted on December 17th, 2014

They're gonna get you.
They won't forget you.

Oh you know I know.
Lies.
Posted on January 8th, 2013

Look, I fully realize that food manufacturers have to exaggerate how great their stuff looks on their packaging. I realize this because I make a living creating perfect photos for food manufacturers to use for just that purpose. The idea is that the photo is representing the absolute best-case scenario for the product. Everybody knows to lower their expectations, so no harm no foul, right?
The problem is that sometimes the packaging photo so grossly over-exaggerates the look of the product as to be complete fiction. I wrote about this before when I posted my IN-DEPTH SPECIAL REPORT for Hello Kitty Pop Tarts...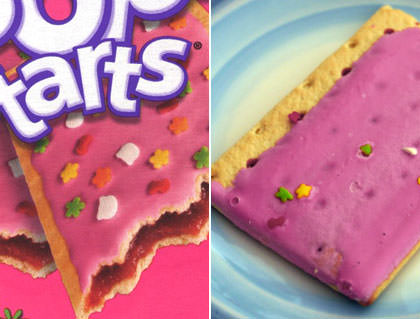 Not only is the pink frosting on the box not even remotely the same color as the putrid magenta glop that's been smeared on the Pop Tart, but they grossly exaggerated the number of kitty sprinkles you'll get. In cases like this, it's not a "best case, idealized scenario"... it's an outright lie.
But it's a fucking Pop Tart, so what can you do?
When shopping at the grocery store, I saw that Kashi had added a new Four-Cheese variety to their pizza line-up. I kind of like their Mediterranean flavor, so I thought I'd give the new pizzas a shot and bought three of them. The picture on the box just looked so darn appealing!
Unfortunately, reality had to come along and fuck everything up...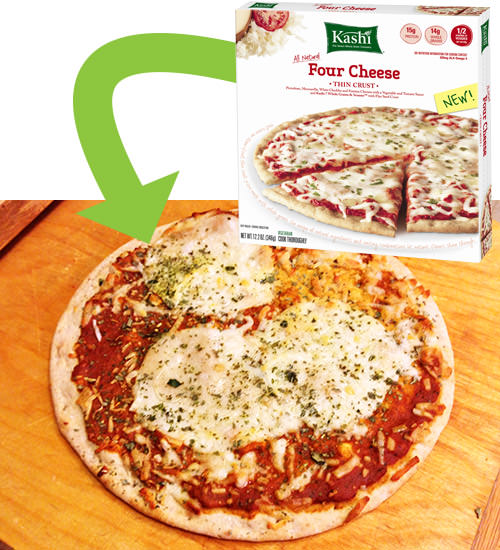 So... you tell me... Four Cheese Pizza... or BARELY Cheese Pizza?
Other than the three badly-distributed slices of Provolone, the other cheeses are nowhere to be found. Just a tiny sprinkling of assorted shreds scattered around the crust. The pizza was mostly sauce, not cheese at all. So I'm chalking this one up as a BLATANT LIE. And, unlike a Pop Tart, it's not like you can so easily write off.
I don't know if this is a design-issue or an implementation-issue, but I'd appreciate it if Kashi would actually put a half-way decent amount of fucking cheese on their Four Cheese Pizza. I shouldn't have to have to deal with this kind of disappointment when it comes to pizza-related life choices.
Posted on August 20th, 2009

Here at DaveAir, we understand that when people fly with us they will need to take at least one suitcase with them. This is a basic necessity of travel, WHICH IS WHY WE DON'T FUCKING NICKLE-AND-DIME YOU WITH STUPID-ASS FEES TO CHECK YOUR FIRST FUCKING BAG! BECAUSE IT MAKES NO FUCKING SENSE NOT TO INCLUDE SOMETHING EVERYBODY NEEDS IN THE FUCKING BASE TICKET PRICE! This revolutionary concept sets us apart from most other dumbass carriers in the industry, and has the side-benefit of freeing up space in our overhead bins for a more pleasant flying experience. It also alleviates the bottleneck at check-in that comes from people having to pay an additional fee that should have been included in the ticket price to begin with.
So stop torturing yourself by flying with asshole airlines who deceive you with low ticket prices only to hit you with idiotic additional fees for something everybody needs... fly DaveAir and leave your all-consuming rage behind!
DaveAir... because flying doesn't have to be an exercise in stupidity and torture.*
*We said flying... dealing with all the airport security nonsense on the ground is your problem.
Posted on July 15th, 2009

Tonight as I was waiting for my computer backup to process, I started going through my webfeeds to clear out any dead blogs I might be subscribed to. There were a lot more than I thought there would be... twenty-seven to be exact. The fact that these people have (apparently) given up on their blogs and moved on with their lives is not surprising. Most blogs don't last more than a year, and those that do seem to suffer burn-out as they pass year two. Even hitting that magical third year hump isn't the guarantee it once was. With social networks like Twitter and FaceBook becoming more and more of a time-sucking vortex, people seem to be blogging less and less.
What is surprising is how most people have chosen (presumably) to end their blog.
They just disappear one day and don't come back.
Thirteen of the blogs I deleted have a last entry which gives no indication that the author was even considering quitting. On the contrary, eight of them were making promises for future posts... like "I'll post pictures when I get back"... and "I'll write more about that later." Of course, those days never came. I can only assume that they were killed in a tragic accident or somehow ended up with amnesia and forgot they even have a blog.
Six of the blogs just kind of petered out. They posted less and less until all they were posting is random updates weeks (or even months) apart saying something like "I'm still alive" or "Haven't had time for blogging recently" or "Wow, I'm neglecting this blog lately, but I promise to start writing again soon!" Of course, they rarely do.
Five of the blogs mentioned something about "taking a break" or "going on hiatus." That's all well and good, but if it's been longer than six months, I'm just going to consider it a permanent hiatus.
Two of the blogs went private.
Only one blog... one... posted "It would seem I'm not blogging here anymore, so I guess I'll be shutting this site down soon." It's refreshing to have somebody actually come out and say it rather than leave you hanging and wondering if they're dead or alive. No promises. No dragging it out for a slow, painful death. Just a decision to stop blogging one day, and a note to let people know about it.
When I eventually pack it in, I hope that's the way I'll go. It only seems polite, really.
Hmmmm...