Posted on Friday, January 6th, 2006

A personal message to Pat Robertson.
Shut up.
Shut up, shut up, shut up.
SHUT UP! SHUT UUUUUUP! SHUT UUUUUUUUUUUUUUUUUP!
Please. Seriously. Shut the f#@% up.
Or die.
Yes, just die. Dying would be good on you.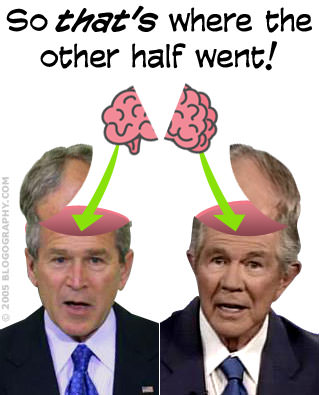 How in the heck did such a total ass-biting tool ever... EVER... develop such a large following? I mean, was there a point in the past where he was actually sane, and his followers have just decided to stick it out through his declining crazy years? Or has he always be a nut-job? How can anybody who consistently preaches such a freaky, hateful, racist, warped version of scripture have such appeal?
Personally, I don't really care about Robertson or his wacky cult of followers. If he was just spouting his crap from the pulpit of a rural church somewhere, it wouldn't bother me a bit. But he has his own television network, and is a prominent religious leader (or whatever), so the stupid shit he says gets put out in the world.
And then the world thinks that Americans are even more nuts than we actually are.
We sure don't need any more of THAT going on just now.
So please Pat.
Pat.
Pat, please... shut up and die already.
BLOGOGRAPHY FLASHBACK ENTRY: Dollar
BLOGDATE: April 15, 2005

In which Dave ponders the ever-declining value of the US Dollar, and tries to graph out how our currency is inexplicably and inversely linked to the price of toilet paper.
Click here to go back in time...
Posted on Wednesday, March 1st, 2006

Maybe it's because I've just gone through a terrible and traumatic event in my life... but I feel the need to be more active in world events. I have an urge to fight injustice and make this earth a better place for all mankind and the creatures who inhabit her. Kidney stones will do that to you.
And it is with this new-found strength that I have been given the courage to stand up for my beliefs and confront people who I feel are doing something wrong. Even people who I consider friends.
People like Karla.
For quite a while now I've been enjoying her daily exploits as a Texan living in Norway via her witty and entertaining blog called Tales of a Textpatriate. She always has a way of taking the chaos out of my day. A way of bringing order to a universe gone mad. A comforting voice of reason amongst the horrors of my existence. But today all that changed. Today she wrote about something so disturbing that I feel compelled to act.
Karla admitted that she wears fur.
And not just any fur, but the fur of the rare and beautiful faux.
Karla is a faux fur wearer.
At first I thought that she didn't know any better. I sought to educate her as to the cruel nature of the faux fur industry. But she shows no remorse. She told me to "faux off" and when I told her I would be blogging about her reprehensible faux fur wearing lifestyle... she replied in the comments: "you faux right ahead... I faux dare you... faux bitch!!"
And how can I not?
So today. Right here. Right now. I am starting a campaign to save the fauxs from their tragic fate...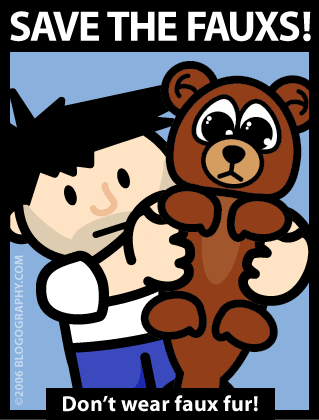 It's just not right in this day and age that people are still wearing faux fur. I feel it is my duty to spread the word and help bring an end to this barbaric practice. To argue my case, I've done a little research...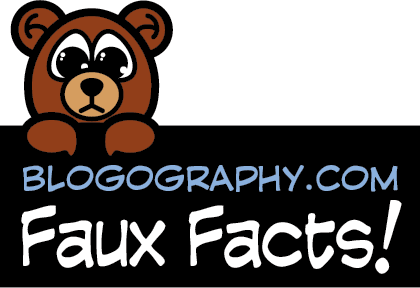 The average faux is 14-inches (36cm) long and weighs 11-ounces (312g). They reach sexual maturity in 9 months. They mate just once a year in July-August, and have a litter size of 1 to 5 pups (based on diet and health factors). Wild faux live to be 3-4 years old, or 5-7 in captivity (assuming they are not slaughtered first!).
At their population height in the early 70's faux could be found on all continents, including the rare White Arctic Faux of Antarctica.
Since the faux-fur fad of the late 80's the faux has been hunting nearly to the brink of extinction. Where the world faux population once ranged in the millions, only a few thousand survive in the wild. Europe alone has shown a 92% decline in their faux population since 1984. Three faux species are known to be extinct: Frisky Siberian Faux, Mandarin Forest Faux, and American Southwest Rattler Faux.
The "American Great Plains Faux" (the largest specimen of the faux species in existence) once roamed freely on the plains of North America in great herds that numbered in the thousands, but is now found only in the Faux Animal Reserve in Oklahoma.
With the decline of wild faux, farm-bred faux "factories" have risen up to meet faux fur demand. Fauxs are forced to live out their lives in tiny, dirty cages and fed steroids to keep their coats as shiny as possible. Little fauxs often develop heart and liver damage which make their existence a miserable one.
Exotic faux fur has become even more popular as their populations dwindle... the Spotted Faux and the Leopard Faux being the most desirable. To keep up with demand, common faux breeds are exposed to painful genetic mutations in order to produce more interesting variation in their coats. This barbaric practice has resulted in fluorescents, pastels, stripes, and even variation in length and texture.
Faux were revered as a gift from the gods by ancient cultures because of their gentle and inoffensive nature.
And there you have it. Faux furriers spend millions to hide the true nature of their savagery by advertising that "faux fur is a cruelty-free alternative to other furs". I say ENOUGH! It's time that people learn the TRUTH about faux fur and the entire faux fur industry. I hope you will join me in boycotting faux fur products as a truly inhumane fashion accessory. I can only hope that Karla has a change of heart, and can see that faux fur is nothing more than a life of pain and suffering for innocent creatures who deserve better at our hands.
How is it that we can put a man on the moon, but can't find a way to manufacture fake faux fur??
Posted on Saturday, March 11th, 2006

Why does the USA have the ugliest, most boring money on the planet?
Seriously, I've been around the world more than a couple times and, everywhere I go, everybody else has sexier money than we do. Most foreign currencies look as though a gifted designer... a true artiste... sat down with a plan and crafted a cohesive statement that is both beautiful and representative of the currency's home nation. US currency looks like somebody sat their butt down in some random patriotic bits then wiped their ass with a piece of paper.
I can only guess that the "design" meeting for our currency went something like this...
"Hey, let's slap an engraving of a dead president on there, then sprinkle random shit everywhere to really junk things up. Then, just to be sure we don't accidentally make our bank notes look like a currency "family," let's intentionally make sure all bills have different typefaces and symbology. And, to be sure our money is the most boring it can be, let's use drab green as the only color, sprinkling other random colors around only when forced to for security measures."
Thus the "new" US currency was born.
Well, not actually "born" so much as crapped out of the ass of the US Mint. The latest atrocity being the $10 bill that's being released any day now...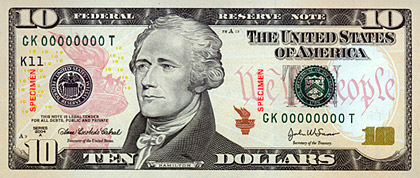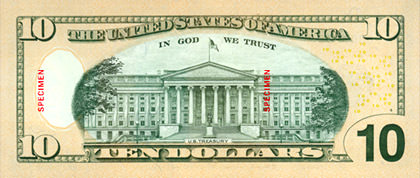 And then there's the $20 that was released a while back, showing entirely different design elements, typefaces, and illustration style. WTF? Did the person designing the $10 even LOOK at any other bills?!?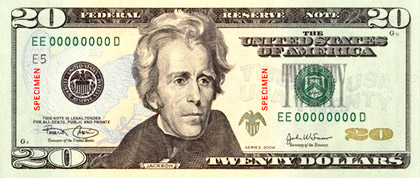 How totally embarrassing. I'd rather shop with Monopoly money than this dippy-looking cash.
Now take a look at this beautiful specimen from Costa Rica (as swiped from Randy Johnson's excellent world money pages)...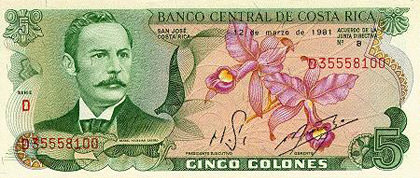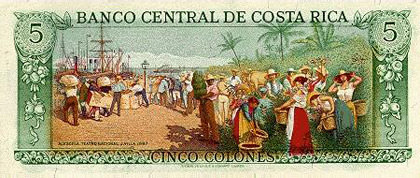 Yes, Costa Rica. An agricultural country that's smaller than the State of West Virginia (one-half of %1 the USA's land area), has 1% of the USA's population, and 1.4% of the Gross Domestic Product, takes more pride in their money than we United States. Why didn't we outsource our currency design to Costa Rica so we could have nice-looking bills? We don't seem to have a problem outsourcing every other f#@%ing job here.
I should run for president in 2008 based solely on the promise of affordable health-care, accountability of action, and better-looking money.
I would seriously kick-ass as president.
Posted on Thursday, April 27th, 2006

Lily was dismayed to find out that the bread for her peanut butter and jelly sandwich was slightly stale. Since she preferred her bread soft and squishy, this was a deal-breaker. Complaining to her mother did no good at all. Mother abhorred waste and insisted that the old loaf be finished off before a fresh loaf was eaten. This left Lily with two options... A) Suck it up and make her peanut butter and jelly sandwich with bread that was slightly tough around the edges. B) Forgo the peanut butter and jelly sandwich until some other family member (preferably her mean older brother) finished the stale loaf, thus allowing her to open a new one.
Lily chose option C because A was unacceptable and B would take too long.
OPTION C:
Lily's grandmother had once told her that a slice of bread in the cookie jar would freshen cookies that were going stale. Applying this logic to her present situation, she opened the fresh loaf, removed a slice of deliciously soft bread, and then put it in with the old loaf. She didn't know how long it would take for the new slice to magically freshen the old bread, but she hoped it would work out before her cartoons started 45 minutes from now. Satisfied with her cleverness, the girl scampered off to do whatever it is that little girls do.
Lily's mother was not even a little surprised at the curious bread situation when she went to make her own sandwich soon after. Her daughter had always been a precocious child, even if she wasn't very bright.

Any time now, the Washington State Supreme Court is expected to release a ruling on whether we become the second state to legalize same-sex marriage. Needless to say, this has many people up-in-arms.
Personally, I don't understand what the big deal is. I've already said my peace on the subject, and my opinion hasn't changed. So, if you haven't already, click here to go read that entry before you go any further. Don't worry, I'll wait.
Okay then.
Now maybe you can help me figure out why people against same-sex marriage look at everything backwards and somehow assume that adding this fresh new slice to their crusty old marriage loaf is going to ruin their staleness?
I don't get it. Everywhere you turn, somebody is going off about how this is going to "destroy marriage". Given current divorce statistics, I find this to be a hysterical argument. Almost as funny as the fact that nobody seems to protest when two atheists get married (just so long as they both don't have a penis). And if two atheists can get married by the Justice of the Peace in a non-religious ceremony and nobody feels threatened enough to give a crap, then how can you take same-sex marriage any less seriously? If Michael Jackson can marry Lisa Marie Presley, then I say ANYBODY should be allowed to get married.
Because in a very short amount of time, this new slice of bread is going to have all the moisture sucked out of it and end up being just as stale as the rest of the loaf status-quo. Nothing magically changes for the old slices... they're going to be just as stagnant as they've always been. All you really end up with is a more interesting loaf of bread that had momentary delusions of freshness.
And isn't delusions of freshness what this country is supposed to be all about?
I guess I shouldn't be surprised that there's an uproar. The same thing happened when a slice of wheat bread was added to the loaf. Then again with the sourdough. Then again with the rye. Then again with the multi-grain. Why should adding a slice of cinnamon-raisin-swirl be any different?
Oh great. Now I'm hungry for toast...
Posted on Sunday, September 10th, 2006

My primary election ballot arrived in the mail and was promptly tossed in the garbage. Why bother filling it out and paying for a stamp if my vote isn't going to count anyway? You see, here in Washington State, we are on a "pick one party" system for primaries. This means that you MUST identify yourself as a Republican or a Democrat and then confine your votes to those parties.
Which basically means that if, like me, you are NEITHER a Republican or Democrat, you are forbidden from voting for who you consider to be the best candidate independently of their affiliation. If you do so, you're your ballot is not counted. This is supposed to prevent tampering with an opposing party's election results, but that's a load of crap. Somebody from one of these parties is getting put on the final election ballot but if you're not a member you don't get a voice in who that might be (even though you have to live with the results). Nope, here in Washington you are either Democrat or Republican and failure to label yourself as one or the other means your vote doesn't count.
Rock the vote! Be a part of the process! Live democracy! Vote or die!
Whatever.
Call me disillusioned, but between crap like this and our utterly stupid electoral college system, American democracy died a long time ago. I have -zero- confidence that the "will of the people" is represented by what comes out of an election. It's all about money and connections now.
Which wouldn't be a bad thing... if I actually had money or connections.
Posted on Monday, September 11th, 2006

Senseless acts of violence resulting in the deaths of thousands of people did not begin on September 11, 2001 and, unfortunately, did not end there either.
I miss the World Trade Center Twin Towers. Yes I am saddened at the loss of life that was suffered that day, but the Towers were such a visual representation of a city I love that it's hard not to be despondent by their loss as well. Every time I see an old movie of New York... every time I watch a re-run of an episode of Friends... every time I view old photos of the city... I see the Twin Towers standing there and cannot help but feel saddened. They may not have been the most architecturally interesting structures on the planet, but the gap in the NYC skyline is a constant reminder that we are a hateful, violent species seemingly incapable of understanding each other and living in peace.
Prior to 9-11, I visited the "Top of the World" (which is what they called the South Tower observation deck) three times because it truly did feel like you were standing on the top of the world, and was the best view in the city. I remember the experience well, and still have some film I shot from my first visit to NYC...


Looking South from the Empire State Building


Looking North from the World Trade Center towards Midtown and Tower 1.


Looking South from the World Trade Center towards the Statue of Liberty and Ellis Island.
I suppose I should consider myself lucky that I got to experience the "Top of the World" while it still existed. But all I can think about is that I will never be able to experience it again, and of all the people who will never have the chance.
Though even that's never enough of a distraction to make me forget the senseless loss of life that occurred and the ever-escalating violence that's responsible for it all.
I wish it were.
Posted on Saturday, September 16th, 2006

I've done quite a bit of traveling over the years and find, for the most part, that people are pretty much the same wherever you go. Sure they may speak a different language or have different customs... but everybody everywhere breathes, eats, drinks, loves, hates, sleeps, and poops. Despite any differences you can call out, humans will always be more similar than they are different. The more places I go, the more I find this to be true. But still, it's the diversity that makes this world such an interesting place, and all those little differences keep traveling the globe so I can seek them out and experience them (see my map).
But every once in a while you come across a difference so baffling that you find it hard to wrap your head around.
I was flipping through television channels and landed on some kind of concert on BBC America. It was an extravagant affair with thousands of people packed in an arena. At first I thought it was a Madonna show, but I didn't recognize the song she was singing. Then they zoomed in for a close-up, and I had no idea who it was...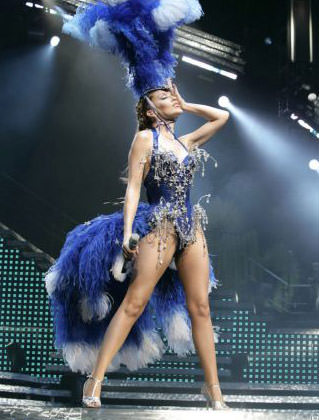 TiVo tells me it's Kylie Minogue.
And so I'm sitting there thinking "WTF? THE 'LOCO-MOTION GIRL' IS SELLING OUT ARENA SHOWS IN THE U.K.?!?"
I barely remember who she is, and go scrambling to her Wikipedia entry so I can find out what exactly I've been missing. Turns out that Kylie is a massive, massive pop star everywhere except in the US. After postponing this "Showgirl Tour" I'm watching for breast cancer treatment last year, she is resuming the tour this year in November. It's an admirable story, but the real shocker was to come...
Kylie sold out her two January 2007 shows at London's Wembley Arena in six minutes.
SIX MINUTES? They kept adding dates until they had six in London and six in Manchester... all of which sold out immediately. In her native Australia, I'm guessing it's just as impressive. And yet here in The States, people barely know who she is. For some reason, I find this more shocking than even the wildest cultural differences I've encountered in foreign lands. I guess I've always assumed that pop trends like this were kind of universal. But Kylie, like soccer, has somehow escaped US attention.
I wish that were true for half the crap they play on the radio.
But still, Kylie's got some pretty good dance beats, is entertaining in concert, and actually seems to have some talent... kind of a shame that Kevin Federline and Paris Hilton can sell records here but she can't.
Posted on Friday, December 22nd, 2006

I do not discuss religion on my blog when at all possible, because I just don't want the headache of dealing with closed-minded individuals who refuse to understand that people are allowed to have beliefs different from their own. The beauty of all humanity is the diversity of the people who comprise it and, in my many travels around the world, I have learned to love this inevitability of the human condition. This is reflected in my personal beliefs, which are colored by the many religions and peoples I've encountered over the years.
The foundation of my own faith is built on the Buddhist precepts of cherishing all life and doing no harm to any living thing. And though I do not consider myself to be a "true" Buddhist, it is the religion with which I most closely identify, and has been since I first studied it in Thailand a dozen years ago. But I've also studied Taoism, Christianity, Islam, Sikhism, Judaism, Hinduism, Mormonism, Shinto, Confucianism, Bahá'í, Scientology, Wicca, and dozens of other belief systems like Native American spirituality, Aboriginal world-view, and even voodoo. My attempts at understanding the people who inhabit this planet inevitably lead to investigating their faith, and it is a passion that does not easily leave you.
Studying religion is no easy task. You have to be willing to immerse yourself enough to truly appreciate it, yet be detached enough to see how it works. But there is beauty everywhere, and the joy of getting lost in The Holy Qur'an or The Bhagavad-Gita or The Holy Bible or The Tao-Te-Ching or any text of profound belief is intoxicating. There's always the desire to keep going deeper and deeper... trying to find new levels of understanding in that which others have devoted their lives to studying, yet admit to never fully understand themselves.
And now, in a time where religion is doing such a marvelous job of dividing us, there is one thing which I still believe is true: as a species, we will forever be more alike than we are different... all beliefs considered. Whether this is enough to save us from ourselves remains uncertain.
But sure I hope so.
Because it's about the only thing that keeps me from choking the ever-loving shit out of all the dumbasses running amok during the holiday shopping season.
Posted on Thursday, January 20th, 2011

"Dude, that's pretty fucked up. She's the worst person ever."
Ordinarily, I tend to ignore hyperbole. Exaggeration is such a huge part of everybody's vocabulary now-a-days that you pretty much have to. Not that you can really blame people. When you're inundated by sensationalism in movies, television, music, advertising, and the news, it's only natural that it's going to migrate to everyday conversation. This can sometimes make it difficult to accurately gauge the severity of a situation, but it certainly makes a phone call a heck of a lot more entertaining.
And yet there are some people who are not prone to hyperbole at all.
Like my friend Sam.
So when he declares that somebody is "the worst person ever" it gets my attention.
And who is this woman who has become the subject of his ire? Sarah Palin? Judge Judy? Ann Coulter? Hillary Clinton? Nancy Grace? Michelle Malkin? Elisabeth Hasselbeck? Paula Deen? Tyra Banks? Martha Stewart? Paula Abdul?
No. None of the obvious suspects. Turns out it was Cathy Cruz Marrero.
"Who the fuck is Cathy Cruz Marrero?" I ask.
"She's that dumbass that fell into a fountain while texting," Sam says, his words dripping with a loathing usually reserved for telemarketers, mimes, and serial-murderers. "She's hiring an attorney because she feels humiliated that the surveillance video of her was put on YouTube..."
"Soooo... she was a dumbass, and now she wants to get paid for it?" I inquire, trying to use a tone that won't escalate the conversation.
"YES!! NOBODY EVEN KNEW WHO SHE WAS UNTIL SHE STARTED TALKING TO THE PRESS!" Sam screams. "Why can't she just laugh it off like any normal person would and consider it a lesson learned? Why is she fucking suing people for her stupidity? Worst person ever."
"Yeah, I can see where tha--"
"WORST PERSON EVER! EHHHHHHVEEEEEEERRRR!!!" I hear Sam screech into the phone. "She DESERVES to feel humiliated!"

And so she does.
It's things like this that make me wonder if there's no limit to people's shame or lack of personal responsibility. This woman claims that mall security should have dropped everything and come running to make sure she was okay when she fell into the fountain (instead of standing around laughing). Well, WATCH THE VIDEO, MORON! You hopped out of that fountain almost immediately, then walked off. Obviously you were okay, so there was nothing more to do except stand around and laugh at your stupid ass. I'm sure if you laid there unmoving face-down in the water, their reaction would have been completely different. But that didn't happen. Your ridiculous antics were entirely your own fault, the mall doesn't owe you a damn thing for being a dumbass, and your humiliation is entirely your own fault. So suck it up and stop being the worst person ever.
Because if Sam says it from the bottom of his hyperbole-free heart, that's exactly who you are*
---
*Hitler and sharks notwithstanding, I'm sure.