A personal message to Pat Robertson.
Shut up.
Shut up, shut up, shut up.
SHUT UP! SHUT UUUUUUP! SHUT UUUUUUUUUUUUUUUUUP!
Please. Seriously. Shut the f#@% up.
Or die.
Yes, just die. Dying would be good on you.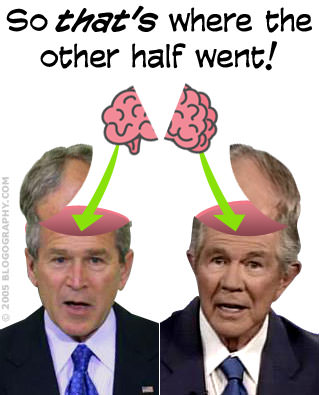 How in the heck did such a total ass-biting tool ever... EVER... develop such a large following? I mean, was there a point in the past where he was actually sane, and his followers have just decided to stick it out through his declining crazy years? Or has he always be a nut-job? How can anybody who consistently preaches such a freaky, hateful, racist, warped version of scripture have such appeal?
Personally, I don't really care about Robertson or his wacky cult of followers. If he was just spouting his crap from the pulpit of a rural church somewhere, it wouldn't bother me a bit. But he has his own television network, and is a prominent religious leader (or whatever), so the stupid shit he says gets put out in the world.
And then the world thinks that Americans are even more nuts than we actually are.
We sure don't need any more of THAT going on just now.
So please Pat.
Pat.
Pat, please... shut up and die already.
BLOGOGRAPHY FLASHBACK ENTRY: Dollar
BLOGDATE: April 15, 2005

In which Dave ponders the ever-declining value of the US Dollar, and tries to graph out how our currency is inexplicably and inversely linked to the price of toilet paper.
Click here to go back in time...