Time to make time to be kind as the world crumbles around us... because an all new Bullet Sunday starts... now...

• Lume! If we are COVID-controlled by the time The Lume's immersive Vincent Van Gogh exhibit comes to the Newfields Museum in Indianapolis, I'm so there. Van Gogh is my most favorite painter, and I suffered through an episode of the abysmal Emily in Paris (on Netflix) just to look at this exhibit from when it was in Paris...
Kinda shocked that this hasn't been to Amsterdam. That would be a much better fit for the experience given that this is where the Van Gogh Museum is located!

• Free! As a huge Ryan Reynolds fan, I've been looking forward to the movie Free Guy... and my anticipation just kicked up a notch with the latest trailer...
From what I've read, there's already a sequel in development because Ryan Reynolds loved the movie so much. No clue if movie studios are even going to be in the business of making films now that movie theaters are shuttering and attendance is plummeting where theaters are open. Heaven only knows I'd rather bypass theaters since the experience is so shity now-a-days... even without COVID-drenched audiences in tow.

• Trek! The final episode of the new Trek cartoon show, Star Trek: Lower Decks came out and I still don't know what to make of it. It's too adult for kids, but it lacks biting stories to appeal to adults. It aims to be funny, but doesn't have big laughs thanks to lazy comedy tropes. And I while I guess this can exist along-side the Star Trek shows and movies... it seems an odd fit since it is essentially a parody of Trek and doesn't really go anywhere except within it's own bubble. The finale had Riker and Troi in it, but not really...
Oh well. I did find the show entertaining enough to keep watching. I would not be made about there being a second season. I just hope they push it a little harder to make it stand out in the world of Star Trek instead of recede like it's doing now.

• Diagnosis! President Trump catching COVID is hardly surprising. He holds super-spreader events, doesn't practice social-distancing, rarely wears a mask, and regularly hangs out with people who are proudly proclaiming their ignorance when it comes to the coronavirus. It was only a matter of time. And THEN... once he got it he was given every conceivable treatment for mild symptoms... treatment that "regular" people have to be on death's door to get. Regardless of how you feel about our impeached leader, there were mistakes on all sides of the president's diagnosis and the media storm around it. This is a fairly balanced critique courtesy of Dr. Mike...
I remain dumbfounded that there are people who still don't take this shit seriously. And it starts at the top.

• Your'e! This is one of the best things I've seen all week courtesy of Captain Kate McCue's TikTok...
Classic.

• DO NOT CALL OR TEXT! Despite telling The Democrats and The Republicans several times that I do not want them calling and texting me and to please remove me from their lists, I keep getting them. And when I complain I'm told that there are multiple lists and names get spread from one to the other. Which means it will never stop...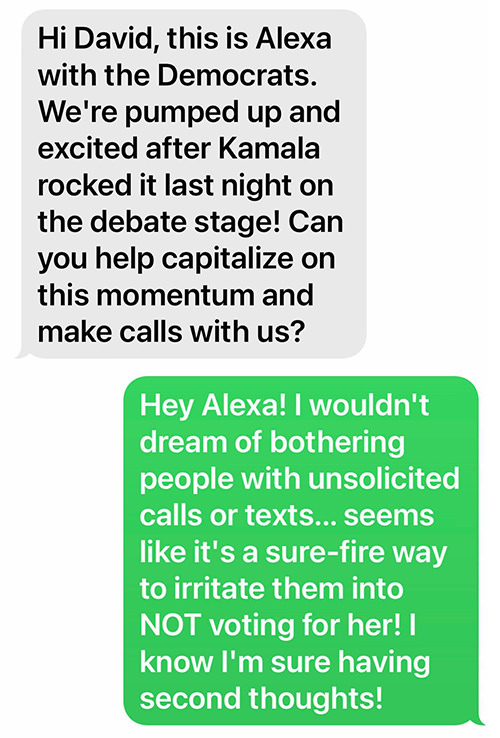 I don't think people understand how awful unsolicited contact is. When my mom was alive and had to be moved to a facility, every single phone call was dread-inducing. Are they calling to tell me she is sick again? Are they calling to tell me she broke the other hip? Are they calling to tell me she's dead? Alerts for texts like this were a complete nightmare. And now that she's gone it's not much better. Most every time I get a phone call... and at least half the time when I get a text... it's bad news. Just hearing my phone alert me that somebody is calling or texting is triggering. Is another one of my friends dead? Is somebody in my family in the hospital? What horrible even is it now? This fucking sucks when it's somebody calling that I KNOW. But when it's somebody I DON'T KNOW who is sending a text or a call that I DON'T WANT and DIDN'T ASK FOR? Fuck that. It is an invasion of my privacy and my life and it should be ILLEGAL.

• What? Holy shit. This is absolute insanity...
And it just gets worse...
I've been working my way through David Pakman's video catalog and occasionally come across stuff like this which defies belief. I would come unglued. Credit to Pakman for staying sane while addressing this guy, because it's all I can do to stay sane just watching.

• Beouf! I may detest Shia LaBeouf's "acting"... but holy crap what a great guy! This is awesome!
I sure wish I could get past his work on such travesties as Charlie's Angels: Full Throttle, Indiana Jones and the Kingdom of the Crystal Skull, Man Down, and the shitty Transformers movies. Apparently his last two films (Honey Boy and The Peanut Butter Falcon) don't suck but I've refused to watch them! I dunno. Maybe one day I'll have to get over it and just give them a try.

And I guess that's the end of my bullets this fine Sunday.